June 14, 2018
Building Materials Warranty Report:
Warranty costs are generally rising in recent years among the suppliers of building materials, fixtures, and furniture. The latter group has seen the most noticeable cost increase, though expense rates across the industry are still generally on the low side (below one percent of revenue).
Depending upon the type of product they sell, the manufacturers of building materials have seen their warranty expense rates either remain steady or rise slowly over the past few years. After a decade of progress that saw warranty costs decline, expense rates bottomed out in 2012 and began to crawl upwards in the years since.
To reach this conclusion, we began with a list of 118 U.S.-based manufacturers of building materials that report their warranty expenses in their financial statements. We subdivided the group into three parts: 28 manufacturers of electrical and plumbing fixtures, 34 furniture manufacturers, and 56 manufacturers of other types of building materials such as windows, doors, paint, coatings, flooring, siding, roofing, carpet, and the tools used to install them. We will deal with the major appliances in the kitchen and laundry as well as the heating/cooling systems in a separate newsletter.
For each of these 118 building material companies, we gathered four essential warranty metrics: the amount of claims paid, the amount of accruals made, the amount of warranty reserves held, and the amount of warranted product sales. Using the sales data along with the claims and accrual totals, we calculated two additional metrics: claims as a percentage of sales, and accruals as a percentage of sales. To the extent possible, we subtracted all non-warranted sources of revenue such as raw materials, services, rentals, finance and investment income before calculating the claims and accrual rates.
Warranty Claims
Figure 1 details the claims totals for the past 15 years. Note that 2009 set the record, thanks to an oversized contribution from the other building materials sector. And that can be traced back to Mohawk Industries Inc., which had an awful year with a new product line of adhesive flooring that failed spectacularly.
Figure 1
Building Material Warranties
Claims Paid by U.S.-based Companies
(in US$ millions, 2003-2017)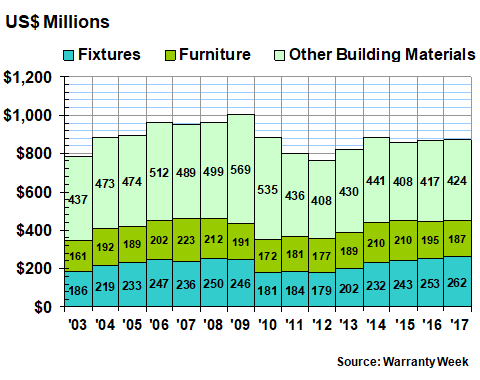 Without that anomaly, the claims data would have followed the expected recessionary pattern of taking a major dip in 2009 after the financial crisis of 2008 caused home sales to slow. But while the industry lost a lot of momentum when new home sales slowed, the renovation of existing homes continued, and in some cases accelerated, as homeowners decided not to move and stay where they were.
Last year, the entire industry's claims payments rose slightly to $873 million, thanks to slight gains by the fixtures and other building material manufacturers, partially offset by an $8 million decrease in claims payments reported by the furniture manufacturers. Over the past four years, industry claims have remained fairly steady as declines in the furniture sector have been matched by gains in the fixtures sector, with other building material manufacturers continuing to account for about half the totals.
Some of the largest increases in claims payments were reported by Acuity Brands Inc., MKS Instruments Inc., RPM International Inc., Sherwin Williams Co., and Tempur Sealy International Inc. Some of the largest decreases in claims payments were reported by Fortune Brands Home & Security Inc., Herman Miller Inc., HNI Corp., Nordson Corp., and Pentair plc.
Warranty Accruals
Accrual totals followed a more predictable path over the past 15 years, peaking in 2007, and hitting bottom in 2010. The spike in 2014 accruals was caused primarily by Dow Chemical Co., which raised its accruals from nearly nothing to $104 million that year. The company has since merged with Du Pont and has ceased reporting its warranty expenses.
The amount of warranty accruals reported by the other manufacturers took a $12 million dip last year, landing at a $909 million total. A sharp drop in accruals reported by the other building materials group was partially offset by a rise in accruals by the fixtures group, with the furniture manufacturers remaining relatively unchanged.
Figure 2
Building Material Warranties
Accruals Made by U.S.-based Companies
(in US$ millions, 2003-2017)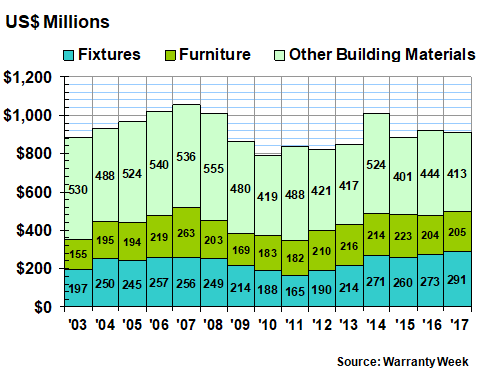 The largest reductions in accruals last year were reported by Lincoln Electric Holdings Inc., Mohawk, Nordson, Owens Corning, and V.F. Corp. Massive increases in accrual totals were reported last year by AAON Inc., Franklin Electric Co. Inc., MKS Instruments, Mueller Water Products Inc., and Tempur Sealy.
Proportionally, however, one of the largest increases of all was reported by wood paneling manufacturer Louisiana-Pacific Corp., which raised its accruals from $0.8 million in 2016 to $8.5 million in 2017 -- more than a ten-fold increase. But that was the result of an extra-small accrual in 2016, and a bad comparison as the company returned to the normal baseline in 2017, rather than a Mohawk-like manufacturing crisis causing accruals to soar.
Warranty Expense Rates
Because the list of companies in this industry is short and their warranty expenses are small, there is quite a bit of seasonal fluctuation in the data. So rather than provide quarterly calculations of their claims and accrual rates, we're providing annual measurements in the three charts below.
In Figure 3, we've taken the claims and accrual totals reported by the 28 fixtures manufacturers and divided them by the corresponding sales totals, to calculate their average claims and accrual rates for each of the past 15 years. In 2017, the claims and accrual rates were slightly below their long-term average rate of 0.6% (with a standard deviation of 0.1%). Both measurements were slightly down from 2016 levels, but have remained about the same for the past four years.
Figure 3
Fixture Manufacturers
Average Claims & Accrual Rates
(as a % of product sales, 2003-2017)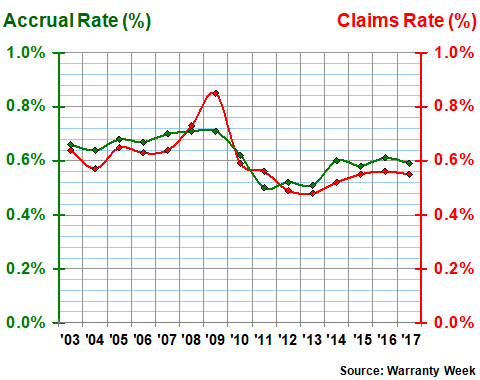 The 2009 spike in the claims rate was caused partially by Mohawk's rise in claims but also by widespread declines in product sales. Notice that the accrual rate did not rise as high in 2009, nor did it dip as low in 2012 and 2013. In general, accruals remain proportional to sales in both good times and bad, unless there has been a change in product quality, reliability, or repair/replacement cost.
Given how steady the averages have been for this group since 2014, one would expect the top companies in the fixtures industry to have kept their claims and accrual rates relatively unchanged for the past four years. But that isn't the case at all. Instead, there was more of a careful balance between expense rate increases by companies such as Pentair and Lennox International Inc. and expense rate decreases by companies such as Crane Co. and W.W. Grainger Inc. But there were still a handful of companies such as Hubbell Inc. that managed to keep their warranty expense rates relatively unchanged.
Furniture Manufacturers
In contrast to the fixtures manufacturers, the 35 furniture manufacturers on our list have seen their expense rates steadily climb over the past few years. Figure 4 shows a 2017 accrual rate just above one percent and marginally higher than the previous record set in 2013. The claims rate, at 0.96%, is also a new record high. But let's not get carried away: a one percent warranty expense rate is still pretty good, compared to the expense rates seem in other industries such as automobiles and computers.
Figure 4
Furniture Manufacturers
Average Claims & Accrual Rates
(as a % of product sales, 2003-2017)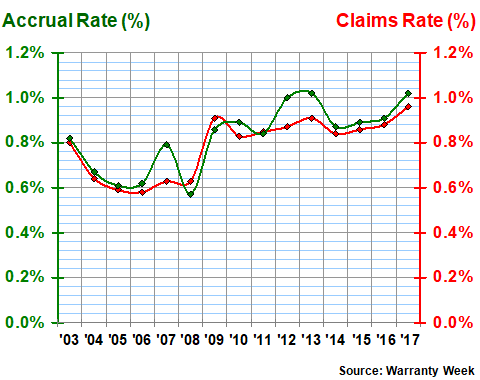 The furniture manufacturers are now well above their 15-year average expense rate of 0.8% (with an 0.1% standard deviation). In fact, they've been above that average since 2008, and their expense rates have been climbing for four years in a row.
Bedding seems to be a problem area. Tempur Sealy saw its accrual rate rise from 1.2% in 2016 to 2.0% in 2017, while its claims rate jumped from 1.1% to 1.7%. One of its competitors, Sleep Number Corp., also saw its accrual rate rise significantly.
Other furniture makers such as Steelcase Inc. and HNI Corp. also raised their accrual rates, though not as dramatically. However, there were a few, such as La-Z-Boy Inc. and Herman Miller Inc., which managed to reduce their warranty expense rates last year.
Other Building Materials
The rest of the list is a pretty diverse bunch, manufacturing everything from doors and windows to carpeting and shingles. In Figure 5 we see warranty expense rates that generally declined from 2003 to 2011-2012 before beginning to rise again. But as with the furniture manufacturers, the expense rates haven't yet risen to any great height.
Figure 5
Other Building Material Manufacturers
Average Claims & Accrual Rates
(as a % of product sales, 2003-2017)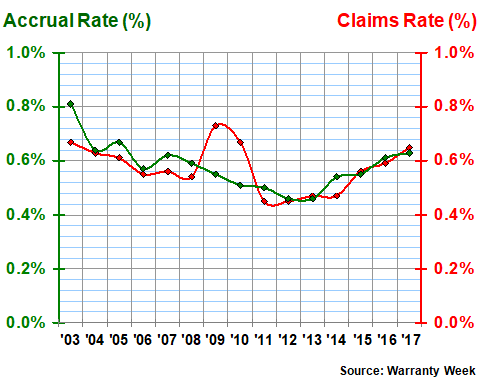 In 2017, the other building material manufacturers saw their claims and accrual rates rise back above 0.6%, where they haven't been in years. Their long-term average is just under 0.6%, with a standard deviation just under 0.1%. But they've been above that average for the past two years.
Louisiana-Pacific, which as we mentioned made an unusually small accrual in 2016, saw the largest increase in 2017. MKS Instruments had the second-largest increase, but it also made an extra-small accrual in early 2016.
On the flip side, five companies cut their accrual rates by roughly a third: Lincoln Electric, Mohawk, Nordson, RPM International, and Sherwin Williams (the latter despite, or perhaps because of its Valspar acquisition). In fact, Sherwin Williams and RPM were the only members of the group to make a top 10 expense rate reduction list in the March 15 newsletter. And Tempur Sealy was the only one of the 118 companies to make it onto a top 10 expense rate increase list.
Warranty Reserves
Our final warranty metric is the year-ending balance in the warranty reserve funds of the 118 companies. Once again, we've split it into three sub-groups, and once again furniture is the smallest of the three.
Warranty reserves on hand for all 118 companies rose by $43 million to $1.43 billion by the end of 2017. Fixtures grew by $27 million. Furniture fell by $4 million, and the other building manufacturers rose by $21 million. Ranked among the last 15 years, 2017 saw the fifth-highest total, with the year before coming in seventh. In other words, despite the climbing expense rates, reserve totals are still far from record territory.
Figure 6
Building Material Warranties
Reserves Held by U.S.-based Companies
(in US$ millions, 2003-2017)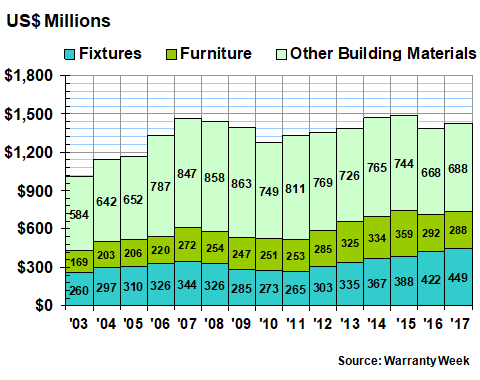 Some of these building material companies keep massive reserve funds. For instance, Masco Corp. ended 2017 with $205 million in its fund. Stanley Black & Decker had $176 million. Sherwin Williams, after its Valspar acquisition, saw its reserves jump from $34 million at the end of 2016 to $151 million at the end of 2017.
Others that saw large jumps in their reserves included Acuity Brands (up 37%), and AAON Inc. (up 32%). Steelcase saw the largest reserves decline (down 51%), followed by Mohawk Industries (down 16%).
Next week we will take a look at the warranty expenses of the top appliance and HVAC system companies, and the week after we will close out our tour of U.S.-based warranty providers with a look at the top new home builders. And then in July, we plan to broaden the scope of our reports to include worldwide cars, airplanes, and construction equipment.