August 2, 2018
GE & UTC Service Contract Estimates:
Their jet engine operations may generate billions a year in service contract revenue, as evidenced by the tens of billions of dollars in deferred revenue carried on their balance sheets. But without hard numbers to go by, we have to estimate the size of their protection programs.
Years ago, when Warranty Week first began sizing the market for extended warranty contract sales to consumers, Ron Giuntini, the founder of G35 Software, said he thought the business-to-business side of that industry was at least as large, if not larger, than the retail/dealer side. Last week, he pointed out some numbers taken from annual reports that support his theory.
Just looking at two jet engine manufacturers, we found more than $20.2 billion in deferred revenue that arose from the sale of what they call long-term service agreements. However, neither company revealed the amount of new service contract sales, nor the amount of revenue they recognized each year from past sales. But with Giuntini's help, we were able to construct some estimates for both metrics.
Jet Engine Extended Warranties
In civil aviation, the big three jet engine makers are General Electric Co., United Technology Corp. (through Pratt & Whitney), and Rolls-Royce Holdings plc (the aviation company, not the luxury car brand now owned by Volkswagen). All three report their product warranty expenses, and all three also sell long-term service agreements for those products.
Are these extended warranties? Giuntini said that with jet engines, at least, most of the events are planned maintenance as opposed to unpredicted break/fix episodes. The whole idea is to keep the planes in the air, not in the hangar, by replacing parts before they fail, and by preventing downtime. But even jet engines occasionally fail, and so part of the long-term service agreement's value is to provide for repairs or replacements.
Still, there is a mixture of the insurance-like coverage of a product warranty or extended warranty, which cover defects, malfunctions, and sometimes even damage, with the planned service provided through pre-paid maintenance agreements. And it's a mix we sometimes see with consumer service contracts as well.
For instance, residential furnace service contracts typically provide annual cleanings and inspections to the homeowner along with promises to repair the unit should it fail to provide heat. And those cleanings can actually reduce the likelihood of failure. Automobile repair shops change the oil and check the filters, belts and hoses for wear, preventing mechanical breakdowns in the process. Even with laptops, the simple act of blowing out the dust can cut down on future repairs.
But then there are service contracts that include no insurance-like coverage. The mobile phone companies sell annual service contracts that are nothing but dial tone and data subscription agreements. Extended warranties and loss or theft coverage are sold separately. Office cleaning service agreements and lawn mowing service contracts have little to do with contingent events -- the floor needs sweeping and the grass needs cutting no matter how it's paid for.
Power by the Hour
With jet engines, the long-term service agreements could also provide for access to future improvements in design and operation that reduce fuel consumption or boost power output. In fact, Giuntini said, Rolls-Royce coined the term "Power by the Hour" to describe the way it specifies an engines performance metrics and running cost. If those metrics aren't met, the company has to pay a claim to make up the difference.
"We could be talking about one-tenth of one percent improvement in fuel burn," Giuntini said. "But that's worth millions of dollars to an airline."
For unplanned events, the engine manufacturer could sell a service contract to the airlines that specifies where it will deploy replacement units. For instance, GE could tell five airlines that use the same engine that there will always be a spare unit at the Cincinnati airport. The cost of maintaining that strategic inventory would be wrapped into the overall price of the service contract.
"Instead of each airline having an extra engine in Cincinnati, there will be one engine, because the odds of more than one failure in one day are remote," he said. "So they'll have one engine as part of the service contract, to support all the airplanes flying into Cincinnati."
Other service contracts could expedite the delivery of parts. For instance, a product warranty might specify the delivery of needed parts within two business days. A service contract might guarantee their delivery within two hours. Airlines might pay for this feature, but even if they don't, they'll get the parts they need. But is that product insurance? Or is it merely an enhanced level of service for which the customer pays a premium?
In other words, these aren't exclusively extended warranties, and they aren't exclusively maintenance agreements. Instead, they're a blend of the two, where the insurance component and the maintenance component are intertwined, and they cover both planned and unplanned events.
According to the Accounting Standards Codification (ASC) as published by the Financial Accounting Standards Board (FASB), specifically subsections ASC 605-20-25-1 to 25-6, detail how revenues generated from the sale of extended warranty and product maintenance contracts should initially be deferred and then gradually recognized over the life of the contracts. Subsection ASC 460-10-55-28 defines how performance warranties for engines should be accounted for.
Short-Term Insurance Contracts
Basically, these texts are saying that while extended warranties aren't insurance contracts, they can be treated like short-term insurance contracts, because they involve claims, risks and premiums. And therefore their metrics must be disclosed in a company's financial statements, as must all other liabilities.
If a company sells a $1,000 service contract for which it remains the obligor, then it must initially defer the recognition of that revenue. If the contract lasts for five years, it can either choose to recognize $200 of that revenue per year, or to recognize it on a schedule that is proportional to actual costs. But either way, the company is supposed to disclose the metrics involved.
So what we did was to get out the reading glasses and plunge into the notes of the latest GE annual report, looking for the required disclosures. We found them in Note 9 on page 149:
Table A
General Electric Co. Annual Report
Long-Term Service Agreements
Deferred Revenue Balance, December 2017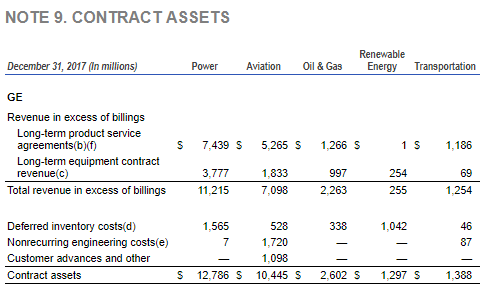 In that table, GE details the amount of deferred revenue that has arisen through the sale of long-term product service agreements. The total as of December 31, 2017 was $15.157 billion, up from $12.752 billion at the end of 2016. Most of the deferred revenue arose from sales by the Power and Aviation units, with smaller contributions by Transportation and Oil & Gas.
Giuntini said that service contracts sold by the Power and Aviation units typically last from seven to fifteen years, while those sold by the Transportation and Oil & Gas last five years or less. And so, for the purposes of creating our sales estimates, we are going to assume that 1/8th of the Power and Aviation deferred revenue is recognized each year, while 1/5th of the Transportation and Oil & Gas deferred revenue is recognized each year.
Earned Premium Estimates
Working off that year-end 2016 figure of $12.752 billion, we estimated that $1.7 billion of formerly deferred revenue was recognized (or amortized) in 2017, becoming what in the insurance industry would be called earned premium. And then we calculated that if $1.7 billion was recognized, amortized or earned, the company would need to sell nearly $4.1 billion in new contracts in order to end the year with $15.157 billion in deferred revenue on its books. Those estimates are detailed below in Figure 1.
Figure 1
General Electric Co.
Long-Term Service Agreements
Deferred Revenue & New Sales Estimates
(US$ millions, 2016-2017)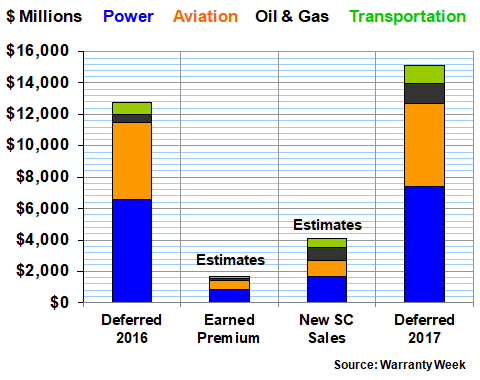 GE's 2016 annual report reported the beginning and ending balances for the company as a whole ($12.752 billion for the end of 2016 and $10.346 billion for the end of 2015). But it did not segment the balances by business unit, so we had to estimate them using the 2016 figures in Note 9 of the 2017 annual report. And then we estimated that GE recognized nearly $1.4 billion in earned premium during the year while selling nearly $3.8 billion in new long-term service agreements, as detailed in Figure 2.
Figure 2
General Electric Co.
Long-Term Service Agreements
Deferred Revenue & New Sales Estimates
(US$ millions, 2015-2016)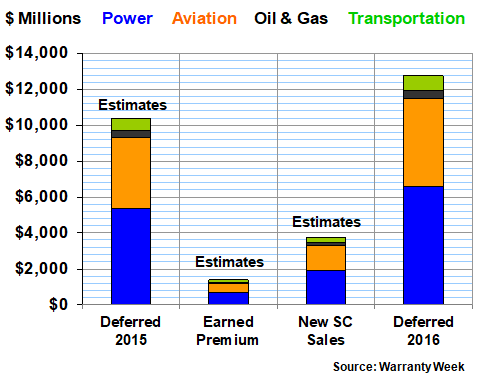 Unfortunately, GE did not include any figures for long-term service agreements in its 2015 annual report, so our analysis has to stop with the 2016 and 2017 snapshots included above. But the data for those two years suggests that GE has been selling multiple billions of dollars' worth of business-to-business service contracts for multiple years.
Service Contracts vs. Product Revenue
The next step was to take the estimates for deferred revenue, earned premium, and new contract sales, and compare them to product revenue. In 2016, deferred revenue was equal to 21% of product revenue. In 2017, it came close to 26%. Earned premium grew from 2.3% to 2.9%. And new contract sales grew from 6.2% to 7.0%. The results of those calculations are detailed in Figure 3.
Figure 3
General Electric Co.
Long-Term Service Agreements
Deferred Revenue & New Sales Estimates
(% of revenue, 2016-2017)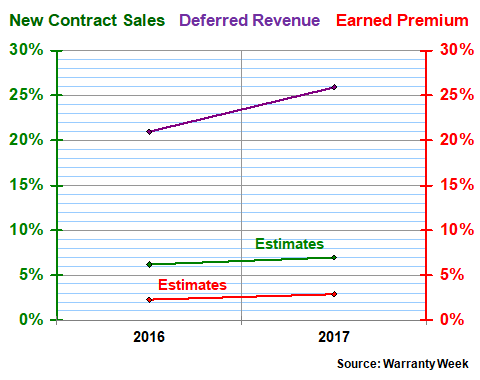 Notably, the percentages were highest in the Transportation business unit, and lowest in the Oil & Gas unit. They were slightly below average in the Power and Aviation business units. But in the company as a whole, the averages for earned premium and new contract sales were 2.9% and 7.0%, respectively.
If the 21% and 26% figures for deferred revenue sound high for GE, Giuntini noted that the ratios may be even higher for Rolls-Royce. "They actually copyrighted the term Power by the Hour," he said. And their annual report states that upwards of 90% of the current Rolls-Royce widebody fleet is covered by what they call TotalCare service agreements. Unfortunately, they don't provide any figures for deferred revenue, earned premium, or new contract sales.
Also, Giuntini noted that at least half the current flying fleet is actually owned not by the airlines but by operating leasing companies. "And the operating leasing companies insist on these programs," he added, "because that assures the residual value of those engines when the lease expires."
United Technologies Estimates
Of course, United Technologies is a completely different company. While the post-appliance and post-NBC General Electric is still heavily involved in the energy, mining, and air and land vehicle industries, UTC is involved in aviation and building systems (specifically, HVAC, security, and elevators). All they have in common is their leading positions in the jet engine industry.
But let's suppose for a moment that if one company that's a mixture of aviation and non-aviation products recognizes 2.9% of its deferred revenue per year, that another company with a mix of aviation and non-aviation products also recognizes a similar proportion of deferred revenue per year. If that company also disclosed the amount of deferred revenue on its books at the end of each year, we might also be able to calculate figures for earned premium and new contract sales.
Fortunately, in its 2017 annual report, UTC reveals some of these figures in Note 5 on page 49:
NOTE 5: COMMERCIAL AEROSPACE INDUSTRY ASSETS AND COMMITMENTS

We have long-term aftermarket maintenance contracts with commercial aerospace industry customers for which revenue is recognized in proportion to actual costs incurred relative to total expected costs to be incurred over the respective contract periods. Billings, however, are typically based on factors such as engine flight hours.

Deferred revenues generated totaled $5,048 million and $4,288 million at December 31, 2017 and 2016, respectively, and are included in accrued liabilities and other long-term liabilities in the accompanying consolidated balance sheet.
and then in the company's 2016 Annual Report, again in Note 5:
Deferred revenues totaled $4,288 million and $3,502 million at December 31, 2016 and 2015, respectively, and are included in accrued liabilities and other long-term liabilities in the accompanying consolidated balance sheet.
In fact, UTC has included these deferred revenue figures in all its annual reports since 2010-11. So since we know that the company ended 2016 with $4.288 billion in deferred revenue and ended 2017 with $5.048 billion in deferred revenue, and since the company reported nearly $41.4 billion in product revenue, if we estimate that the amount of revenue recognized was equal to 2.9% of product sales, we have a figure of $1.2 billion for earned premium in 2017. And then UTC would have to sell just under $2 billion in new contracts to end the year with $5.048 billion in deferred revenue. These estimates are detailed in Figure 4.
Figure 4
United Technologies Corp.
Long-Term Service Agreements
Deferred Revenue & New Sales Estimates
(US$ millions, 2015-2016)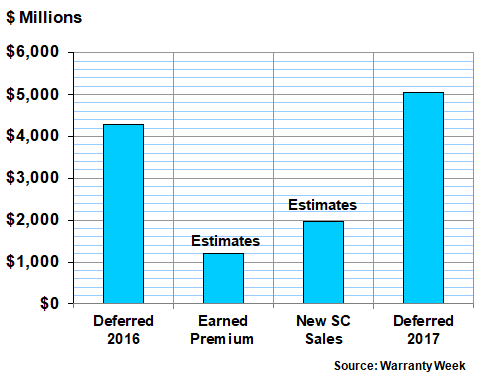 Finally, if we assume that earned premium has remained constant at 2.9% of product revenue for each of the past eight years (unlikely, but let's assume), and if we know the exact proportions between deferred revenue and product revenue for all eight years, we can calculate the amount of new contract sales accordingly. As can be seen in Figure 5, we estimate that new contract sales have ranged from 3.1% to 5.5% of product revenue over the past eight years.
Figure 5
United Technologies Corp.
Long-Term Service Agreements
Deferred Revenue & New Sales Estimates
(% of revenue, 2016-2017)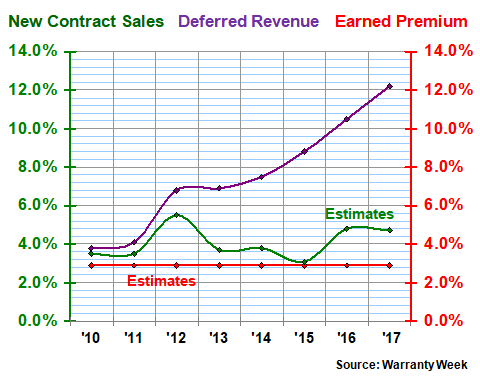 Notice that the amount of deferred revenue over the same eight years gradually rises from 3.8% in 2010 to 12.2% in 2017. These are not estimates. Instead, these are calculations made straight from figures included in the annual reports.
Readers might reasonably conclude that earned premiums must also be rising over the same eight-year period. So the constant 2.9% figure is not accurate. However, if the red line rises, the green line will have to rise also, because the more revenue that's recognized from old contracts, the more revenue that needs to be added in new sales in order to reach the balance represented by the purple line. While the shape of the red and green lines are estimated, the gap between them is fixed by the rise of the purple line.
Rising Product Sales and Service Revenue
Giuntini said he thinks most of UTC's deferred revenue comes from aviation, with some coming from the Otis elevator operation (direct sales, high need for maintenance, etc.). And the recent rise in service revenue is in keeping with the growth the industries have undergone since the end of the recession.
"You had record levels of aircraft deliveries by Boeing and Airbus," Giuntini said. Boeing with its 737 and Airbus with its A-320 have been going gangbusters in recent years, and so have engine deliveries. So it's no surprise to see UTC deferring $5 billion, or GE deferring $15 billion, he said. "These are multi-billion-dollar companies," he noted, with nearly $182 billion in total revenue between them last year.
Also, he said, in recent years the engine manufacturers have reduced some of their sales prices, hoping to make it back in the aftermarket through sales of services. So it's no shock to see deferred revenue accounting for an increasing share of total revenue.
Likewise, as can be seen in Figure 6, it's no surprise to see our estimates of long-term service agreement sales by GE and UTC going above $6 million in new contracts last year. "Again, they would be some of the bigger players," he said. "And in aerospace or in high-tech, you're going to have a higher percentage."
Figure 6
GE & UTC
Long-Term Service Agreements
New Sales Estimates
(US$ millions, 2016-2017)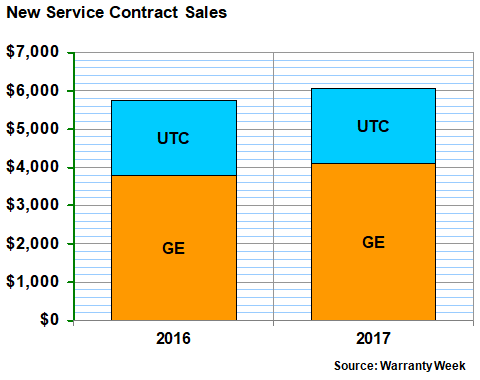 With modifications in the percentages, Giuntini said this type of estimation may be adaptable to other companies and other business-to-business industries where their accounting practices are more opaque than in aviation (or in truck manufacturing, as we detailed last week). Add together a billion here and a billion there for the B-to-B extended warranty activities of Cisco, Siemens, Caterpillar, Dell, and HP, just to name a few, and to quote a former U.S. Senator, "pretty soon you're talking real money."
Giuntini estimated that close to a trillion dollars' worth of industrial machinery is sold in the U.S. each year. So even if the service contracts account for only two to three percent of sales, we're still talking $20 to $30 billion a year. Globally, multiply that by 2.5 and we're talking about $50 to $75 billion a year worldwide.
Meanwhile, the value of the U.S. installed base of industrial machinery is roughly $10 trillion at current replacement value, he said. And the typical maintenance cost is around 2.5% per year. So that suggests $250 billion worth of spending per year. Is it unreasonable to then suggest that 8% to 12% of that total is from extended warranties/service contracts, and the rest is pay-as-you-go?