September 27, 2018
B2B Service Contract Conference:
Last year, a commercial service contract trade association was launched at the Nashville conference. This year, two half-day programs have been added to the main conference to delve into topics related to how commercial service contracts are priced, configured, and sold to businesses.
As the ninth annual edition of the Extended Warranty & Service Contract Innovations conference prepares to convene in Nashville next week, industry professionals are in for a treat. Following a day-and-a-half of regular programming about the consumer end of the industry, show producers have for the first time scheduled a day-long add-on forum about the business-to-business service contract marketplace.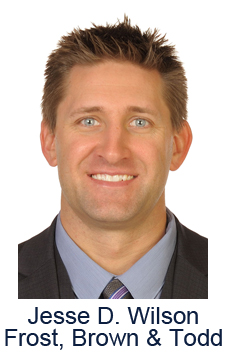 Co-chaired by Jesse D. Wilson, an attorney and member of the law firm Frost Brown Todd LLC, and Greg E. Mitchell, an attorney and member of the law firm and chair of its Insurance Industry Group, it's one of two add-on forums available to attendees this year.
Wilson said the need for such an add-on forum has become plain over the last several years, as both he and Mitchell have attended, exhibited, and spoke at the main conference. The two attorneys, who are also spearheading the formation of the National Commercial Service Contract Association, wanted to help create a place for the people in the industry to simply get together and talk.
"This is the first year for the B2B Commercial Service Contract Innovations Add-on Forum," Wilson said. It begins at 2pm on Tuesday, right after the main conference concludes. Basically, it's a full-day track focused on the business-to-business portion of the service contract industry, spread over two half-days: Tuesday afternoon and Wednesday morning.
Rather than launch their own separate conference focused on the commercial service contract market, Wilson said he and Mitchell decided it would be best to partner with the folks at Strategic Solutions Network, the producers of the main conference, to develop an add-on track focused just on the commercial side of the industry, which covers the trucks, buses, planes, machinery, tools and systems used by businesses, as opposed to the consumer service contracts that protect cars, phones, electronics, and appliances used by individuals and households.
Wilson said he expects it to be a simple process for people to add the forum to their agenda if they're already heading to Nashville for the main conference. In addition, he urged people who weren't planning on going to the main conference, but who have an interest in commercial service contracts, to contact him directly if they want to go to just the add-on forum.
"I've had conversation after conversation with attendees, as well as with clients, who have been sharing and recognizing that there really isn't anywhere else in the industry that we're aware of, where there is a concerted effort to focus on business-to-business service contracts, recognizing how regulators look at them differently in some states, and recognizing that what's in the terms and conditions of a B2B service contract is generally a lot more extensive, and involves different types of services that fall outside of a traditional consumer service contract," Wilson said.
He said, in fact, that during past conferences some of the attendees were asking him questions about commercial service contracts that he didn't know how to answer at that point in time. "Our focus, like everyone else's, was in the consumer space," he said. "But it opened my eyes to this whole other area of need." And that in turn developed into the launch of this new add-on forum.
"It's a really interesting area, and not just from the standpoint of the law," he added. "That's really only one aspect of it." He said while the provision of legal advice is a big part of the process, there's much more involved in terms of strategic planning and business development. "Bringing together pieces and parts from all those different areas, and to help facilitate the conversation within the industry, is really an exciting thing for us to be involved in," he said.
Manufacturer Perspectives
In addition to the legal viewpoint of the industry, attendees are also going to hear from several manufacturers that have a presence in both the consumer and commercial side of the industry. For instance, Microsoft Corp. is sending Nathan Banks, its director of product management, to speak at the main conference, and both senior program manager Becky Snyder and program manager Laura Balentyne to talk about enterprise customers who purchase extended warranty plans for Surface devices.
Bryan Waller, the director of customer assurance at Cisco Systems Inc., said he will be talking about the recent changes his company has made to its warranty accounting policies. In addition, he said he will discuss how some of those changes in warranty policies have also been adapted to out-of-warranty service operations.
"I know a lot of the folks that come to this conference have typically been B2C, so I'll spend a few minutes talking about how we're different," he said. For instance, with product warranties, Cisco is not usually paying dealers to repair products. And with service contracts, much more than merely break/fix is covered. With networking equipment, customers may need troubleshooting assistance or software upgrades. "They need a lot of things that warranty doesn't provide."
In fact, he said, roughly three-quarters of the company's warranty claims are also covered by overlapping service contracts. And the terms and conditions of those service contracts may be more comprehensive than merely hardware replacements or repairs.
Waller said another big difference is that Cisco is not just looking to drive down warranty costs. It's also trying to use warranty data to boost product quality. And that involves more groups within the company than just the claims processing people.
"If you talk to the finance guys, they just want less money spent. If you talk to the service people, they just want to get paid for their work. And if you talk to the sales guys, or the product marketing people, they just want to be competitive," he said. "But there is a core of us, myself in warranty accounting and some other folks, that are trying to take this data and use it as a lever on quality."
Waller said most of the tools the company is using have been built around Oracle and Excel, with some dashboards developed using Tableau business intelligence software. "But we're also using some AI and machine learning around avoidable RMAs," he said.
He added that he thinks a significant percentage of Cisco's RMAs are avoidable. "Some of it's technology issues. Some of it's customer behavior, or Cisco behavior." And all of those issues are watched by the dashboards, in hopes that suggestions can be made to the Technical Assistance Center engineers as they're deciding how to proceed with an RMA.
Enabling the Customer
At the end of Tuesday's program, Patrick O'Meara, the director of contract services and warranty at Thermo King, a subsidiary of Ingersoll Rand, will talk about how to leverage service contracts to improve customer experience and grow product sales.
O'Meara said Thermo King created a calculator application for its dealers to use when pricing extended warranties and guaranteed maintenance programs for the company's transport temperature control systems. It takes into account the location of the dealer, the prevailing labor rates, weather, desired response time, and whether or not the customer wants to do their own preventive maintenance.
"There are some customers out there that have their own shops," O'Meara said. "So they can do the basic stuff. And they ask for a lower rate, as opposed to the guy who says 'I don't have any techs. I have no shop. So I need the full program.'"
In addition, most of the contracts are billed monthly, he said. So Thermo King has to constantly demonstrate the value of the programs, because customers can cancel. The best way to do that, he suggested, is to look at uptime, and to put a cost on downtime, in terms of the potential cost of trucks waiting to be repaired instead of making money.
"In many cases, I'm an enabler," O'Meara said. "My goal is to make sure that our customers have the best experience possible at the most aggressive rate possible, so they keep buying our units and our parts."
In addition, he said Thermo King wants to leverage the telematics data it collects from the upkeep of its refrigeration units, to help it make a better product with even higher uptime levels, which in turn will boost customer loyalty and repeat purchases. "We have to dazzle with data," he said.
It's much different than the typical retail consumer business, where the goal is to sell the contract and hope it's never needed. "We'll sell you a warranty on a pack of gum, and we might not ever see you again," he said of the consumer side of the business. "I think customers like knowing that we're along for the ride with them."
Complex Pricing Process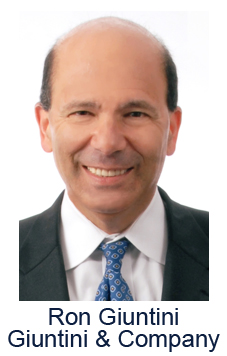 Ron Giuntini, the president of Giuntini & Company, said he is going to talk about all the elements that go into the pricing of a B2B service contract. He said it's a much more complex process than the pricing of the underlying product, which is usually a machine or a vehicle that's used in business.
"I'll talk about the different resources that are employed in maintaining the value of a machine," he said, "and aftermarket is one aspect of it, besides a limited warranty and service contracts."
He said he is working with a British company called BlueprintCPQ, which has a software package that is used to price products, to repurpose those tools to help price a commercial service contract. It could be a simple extension of the limited warranty, providing coverage for additional years, or it could also include additional services such as preventative maintenance that are not part of a break/fix event.
"There are so many variables involved in pricing commercial service contracts," he said. Not only does it involve the obligor and the seller, but also various other parties involved in the delivery of the service. For instance, there may be what he called an obligee, who may be a fleet manager that also works for the actual recipient of the service. And there are additional parameters to be determined, such as who will provide the labor, and how it will be procured. In some cases, the recipients themselves might do the work and bill the obligor.
"And then, in the B2B world, you have constant amendments to those contracts," Giuntini noted. "You can add additional machines, you can change solutions, you can change the level of service, or you can change the duration of the contract." In fact, he said, it's rare for the terms and conditions to remain exactly the same for multiple years. "So you're going to have to change the price of the entire contract."
Negotiating the Sales Process
To close out the proceedings on Wednesday, Ashok Kartham, the CEO of Mize Inc., will be speaking with Rob Christian, the president of OnPoint Warranty Solutions LLC, about how to streamline the quote-to-renewal process.
Kartham said close to two-thirds of the Mize customer base are on the business-to-business side of the service contract industry, such as Trimble Navigation, Takeuchi Manufacturing, and Blue Bird Corp., makers of the ubiquitous yellow school buses. OnPoint, meanwhile, is using the Mize platform to administer warranty and service contracts on both the B2B and consumer sides. "So we see this as a very important segment for us," he said.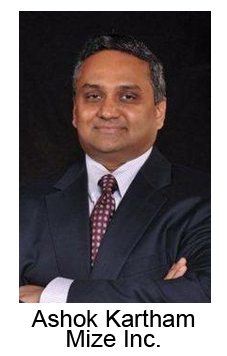 Kartham said his presentation will focus on the sales process, which is much different on the B2B side of the business. With consumer service contracts, one size fits all, and there is usually no negotiation of the price or terms. It's simply a yes or no question, and perhaps a selection of how many years of coverage to purchase. But on the B2B side, there is more negotiation and more configuration involved. There may be several machines that need to be covered, and the terms and conditions will need to be changed.
"It involves more elements," he said. "It's not just about repair. It could involve maintenance. It could involve SLA terms -- the response times that customers are expecting. And because there may be multiple products involved, you may need to negotiate volume discounts."
Kartham noted that while the claims processing and contract administration procedures may be more uniform, the sales process will always need some customization. "They need to support their channel partners with the right programs for configuring, pricing, and coding," he said. "So that's what we want to focus on: How do we enable these B2B companies on the sales side of the process, rather than the administration side."
In addition, Kartham noted that contract renewals are a huge part of the B2B side of the industry. "As long as they own the product, businesses want somebody else to make sure that product is working for them," he said. "So we want to continue to work with these companies to see how they can improve their [renewal sales] metrics, which will result in more revenues."
A Place to Talk Shop
Though the NCSCA is not making a formal presentation at the conference, Wilson noted that both Frost Brown Todd and the NCSCA are among its co-sponsors. The two are also jointly sponsoring a networking reception scheduled for Tuesday at 5pm, which will actually take place at Frost Brown Todd's Nashville office, about a 10-minute walk from the conference hotel.
Wilson said this low-key approach is intentional. "Our first objective is to get industry people talking," he said. "I'm convinced that the natural outflow of that will be an interest in engaging in a trade association like the NCSCA. But you have to start with just discussions amongst the industry." And then, perhaps, one of the next steps will be to convene a trade association membership meeting.
He said it's a bit of a pivot for the group, away from formal member recruitment and towards simply facilitating places to meet and talk. "Let's just get people together," he said. "They just don't have a place to talk to their peers and their counterparts. That's what we hear from our conversations with industry participants. We're not worried about the NCSCA label. We're more worried about just getting people that are in the industry together."
Towards that goal, Wilson said the Tuesday night networking reception is open not only to all conference attendees, but also to industry participants that live, work, or just happen to be visiting Nashville next week. All he asks is that interested people call ahead and RSVP, so he can make sure they're on the list at the security desk at The Pinnacle at Symphony Place.
"We want to open it up," Wilson said. "We're starting to try to think broader and think larger when it comes to this B2B stuff, because we think there's a lot more out there. And because it hasn't been focused on, we think that there are more people in this space than may even realize it. So the more that we can just bring people together to talk about what they do, the more people will realize they have common interests and challenges."