January 31, 2019
PCMI Signs AmTrust for Reinsurance Software:
As AmTrust looks for ways to boost its core insurance underwriting business, making it easier for clients to see the financial metrics of their reinsurance investments becomes a priority. And PCMI's modular approach to reinsurance reporting software makes it easier for AmTrust to implement.
Last week, AmTrust Financial Services Inc. announced its decision to implement the Reinsurance Module of the Policy Claim and Reporting Solutions, as developed by PCMI Corp. AmTrust, as one of the ten members of the A-Team of extended warranties, is apparently looking for ways to differentiate itself from the others on the team, such as the newly-enlarged Assurant Inc. And making it easier for its dealers, agents, and administrators to invest in the reinsurance side of the business, and to also make it easier to for those clients to keep track of those investments, is now a strategic priority for the company.
In the past year, AmTrust has undergone two major changes in its corporate structure. First, the founders and managers took the company private, buying back all the outstanding shares and de-listing the ticker symbol AFSI from the NASDAQ Global Market. Second, they made a partial exit from the administration end of the extended warranty business, so they could concentrate on the insurance underwriting side of the industry.
Getting Back to Private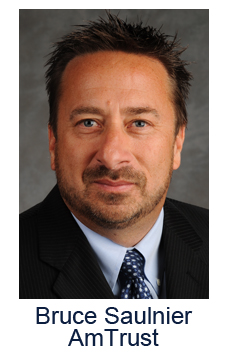 Bruce Saulnier, president of AmTrust Specialty Risk, said that the return to life as a private company is allowing for more long-term planning, and more strategic investments in systems and software.
"The first thing that I'm noticing in a very tangible way is that our focus is more strategic, and more long-term," he said. "So we're looking at doing the right deals for our clients, and the right structures for our clients, versus short-term vision and 90-day windows as a public company."
Saulnier, who has been with AmTrust since shortly after its founding in 1998, said the ability to plan for the long term has already begun to affect the way the company does business. "Everybody loves it," he said. "Our clients are thrilled. Our employees are happy. And when those two things gel, business begins to transform."
Besides going private, last year AmTrust also sold off 51% of its stake in Warrantech and other extended warranty administrators to Madison Dearborn Partners, a private equity firm. That entity is now known as the Amynta Group, whose appellation is derived from the Greek word for defender. Besides retaining minority ownership of Amynta, AmTrust remains the group's insurance underwriter.
Saulnier said these changes in structure are allowing AmTrust to go back to its core values: workers' compensation insurance and service contract underwriting. "We're focusing on those core pillars that made us very successful in the early years, he said.
"This industry is changing dramatically in just the warranty world, where I'm focused," he said. "It's going through massive consolidation, products are being used differently, and the segmentation is changing a little bit. This really allows us to be very focused on those areas where we believe the development is going to be, and where our clients' focus is going to be."
Specialty Risk and Extended Warranty, the business segment housing the service contract underwriting activities, represented about 45% of the company's net earned premiums in the nine months ended September 30, 2018, up from 40% in calendar 2017 and 33% in calendar 2016. The Small Commercial Business segment, which provides workers' compensation insurance to small businesses, has represented a relatively steady 45% to 47% of net earned premiums over the same period.
And so, as more auto dealers, agents, and administrators are looking to become more deeply involved with vehicle service contract reinsurance, AmTrust is looking to provide better management tools to those clients. Enter PCMI, whose Policy Claim and Reporting Solutions platform just so happens to include a Reinsurance Module that provides clients such as auto dealers with dashboard views and secure online access to financial reports and account information.
"The business is evolving, and more people are looking to reinsure, because everybody's margins are being challenged, and that's a way for companies to make more money," Saulnier said. This, he said, is a state-of-the-art solution that's also very customer-centric, in terms of the visibility it can provide to those clients on demand. "We have to be much more focused on that customer experience."
Reinsurance Reporting
And that's going to require a more robust presence in reinsurance, which, as its name implies, is basically the insurance coverage that insurance companies buy, to spread the risk and/or to reduce taxes. But it's also a nifty way for the sellers and administrators of service contracts to share in the back-end profits, assuming that claims paid don't exceed premiums collected.
In the vehicle service contract sector in particular, the dealers who are selling the actual extended warranties, as well as their agents and administrators, frequently want to join in with their insurance underwriter to invest in a share of the reinsurance component, in the hopes that their book of business is profitable. So they form a reinsurance company, usually with their underwriter as a partner, on the theory that if their service contracts are making money, they will not only collect the sales commissions at the front end, but also will participate in a share of the profits at the back end.
Therefore, as with any investment, on a day-to-day basis, those dealers, agents, and administrators will want to know how their investments are doing, and whether the reinsurance companies they've invested in are profitable. So on-demand access to that information is becoming a key demand for those clients, and a key differentiator for the insurance carriers that help set up those reinsurance companies.
In the old days, back at the turn of the century, reinsurance reports such as cession statements were sent out monthly. The data that went into those statements was partially automated and partially manually-generated. Now, a dealer can log into a secure web page and check on claim activity and other metrics whenever they want.
"This was a pain point for many companies," Saulnier said, "and a frustrating point for many dealers and agents that may have a reinsurance captive. When you have this type of system and solution that's readily accessible to them, the ease of doing business is going to be great, and the level of information that they get is going to be better than they've ever had.
"At the end of the day, what these people are interested in is: How is my investment going?" Saulnier said it's no different from a 401(k) plan or a brokerage account: people want to be able to log on and see how it's doing. "This is their money, and it's going to be at their fingertips. They're not going to be guessing any more. I think the industry is plagued with inefficiency in this area, and we are trying to change that experience for our clients."
Key Enhancements
According to the press release announcing the deal, the PCRS platform will allow access to information and reports, which will be generated much faster than the manual methods currently used. Highlights include:
Improved cession statements with the ability to display detailed valuable information,
Drill down capability to obtain underlying contract and claim detail,
Dashboards and experience/performance reports with analytical data to evaluate profitability and identify key risk factors,
Online access to information available 24/7 with a secure website portal,
Secure access to trust account information and activity,
Storage for reinsurance agreements and other pertinent documents in one location, and
Support for all types of reinsurance structures, including Non-Controlled Foreign Corporations.
Request for Modularity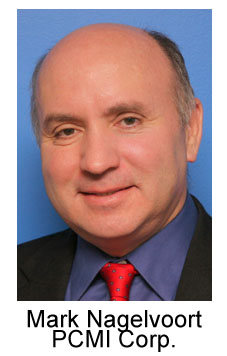 PCMI is a longtime sponsor of this newsletter. Mark Nagelvoort, president & CEO of PCMI, said the company responded to a Request for Proposal that asked for just a reinsurance solution -- one that would also require them to replace their policy and claims system. And PCMI's Policy Claim and Reporting Solutions platform, though it includes functionality for everything from risk management to rust protection programs, also includes a module that can provide reporting tools just for reinsurance activities.
"The fact that we're modular was huge," Nagelvoort said. "And we offer online, drill-down reporting. Not only can we produce the overall statement, but the dealers can actually drill down to the individual contracts."
Nagelvoort said the decision to craft PCRS as a modular system was a reflection of market conditions back when the company was launched in 2011. This type of architecture allows the reinsurance module to be attached as an enhancement to an existing system, rather than being part of a solution that replaces the entire system.
"We knew back then that everybody already had a system that could process service contracts," he said. "We knew that most of those systems were lacking comprehensive dealer reporting and reinsurance. Most administration systems do not really have the ability to produce a reinsurance statement. So, by being able to offer it as a module, we get the formal relationship with that company."
And then, maybe later, they might take a look at the rust protection, tire & wheel protection, Guaranteed Asset Protection, or other additional functionality. Or maybe not, if all they need is the reinsurance module. Nothing in the architecture either requires or prevents its enlargement in the future.
Many large clients, he said, want to be able to implement one module at a time, rather than performing one great big cut-over. They tend to be geographically dispersed with diverse product lines and multiple market segments. A mass conversion is just too hard to do. In contrast, smaller clients seem to prefer to do a complete cut-over all at once, because it might involve just one small team in one office.
"AmTrust has only made the commitment to do reinsurance," Nagelvoort said, "so I don't want to mislead anybody. But our other customers have implemented the risk management system, then the policy system, then the claims system. They can implement it in modules."
The other major advantage is online access. Not only can dealers with reinsurance programs log on and see their metrics from home on weekends, but they can also grant access to their account managers and others with a need to know.
Specific Needs
Jackie Banks, vice president of reinsurance for AmTrust's Specialty Risk Division, noted that all of the administrators AmTrust is working with already have their own systems in place for policy and claim administration, so they don't need a completely new system. But they might not have a reinsurance system, or they may not be satisfied with the capabilities of the reinsurance reporting tools in their current system.
Banks also said she knew PCMI and Mark Nagelvoort from back in the days when she was with Allstate Dealer Services. "And I told him that we were interested in getting the reinsurance technology put in place at AmTrust," she said.
"As the underwriter, we need the reinsurance component to do the cession statements and reporting," she said. "And [from PCMI] we could get just that one component, which is what we needed. There are not very many people that do [the reinsurance component]. But he has that niche. He has exactly what we needed."
Make Versus Buy
So why didn't AmTrust simply write its own reinsurance module? Saulnier said this is already a proven offering that's already in use in the marketplace. "We don't want to invest the hundreds of thousands or even millions of dollars it takes today to build systems and applications," he said. "I would rather pull the best ones into the AmTrust world, and provide those to our clients."
Nagelvoort agrees. "It's just not practical to continue to build an in-house system any more, with all the things you need to be able to do. So to be able to do it in modules lets people bite it off in pieces. Or, they can just do that one piece and they can stay with that piece, and we're happy to have them as a customer."
Banks said the make versus buy decision comes down to two factors: time and money. She said AmTrust wants to move quickly on this, and not wait years for something to be built in-house. And it's already been built by PCMI.
"It's a very unique industry," she said. And Nagelvoort has enough experience with both the dealers and the reinsurance end of the business to know how it operated. "He's been through all the trials and tribulations. He knows NCFCs and CFCs -- I didn't even have to explain the business to him. He had everything pre-built."
If all goes well, a phased implementation will begin soon, and continue throughout the year. Banks said AmTrust currently works with about 60 administrators, and hopes to roll out the reinsurance module to them all, a few at a time, during 2019. "We have roughly 740 reinsurance companies," she said, but that's a mix of administrators, dealers, and their agents. Also, some auto dealers, particularly the larger ones, have more than one reinsurance company.
International Plans
This agreement covers just the U.S., but it's crafted in a way that allows it to grow to include AmTrust's extensive international operations as well. According to its website, AmTrust operates in 70 countries and 13 time zones. Amtrust International Insurance Ltd., a reinsurance company, is based in Hamilton, Bermuda. Car Care Plan, a vehicle service contract subsidiary that sells policies in the United Kingdom, Europe, China, and Brazil, is based in northern England. AmTrust International Underwriters Ltd. is based in Dublin.
Banks said international deployments of the reinsurance module are in the works. "That's something that I liked about PCMI: they have that international capability," she said. "We are looking to use the system in other countries."
"The I in PCMI stands for International," Nagelvoort noted (the company name is an acronym for Policy Claim Management International). The company is based in Chicago, with additional offices in Krakow, Poland, and in northern Thailand. In addition, there are data centers in Australia, Asia, Europe, and the U.S.
"We do have international capabilities as well as in the U.S. market," he said. "So we're thrilled to have another key name client as part of the PCMI family."