February 14, 2019
Early Look at Year-End Warranty Data:
The Hewlett-Packard family of companies has filed their annual reports, as have a few others such as Deere and Navistar. While companies whose fiscal years end in December are just beginning to publish their warranty expense reports this week, many others with different fiscal years have already released the data.
February and March are the months that most American manufacturers whose fiscal years follow the calendar will file their annual reports with the U.S. Security & Exchange Commission. However, some companies are following fiscal years that end earlier than December, so we already have some early reports coming in.
For instance, HP Inc., and the other companies that descend from Hewlett-Packard Company, such as Agilent Technologies Inc. and Hewlett Packard Enterprise Company, end their fiscal years in October, so their annual reports containing their product sales and warranty data are already on file. Others end their fiscal years on June 30 or September 30, so their quarterly financial statements are already on file for the period covering the months of October, November, and December 2018.
In fact, the U.S.-based companies responsible for roughly 40% of the claims and accruals reported in 2017 have already finished filing their financial reports for 2018. So while we wait about a month for the remaining 60% to file their annual reports, we thought we'd take an early look at some of the already-available warranty data.
First of all, at this early stage in the data-gathering process, we note that for this portion of the warranty provider community, claims are up by 4.4% while accruals are up by 1.1%. Their warranted product sales, meanwhile, are up by 5.8%. But once again, this is a community that represents just 40% of the 2017 warranty expense totals, so 60% have yet to be heard from. And things may change as more data becomes available.
HP Family Reports
For the Hewlett-Packard descendants, claims payments in fiscal year 2018 were relatively unchanged from their 2017 totals. HP Inc. paid out just over a billion dollars in claims, a 1.1% increase from fiscal 2017. HP Enterprise paid out $300 million, a 2.0% decrease from 2017. And Agilent paid out $52 million, a 3.7% decrease from 2017 levels.
In Figure 1, we're charting the quarterly claims payments of HP, HPE, and Agilent over the 16 years and 64 quarters for which warranty data is available. HPE was formed in November 2015, but at that time it provided fiscal year 2015 and 2014 warranty data retroactively (see Warranty Week from February 18, 2016 for more on this separation). And Hewlett-Packard Co. became HP Inc. Agilent was spun off in a 1999 initial public offering.
Figure 1
HP Inc., HPE & Agilent
Claims Paid per Quarter
(in US$ millions, 2003-2018)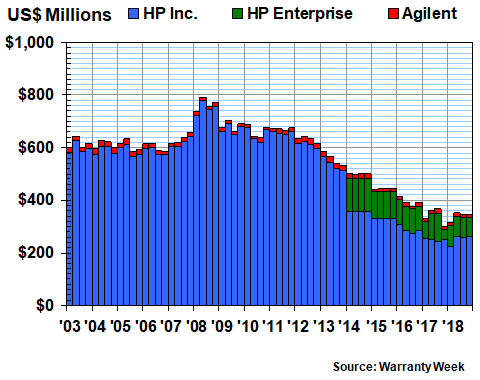 Note that the quarterly totals for both the group and the individual members have been declining for multiple years. At the same time, so have sales, although in the most recent period, the fiscal year ended in October, HP Inc.'s warranted product sales were up 13%; HPE's were up 6.4%; and Agilent's were up by nearly 10%.
In Figure 2, we're taking the reported amounts of accruals made and dividing them by the corresponding product sales totals. For 2015 and 2014, we had to chop the annual data for HP and HPE into four equal parts, so the accrual rates are the same for all four quarters of each year. That's why those sections of the chart resemble stair steps. All the other data points are quarterly.
Figure 2
HP Inc., HPE & Agilent
Accrual Rates per Quarter
(in percent, 2003-2018)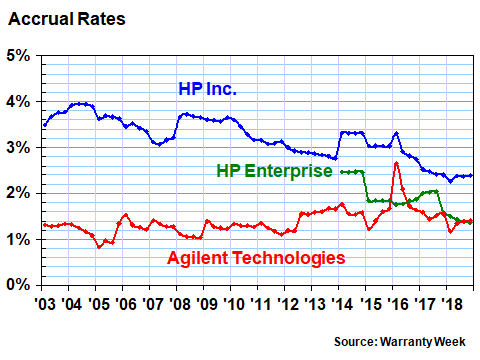 Note that upon separation from the parent, HP's accrual rates went up while HPE's went down. However, by the end of fiscal 2016, HP's accrual rate was back down below the 2.8% level it reported at the end of fiscal 2013, right before the separation, and it has continued to decline more or less every quarter since then. HP Inc. ended fiscal 2018 with an accrual rate of 2.4%, down by more than 1.5% from its 2004 peak.
HPE, meanwhile, has also continued to reduce its accrual rate considerably. In fiscal 2014, while it was still technically part of the parent but was keeping its books separate, it reported an accrual rate of just under 2.5%. That dropped to 1.8% in fiscal 2015 and even further once HPE was trading separately. The company ended fiscal 2018 with an accrual rate of just under 1.4%.
Agilent ran into some warranty problems in the early months of fiscal 2016, but has generally kept its accrual rate very close to its long-term average of 1.4%. However, HPE's ended last year just under that mark, meaning that Agilent is now once again in the middle, as it was back in early 2016.
ASC 606 Revisions
In the December 20 newsletter, we wrote about how the Financial Accounting Standards Board, which maintains the Accounting Standards Codification, basically the accounting rules that American companies follow, had introduced a new rule called ASC 606, Revenue from Contracts with Customers.
Basically, the new rule instructed manufacturers and retailers to separate their standard product warranties from their extended warranties, and to report the liabilities for each separately. For instance, IBM already does so as follows: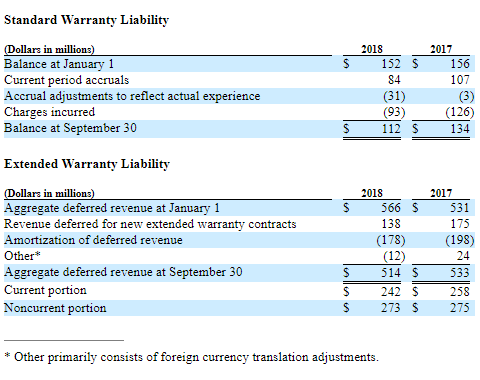 There is a lot more to the new rule regarding deferred revenue and other accounting disclosures. But what we also noted was that by adopting the new rule, companies such as KLA-Tencor Corp. and Netgear Inc. were forced to admit that what they were calling product warranty funds were not really product warranty funds. Instead, they were funds earmarked for items such as sales returns and performance obligations. So they removed most of those funds from their warranty reserve funds.
Already, based on just the early reports we've seen so far, this phenomenon is continuing to affect the warranty expense totals of several other companies. So far, we've seen ASC 606-related adjustments from Oshkosh Corp., Acuity Brands Inc., and Woodward Inc., although none have virtually wiped out their entire warranty reserve fund balances, as did KLA-Tencor and Netgear.
Oshkosh removed $14.3 million from its product warranty reserve fund. But it added $35.7 million to its extended warranty deferred revenue fund. Acuity Brands removed $14.8 million from its product warranty reserve fund. But it added much more into other accounts such as accrued liabilities and accounts receivable.
In contrast, Woodward actually added funds to its warranty reserves, though it was just a net $594,000 increase to a $20 million balance. Its ASC 606 adjustments had a much larger effect on other accounts. For instance, it increased accrued liabilities by nearly $15.7 million, and added nearly $105 million to accounts receivable.
In other words, while ASC 606 is going to have a significant effect on the books of some manufacturers and retailers, we think it's effect on warranty is going to be more narrow. Its effect is mainly going to be the result of companies reclassifying items that weren't product warranty-related to begin with, into other categories where they belong.
Sometimes this will involve some tidying up of the now-separate product warranty and extended warranty accounts. Other times, it will cause companies to admit that their warranties were really sales returns or prepayments or something else not related to defects or malfunctions.
In the weeks ahead, we will keep an eye out for additional warranty-related ASC 606 adjustments, as the annual reports come in. However, if any readers see something relevant in the financial press, please send it our way.
Other Early Reporters
Besides the HP family in the high-tech sector, several companies in the construction equipment and farm machinery sector also follow fiscal years a few months ahead of the calendar. For instance, Deere & Company, Navistar International Corp., and Toro Company all end their fiscal years in October, and file their annual reports with the SEC in December.
In Figure 3, we're looking at the claims and accrual rates of Deere over the past 16 fiscal years. Note that while the company's accrual rate spiked in early fiscal 2016, it's now back down below three percent. Its claims rate, which is highly seasonal, has been below three percent during six of the last eight quarters.
Figure 3
Deere & Company
Warranty Claims & Accrual Rates
(percent of product sales, 2003-2018)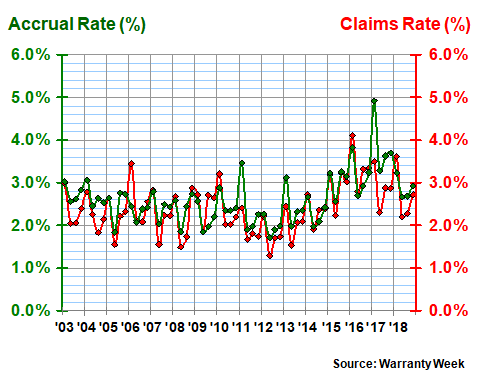 Long-term, Deere's claims rate has averaged 2.4%, while its accrual rate has averaged 2.6%. The standard deviation for both averages, however, is 0.6%, reflecting the volatility that can be seen in the chart above.
Navistar Back to Normal?
Navistar has had an even more drama-filled decade, with its inability to comply with diesel emissions requirements translating into a massive financial drain, as can be seen in Figure 4. During the worst of it, the company's claims rate soared as high as 6.4% in fiscal 2013, while its accrual rate topped out at 4.4% (the difference was made up by additional change-of-estimate adjustments).
Therefore, we're very happy to report that Navistar's claims rate is back down to three percent, while its accrual rate is just above two percent. Claims payments fell from $386 million in fiscal 2017 to $303 million in fiscal 2018. Accruals actually rose by $12 million, but a 20% gain in sales drove down the accrual rate anyhow.
Figure 4
Navistar International Corp.
Warranty Claims & Accrual Rates
(percent of product sales, 2003-2018)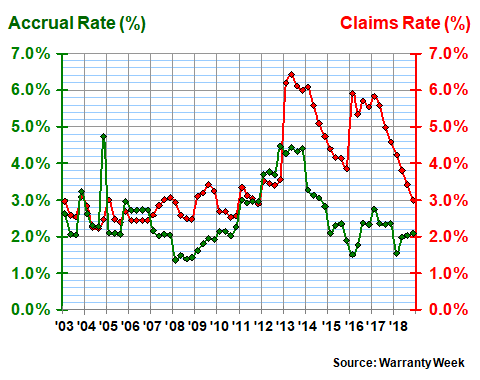 Finally, Toro's 16-year track record is charted in Figure 5. As one would expect of a company whose main activity is the manufacture of residential and commercial lawn mowers, the business is highly seasonal, with claims hitting bottom in the quarters that cover the months of February, March, and April, and peaking in the quarters that include the months of August, September, and October.
And the management of a highly seasonal claims emergence pattern on top of a highly seasonal sales cycle is not all that easy. But when it's done well, it results in a pattern like the one in Figure 5. The claims-to-sales ratio follows the seasons while the accrual-to-sales ratio remains about the same.
Figure 5
Toro Company
Warranty Claims & Accrual Rates
(percent of product sales, 2003-2018)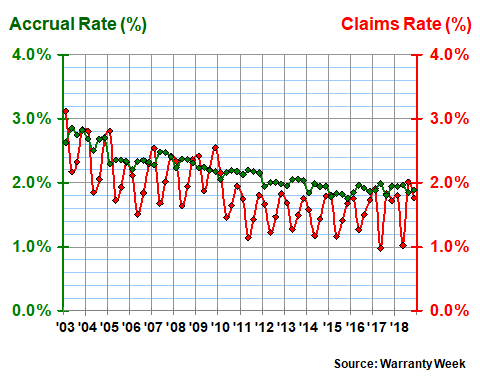 In general, over the past 16 years, the direction of the Toro data has been downward, as can be seen by the downward slope of the accrual rate, which starts off fiscal 2003 around three percent and ends fiscal 2018 under two percent. However, we also note that the summer peak season of fiscal 2018 drove the claims rate up above two percent, a level the company had not seen since the beginning of fiscal year 2010.
While Toro's claims data is highly seasonal, its accrual data is not. This suggests that the company is always keeping its accruals proportional to sales, the way it's supposed to be done. But then every once in a while, it notices a slight improvement in product reliability and lowers its accrual rate a bit. For instance, in fiscal 2018, sales rose 9.6% while accruals rose 6.5%, resulting in a slight drop in the accrual rate.
Sixteenth Annual Warranty Expense Report
In the weeks ahead, hundreds more annual reports will become available, and we will be able to fill in the remaining 60% of the industry's 2018 expenses. So far, we've gathered year-end data for about 90 companies, representing 40% of 2017's totals, including not only these companies we spotlighted this week but also top warranty providers such as Apple Inc. and Cisco Systems Inc.
And so far, for that 40% of the pie, claims totals are up by $400 million to $9.5 billion, while accrual totals are up by $100 million to $9.1 billion. We shall see if that pattern holds as the reports from GM, GE, Ford, Caterpillar, Boeing, and other manufacturing giants are published.