July 11, 2019
European Auto Warranty Expenses:
While Volkswagen continues to recover from a record-setting recent spike in its warranty costs, some of the other top European carmakers have continued to drive down their warranty costs. Six warranty metrics are detailed for four companies over the past 16 years.
Now that we've completed our roundup of all the U.S.-based manufacturer warranty expense data, it's time to turn to some of the international companies that also report their claims and accrual data in their annual reports.
This week, we'll take a look at four of the top European automakers: Bayerische Motoren Werke AG (BMW), Daimler AG, Fiat Chrysler Automobiles N.V. (FCA), and Volkswagen AG (VW). Three are based in Germany, while FCA is based in either London, Amsterdam, or Torino, depending on who's asking. All four report just one set of warranty expense figures for all of their worldwide sales, however.
We have three available warranty metrics: the amount of claims paid per year, the amount of accruals made each year, and the balance in the warranty reserve fund of each company at the end of each year. But we also have two other metrics to use: worldwide automotive sales revenue, and the number of vehicles sold. With these in hand, we can also calculate three more metrics: claims as a percent of revenue (the claims rate), accruals as a percent of revenue (the accrual rate), and the amount of accruals made per vehicle sold.
Warranty Claims
Let's go through them one at a time. In Figure 1, we're looking at the claims payments reported by the four manufacturers during the past 16 years. The 2018 total was 18.66 billion euro, down an astonishing 6.6 billion euro from 2017's record levels, which was caused primarily by VW's diesel engine emissions scandal.
Figure 1
European Auto Manufacturers
Claims Paid per Year
(in millions of euro, 2003-2018)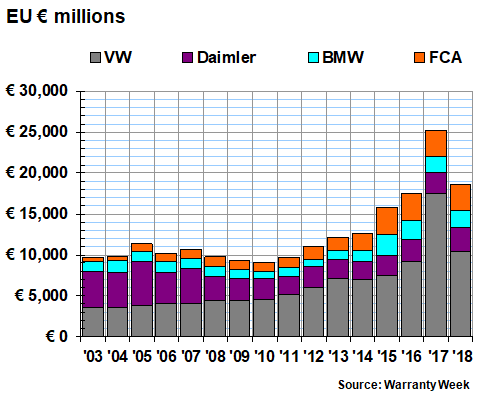 Note that except for this massive annual decrease from 2017 to 2018, claims have risen for the group every year since 2010. Ironically, VW was the only one of the four that saw their claims cost drop in 2018. Daimler saw claims rise by 14%; BMW saw a 7.7% increase; and FCA was up by 10 million euro, or roughly 0.3%. But VW's claims dropped by 7.1 billion euro -- an incredible 41% annual decline.
Of course, one would expect warranty expenses to rise as sales also rise. More cars on the road means more warranty work. A better way to look at the amounts in the chart above would be to calculate them as a percentage of revenue from automotive sales (no finance revenue or investment revenue).
Claims Rate
In Figure 2, we've taken the amounts from Figure 1 and divided each by the reported sales revenue from each company's annual reports. And once again, on this basis, VW's results stand out. In 2017, it spent 17.55 billion euro on claims, equivalent to nearly 9% of its automotive revenue. In 2018, that metric dropped back to 5.2%, which was still the second-highest reading of VW's claims rate over the last 16 years.
Figure 2
European Auto Manufacturers
Warranty Claims Rates
(as a percentage of sales, 2003-2018)
Note that VW has had the highest claims rate in 15 of the last 16 years, with the exception being 2007, when Daimler was in the final year of its Chrysler ownership. We shouldn't directly compare the claims rates of companies, because we cannot be entirely certain that they each calculate their warranty expenses exactly the same way. But please do also note that Daimler went from highest in 2007 to lowest in 2018, while FCA went from lowest in 2007 to second-highest in 2018. What do they have in common? Chrysler.
Warranty Accruals
In Figure 3, we're looking at the annual totals for warranty accruals. Once again, we see a huge jump for VW, but with this metric it occurred in 2015 rather than in 2017. That's because warranty accruals are usually set aside at the time the expense becomes likely, which can be years before the expense is actually paid in the form of claims.
The scandal first broke in May 2014, when the International Council on Clean Transportation, a small nonprofit organization focused on reducing vehicle emissions, and a research team at the Center for Alternative Fuels Engines and Emissions within West Virginia University, noticed the discrepancy between test levels and real-world nitrogen oxide (NOx) emissions levels on VW cars equipped with diesel engines. By September 2015, the U.S. Environmental Protection Agency was on the case, and by the end of that year, VW was setting aside funds to pay the claims.
Figure 3
European Auto Manufacturers
Accruals Made per Year
(in millions of euro, 2003-2018)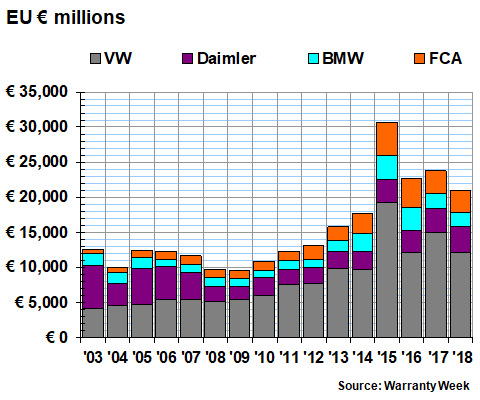 In 2015, VW set aside a record 19.27 million euro, driving the total accruals for the group up to 30.7 million euro. Last year, VW's accruals dropped back to 12.18 billion euro, and the group's fell to 21.0 billion euro. But Daimler and FCA increased their accruals last year, compared to 2018, while BMW reduced theirs by 262 million euro.
We should note that the reason we're spelling out the word euro rather than using the € symbol is because the computer systems of some of our readers are unable to display the character correctly. Although we're not mentioning other currencies this week, nor are we making any conversions, we should also note that the euro was worth US$1.18 in 2018. But that exchange rate has fluctuated from US$1.11 in 2016 to US$1.46 in 2007.
Accrual Rate
The most revealing warranty metric of all might be the accrual rate. This is the percentage of revenue that a manufacturer sets aside at the time a vehicle is sold, to finance the predicted future cost of warranty work.
Some manufacturers play games with this, initially under-accruing to fool the Wall Street analysts and then later making it up with a change of estimates adjustment. The fools dismiss this as a "one-time charge," and the manufacturer's accrual rate looks better than it should. However, none of these four manufacturers have made any sizeable upward adjustments to their accruals in the last few years. If anything, most of their largest recent adjustments have been related to currency fluctuations, not under-accruals.
What we see in Figure 4 is relative stability in accrual rates -- again with the exception of post-2015 VW. And again, except for VW, they're relatively close together. Over the past 16 years, Daimler's average accrual rate has been 3.0%, while FCA's has been 2.8%, and BMW's 2.7%. The standard deviations of all three have been below one percent, which implies stability. In contrast, VW's average is 6.0% with a relatively high 1.4% standard deviation.
Figure 4
European Auto Manufacturers
Warranty Accrual Rates
(as a percentage of sales, 2003-2018)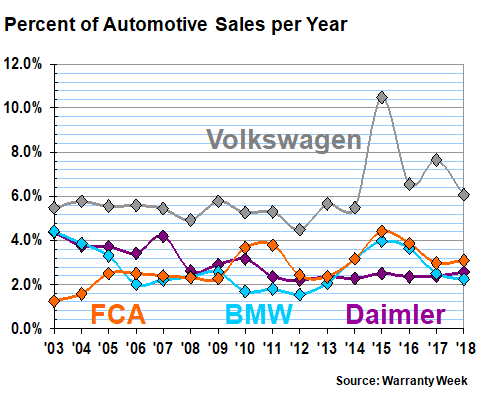 VW's accruals hit an unsustainable level of 10.5% of revenue back in 2015, and they still were slightly above six percent in 2018. Meanwhile, Daimler and BMW were somewhat below their long-term averages in 2018, while FCA was slightly above average. Bottom line, VW and BMW reduced their accrual rates from 2017 to 2018, while FCA and Daimler both raised theirs.
Note that BMW took the low mark within this group for the first time in five years, which was the seventh time it's done so in the last 16 years. FCA had the title for five years, and Daimler had it for four. In contrast, VW has had the high mark for all 16 years.
Accruals per Vehicle Sold
There's another way to look at accruals, which takes the totals listed in Figure 3 and divides them by the number of vehicles sold. There are lots of reasons to worry about the results, however. First, BMW makes a lot of motorcycles, and Daimler makes a lot of trucks, and these products also generate warranty expenses. Second, VW sells a lot of cars in China, where warranty is not yet a major concern. And third, even just within Europe, we're comparing luxury nameplates such as Mercedes and Rolls-Royce to the literal people's car (although Volkswagen also owns Lamborghini, Bugatti, and Bentley Motors, and FCA still owns Maserati).
Still, the metric is useful in that is can show the trend in accruals per vehicle over time. In Figure 5, for instance, we can see that Daimler tends to accrue the most per vehicle sold while FCA tends to accrue the least. But again, back in the painful year of 2015, VW accrued the most-ever per vehicle (1,925 euro, equal to US$2,135 at the time).
Figure 5
European Auto Manufacturers
Accruals Made per Vehicle Sold
(in euro, 2003-2018)
With this metric, FCA has had the lowest accrual per vehicle sold in all 16 of the last 16 years. At the other extreme, Daimler has held the title of highest average accrual per vehicle sold nine times in the last 16 years, while BMW has held it four times and VW has held it only three times.
So there's good news for everybody. VW can point to Daimler's high accruals per vehicle compared to its own. Fiat can point to its always-lowest accruals per vehicle. BMW can point to its low long-term average accrual rate of 2.7%, and to its lowest-of-the-four performance last year. And Daimler can point to its declining accrual rate as well as the lowest accrual rate in four of the past five years. A good advertising agency can make anything look good. Remember farfegnugen?
Warranty Reserves
Our final metric is the balance in the warranty reserve funds of the manufacturers at the end of the year. We always leave it for last because it usually doesn't reveal much, except that some companies like to keep more funds on hand than others.
In Figure 6 below, note that Daimler held the most reserves until it sold Chrysler, and that VW has held more reserves than the other three combined since 2008. In 2015 and 2016 it held more than 60% of the entire group's reserves. And in 2016 it set a new world record for warranty reserves held by a single company (33 billion euro, or more than US$36.5 billion). As a point of reference, GM ended that year with $9.7 billion in its warranty reserve. Ford and Apple were both under $5 billion.
Figure 6
European Auto Manufacturers
Reserves Held At Year's End
(in millions of euro, 2003-2018)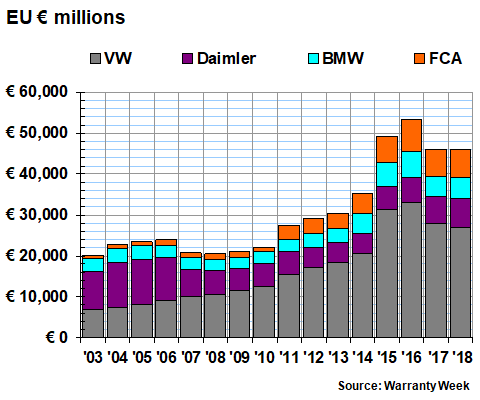 Although the chart above may not show it, the group actually reported a 73 million euro decline in reserves last year. But that was only because the increases reported by BMW, Daimler and FCA were slightly smaller than the 830 million euro decline reported by VW.
And once again, there's lots of good news in the latest figures. For VW, it's the lowest balance they've reported since before the scandal. And for BMW and FCA, it's well below their record levels of 2016. However, 2018 saw Daimler's reserves jump to their highest level since it sold off Chrysler. And at just under 15%, FCA had its highest share of the group's total last year.