| | | |
| --- | --- | --- |
| January 12, 2023 | | ISSN 1550-9214 |
Worldwide Heavy Equipment Warranty Report:
Claims were down a bit in 2021, but accruals rose significantly, as did product revenue. The industry's average claims and accruals rates both fell in relation to total revenue, but the combined warranty reserve fund balances of the 56 companies we're tracking in this industry grew 11% to a record $10.81 billion.
The heavy equipment is a key segment of global manufacturing, including not just construction equipment, but also machines used for material handling, agriculture, mining, road paving, railroad building, and other large-scale industrial and infrastructural projects.
This industry has seen some evolution in the past few years, especially in the Far East, where the major players have many subsidiaries and interlocking joint ventures. Notably, Hyundai Heavy Industries acquired a controlling stake in Doosan Infracore in 2021, with rebranding forthcoming this year.
We are tracking 56 heavy equipment manufacturers worldwide, of which 23 disclose their warranty expense data in their annual reports. We estimate that these 23 companies accounted for about 81% of the worldwide heavy equipment industry's warranty expenses in 2021. Using these data, we fashioned estimates for the remaining 19% based on industry averages for the year, in order to create this report on their global warranty expenses.
Warranty Expense Reports
For each of these 23 companies reporting their warranty data, we examined their annual reports from the last 20 years and extracted four key metrics: the amount of warranty claims they paid, the amount of warranty accruals they made, the amount of warranty reserves they held, and the amount of product sales revenue they reported. Using the claims, accrual and sales figures, we calculated two additional metrics: warranty claims as a percent of sales (the claims rate), and warranty accruals as a percent of sales (the accrual rate).
For the other 33 companies, we created estimates for their warranty expenses. In cases where the company was either privately-held or government-owned (and therefore did not publish its revenue figures), we used the figures in the IC Yellow Table, published annually by the online magazine International Construction, to help us fashion our own revenue estimates.
We found companies reporting in dollars, euro, Swedish kronor, Japanese yen, Korean won, and Chinese yuan. To help us convert all of these figures into American dollars, we relied on a table of annual average currency exchange rates published by the U.S. Internal Revenue Service (IRS).
Worldwide Claims Totals
The next step was then to calculate a total for each of our metrics, which we will present in the charts that follow. Figure 1 contains the past five years of data for worldwide warranty claims, as well as names of the top 11 claims payers of 2021.
Warranty claims fell in 2021, reducing by $250 million to $5.33 billion in 2021. It is notable that this metric has remained above $5 billion since exceeding this threshold for the first time in 2018. However, 2021 had the lowest claims total since 2017, a striking contrast especially because 2020 saw an all-time high for this warranty metric.
Figure 1
Top Heavy Equipment Makers Worldwide
Claims Paid per Year
(in US$ millions, 2017-2021)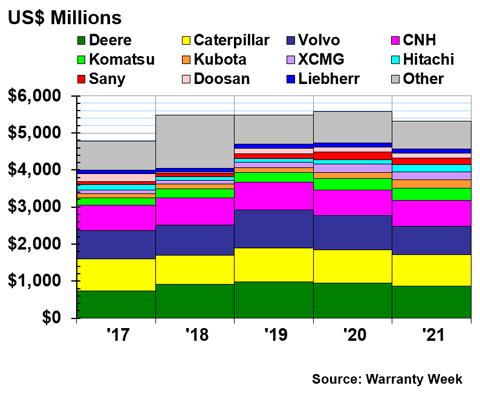 In Figure 1, the data for the XCMG Group, Sany Heavy Industry Co. Ltd., and Liebherr Group are our own estimates. The data for the other eight named companies are taken from their annual reports.
Among these leaders in the heavy equipment industry, Deere & Company is once again the largest claims payer, just barely exceeding Caterpillar Inc. by $10 million. Caterpillar exceeded Volvo AB, ranked third, in this metric for the first time since 2017, and did so by the significant margin of $96 million. However, claims actually fell for all three of these top companies compared to 2020. Of the companies named in Figure 1, Volvo saw the most significant drop, with total claims falling by $182 million, or -19%. CNH Industrial N.V. ranks fourth, with a $713 million claims total, a slight 4% increase compared to 2020. Komatsu Ltd. is in fifth place, with a $316 million claims total that also grew only slightly from 2020.
Kubota Corp. and Hitachi Ltd., ranked fifth and sixth respectively, both saw rather more dramatic increases in claims paid. Kubota's total claims rose by $57 million to $229 million, a 33% increase, and Hitachi's claims rose by $80 million, a whopping 71% increase in claims paid compared to 2020. This represents the highest amount of claims paid by Kubota since we started collecting these data in 2003.
On a proportional basis, the largest drop in claims in 2021 was reported by Oshkosh Corp., which saw a -91% decrease in claims paid. Linamar Corp. also saw a huge drop in claims, decreasing by -77%.
At the other extreme, Zoomlion Heavy Industry Science and Technology Company Ltd. saw an 87% increase in claims, after years of consistent increases in this metric. Sandvik AB had a 71% increase in claims, though these numbers are still lower than they were four years prior in 2017.
Warranty Accrual Totals
Figure 2 contains the past five years of data for worldwide warranty accruals. In terms of accrual totals, the top four companies remained consistent, even in ranking, compared to claims totals. The top 11 companies in the heavy equipment industry are consistent across all of the metrics we measured, though the order of those ranked fifth through eleventh varies.
Global warranty accruals for the heavy equipment industry increased by $584 million in 2021, once again exceeding $6 billion after falling below this threshold in the pandemic year of 2020. Overall, manufacturers in this industry set aside 10% more money in warranty accruals. This represents evident recovery in this industry, though accruals were still lower than they were in the peak year of 2018.
Figure 2
Top Heavy Equipment Makers Worldwide
Accruals Made per Year
(in US$ millions, 2017-2021)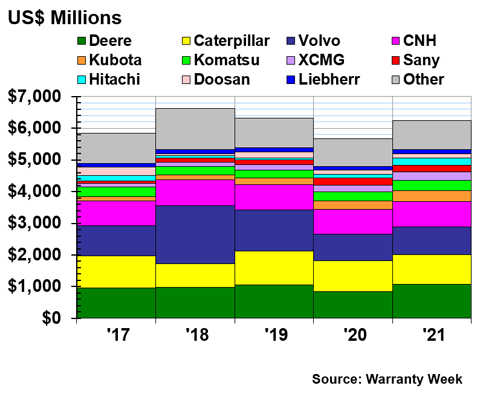 In the chart above, the figures for XCMG, Sany, and Liebherr are estimates, while the figures for the other eight are taken from their annual reports and converted into dollars using the IRS exchange rates. About 81% of the total comes directly from these annual reports, while the remaining 19% are our own estimates.
Deere was the industry leader in warranty accruals in 2021, increasing by 26% to $1.07 billion in 2021. This was an all-time high in accruals for this company. Deere was the only company to exceed $1 billion in accruals in 2021, though the top three industry leaders, Deere, Caterpillar, and Volvo, all exceeded this threshold in 2019. Caterpillar ranked second, with $931 million in accruals. However, it was actually one of the few companies to lower its accruals compared to 2020, though it was only a slight 3.8% decrease. Volvo, ranked third this year, set aside $887.5 million in warranty accruals, 6.7% more than it did last year, but was still nowhere close to the accruals exceeding $1 billion it reserved in 2018 and 2019.
CNH, ranked fourth, put aside $800 million in accruals, a very slight increase compared to 2020. Kubota, in fifth place, saw a notable 33% rise in accruals, an $87 million increase. Hitachi, ranked ninth, saw an 81% growth in accruals, correlating with its increase in claims in 2021 as well. Other companies with notable increases in accruals were Epiroc AB, which rose by 45% from $14 million to $21 million, and Metso Outotec Oyj, which rose by 33% from $44 million to $59 million. This came after Metso Minerals and Outotec merged in 2020.
Sandvik saw a significant increase in accruals, from just $9 million to $31 million, more than tripling compared to 2020. However, much like for claims, this number still does not exceed the accruals the company made in 2017. Perhaps this is associated with new expansion after Sandvik's divestment of its Process Systems and Mining Systems divisions to several different private companies back in 2017.
The only companies that had significant drops in accruals were Oshkosh, which decreased by -85% to just $6.4 million, and Linamar, which decreased by -47% to $8 million. Notably, these are the same two companies that saw the largest decreases in warranty claims.
Warranty Expense Rates
According to the IC Yellow Table, construction equipment revenue increased by 22% to $232.8 billion last year. By our estimates, warranty claims were down -4% while warranty accruals were up 10% in 2021. With revenue figures, we diverge a bit from the IC Yellow Table, in that we count each company's total heavy equipment revenue and warranty expenses -- not just for construction equipment by also for farm equipment, mining equipment, road paving, and in the case of companies such as Volvo, even for some on-highway trucks.
On that basis, the pool of product revenue we're looking at is twice as large: $450.1 billion, which was up 18% from 2020 totals. This is the base number that we used to calculate the claims and accrual rates for the industry as a whole. Anything else, such as an attempt to produce a number just for construction equipment from our data for the heavy equipment industry, would involve high levels of conjecture on our part.
So what we see in Figure 3 is an attempt to take the total claims and total accrual numbers from Figures 1 and 2 and divide them by total product revenue figures for the 56 heavy equipment manufacturers we're tracking worldwide. In 2021, they spent an average of 1.2% of their product revenue on claims, and set aside about 1.4% of their revenue as warranty accruals.
Figure 3
Top Heavy Equipment Makers Worldwide
Average Warranty Claims & Accrual Rates
(as a % of product sales, 2017-2021)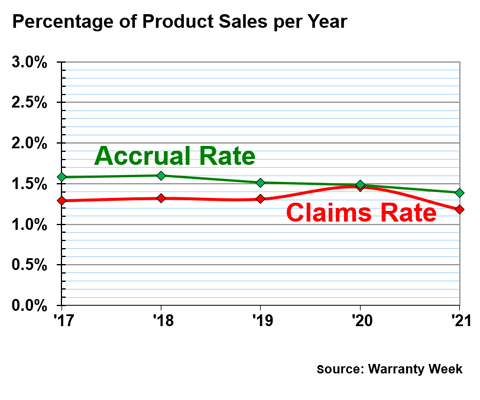 2021 saw an overall decrease in both claims and accruals, when taking into account economic growth in the heavy equipment industry overall. However, accruals remain in excess of claims, which is a trend we have seen in the industry since 2015. This, of course, leads to a gradually increasing warranty reserve balance, as seen in Figure 4 below.
Warranty Reserve Totals
Our final warranty metric is the balances left in the warranty reserve funds of these heavy equipment manufacturers at the end of each fiscal year. We should note that some companies such as Oshkosh Corp. end their fiscal years three months before December 31, while others such as Komatsu and Hitachi end their fiscal years three months after December 31. In all cases, we simply time-shifted their data to line up with the majority, who end their fiscal years on December 31.
As of year-end 2021, we estimate that these 56 manufacturers carried $10.81 billion in warranty reserves, up a whopping $1 billion from 2020, and higher than at any time since we began counting in 2003, breaking the threshold of $10 billion for the first time. A look at the data in Figure 4 shows that this balance has been climbing since 2016. In fact, this balance has increased every year since 2003, except 2009 and 2015.
Figure 4
Top Heavy Equipment Makers Worldwide
Reserves Held per Year
(in US$ millions, 2017-2021)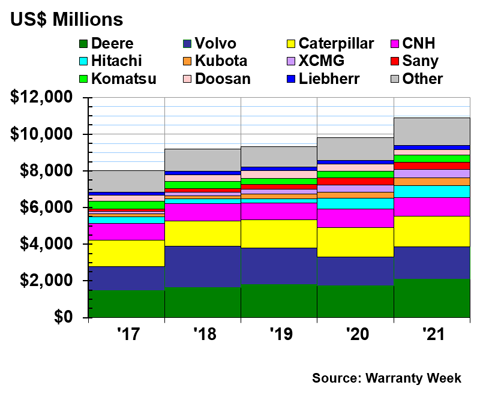 The 23 companies for which we have exact data accounted for 81% of the total, while our estimates for the additional 29 companies filled in the remaining 19% of the total. Out of the top 11 companies named in Figure 4, estimates were needed for just XCMG, Sany, and Liebherr. The rest are taken from annual reports and converted using IRS exchange rates.
Deere was the heavy equipment company with the largest warranty reserves in 2021, exceeding $2 billion, a 20% increase from 2020. Our top three companies, Deere, Caterpillar, and Volvo, all saw increases in reserves, though our fourth place company, CNH, saw a slight decrease of less than one percent.
In terms of percent change, Kubota saw the largest increase of 41% to $455.1 million. Other large increases were reported by the Manitou Group, Metso Outotec, and Wacker Neuson SE. Doosan saw a reduction in its reserves by $117.3 million, a -29% decrease. Other notable decreases in reserves were reported by Terex Corp. and the Bauer Group.
And so, if you're looking for a one-sentence snapshot of the global heavy equipment industry's warranty expenses last year, here it is: claims fell by 4% to $5.33 billion; that total represented 1.18% of sales; accruals rose 10% to $6.24 billion; those accruals represented 1.39% of sales; and reserves grew 11% to $10.81 billion.
This Week's Warranty Week Headlines

PCMI hires two new VPs: Tetiana Compton and Jamie McQueen.
Press Release, January 12, 2023
U.S. Steel lengthens coated steel coil warranties to 40-60 yrs.
Press Release, January 12, 2023
FCC's Robocall Response Team accuses SIPphony and Vultik of robocalls.
Telecompetitor, January 11, 2023
Washington bill would require dealers to issue used car warranties.
KIRO-TV Seattle, January 11, 2023
SOLAR-MAIT announces expansion plans with 25-year warranty on rooftop solar
Hindustan Times, January 11, 2023



More Warranty Headlines below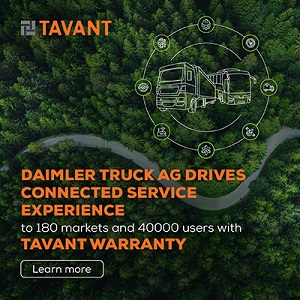 Warranty Headlines (cont'd)

Encompass Supply Chain Solutions to manage parts for Intel computers.
Press Release, January 10, 2023
Extended Warranty on Scales from 2023
Lab Mate Online, January 10, 2023
Which SUV Has the Best Warranty in 2023?
Motor Biscuit, January 10, 2023
Amynta Group to acquire underwriter Ambridge Group for $400m.
Press Release, January 9, 2023
Sun Mountain Partners buys large stake in Kingsway Financial Services.
Press Release, January 9, 2023



More Warranty Headlines below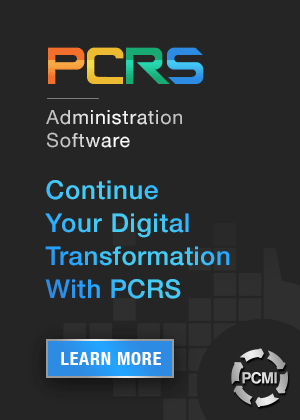 Warranty Headlines (cont'd)

John Deere signs right to repair memo with American Farm Bureau.
Wellsville Sun (NY), January 9, 2023
Solar Titan USA on the verge of shutting down.
WHAS-TV Louisville KY, January 9, 2023
Former American Water contractor sentenced for accepting 500k in bribes.
New York Daily News, January 9, 2023
Google says shattering Pixel 7 camera glass not covered by warranty.
TechSpot, January 9, 2023
Trex doubles the length of decking product warranties to 50 yrs.
Press Release, January 9, 2023



More Warranty Headlines below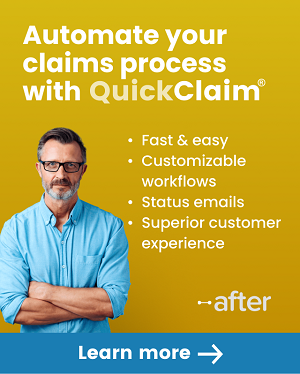 Warranty Headlines (cont'd)

BMW spots battery-monitoring bug through 10 warranty cases, prompting recall.
Ars Technica, January 9, 2023
Search the FCC's Consumer Help Center database for robocall numbers.
USA Today, January 9, 2023
Merrychef extends warranty terms on genuine spare parts
Catering Insight, January 9, 2023
Target can move warranty class action back to federal court
Reuters, January 9, 2023
Ohio sues 6 people and 6 companies for extended warranty robocalls.
Steubenville Herald-Star (OH), January 9, 2023



More Warranty Headlines below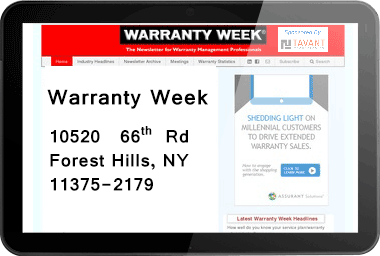 Sign up for a free subscription to Warranty Week:
Warranty Headlines (cont'd)

HomeServe USA faces $850,000 consent judgment in Kansas.
KSNW Wichita KS, January 6, 2023
SKF Vehicle Aftermarket lengthens warranties from 3 to 5 yrs.
Aftermarket News, January 6, 2023
Company Flouts Product Warranty: What Happens Next?
Kiplinger, January 5, 2023
Owens Corning Announces Expanded Algae Resistance Warranty Coverage
Roofing Contractor, January 5, 2023
Skoda offers extended warranties in India for up to 8 yrs.
Team-BHP.com, January 5, 2023



More Warranty Headlines below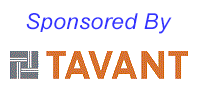 Warranty Headlines (cont'd)

American Home Shield compared to Choice Home Warranty.
Bob Vila, January 4, 2023
APCO Holdings acquires National Auto Care
Press Release, January 3, 2023
Which credit cards still offer extended warranty benefits?
Forbes Advisor, January 3, 2023
Xcelerate to offer electric car VSCs with full replacements.
Clean Technica, December 30, 2022
Dunlap couple frustrated with lack of home warranty service.
WRCB-TV Chatanooga TN, December 29, 2022
Rustproofing an EV has benefits, but can also jeopardize a warranty.
Toronto Globe and Mail, December 27, 2022
Rolex grey market sales and bogus warranty registrations detailed in lawsuit.
Financial Times, December 23, 2022
Group says 94% of new cars sold now allowed to use E15 fuel.
Renewable Fuels Association, December 22, 2022
Jamaican government official advises shoppers to ask for written warranties.
Jamaica Observer (JM), December 22, 2022
FCC proposes $300m fine against an auto warranty robocall campaign.
Reuters, December 21, 2022
TUV Nord uses drones for end-of-warranty wind turbine inspections.
Renews (UK), December 20, 2022
How to tell the difference between warranties and service contracts.
NY State Division of Consumer Protection, December 20, 2022
Differences between AppleCare and AppleCare+ explained.
Gadgets To Use (IN), December 20, 2022
Ford CEO says fixing quality issues will take several years.
Jalopnik, December 19, 2022
Solar Titan USA downsizes amid mounting customer complaints.
WBIR-TV Knoxville TN, December 15, 2022
Amazon's warranty conditions violate federal law, class action alleges.
ClassAction.org, December 15, 2022
Global Maritime completes marine warranty survey services for wave energy project.
Offshore Energy, December 15, 2022
Study finds connected home security system buyers interested in warranties.
Security Sales Integration, December 15, 2022
Siemens adds 3-yr. warranty on selected automation and drives products.
Manufacturers' Monthly (AU), December 14, 2022
Chrysler logs more than 800 warranty claims for Ram tailgate latch problems.
Reuters, December 13, 2022
Arkose Labs offers warranty against credential stuffing attacks in Australia.
Press Release, December 13, 2022
Endurance Warranty Services wins Business Intelligence Group's BIG Award.
Press Release, December 13, 2022
Fitelo issues 5-yr. weight loss warranty to its clients.
Press Release, December 12, 2022
Costco Anywhere Visa Card by Citi ends extended warranty benefit in January.
Money Talks News, December 12, 2022
Advocates urge Massachusetts lawmakers to strengthen wheelchair warranties.
Public News Service, December 12, 2022
Chrysler sees 196 warranty claims for Jeep Wrangler engine shutdowns.
KGTV-TV San Diego, December 11, 2022
The new MBTA Orange Line trains in Boston are still under warranty, no?
Universal Hub, December 10, 2022
Oregon bans Endurance Warranty Services from soliciting there for 5 years.
Motor Biscuit, December 10, 2022
Endurance Warranty Services wins Bronze Stevie Award.
Press Release, December 8, 2022
AutoVerify teams up with Global Warranty in Canada.
Auto Remarketing Canada, December 8, 2022
TV reporters intervene to help couple get pickup truck engine replaced.
WABC-TV New York, December 8, 2022
R Solar Group leaves town, dodges warranty claims.
WTLV-TV Jacksonville FL, December 8, 2022



More Warranty Headlines