| | | |
| --- | --- | --- |
| April 27, 2023 | | ISSN 1550-9214 |
U.S. Aerospace Warranty Report:
The big story is Boeing, which seems to have done its warranty accounting for the 737 MAX groundings differently than it did the 787 Dreamliner a decade ago. Meanwhile, total warranty reserves for the whole industry hit a record high, despite low accruals.
Finishing out our analysis of the 20-year data for U.S.-based vehicle warranties, this week we are taking a look at warranty expenses in the aerospace industry. These past few years hit everyone associated with air travel especially hard, and we will see that the aerospace manufacturers have not rebounded from the pandemic as quickly as their land vehicle counterparts.
Aerospace warranties work a little differently than those of vehicles primarily used on land (and sea). Airframe OEMs and their parts suppliers typically spend comparable percentages of their sales revenue on warranty claims, unlike the auto trends we have observed. However, this trend was interrupted during the pandemic. The implementation of lockdowns and halting of air travel impacted the whole industry. Airlines that couldn't sell tickets, flying empty planes just to keep airport slots, certainly were not purchasing new fleets of planes during the downtime.
For the industry's largest U.S.-based claims payer, the Boeing Company, the timing of the pandemic couldn't have been worse. In March 2020, Boeing was already struggling to rebound from heightened warranty expenses associated with the worldwide groundings of their 737 MAX planes. The U.S. Federal Aviation Administration (FAA), along with regulatory bodies of over 80 other countries, mandated the grounding of all 737 MAX airliners in March 2019 following two fatal crashes. We won't get too deep into it, but the controversy surrounding the re-certification of this model of airplane was fascinating. They were back in the air in the United States in November 2020, and in Canada and the European Union by January 2021.
We mention this here because Boeing reported its expenses for "737 MAX grounding customer concessions and other considerations" separately from other product warranty "accrued liabilities." It seems that Boeing created a distinct 737 MAX reserve fund, to which the company made a lump sum accrual of $7.4 billion in 2019. It's been paying 737 MAX-related claims from this fund since then, and its balance was $1.9 billion at the end of 2022. We mention this because this reserve fund is technically separate from the warranty reserve fund, and thus Boeing's 737 MAX-related expenses are not included in the charts in this warranty report. But, for what it's worth, Boeing paid $1.03 billion in 737 MAX claims in 2022, on top of the $403 million in other product warranty payments we see reported in Figure 2.
For this newsletter, we began by looking at the annual reports and quarterly financial statements of 64 U.S.-based companies that are primarily manufacturers of parts, components, and systems used in commercial airplanes and helicopters. We gathered our three warranty metrics: claims paid, accruals made, and the balance in their warranty reserve funds at the end of each year. We also gathered product sales data, and with that we calculated the percentage of sales going towards paying claims (the claims rate) and the percentage of sales going toward accruals (the accrual rate).
We then separated that list into aerospace OEMs and aerospace suppliers to create Figures 1, 3, and 5-7. This left us with 59 suppliers, but just five OEMs: Boeing Co., General Dynamics Corp., Textron Inc., Lockheed Martin Corp., and Northrop Grumman Corp.
We additionally tallied and ranked the size of each manufacturer's warranty expenses, to show the data differently in Figures 2, 4, and 8. In addition to Boeing, General Dynamics, and Textron representing the OEMs, the other 10 large companies named in the following charts are: Raytheon Technologies Corp., Honeywell International Inc., Teledyne Technologies Inc., Woodward Inc., Moog Inc., Leonardo DRS Inc., OSI Systems Inc., Crane Holdings Co., Trimble Inc., and Curtiss-Wright Corp.
We should note that General Electric Company, despite being a major manufacturer of jet engines for aircrafts, is not on the list since it doesn't segment its warranty expenses and has a very wide scope. Perhaps this will change in the future since GE Aviation has announced plans to rename as GE Aerospace, subsume the parent GE, and divest the other two main subsidiaries, GE HealthCare and GE Vernova (Renewable Energy), next year. This report also does not include internationally-based companies such as Airbus Group, Embraer SA, Bombardier Inc., or Dassault Aviation Group, which will be addressed in a separate newsletter focused just on the worldwide manufacturers of airframes and jet engines. One other piece of news we want to report, Boeing attempted to acquire 80% of the Brazilian manufacturer Embraer in 2019, but the deal was canceled in mid-2020 amidst the 737 MAX and pandemic woes.
This report also does not include expenses for military aircrafts. Big-ticket military contracts typically do not come with traditional product warranties, but rather with a distinct type of military service contract. We also exclude military contract revenue from the segmented product sales revenue we use to calculate our warranty expense rates. So, for instance, our numbers for General Dynamics include Gulfsteam business and private jets, but not Gulfstream military aircrafts. This also explains why two of the five OEMs in this report, Lockheed Martin and Northrop Grumman, do not make the top 13 in the following charts. While they are both huge manufacturers, they have basically non-existent warranty expenses since they are mainly military contractors.
So without any more ado, here is 20 years of claims, accruals, and warranty reserves for the U.S.-based aerospace industry.
Warranty Claims Totals
For each of our three metrics, we are presenting the data two ways: OEMs versus their suppliers, and a breakdown of the top companies. First we will look at the warranty claims totals of the U.S.-based aerospace OEMs and their parts suppliers.
Figure 1
Aerospace Warranties
Claims Paid by U.S.-based Companies
(in US$ millions, 2003-2022)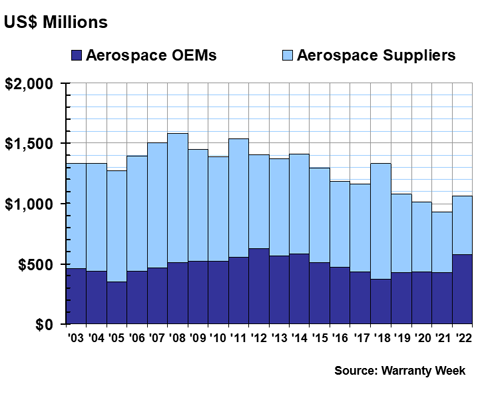 We see in Figure 1 that the historical trend of suppliers accounting for about two-thirds of warranty claims, and OEMs (which are much fewer in number) paying the other third, has been interrupted especially since the pandemic hit. In 2022 especially, the ratio was more like 1:1 expenses between the two.
Total claims increased by 34% for the OEMs, rising from $431 million in 2021 to $579 million in 2022. Meanwhile, total claims for the suppliers fell slightly to $482 million. 2022 was actually the first time that the claims total for the OEMs exceeded that of the aerospace suppliers since we started gathering these data in 2003. As we can better see in Figure 2, a jump in Boeing's claims payments last year is responsible for this shift in the balance between the two groups of manufacturers.
Figure 2
Aerospace Warranties
Claims Paid by Top U.S.-based Companies
(in US$ millions, 2003-2022)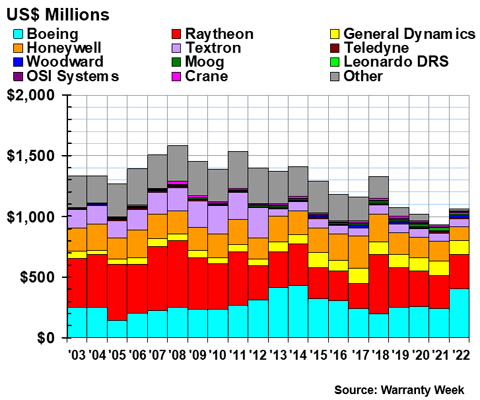 We see in Figure 2 that Boeing's warranty claims payments increased by two-thirds from 2021 to 2022. Boeing reported paying $403 million in warranty claims last year. This was not the first time Boeing reached this level of claims payments. The heightened claims payments we see for the company in 2013 and 2014 were the result of another high-profile grounding, of the 787 Dreamliner. While these crafts were only grounded for a few months in 2013, warranty costs associated with the 787 Dreamliner's lithium-ion batteries affected the company for years.
Perhaps lessons learned from that warranty situation caused Boeing to approach the accounting for its 737 MAX planes differently. The company stated in its 2022 annual report that 737 MAX payments came out of a fund distinct from the traditional warranty reserve. Because of this, we assumed that 787 MAX expenses wouldn't show up at all on these charts like the Dreamliner expenses did. So the fact that Boeing's total claims increased by 67% anyway is definitely surprising. The difference in accounting between the 737 MAX and 787 Dreamliner situations is even more distinct for the accrual totals, and is easiest to visualize in Figure 4.
Raytheon Technologies' warranty claims stayed about the same, with a total of $284 million paid in 2022. The company's warranty expenses have remained stable since its merger with United Technologies Corp. in 2020. We should note that the majority of Raytheon's warranty expenses come from former United Technologies brands such as Collins Aerospace Systems and Pratt & Whitney. The Raytheon Company wasn't reporting its warranty expenses before the merger, since it was exclusively a military contractor.
General Dynamics, which owns the Gulfstream Aerospace Corp., reported $116 million in claims payments, also remaining consistent. Textron, which owns the Cessna, Beechcraft, and Hawker Aircraft brands, saw a small drop in claims to $60 million. Notice in Figure 2 that the company significantly reduced its claims payments between 2012 and 2013. This wasn't the result of a major breakthrough in warranty claims administration, but rather an accounting correction, after the company realized it was counting all extended warranty expenses at once rather than segmenting them by year.
Honeywell has cut its warranty claims expenses more recently, with a -28% decrease to $115 million from 2021 to 2022. This was the fifth year in a row that claims decreased for the company. Leonardo DRS, which is a U.S.-based defense contractor subsidiary of the Italian Leonardo S.p.A. that reports its warranty expenses separately, saw total claims fall -27% to $11 million. Crane's claims fell by -35% to $5.5 million, and Moog's fell by -16% to $11.5 million.
Meanwhile, Woodward's claims quadrupled to $14 million after a lull in claims and accruals in 2021. Teledyne's claims increased by 42% to $14 million, and OSI Systems' total claims rose by 66% to $10 million.
Warranty Accrual Totals
Figures 3 and 4 depict warranty claims totals for the U.S.-based aerospace industry over the past two decades.
Figure 3
Aerospace Warranties
Accruals Made by U.S.-based Companies
(in US$ millions, 2003-2022)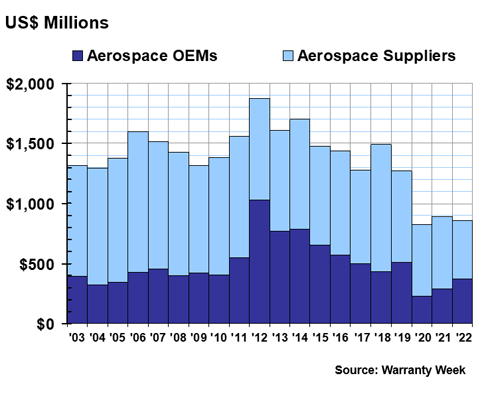 Total accruals for the OEMs were up by 30%, or $84 million, to $374 million. Accruals for the aerospace suppliers were down by -20%, or $116 million, to $484 million.
The most notable trend shown in Figure 3 is the stark division between before and during the pandemic. This makes sense for an industry that was affected so immediately and profoundly by the lockdowns. Since each company has control over its warranty accruals, they all refrained from putting aside excess money into warranty reserves, instead opting to put that money towards total revenue. Of course, sales were down, thus accruals were down, even if some manufacturers did continue to accrue the same amount of money per unit sold.
What may be even more surprising is the fact that warranty accruals have barely rebounded since 2020. Sales generally went up across the industry from 2021 to 2022, yet accruals have more or less plateaued. However, the proportion of the two bars has shifted a bit. In 2022, OEMs accrued more than they did the year prior, but suppliers accrued less.
This shift was mainly the result of Boeing's total accruals increasing by three-quarters last year, while several large suppliers decreased their accruals. Figure 4 shows us total accruals by company.
Figure 4
Aerospace Warranties
Accruals Made by Top U.S.-based Companies
(in US$ millions, 2003-2022)
As we see in Figure 4, Boeing (in cyan) had such low accruals in 2022 that it ranked second among the U.S.-based aerospace companies, despite ranking first in claims and reserves. Raytheon, in the red, had the largest total accruals in 2022, despite those expenses falling by -31% to $264 million. In fact, Raytheon's accruals have exceeded Boeing's for the past six years. Honeywell, ranked third, saw accruals fall by -20% to $117 million.
Woodward accrued almost no money in 2021, then accrued $47 million in 2022. Before this, the company's highest annual accrual total was $14 million. Looks like most of that money went into the warranty reserve fund, which almost quadrupled in size.
Boeing increased its accruals by 74% to $202 million in 2022. We see in Figure 4 that Boeing's accruals remained consistent around the same level from 2003 to 2011. Then in 2012, accruals jumped, and remained high for the next several years. As we mentioned in the discussion of Figure 2, this was the company's response to the grounding of its 787 Dreamliners due to fire risk from the plane's lithium-ion batteries.
You may recall another big grounding of Boeing planes recently: the 737 MAX. Shouldn't those warranty expenses show up on this chart, just like the Dreamliner expenses did?
We investigated Boeing's annual reports from the past few years to find an answer. We found that the company put aside $7.4 billion for the payment of claims related to the 737 MAX back in 2019, when the planes were first grounded. That year, Boeing reported $188 million in product warranty accruals, as shown in Figure 4. The $7.4 billion ended up in a different, dedicated reserve fund. Effectively, the company had its regular product warranty reserve fund, and then created an additional, separate 737 MAX reserve fund. They're both listed in the same section of Boeing's annual reports, in a footnote under the heading "Accrued Liabilities." According to the 2022 annual report, $1.86 billion remained in this fund at the end of the year.
This is an interesting case study, and we debated including the 737 MAX numbers with the regular product warranty numbers. The fund's expenses are reported very similarly to those of product warranties. The main difference is that all the accruals were made in two lump sums during 2019, rather than made quarterly, related to product sales. So while the fund does report claims totals and reserve balance, the accruals are done differently. It's different enough that we didn't include it in these charts. Yet the low totals for 2020, 2021, and 2022 in Figures 1 through 4 don't tell the whole story about aerospace warranties, since the 737 MAX was of course a huge recall story.
Warranty Expense Rates
Figures 5 and 6 depict our two warranty expense ratios, the claims and accrual rates, for the U.S.-based aerospace OEMs and suppliers.
Figure 5
Aerospace OEM Warranties
Average Warranty Claims & Accrual Rates
(as a % of product sales, 2003-2022)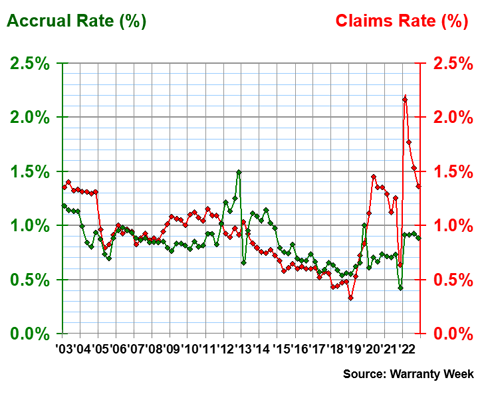 At the end of 2022, the aerospace OEMs were averaging a claims rate of 1.36% and an accrual rate of 0.88%. The claims rate has had some huge fluctuations in recent years, spiking as high as 2.16% in the first quarter of 2022. This influenced by Boeing, which saw its claims rate double to 2.84% in the same quarter.
Over 20 years, the aerospace OEMs had an average claims rate of 0.95%, with a standard deviation of 0.32%, and an average accrual rate of 0.84%, with a standard deviation of 0.19%. So claims were a little higher in proportion to sales and a little less consistent than accruals. Those big fluctuations in the claims rate recently certainly vary by more than 0.32%, so this ratio has become more volatile in recent years.
Figure 6 shows the average claims and accrual rates for the aerospace suppliers.
Figure 6
Aerospace Supplier Warranties
Average Warranty Claims & Accrual Rates
(as a % of product sales, 2003-2022)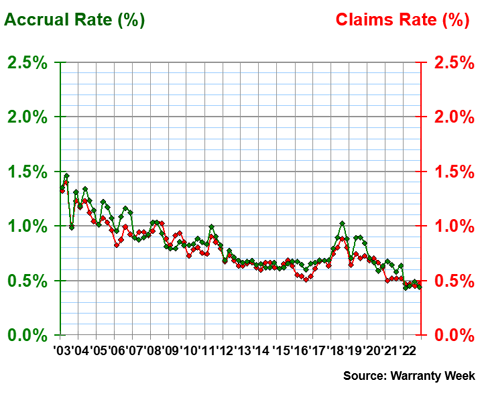 The suppliers have clearly been much more consistent with their warranty trends. However, we must note that 59 total companies comprise the averages shown in Figure 6, while only five companies are OEMs shown in Figure 5. So the averages are naturally smoother just because more data is going into this chart. We don't want to be too harsh on the OEMs.
The average claims rate at the end of 2022 for the aerospace suppliers was 0.47%, and the average accrual rate was 0.44%. Over 20 years, the average claims rate was 0.78%, with a standard deviation of 0.21%, and the average accrual rate was 0.82%, with a standard deviation of 0.22%. Both of these rates have been trending downwards and continue to fall, with the current warranty expense rates lower-than-average. And overall, the suppliers had steadier claims rates, while the OEMs had steadier accrual rates, as reflected by the standard deviations.
Warranty Reserve Balances
Our final warranty metric is warranty reserve balances at the end of each year. As with the claims and accrual totals, we have visualized these data two ways, OEMs versus their suppliers (Figure 7), and a top company breakdown (Figure 8).
Figure 7
Aerospace Warranties
Reserves Held by U.S.-based Companies
(in US$ millions, 2003-2022)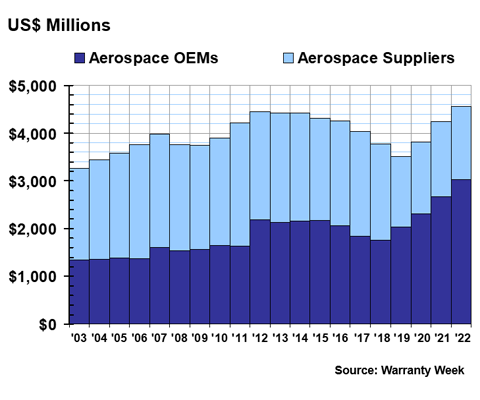 As we see in Figure 7, warranty reserves in this industry reached an all-time high in 2022, $4.56 billion. This is mainly due to the increasing reserve balances of the OEMs, which totaled $3 billion at the end of 2022, a 13% increase from the year prior. Meanwhile the suppliers' reserves decreased slightly to $1.53 billion. The OEMs continue to take on a larger proportion of warranty reserves in this industry, despite the two groups being relatively equal on claims (Figure 1) and suppliers exceeding the OEMs in total accruals (Figure 3) during 2022. As we will see in Figure 8, this is again largely thanks to Boeing.
Figure 8
Aerospace Warranties
Reserves Held by Top U.S.-based Companies
(in US$ millions, 2003-2022)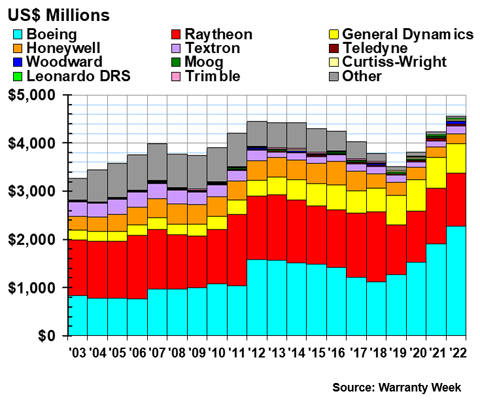 Boeing's total warranty reserve balance grew by 20% from 2021 to 2022, totaling $2.28 billion at the end of the year. This was actually the first time the company's warranty reserve balance exceeded $2 billion at the end of the year.
Among our other OEMs, General Dynamics' reserve balance fell by -6% to $603 million, while Textron's balance rose by 17% to $149 million.
On the supplier side, Woodward again had the biggest jump. The company's reserve balance rose by 275% to $50 million, its highest-ever reserve balance by far. Curtiss-Wright Corp., which didn't make the top 11 for either claims or accrual totals, ranked ninth in total reserves. Its balance rose by 18% to $18 million in 2022. The other company on this list that wasn't on the other two is Trimble Inc., ranked eleventh, despite its reserve balance falling by -17% to $12 million.
Raytheon had the second-largest reserve balance, $1.11 billion. Honeywell, ranked fourth, totaled $213 million. Teledyne reported $50 million in its warranty reserves. All three of these companies maintained very similar totals in 2021, showing balance between claims payments and accruals.