August 25, 2003
Who Are You?
Warranty Week editor asks readers to identify themselves and their places of business, and tabulates the results.
Since the launch of Warranty Week last November, three words have guided all our communications: trust, respect, and privacy. Trust is allowing an HTML document or an email to cross your firewall, knowing it will contain links to images and Web pages. Respect is taking the time to read and answer all emails. Privacy is keeping those communications private unless they're understood to be for publication.
In the past few weeks, many of you received emails asking for information about title and location. Answering took a certain amount of trust that details which could personally identify you would not be published or sold. The purpose of the emails was to fill in the blanks for a Warranty Week readership profile, which is what follows.
There are three editions of Warranty Week. The first is the weekly email, which is broadcast to 738 addresses every Monday. About 91% receive the HTML email edition, and 9% receive the plain text email edition. Readers who want to compare the two formats may click here, and those who care to switch formats may click here.
Then there's the Web edition. It differs from the email editions in that it frequently contains multiple pages, some of which are very large charts or screenshots, others which are letters, documents, screen captures from Web sites, and other supporting materials.
Web Traffic Details
Traffic on the Web site has trended consistently upwards, and is now in a range of 40,000 hits per week. The peak usually comes on a Monday or a Tuesday, which suggests that a surge in link-clicking follows publication of the weekly newsletter by email. However, our busiest day ever was a Wednesday, Aug. 6 -- the first of two days so far when the site has served more than 10,000 pages. The other 10,000+ day was Monday, Aug. 11., and there were four Mondays or Tuesdays in July over 9,000 page requests.
The rest of the week, most of the Web traffic seems to originate from the referrals of search engines, resulting in a steady hum around 2,000 to 5,000 hits per day, but several corporations are also showing up in the top page requesting host IP number statistics kept by the Webmaster. Disclosing a list of them would be rude, so let's just say we know who you are. We don't use cookies to track Web site visitors, so there's no further information on the individual users of the WarrantyWeek.com Web site.
Below is a chart of the weekly traffic volume on the Web, calculated with a week beginning on Sunday and ending on Saturday. Some of the newsletter topics of the week are noted; many are not. See where you came into the story and what you missed in the online archive.
Figure 1
WarrantyWeek.com Web Edition
Page Requests per Week
Dec. 2002 to Aug. 2003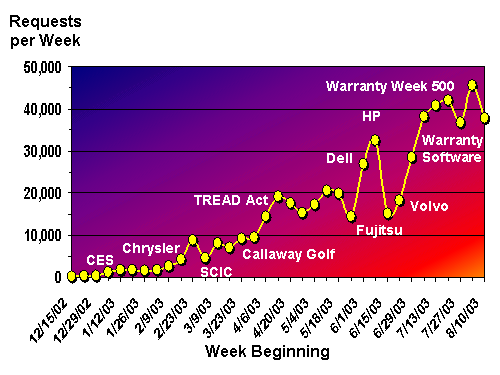 Warranty Week logged its 500,000th page served during the first week of August. The 250,000th page served came in June and the 125,000th page served came in April, so if current trends continue, by October we'll serve our millionth page. We'll buy them a cheeseburger.
Keep in mind that passing around copies of the newsletter is encouraged, as is pointing people to the pages, spidering the site once in a while, copying the pages to an intranet cache, and all those other things that we know you're doing. Three companies have formally asked permission to republish Warranty Week. Permission granted.
We assume that what happens is each week different people pass around each newsletter, because they think it's especially relevant to their warranty operations in some way. Perhaps it's about the same industry, or it has an insurance focus, or it has a Top Ten list of some interest. People who see it for the first or second time and want to see it again will subscribe, so after someone passes it around the company, half a dozen subscription requests trickle in from the same Zip Code in Illinois or Michigan over the next few days.
Pass It On
Feel free to continue passing these newsletters around. Also don't feel guilty for deleting it if it's not so good one week. The thing about warranty is how vast yet compartmentalized it really is. There are perhaps a few thousand manufacturers, retailers, importers issuing product warranties or extended warranties, plus perhaps a hundred accounting, insurance, software, consulting, and finance companies supporting those warranty issuers.
It's all about warranty, but it's understood that one week's automotive warranty focus may not interest a jewelry manufacturer, and the next week's home warranty focus will not interest those in the aerospace industry. Something about insurance in the Cayman Islands may not matter much to an engineer in any industry. There's always the delete key. We manage dozens of online subscriptions the same way: skim, read, click, then delete.
What we need to know, to do a better job of making each week's edition more relevant to more people, is to find out who cares about warranty. Where are they located? What are their job titles? What kind of companies do they work for? If they're manufacturers, what kind of products do they make? If they support product warranty issuers in some way, what service, software, or system are they selling?
Those are the questions we will answer in this demographic profile. First comes the question of where are they all located. The intent is not to release lists of Zip Codes or company names that might in some way embarrass the subscribers who thought their personal details would remain private. So this demographic profile will not include any company names beyond the one for our top source of subscribers: Entigo Corp., our founding sponsor.
Besides Entigo, companies with more than 20 subscribers include a well-known computer and peripherals manufacturer; two of the top extended warranty/service plan administrators; a leading off-road vehicle manufacturer; and a name-brand plumbing and air conditioning manufacturer.
We have multiple subscribers within 90 companies, and single subscribers in 230 others, for a total of 320 different companies in the subscriber base. Without elaborating, we will just say that there is a high correlation between the email domains receiving multiple copies of the two newsletter editions and the IP addresses of the top Web visitors.
However, there are 25 subscribers who receive their newsletters in an AOL, Hotmail, or Yahoo mailbox, who have declined to identify their places of employment. That is their right -- they probably get so much spam already that they'll take no chances on getting more. In fact, as this article is being edited, multiple Warranty Week mailboxes are being attacked by a virus posing as a screensaver file attachment with false return addresses in the headers.
Location, Location, and Location
As for location, as far as we can tell, 645 of the 738 subscribers are in the U.S.A. Of those 645, we have a city and state listed for 626, and are guessing country of origin for the rest because they're using an American ISP such as a cable TV company that has no overseas customers. Within those whose location is known, the top state is California (77 readers), followed by Michigan (64), Pennsylvania (59), Illinois (56), Texas (43), Virginia (42), Wisconsin (35), Ohio (24), Indiana (21), and Massachusetts (21). Of the 50 states, 36 are on the subscriber list:
Figure 2
Warranty Week Email Edition
Diffusion of U.S. Subscribers by State
Aug. 2003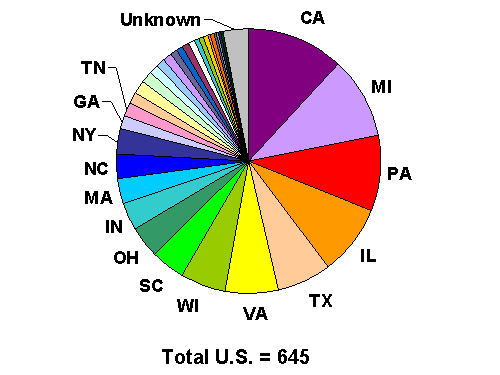 The top major metropolitan areas for readers include Chicago, Milwaukee, Detroit, Pittsburgh, Dallas, Nashville, Los Angeles, Washington DC, San Jose, San Diego, Atlanta, New York, Boston, Seattle and Portland OR, in more or less descending order. If we give out any smaller city names or Zip Codes, it could be enough to identify specific companies that dominate the skyline in those places, so we won't.
Outside the U.S., Warranty Week has at least 62 international readers, led by people in Canada (17), the UK (10), Australia (8), Germany (4), and Italy (3). There are pairs of readers in Brazil, Chile, Ireland, the Netherlands, Norway, and Singapore, and one reader each in Finland, France, Malaysia, Mauritius, Mexico, Russia, Spain, and Sweden. But the location of 31 email subscribers is not known, and there is no country of origin information gathered by the Web site's statistics package, so there may be additional destinations currently unknown.
Altogether, we have incomplete location records for 50 readers: 19 we're guessing are U.S.-based and 31 where no such guess is possible (e.g. AOL and Hotmail users). Yes, they were asked. They declined to answer. But isn't it remarkable that a weekly newsletter can be broadcast in this fashion to people who wish to remain anonymous? With the publishing model used here, the only essential piece of information is a correctly-spelled email address. Everything else is optional. There's this one subscriber: all we know is he goes by the name Tom99...
Warranty Job Titles
The thing is, he very well could be Tom the CEO of a major Midwestern tool and die manufacturer, using his home account instead of giving out his work email address to a potential spammer. Everybody's using second and third mailboxes these days, not only to manage subscriptions but also as spam decoys. You may have noticed that each issue of Warranty Week is sent to the same Hotmail address. That mailbox is used for nothing else, yet it's already on multiple spam lists, including that cult of sons and widows of West African dictators who left millions in secret bank accounts.
Among the 530 subscribers who have shared their job title with Warranty Week, there are 31 readers who identify themselves as either chairman, CEO, president, managing director, owner, or principal of their company. There are five CFOs and three other chiefs, of information, operations, and technology. Five identify themselves as general managers of a division or a subsidiary. Five more are outside directors on a company's board of directors. Ten readers are senior vice presidents, corporate VPs or executive VPs, and 40 are vice presidents. That's a total of 99 readers in the executive suite.
There are 73 directors and 155 managers among the readership. Undoubtedly, there are numerous others at that level who simply don't express it in their job title. One calls himself a Master Black Belt, and he apparently reports to a Six Sigma Master Black Belt. And we thought job titles at Apple Computer were peculiar...
Fourteen readers call themselves analysts, 44 are developers, and 16 are engineers. Fourteen are in sales and 13 are in marketing. Six are in accounting and eight are in the law department. Fifteen are in public relations, marketing communications, or other editorial/writing positions. Ten call themselves consultants.
An additional 41 have titles not in any of these categories. However, for more than 200 subscribers there is no information at all about their job title, including the 50 for which we have no location information. So we won't compute percentages, since the list is so incomplete.
So how many of those people are warranty professionals? The answer, in one way or another, is all of them. Why else would someone read a thousand words about a warranty reserve fund? But how many use the word warranty in their job title? The answer is 123, or nearly one-in-four of those for which we have a job title listed.
Most are variations of the titles warranty administrator, warranty director, warranty manager, warranty analyst, or warranty engineer. These five jobs seem to be the core positions within most warranty departments. Many of the warranty-specific job titles take one of those forms in combination with other responsibilities such as service, quality, reliability, support, or customer satisfaction.
Some job titles are very narrow, focused on warranty only. Some seem to be in charge of the entire aftermarket operation within their company. Here's a sampling, with some specific company-identifying details such as project titles or division names removed:
Figure 3
Sample Job Titles of Warranty Professionals
Assistant Manager, Warranty Administration
Corporate Warranty Manager
Customer Satisfaction, Warranty Manager
Director of Quality and Warranty
Director of Reliability, Quality, Warranty & Customer Satisfaction
Director of Customer Warranty
Director of Warranty
Director of Warranty & Product Performance
Director, Warranty & Reliability
Division Warranty Manager
Enterprise Warranty Manager
Industrial Warranty Manager
Manager of Extended Warranties
Manager of Warranty
Manager of Warranty Administration
Manager of Warranty Analysis
Manager, Warranty and Corporate Quality
Manager, Warranty and Reliability Engineering
Manager, Warranty & Worldwide Customer Service
Manager, Warranty & Customer Service
National Manager, Warranty
National Warranty Manager
North American Warranty Manager
OEM Warranty Coordinator
Operations Manager Warranty Administration
Product Warranty Manager
Warranty Business Manager
Purchased Warranty Manager
Quality Engineer, Warranty Analyst
Senior Manager of Warranty
Solution Architect, Warranty Claims
Senior Manager, Supplier Quality, Warranty and Supplier Development
Strategic Warranty Engineer
Supplier Warranty Administrator
Supplier Warranty Manager
Team Leader, Warranty Analysis
Warranty & Reliability Engineer
Warranty & Technical Services Manager
Warranty Administrator
Warranty Analyst
Warranty and Process Improvement, Supplier Technical Assistance
Warranty Claims Manager
Warranty Clerk
Warranty Communications
Warranty Cost, Supplier Quality Manager
Warranty Department
Warranty Engineer
Warranty Engineer, Quality Analyst
Warranty Manager
Warranty Program Supervisor
Warranty Specialist
Warranty Strategy and Best Practices Manager
Warranty Support Services Manager

Some of these people are part of a rather unofficial Warranty Week editorial advisory board, who from time to time are asked specific questions about upcoming articles. Their names and companies are always kept confidential, but rest assured that before you read an article about warranties in the HVAC, automotive, computer, telecom, or consumer electronics industries, experts in these industries have already fact-checked the research and commented about the observations and conclusions. There's no better example than the Aug. 18 article on Ford and General Motors, which was fact-checked with warranty experts in no less than five automobile manufacturing companies.
Warranty Industries
There are of course multiple interest groups within the warranty industry. The issuers of product warranties can be categorized by product type. But then there are also interest groups such as the extended warranty and insurance companies that support manufacturers of automobiles, home appliances, and consumer electronics items. There are numerous companies selling manufacturing software that's used in some way for warranty claims automation. There are even more consultancies, publishing houses, and law firms that provide professional services to manufacturing companies regarding their warranty activities. And there are still a few stalwart venture capital firms who are willing to risk their clients' funds on startup warranty software and service companies. All are represented in the Warranty Week readership.
By our somewhat coarse count, there are 163 subscribers from 75 automotive manufacturers reading Warranty Week. They comprise the largest slice of the subscriber pie, as represented in dark green in the chart below. They also no doubt are the reason why Midwestern states such as Michigan, Ohio, Indiana, Wisconsin, and Illinois feature so high on the list in Figure 2.
Next come the software vendors, who we believe represent 130 readers in 21 companies. Administrators and insurers of extended warranties and service plans are the next-best represented group, with 113 readers in 45 companies. Telecommunications equipment manufacturers and makers of computers and peripherals are next, with 81 readers in 25 companies. They are represented in the chart below by the light orange slice.
Figure 4
Warranty Week Subscribers by Industry
Aug. 2003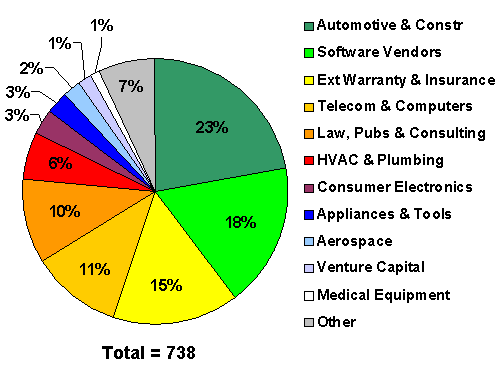 We've lumped together the professional services folks into a category encompassing consultancies, law firms, publications, and accounting/auditing companies. There are 77 such readers in 49 different companies, which of course means that many of these firms have only one or two subscribers.
Four manufacturing industry segments come next: an amalgamation of HVAC, plumbing fixtures, and office furniture manufacturers with 42 readers; consumer electronics with 24 readers; home appliances and power tools with 19 readers; and aerospace with 18 readers. The pie is completed by venture capitalists (9 readers at 11 firms) and medical equipment makers (8 readers at 8 firms).
There are 49 others that don't easily fit into any of these categories. They include professors, government regulators, and manufacturers in other industries such as new homes and jewelry. We can't name anyone, but the warranty industry regulators appear to work at both the state and federal level in the U.S., as well as within relevant agencies in the European Union.
Who Are You?
Finally, there's your editor. It's only fair that since so many readers have provided personal information about themselves and their companies for this brief demographic profile, that now the tables are turned.
First, your editor is a native New Yorker, for better or for worse (mostly the latter lately), and works from a home office in Forest Hills, Queens, which is near the airports, the tennis stadium, and the beloved New York Mets. Son of a machinist and grandson of a carpenter, your editor worked his way through school on a drill press before graduating into the telecommunications, computer, and entertainment industries for long stretches. Schooled as both an electrical engineer and an economist, your editor has upwards of 15 years' experience in high-tech market research. The wife is in book publishing and the daughter is in summer school.
You can read all about it at Eric Arnum's personal home page, which also includes several of the music-related articles and photographs published by MTV SonicNet Music News and others during the period 1996 to 2001.
If there appears to be a hole in the résumé spanning the second half of 2001 and the first half of 2002, there is. Following the dot-com crash and the Sept. 11 attacks, there seemed to be no need in the world for writers and researchers, so your editor pursued employment in the security field at nearby venues such as JFK Airport, the Jacob Javits Convention Center, and the National Tennis Center, home of the US Open. They say the pen is mightier than the sword, but the guy who said that was probably laid off too.
Last November, the CEO of Warranty Week's founding sponsor watched as the one and only warranty-focused publication he could find on the Internet slipped beneath the waves -- another victim of the dot-com bust. So he contacted your editor, suggesting that perhaps there was a market void to be filled. Why not start a newsletter about warranties?
At first, your editor thought that perhaps there are some very good reasons why there are no warranty-focused publications. It would be like launching a newsletter about accounts receivable, or about company cafeteria lunch menus. Sure it could be done, but maybe it shouldn't.
By now, all that skepticism has disappeared. Warranty is a huge industry, employing tens of thousands of people at thousands of manufacturing companies, as well as at least a hundred warranty service and software vendors. That doesn't even include those out in the distribution channel who deal with warranty every day: the servicers, installers, and dealers. And of course it doesn't include the consumers.
When Warranty Week first launched last year, people had two major suspicions. First, they thought it was some sort of front for its sponsor, which would manifest itself through "advertorials" posing as news. Second, they suspected it was yet another consumer advocate newsletter, crusading to right the wrongs committed by manufacturers of shoddy merchandise.
We've written about Entigo four times in nine months, but only once in any great detail. And while we've shined a light on some of the sleaze in auto extended warranties, none of the coverage has been written with the consumer in mind as the audience. This is a business publication about and for warranty professionals. Your comments are always welcome, and your contributions are appreciated.