March 30, 2004
Warranty by Industry:
While automotive warranties continue to account for half of all claims, a diverse mix of other industries makes up the balance, from air conditioning to airplanes. Manufacturers grouped by the types of products they make exhibited distinct personalities during the past year.
The automobile, truck, engine, and parts manufacturers not only pay more than half of all warranty claims. They also pay a slightly higher than average share of sales to cover claims. They also set aside a proportionally larger amount of sales in their warranty reserve funds. For the very top echelon of automotive manufacturers, warranty is a multiple-billion-dollars undertaking each year, having the power to make or break their strings of profitable quarters.
Air conditioning and airplanes actually do share a warranty "personality." Compared to automotive manufacturers, the HVAC and airframe manufacturers experience a lower rate of claims, and set aside a lower percentage of sales in warranty accruals. These traits are shared across these industries, though that doesn't mean there isn't such a thing as a risk-taking HVAC vendor or an auto parts maker with below-average claims rates. It just means that on balance, manufacturers grouped by the type of products they sell exhibit similar traits when it comes to warranty expenditures.
The typical electronics, computer, or telecommunications manufacturer exhibits several traits as well. First, they usually see claims and accrual rates above average, and second they keep less in their reserve funds than manufacturers who work in wood, steel, plastic or glass. This seems to have a lot to do with the rapid obsolescence of their products, comparatively speaking. Long before a hinge, handle or valve wears out, your typical electronic gadget is out of date. While a 7- or 10-year warranty on a passenger car is a desired selling point, on a cellular telephone such a long warranty would be absurd.
While U.S. manufacturers of all stripes spent more than $23.675 billion globally last year honoring warranty claims, automotive manufacturers accounted for just under half that entire total. As any viewer of current television commercials from the likes of Mitsubishi, Hyundai, and Chrysler can attest, warranty remains an incredibly important competitive weapon within the automotive industry. Within some of the consumer electronics product categories, warranties are more a protection against swindles: it's guaranteed to operate out of the box and for at least a couple of additional months.
Warranty for business machines -- anything from printing presses to satellite transmitters -- tends to be taken very much more seriously by manufacturers than consumer products. Some dual-use products used in both residential and commercial applications carry shorter warranties for the latter. But claims are much more likely, and customers are likely to be more persistent with those claims. In the computing industry, multi-year warranty coverages are demanded and offered on business machines, while one year terms are standard on many consumer laptop, notebook, and desktop models. It all depends on the product and the customer type. But there does seem to be a correlation between how seriously an industry takes its warranties and the amount of claims the involved manufacturers report. Let's put it this way. Not one watch manufacturer is among the 750 companies reporting warranty expenditures during 2003.
In the March 23 column, Warranty Week took a look at the very top of the pyramid: the 50 largest warranty providers as measured by their reported claims totals for 2003. In this week's column, we're chopping up the warranty marketplace by industry. Automotive products -- everything from on-highway trucks to battery-powered golf carts -- take up half the pie, while the information technology and telecommunications equipment industries take up another third. It becomes increasingly difficult to chop up the last 15%, however, because it is difficult to find a manufacturer that is not in some way involved with either the automotive or the computer/telecom industry.
Three Key Metrics Per Company
In the charts that follow, three key metrics are provided for dozens of large manufacturers from across all industries. First is an addition of all their warranty claims paid (in cash or in kind) throughout 2003, in US $ million, on a worldwide basis. In the graphics included below, which may not be available to some email viewers (see http://www.warrantyweek.com/archive/ww20040330.html for the full set). Second is their warranty claims and accrual rates, which fluctuate throughout the year. In all cases, these percentages represent Warranty Week's best estimate of the share of sales that goes towards warranty. If the rate is 2%, then a company is setting aside (accrual) or paying out (claims) that percentage of net sales to cover the cost of warranty.
Take, for instance, Motorola Inc., which made its first-ever warranty disclosure on March 12. The company included a FASB FIN 45 14(b) warranty table in its Form 10-K financial statement for the first time. But it reported just an overall balance for the entire company, as FIN 45 requires. Motorola is a diverse company. Its semiconductors power Apple computers and much more, while its telecom equipment forms the backbone of many wireless networks. But its name comes from its long-ago decision to do what was then considered absurd: putting a "Victrola" radio into a moving vehicle. To this day, the company remains a leader in the emerging telematics industry.
The question is, which industry gets Motorola's $178 million in annual warranty claims? Is it a semiconductor company, an automotive company, or a telecom equipment company? The same question goes for United Technologies (air conditioners, elevators, and jet engines), Brunswick (bowling, billiards, and boats), General Electric (appliances, turbines, and medical gear), and Honeywell (automotive, aerospace, and thermostats). How can their diverse warranty expenditures be chopped up industry by industry?
Until that difficult question can be answered, we're taking the easy way out. When a company has a significant presence in two or more unrelated industries, we're going to repeat their entire warranty expenditures on each list. The biggest problem this creates is the overlap. For instance, while automotive is 49% and IT/telecom is 35% of the warranty pie, there is a $472 million overlap between the companies on each list.
What follows below are the initial efforts to tally up 2003 warranty expenditures by industry. We'll start with the automotive and aerospace categories and then we'll move on to the computer and telecom industries. Finally, we'll take a quick look at the heating, ventilation, air conditioning, and refrigeration industry. Once again, this barely scrapes the surface of available data, in spite of the inclusion of five charts and three tables in this issue alone. So we're going to encourage all readers to take a look at a special online annex that includes an additional ten charts and three more tables that didn't make the cut for this column.
Automotive Warranties
The first thing that jumps out of the chart below is the noticeable spike in automotive warranty claims that happened during the summer months. Is this seasonal? Even though the data for 2002 is much more limited, it didn't happen that year. However, it was during the second and third quarters that GM and Ford concluded that recent quality gains had cut their warranty expenses, allowing them to remove a staggering $633 million from their warranty reserve funds during the middle of last year. And indeed, auto warranty claims did fall slightly from the first to the second quarter. So perhaps on a seasonally-adjusted basis, quarterly fluctuations in automotive warranty claims and accruals have been much more gradual than the chart below suggests.
Warranty Claims and Accruals
in the Automotive Industry, 2003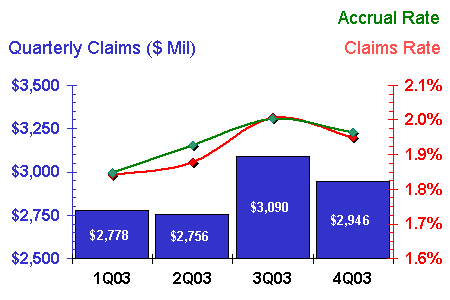 Source: Warranty Week
The new blood in this warranty market segment includes Motorola, Eaton, and Textron, along with four smaller companies that all chose to make first-time warranty disclosures in their 2003 annual reports. This creates something of a backwards-looking statistical challenge. These seven companies reported $432 million in claims and $580 million in accruals for all of 2003. One can safely assume that these amounts were spread across the whole year. But how were they spread? Did the companies register precisely 25% of their annual totals during each quarter? Or, like the industry they're in, were their claims and accruals slightly higher during the third quarter than they were during the rest of the year?
Again, these are some important questions with no simple answers. One can hope for some clarity in the months ahead, assuming these companies continue to make the required disclosures on a quarterly basis. However, if they follow the example set by General Electric, they might not report upon their warranty activity for another year, even though the regulations clearly mandate disclosures in all "interim and annual statements." For now, we're going to chop their reports into four equal parts and add them into the first, second, and third quarter reports retroactively.
Eaton placed thirteenth on the resulting list, so it's not included in the Top Ten below, although its reports contribute to the overall totals. In addition, readers should note that foreign-based manufacturers and importers such as Toyota and Honda are not included, even though they 1) now manufacture some of their products domestically and 2) make some warranty disclosures in their financial statements. The worldwide warranty expenditures of some American-owned nameplates such as Jaguar, Volvo, and Saab are included, since they're aggregated into the totals for GM and Ford. However, none of the brands associated with DaimlerChrysler are included, because the company is technically now foreign-owned, even though it remains a huge domestic producer (especially in the truck sector).
Top 10 Automotive Warranty Providers
Full Calendar Year, 2003
| | | | |
| --- | --- | --- | --- |
| | Warranty | Claims as | Accruals |
| | Claims | Percent of | as Pct of |
| Company | 2003 | Prod Sales | Prod Sales |
| General Motors | $4,435m | 2.8% | 2.8% |
| Ford Motor Co. | $3,524m | 2.5% | 2.6% |
| Caterpillar Inc. | $484m | 2.3% | 2.0% |
| Deere & Co. | $334m | 2.8% | 3.1% |
| Honeywell | $192m | 1.0% | 1.1% |
| Navistar | $189m | 2.7% | 2.4% |
| Motorola Inc. | $178m | 0.7% | 1.3% |
| Cummins Inc. | $172m | 2.7% | 2.9% |
| Paccar Inc. | $159m | 2.1% | 2.0% |
| Textron Inc. | $151m | 1.6% | 1.6% |
| | | | |
| Total All Mfgs. | $11,570m | 2.0% | 2.0% |
Source: SEC Form 10-Q & Form 10-K
Here's another great unanswered warranty question. If American-based producers spent $11.57 billion honoring their warranty claims worldwide last year, how much did foreign-based producers spend on U.S. warranties? Was there a net "warranty trade deficit" in the auto industry, or was there perhaps a surplus? It's not such a simple question, because it includes not only the final vehicle manufacturers, but also their suppliers. And there are numerous large automotive parts manufacturers whose factories are in Michigan even though their home offices are in Europe.
Aviation Warranties
Things get much simpler in the aviation industry. There are only two manufacturers of jetliners and only a handful of companies making airframes, avionics, or engines for business jets and smaller airplanes. A few are European and a few are Canadian, but most are based in the U.S.A. Many of the suppliers making up the balance of the list of top aviation warranty providers (see the online annex) also supply Airbus and Bombardier, so there is still a good amount of border crossing going on.
The uncertainty comes from the tendency of most major aviation manufacturers to sell into both the commercial and defense sectors. Product warranties in the commercial sector remain very important to both buyer and seller, but the Pentagon does not rely on what one would call a warranty to ensure the performance of their product purchases. Then again, some military systems and components are indeed delivered with product warranties. It remains a suspicion that if all non-warranted product revenue could be subtracted from the totals used in the calculations below, that both claims and accrual rates would be higher. But how much higher?
Warranty Claims and Accruals
in the Aerospace Industry, 2003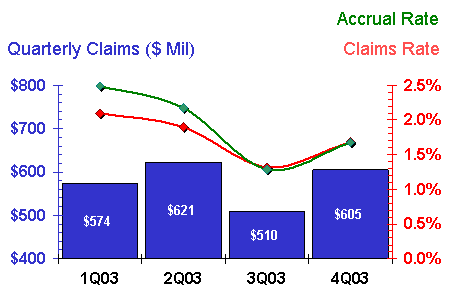 Source: Warranty Week
Companies such as Boeing and General Dynamics segment their revenues sufficiently well to allow Warranty Week to remove most of their non-warranted products from the totals. Once that is done, it turns out that their commercial jets experience warranty claims and accrual rates much closer to the 2% to 3% range turned in by many of their manufacturing peers in the trucking, construction, and heavy industries. There are, however, a significant number of warranty non-reporters who would otherwise belong in this sector.
Warranty in the IT & Telecom Industries
Compliance with warranty disclosure regulations within the computing industry is fortunately now very close to 100%. The only manufacturer of any renown who is not reporting upon the ups and downs of their warranty reserves is Microsoft Corp., and all its accruals have been made in relation to its Xbox game consoles. Furthermore, despite the addition of $29 million and the removal of $25 million from its warranty reserve fund, Microsoft reported paying no net claims on the Xbox during the year ended June 30, 2003.
Warranty Claims and Accruals
in the Computer Industry, 2003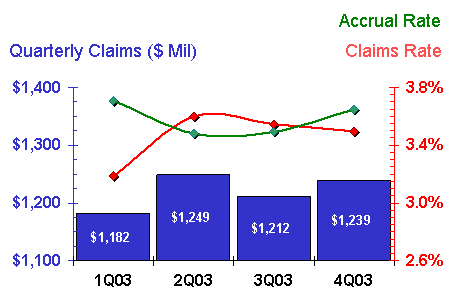 Source: Warranty Week
As mentioned, the telecom and IT sector accounts for around 35% of the warranty pie -- a total of $8.35 billion last year. Just the computer manufacturers account for 58% of that amount. However, most of the companies on the Top 10 list below make much more than just PCs and laptops. They also make disk drives, printers, networking equipment. Some make their own semiconductors, and a few are diversifying into consumer electronics product categories.
In a perfect world, each company would segment not only their product revenue, but also their warranty expenditures. Alas, all we get are aggregate figures for the company as a whole. So while Gateway touts the warranties on its plasma TVs, Hewlett-Packard uses goth Cure tunes to sell cameras, and Apple gets ambushed by protests over the warranties for its music players, all their warranty claims and accruals are counted solely in this category.
Warranty Claims and Accruals
in the Telecommunications Industry, 2003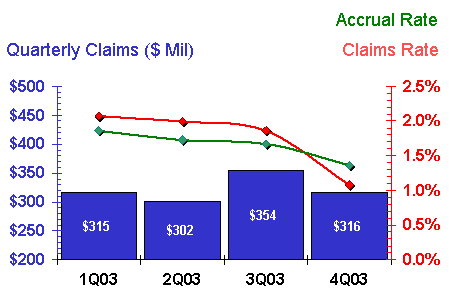 Source: Warranty Week
The boundaries of the telecommunications sector are so broad that the list of telecom product warranty providers extends to 170 different companies. This sector includes manufacturers of Internet gear, broadcasting equipment, cellular, radio, cable TV, LANs, fiber, video, microwave, broadband, and satellite equipment. It includes not-elsewhere-classified warranty providers such as pay-per-view equipment provider SeaChange International; the Cayman Islands-based GPS manufacturer Garmin Ltd.; and auto-telecom warranty crossover companies such as Cobra Electronics Corp., makers of the Harley-Davidson Limited Edition CB radio.
Only 17 reported warranty claims in excess of $10 million, and 10 of those companies are on the list below. While Cisco is the largest of them all, it also has one of the lowest claims and accrual rates in the telecom sector. But since the claims rate equals net payments divided by net sales, Cisco's $314 million in 2003 claims puts it at the top of the list. For Cisco, accrual rates have closely mirrored claims all through 2003, and declined steadily 0.5% over the course of four quarters. The 1.8% rate listed in the table below, as with all the other claims and accrual percentages in this document, are based on each company's most recent 10-Q or 10-K filings, for fiscal quarters or years ending on or close to Dec. 31, 2003.
Top 10 Network Equipment Warranty Providers
Full Calendar Year, 2003
| | | | |
| --- | --- | --- | --- |
| | Warranty | Claims as | Accruals |
| | Claims | Percent of | as Pct of |
| Company | 2003 | Prod Sales | Prod Sales |
| Cisco Systems | $314m | 1.8% | 1.8% |
| Motorola Inc. | $178m | 0.7% | 1.3% |
| Nortel Networks (1) | $169m | 2.3% | 3.0% |
| Lucent Technologies | $162m | 0.9% | 1.1% |
| Avaya Inc. | $65.0m | 3.9% | 2.9% |
| 3Com Corp. | $37.5m | 5.1% | 5.1% |
| SPX Corp. | $36.3m | 0.8% | 0.9% |
| Juniper Networks Inc. | $28.5m | 4.7% | 5.2% |
| UTStarcom Inc. | $24.9m | 1.3% | 1.9% |
| Scientific-Atlanta Inc. | $21.1m | 1.2% | 1.2% |
| | | | |
| Total All Mfgs. | $1,287m | 1.1% | 1.4% |
Note (1) -- Company has not yet filed a fourth quarter financial statement; estimates based on nine months.
Source: SEC Form 10-Q & Form 10-K
Nortel Networks is the only large company in the telecom sector to have not filed a financial statement by presstime on March 29. The company reported $127 million in warranty claims through the first nine months of the year, however, so Warranty Week estimated the missing fourth quarter at $42 million and the annual report at $169 million. When the actual Form 10-K is filed, these estimates will be replaced by the actual numbers in the online HTML edition of the newsletter.
Of the total list of 750 warranty-reporting manufacturers, a total of 62 companies had yet to file their latest 10-Q or 10-K statements by presstime on March 29. Seventeen were late with their 10-Q quarterly filings, 35 were late with their 10-K annual statements, and ten were late with multiple quarters' filings (but each had reported warranty claims and accruals earlier in 2003). Later in 2004, their actual warranty claims and accrual figures will replace the placekeeping estimates used in the preparation of this report. In most instances, the placekeeping estimates were based on an average of the last eight quarters, whichever data was available.
Air Conditioning Warranties
The only missing financial report in the HVAC/R industry was for Lennox International, which reported $16.5 million in claims and $20 million in accruals through nine months, but which had yet to file its 10-K at presstime. Lennox has in the past been in the Top 10 of HVAC warranty providers, but at this point the company is ranked 15th. New HVAC warranty entrants include Masco Corp., which made its first-ever warranty disclosures in the 10-K it filed on Feb. 27, 2004. The company, which also makes warranted locks, cabinets, and plumbing fixtures, reported $35 million in claims and $34 million in accruals for 2003, and warranted product revenue around $8.525 billion.
Warranty Claims and Accruals
in the HVAC/R Industry, 2003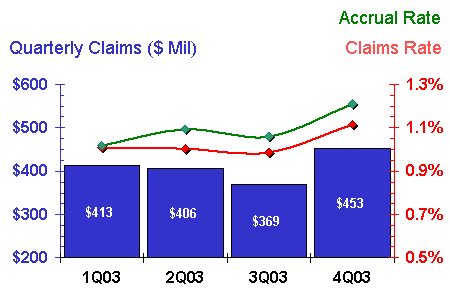 Source: Warranty Week
Johnson Controls continues to experience claims and accruals in the fractions of a percent, as it has for at least the past five quarters. Claims and accruals nearly doubled in the third calendar quarter, but they fell by more than half in the fourth quarter. After two quarters above $10 million per quarter, when the accrual rate "soared" to 0.3%, Johnson Controls is once again back below $10 million, and back below 0.2%. One more quarter of low claims and accruals and it might slip off the Top 50 warranty provider and Top 10 HVAC warranty provider lists.
Top 10 HVAC/R Warranty Providers
Full Calendar Year, 2003
| | | | |
| --- | --- | --- | --- |
| | Warranty | Claims as | Accruals |
| | Claims | Percent of | as Pct of |
| Company | 2003 | Prod Sales | Prod Sales |
| United Technologies | $405m | 1.8% | 2.0% |
| Whirlpool Corp. | $248m | 2.3% | 2.4% |
| Honeywell International | $192m | 1.0% | 1.1% |
| American Standard | $124m | 1.5% | 1.7% |
| Maytag Corp. | $121m | 2.8% | 2.7% |
| Ingersoll-Rand | $81.6m | 0.9% | 1.1% |
| York International | $66.5m | 1.6% | 2.0% |
| Johnson Controls | $56.5m | 0.2% | 0.2% |
| SPX Corp. | $36.3m | 0.8% | 0.9% |
| Masco Corp. | $35.0m | 0.4% | 0.4% |
| | | | |
| Total All Mfgs. | $1,641m | 1.1% | 1.2% |
Source: SEC Form 10-Q & Form 10-K
By the way, all figures in the above charts are net, which means that a middleman company which both honors warranties on products it sells and is paid for claims it makes with its suppliers, must report the difference between the two only. So a company which paid out $10 million in claims but which collected $10 million in supplier recoveries would report a net figure of $0. The regulations in FASB FIN 45 require the disclosure of this figure in all annual and quarterly statements, however. All companies with warranty reserve funds must report beginning and ending balances, net claims, net accruals, and net changes of previous estimates. Companies which immediately expense all warranty claims and which have no reserve funds or accruals, however, need not report their warranty expenditures. Each of the 750 manufacturers tracked by Warranty Week for this study has at some point during the past year disclosed the existence of a warranty reserve fund and accruals for new warranties.
An additional 180 companies are suspected of having warranty reserves and making accruals, but not making the required FIN 45 disclosures. But that list is dwindling. In just the past few weeks, numerous companies have chosen to begin their FIN 45 compliance in their annual reports. Some of those figures are included in the charts above, as well as several in a special online annex.
It's worth repeating that the claims and accrual rates of different companies in different industries is not directly comparable, for a variety of reasons. First, different manufacturers report their warranty expenses differently. Something as simple as who pays for shipments of parts, and which budget is charged, is far from certain under current accounting rules. Companies have a significant amount of discretion when it comes to what will be reported as warranty, what will be reported as other liabilities, and how it becomes part of the cost of sales. One company's apparently low rate may have more to do with its accounting methods. Another company's apparently higher rate may be due to a more complete survey of its warranty expenses, and nothing more.