September 11, 2007
Automotive Warranties:
Are claims soaring or falling? It depends how you slice the market. One way is to compare OEMs to their suppliers. Another is to group OEMs by the size of the vehicles they make. Either way, passenger car and light truck makers always seem to end up paying the most.
Depending on where you look in the automotive warranty chain, first half expenses were up either a lot or a little.
If you look at just small vehicle manufacturers, warranty claims soared 18% in the first half of 2007, compared to a year ago. But if you look at just parts manufacturers, claims were up only a slight 0.6%. Truck and heavy equipment manufacturers, meanwhile, saw claims rise almost 9% during the first half.
It all depends on how one does the counting. For this exercise, we started with a list of 231 US-based and publicly-traded companies that are either completely or partially in the automotive business, taking a look at their first-half 2007 warranty expenses. Of those 231 companies, 146 would probably call automotive their primary business, while 85 others derive the bulk of their revenue from industries such as HVAC, aerospace, telecom or semiconductors.
That doesn't mean they're not automotive suppliers or vehicle manufacturers. But it does mean that half or more of their warranty expenses probably don't belong under the automotive heading. So what we've done is set those 85 companies off into their own special category: "Other Suppliers." Companies such as Motorola, Honeywell, American Standard, Black & Decker, and Textron, for which automotive is an important market but not their primary industry, are grouped into this category.
Nothing But Auto Parts
Then there are approximately 104 companies that do little else besides manufacture components, parts, and systems for vehicles, which we shall call "Parts Suppliers." We can safely estimate that most if not all of their warranty expenses belong in the automotive category.
And then there are the vehicle manufacturers or the OEMs. In the chart below, the OEMs are depicted in blue, while the parts suppliers are depicted in light blue. The "Other" companies are depicted in red.
Figure 1
Automotive Manufacturers:
Quarterly Warranty Claims Paid, 2003 to 2007
(in $ millions)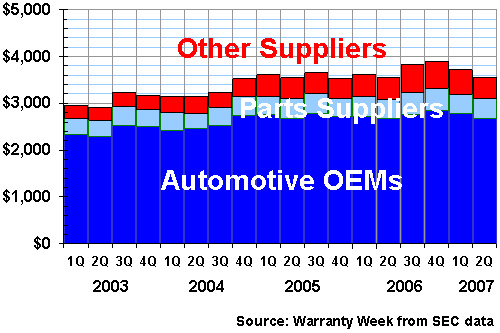 The total first half warranty expense for OEMs was $5.4 billion, up 1.1%. For the middle band of parts suppliers, warranty expenses were up 0.6% to $846 million. And for the partially automotive companies, warranty expenses were up 4.1% to just over $1 billion. The quarterly totals for these categories going back to 2003 are detailed in Figure 1.
The sums paid by OEMs are huge, but keep in mind that the bulk of that is traceable to the vehicles of just two OEMs: Ford Motor Co. and General Motors Corp. But because their sales revenue is also huge, their warranty expenses end up averaging about 2.5% of their auto product revenue (total revenue minus finance, service, rental, credit card, and other non-warranted sources of revenue).
Suppliers Always Lower
For their suppliers, the percentages are even lower. How much lower? Figure 2 contains three lines, showing the calculated percentages of revenue that the amounts in Figure 1 represent. The all-OEM average is slightly below the 2.5% mark set by GM and Ford, suggesting that the makers of other types of vehicles pay out less than the passenger car and light truck makers. The "Other" suppliers have been around 1.0% to 1.2%, but have risen to the 1.5% to 1.7% range this year. And the plain old parts suppliers are still very close to their 0.6% to 0.7% historical average.
Figure 2
Automotive Manufacturers:
Quarterly Warranty Claims Paid, 2003 to 2007
(as a % of sales)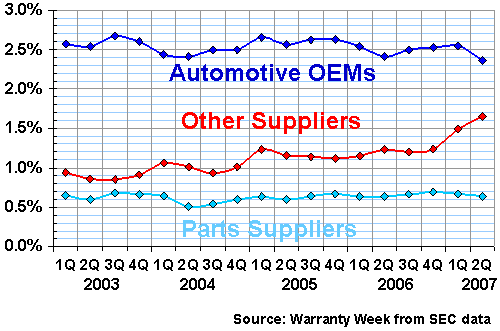 Interestingly, the figures for parts suppliers as a group, which had been showing signs of an upward tilt last year, have fallen back again this year. Some individual parts manufacturers have seen a big upturn in their warranty expenses as OEMs continue trying to push back more and more of their claims to their suppliers. But as a group, the numbers have barely moved. And while the trend is up for suppliers who are only partially automotive, who's to say whether the automotive sector is the source or the reason for these increases?
As mentioned, Ford and GM account for the bulk of the OEM segment. How much they represent is made clear in the pie chart of Figure 3. Readers should note that for this calculation we have added in some of the companies that are only partially vehicle makers -- such as Textron and Ingersoll-Rand -- in an effort to fatten up the other wedges. And we added in some of the companies making boat engines and other parts not meant for land-based vehicles. But Ford and GM still end up accounting for 75% of the pie.
Figure 3
Automotive OEMs by Vehicle Size:
Warranty Claims Paid, 2007
(as a % of OEM total)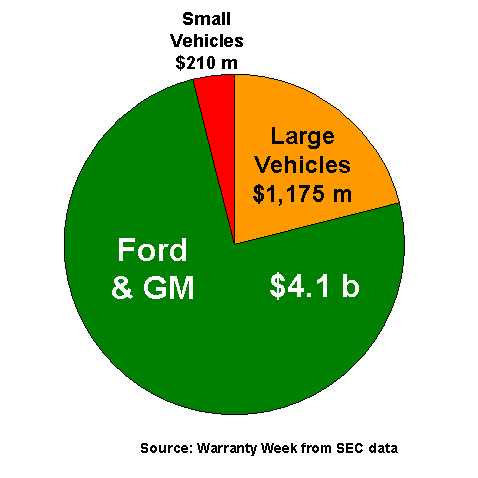 The list of companies not included in Figures 1 to 3 stretches from internationally-based parts suppliers such as Robert Bosch, Autoliv, and Magna, to internationally-based OEMs such as Toyota, Honda, and DaimlerChrysler. The latter will soon revert back to US-based status, but it will then be privately-held. So that change of status will actually decrease the company's warranty disclosures.
As a courtesy to American regulators and investors, DaimlerChrysler AG has been making quarterly warranty disclosures since 2003. Also as a courtesy, Toyota and Honda have added warranty disclosures to their annual reports since 2003. So in each case, we've taken their warranty expense and divided it by automotive revenue, calculating the percentage of sales that warranty represents. Those percentages are detailed in Figure 4.
Figure 4
Top US Passenger Car Manufacturers:
Quarterly Warranty Claims, 2003 to 2007
(as a % of product sales)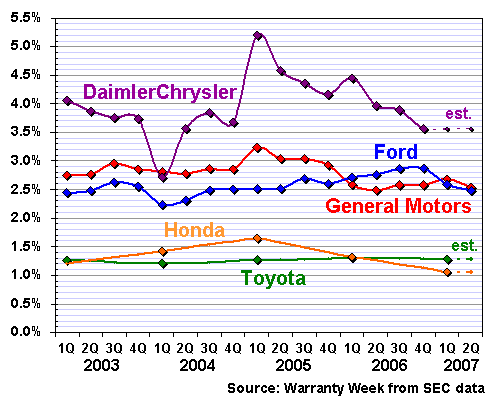 Notice that there's no data for either Toyota, Honda, or DaimlerChrysler for the second quarter of 2007. There's also no data for DaimlerChrysler's first quarter. And there probably won't be. Such is life when depending upon voluntary disclosures, and when attempting to compare them with the required disclosures of GM and Ford. What we've done is added horizontal dotted lines for each company, which will have to suffice until and unless they make further disclosures.
Figure 4 does, however, show that while GM and Ford have behaved as twins around the 2.5% to 3.0% level, Toyota and Honda have behaved like twins at the 1.0 to 1.2% level. What this means is that the Japanese companies are spending half as much per unit of revenue on warranty as their American counterparts. It doesn't much matter what currency is used, because the currency cancels itself out during the calculation.
DaimlerChrysler Sets Records
And while GM and Ford on the one hand and Toyota and Honda on the other hand have generally kept their warranty expenses steady in a comfortable range, DaimlerChrysler has seen its claims rate swing from 2.7% to 5.2% then back down to 3.6%. And with the recent strength of the euro, DaimlerChrysler has held onto the unwanted title of world's largest warranty provider for multiple years. No wonder it discontinued filing courtesy reports of its warranty expenditures. Had charts like this appeared in the automotive press a year or two ago, even Cerberus might have been scared away.
But there's so much more to the automotive market than just this handful of passenger car and light truck OEMs. We could organize the rest of the OEMs by type of vehicle: farm, lawn, construction, sports, or utility. But for this exercise, we're going to group them by size. Anything bigger than a pickup goes into the truck and heavy equipment category. Anything smaller goes into the small vehicle category.
Figure 3 above detailed the warranty expense for each of these categories. Figure 5 below calculates the percentages these amounts represent of total product revenue. As the chart shows, Ford and GM are also atop this segmentation, with large vehicle manufacturers around 2% and small vehicle manufacturers around 1.5%.
Figure 5
Automotive OEMs by Vehicle Size:
Warranty Claims Paid, 2007
(as a % of product sales)
To create these segments, we started with a list of 48 US-based OEMs. Not counting the six companies manufacturing either boats or railroad vehicles, and not counting either GM or Ford, left 40 companies to allocate to either the small or the large vehicle categories.
Twelve manufacturers of motorcycles, golf carts, all-terrain vehicles, forklifts, and riding lawn mowers were placed in the small category. Everything else -- from ambulances to dump trucks -- was placed into the large category.
Readers who would like detailed charts for each of these segments can contact the editor. Much of the data in Figures 1 to 5 is repeated in these charts, however. So it probably doesn't deserve repeating here. But several readers have asked particularly for some data on heavy industry, so perhaps this offer will suffice.
Spotlight on Four OEMs
What we wanted to do with our remaining column space is spotlight two large and two small vehicle manufacturers, to provide some perspective on why the averages end up where they do. First we'll take a look at Caterpillar and Navistar, and then we'll look at Textron and Harley-Davidson.
None of these companies has quite the heft to move the averages like GM and Ford do, but Caterpillar is after all the third largest automotive warranty supplier. It reported $745 million in warranty claims last year, and so far in 2007 has reported $426 million for the first half. Its latest claims rate of 2.1% is up somewhat from a year ago, as is its accrual rate.
Figure 6
Caterpillar Inc.
Quarterly Warranty Claims & Accruals, 2003 to 2007
(in $ millions and % of sales)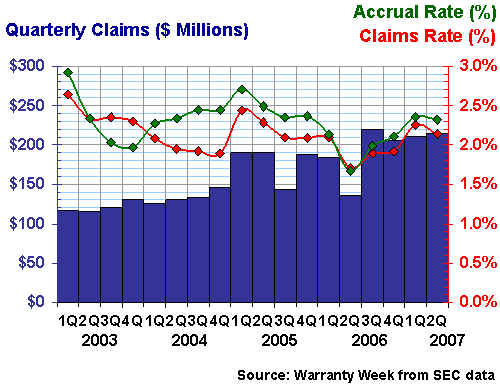 In Figures 6 through 9, the blue columns represent the amounts spent each quarter on warranty claims. The green lines represent the percentage of sales set aside each quarter as warranty accruals, and the red lines represent warranty claims as a percentage of sales. In Caterpillar's case, the rise in claims and the steady-to-declining percentages suggest that sales are rising faster than warranty spending, which is in fact the case. This means that quality is increasing, or at least that defects are costing less to fix.
Now some would argue that Cat isn't automotive at all, but instead belongs in the heavy industry category. As proof, one need look no further than its operation that manufactures turbines used in power stations. However, its diesel engines go into on-highway trucks, so not everything it makes is meant for off-road work. So instead of looking for a vocation, we simply ask: is it bigger than an F-150 pickup truck? And in Caterpillar's case, the answer is definitely yes. So it definitely belongs in the "large vehicle" category.
This is the same problem we have with trying to sort these OEMs into narrow vehicle types such as heavy trucks, buses, recreational vehicles, emergency vehicles, construction equipment, and so on. Very few companies make just one thing or the other. They might make both trucks and buses, both fire trucks and street sweepers, or maybe both lawn mowers and farm machinery. Some of their products might have engines but no wheels. Others might have wheels but no engines.
Crossing Multiple Categories
Navistar is one of those companies that crosses several categories in terms of both vehicle type and vocation. And like Cat, it's both an OEM and a supplier, making engines for Ford's light trucks. But as of now, it hasn't filed a financial statement with the U.S. Securities and Exchange Commission in two years. So the last report of the company's warranty expenditures was for the fiscal quarter ended July 31, 2005.
In Figure 7, the seven missing quarters are shaded gray, and are set to equal the last known report of $65 million per quarter. The claims rate is a dotted line at the last known rate of 2.4%. And the accrual rate is set to the last known rate of 2.1%. At some point, the company is going to have to catch up with its filings, and we'll know whether warranty expenditures have increased or decreased in the past two years. Until then, however, there's a hole in the data -- even with these placeholder estimates.
Figure 7
Navistar International Corp.
Quarterly Warranty Claims & Accruals, 2003 to 2007
(in $ millions and % of sales)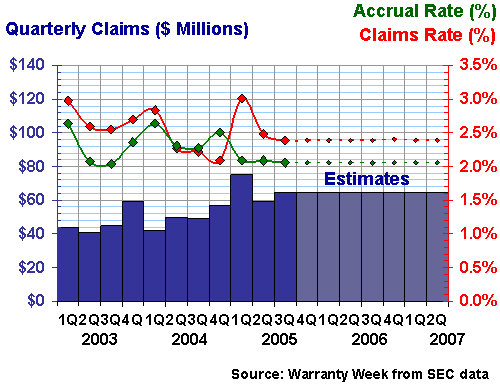 An example of the opposite effect can be seen in Figure 8, where Textron's quarterly warranty expenses were estimated for three years, but now they're not. What happened is this: during 2003, 2004, and 2005, the company reported its warranty expenses only once a year, in its annual report. But then in 2006 and 2007, it changed to a quarterly disclosure format, as is required by the FIN 45 accounting rule. So what we're getting now is more frequent reports, which results in more variability.
Textron is one of the companies we placed into the "Other" category, because most of its manufacturing revenues come from Bell helicopters and Cessna airplanes. Only about 28% of its total revenue comes from industrial or automotive product lines such as forklifts, golf carts, and lawn care machinery. But the presence of those product lines also gives it a deserved slot in the "Small Vehicle" category.
Figure 8
Textron Inc.
Quarterly Warranty Claims & Accruals, 2003 to 2007
(in $ millions and % of sales)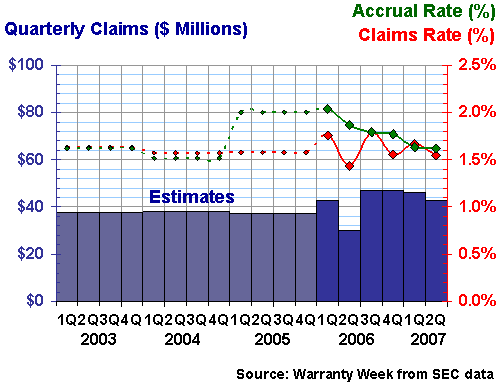 It's not as if Textron's warranty expenses have been increasing, or that they're now more volatile than before. The claims rate has been very close to 1.5% for three years. And in fact, 1.5% is more or less the long term average claims rate in the whole small vehicle category.
But keep in mind that Textron typically accounts for a third of all the warranty spending in the small vehicle category. So perhaps it's no surprise that both averages are both around 1.5%, just like it's no surprise that the overall automotive OEM averages are close to the numbers put up by heavyweights such as GM and Ford.
In Figure 9, we're detailing the warranty expenditures of another heavyweight of the small vehicle category: motorcycle manufacturer Harley-Davidson. The company typically accounts for an additional 15% of the small vehicle category. But as can be seen in the chart below, its warranty claims rate has never even approached 1.5%, though it has been rising this year.
Figure 9
Harley-Davidson Inc.
Quarterly Warranty Claims & Accruals, 2003 to 2007
(in $ millions and % of sales)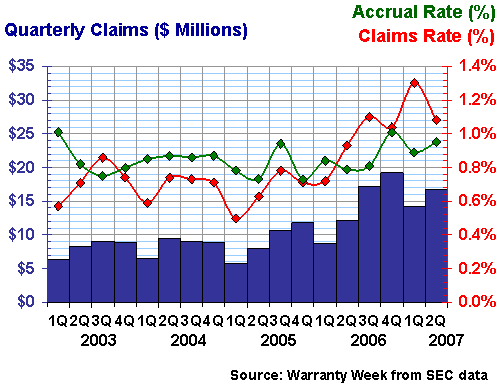 It's not so easy to conclude that some small vehicles create more warranty expense than others. For while Textron's expenses are up around 1.5% of total revenue, who's to say it's not coming mostly from airplanes and helicopters? Then again, other forklift manufacturers such as NACCO Industries are also around 1.5%, and other lawn equipment manufacturers such as Briggs & Stratton and Toro are around 1.6% to 1.7%. So perhaps 1.5% is the "natural" rate for small vehicles, and motorcycles are naturally lower?
The point is, there are not so many companies like Harley-Davidson that make only one type of vehicle. What's more common is a product mix like Textron's -- not only of vehicle types but also of industries. And while many companies clearly identify their finance and service revenue (and Harley its apparel licensing/royalty revenue), some don't, which artificially depresses their claims and accrual rates.
But what's extremely clear is that the type of automotive company that usually ends up with the highest rate of warranty expense is a company that makes passenger cars and light trucks for a primarily consumer customer base. Ford and GM don't have the highest claims rates in the industry, but their rates are higher than the averages turned in by makers of vehicles both larger and smaller.