January 31, 2008
Automotive Warranties:
What once looked like a trend turned out to be a temporary spike. So the gap between the warranty costs of OEMs and their suppliers remains close to 2% wide. But the good news is that warranty expenses are no longer soaring for automotive manufacturers.
Since the last time we checked in with automotive warranty providers in September 2007, another quarter has gone by and another $3.6 billion has been spent on warranty claims. As we await the filing of all their annual reports (probably by mid-March) let's see how trends have continued through the first nine months of last year.
The costliest period for U.S.-based automotive warranty providers remains the fourth quarter of 2006, when more than $3.8 billion in claims paid was reported by some 130 different OEMs and suppliers. It's possible that when all is said and done the fourth quarter of 2007 could top that by a slight amount, but the trend suggests otherwise.
Slight Rise in Warranty Costs
Here's a headline for you: warranty claims in the automotive sector are up by only 0.6% for the first nine months of 2007, compared to the first nine months of 2006. If those were retail sales, the pundits would call it sluggish growth. But since it's an expense, we'll call it a pleasant plateau in warranty costs.
In Figure 1, we've chopped the entire automotive warranty provider sector into three groups: those making complete vehicles (the OEMs), those supplying the OEMs (as their primary business), and those supplying the OEMs (but not as their primary business). The trend is clear: except for a bump at the end of 2006, automotive warranty costs have been more or less flat since the end of 2004.
Figure 1
Automotive Manufacturers:
Warranty Claims Paid per Quarter, 2003 to 2007
(in $ millions)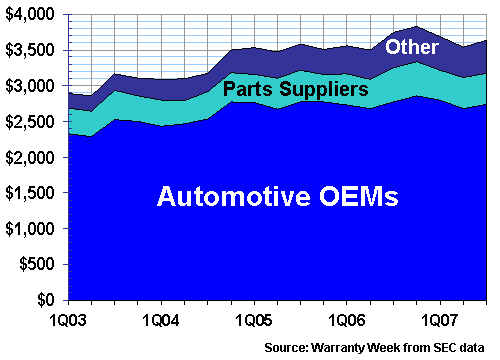 The OEM category is anchored by the heft of General Motors Corp. and Ford Motor Co. But there are numerous other OEMs making everything from golf carts to snowmobiles, not to mention fire trucks, construction equipment, and forklifts. Together, they not only pay out more in warranty claims than their suppliers, but they also pay out at a much higher rate.
The latest data shows GM at a 2.58% claims rate and its spin-off Delphi Corp. at 0.44%. Ford is at 2.45% and Visteon Corp. is at 0.34%. As we shall show in the next two slides, this roughly two percent gap has been with us for at least five years, if not longer.
Year-to-Date Comparisons
For the record, warranty claims in the first nine months of 2007, compared to the first nine months of 2006, are as follows: for OEMs, $8.21 billion, up 0.3%; for parts suppliers, $1.29 billion, down 2.0%; and for "other," $1.36 billion, up 5.0%. In six to eight weeks we'll have full-year numbers to compare.
On the flip side, warranty accruals in the first nine months of 2007, compared to the first nine months of 2006, are as follows: for OEMs, $8.48 billion, up 5.9%; for parts suppliers, $1.56 billion, up 4.6%; and for "other," $1.31 billion, down 8.9%. Keep in mind that these are raw dollar figures, however, without sales fluctuations added into the mix.
In Figures 2 and 3, we've taken the identical three groups from Figure 1 and assigned them claims rates (Figure 2) and accrual rates (Figure 3). Both rates are calculated by taking the warranty funding amounts and dividing them by the corresponding warranted product sales total. So if Harley-Davidson spent $18.6 million on warranty claims and reported $1.46 billion in sales, its claims rate is 1.27%.
Figure 2
Automotive Manufacturers:
Warranty Claims Rates, 2003 to 2007
(as a % of sales)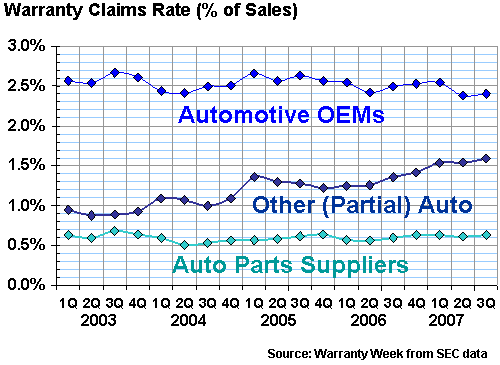 As can be seen with both claims (Figure 2) and accruals (Figure 3), the gap has been with us as long as there have been public disclosures of warranty data. The gap has remained very close to 2%, though in 2007 it has dipped under 1.8%.
The claims rate trend may be a bit misleading, however, because of the lag time between when a vehicle is made or sold and when the warranty work is done. A 2005 model may show up in 2004 or 2005 revenue, but its warranty claims may not show up until 2006 or 2007. So the ratio we're computing uses new claims on old vehicles and compares it to new revenue on new vehicles.
Accrual rates have none of this time lag. Theoretically, a manufacturer books the product revenue and sets aside an amount equal to what they believe will be the future warranty cost. So it's a comparison of new revenue against new accruals. So perhaps Figure 3 is a superior measure?
Narrowing the Gap?
If it is a better measure, then the trend is quite positive for those hoping to close the gap. While the gap between OEMs and suppliers in terms of accrual rates has also been close to 2% for most of the past five years (and in one instance jumped to 2.2%), the gap has been closing throughout 2007, as it was in 2006. But that's the problem: the gap narrowed in each quarter of 2006 before widening again. And now it's narrowed once again throughout 2007. So what happens in 2008?
Figure 3
Automotive Manufacturers:
Warranty Accrual Rates, 2003 to 2007
(as a % of sales)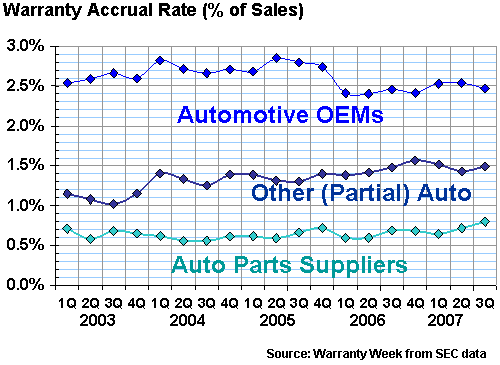 Meanwhile, there's that third group in the middle -- the Honeywells and the Motorolas of the world that have significant lines of business as automotive suppliers, but for which automotive is not their main business. We have no way of knowing how much of their company-wide warranty expenses arise from the automotive sector, so we've calculated their claims and accrual rates based on their company-wide totals. And it shows them being consistently in the middle, though as both Figures 2 and 3 illustrate, they're drifting upwards.
In Figures 4, 6 and 8, we're reconfiguring the data from Figures 1, 2 and 3 into snapshots of each of the three sectors. In Figures 5, 7 and 9, we're selecting representative companies from each of the three sectors, and providing snapshots for each.
As can be seen in Figure 4, the warranty claims total for automotive OEMs has remained close to $2.8 million per quarter for several years. And while in 2005 that represented a little more than 2.5% of sales, in 2006 and 2007 it represented a little less than 2.5%. But again, keep in mind that GM and Ford set the pace in this category, so the bulk of that down trend can be attributed to them.
Figure 4
Automotive OEMs:
Warranty Claims & Accruals, 2003 to 2007
(in $ millions and % of sales)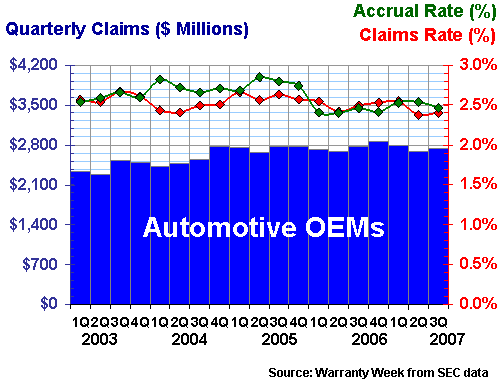 Readers can find a graph of the GM vs. Ford horse race, along with data for Toyota, Honda, and DaimlerChrysler, on the Warranty Week home page, about a third of the way down the page. So far in 2007, Ford has kept its claims rate below GM's, after losing that advantage in 2006. But they're so close that it's probably accurate to say that they've both now found the secret ingredient.
So in Figure 5, we chose to spotlight the #3 OEM. No, it's not Chrysler LLC -- that company is now privately held and so is under no obligation to report anything about their warranty expenses to anybody. Of course, they could still voluntarily choose to send it to Warranty Week (call us if you need the address).
On our list at present, the #3 automotive OEM is Caterpillar Inc. Yes, some people put them into a separate category for "heavy equipment," and conceivably their diesel engine business also qualifies them as a supplier. But we count all classes and weights of vehicles together, so in this instance they're an OEM.
Figure 5
Caterpillar Inc.
Warranty Claims & Accruals, 2003 to 2007
(in $ millions and % of sales)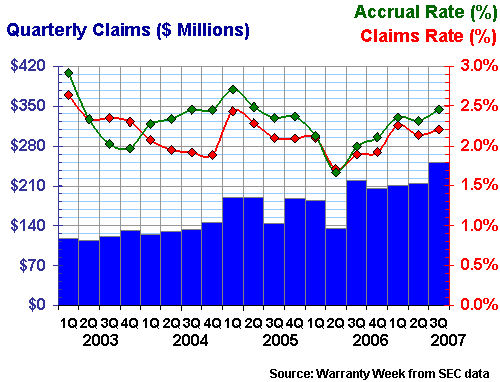 Caterpillar has been both above and below that 2.5% benchmark seen for all OEMs. Their claims and accrual rates have been on an upswing for more than a year, but the relative flatness of the claims paid (in blue) is somewhat reassuring. On balance, there's nothing terribly upsetting in their warranty snapshot.
In Figure 6, we've grouped the 90 or so automotive parts suppliers who have reported warranty expenses since 2003. We're still waiting for 2007 data from Dura Automotive Systems, but almost all of the other major players are present and accounted for.
Figure 6
Auto Parts Suppliers:
Warranty Claims & Accruals, 2003 to 2007
(in $ millions and % of sales)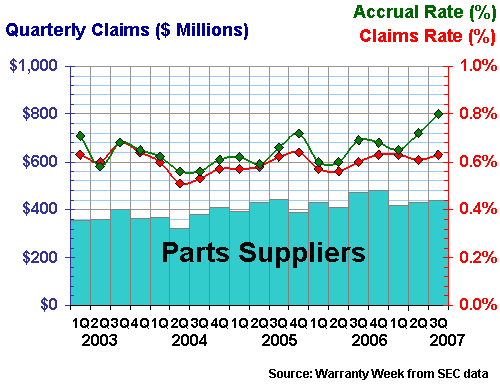 The parts suppliers continue to remain close to their 0.7% long term average for both claims and accruals, but as can be seen in Figure 6, there's been an upturn in 2007. Does this mean the OEMs are now pushing more of their warranty expense back to their suppliers? Or does it mean that more suppliers besides BorgWarner have run into manufacturing problems that caused them to revise their accrual rates upward?
It's very dangerous to take a few points of data and declare a trend. For instance, a year ago we were looking at the jump in Visteon's warranty claims and wondering if this was evidence of the closing gap between OEMs and suppliers. Well, look again. Figure 7 includes 2007 data that suggests the second half of 2006 was not a trend but an aberration. It wasn't the beginning of an upwards trend. It was an anomaly. And now things are back to normal, or close to it.
Figure 7
Visteon Corp.
Warranty Claims & Accruals, 2003 to 2007
(in $ millions and % of sales)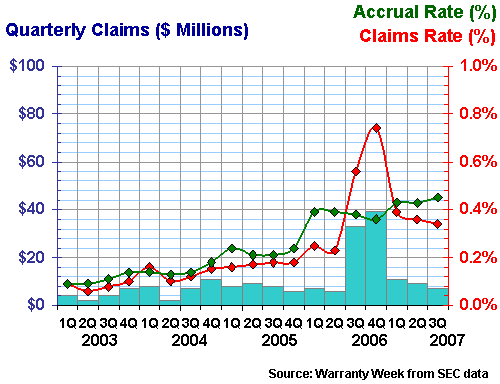 For Visteon, perhaps even an 0.34% claims rate is above normal, but it's still significantly below the 0.63% average calculated for all the suppliers (Figure 6). And, of course, it's still more than 2% below Ford's latest claims rate. But the point here is that what looked like a trend turned out instead to be an anomaly.
In Figure 8, we're including all the companies that have interests in the automotive industry but for which it isn't their main business. This includes battery makers who manufacture units for both golf carts and laptops, as well as semiconductor and test equipment companies that deal with high tech products for both the home and the vehicle.
They're really too diverse a bunch to make any sense of the upwards trend, but there certainly is an uphill slope to the data. But it could have more to do with Motorola's cell phones or Textron's helicopters than anything we'd call automotive.
Figure 8
Other (Partial) Automotive Companies:
Warranty Claims & Accruals, 2003 to 2007
(in $ millions and % of sales)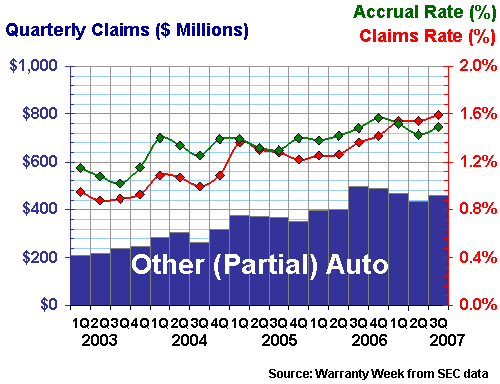 We also must note that two of these "other" companies: American Standard Companies Inc. and Ingersoll-Rand Co. Ltd., are merging in the next few months. And with Ingersoll-Rand having sold off its Bobcat Division last year and now taking on the residential heating/cooling business of Trane, the companies are moving even further away from automotive. Yet they'll still both have significant lines of business in trucks and passenger cars.
For our example, though, we chose Garmin Ltd., a navigation equipment company that helps to guide everyone from hikers to boat captains. The news here is the recent emergence of a strong retail aftermarket for dashboard-mounted passenger car navigational equipment has manifested itself in a somewhat chaotic warranty expense trend for Garmin:
Figure 9
Garmin Ltd.
Warranty Claims & Accruals, 2003 to 2007
(in $ millions and % of sales)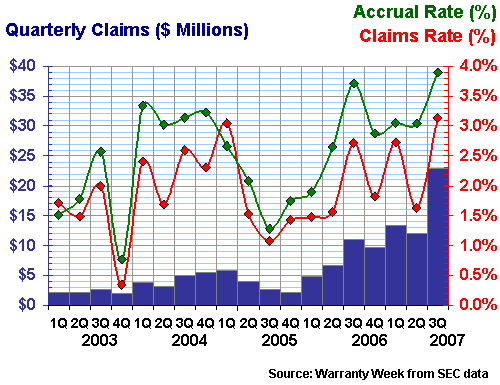 It's up. It's down. It's high. It's low. Forgive us for stating the obvious, but this company could use some warranty navigational equipment to help flatten out its trend lines. Yes, increasing sales is a good thing, but claims rates that halve themselves in six months then triple in two years are not reassuring.
Reporting the Chaos?
This is not the kind of graph you're likely to see in a company's financial reports. On the one hand, companies fear that their claims and accrual rates will be used against them if competitors or customers begin to equate the percentages with product quality. And as the Visteon example showed, it's easy to mistake a sudden spike for a permanent change.
On the other hand, the financial types worry that if shareholders could see the chaos in picture form, they'd turn it into an issue at the next annual meeting. And while stability is a priority for items such as revenue and profits, there's just no external focus yet on warranty costs. However, we could show you stable charts that look like a tennis champion's heart rate monitor. So there are companies out there that are on top of their game. And chaos is chaos. You don't need a degree in cardiology to read the danger in this chart.