May 19, 2011
New Home Warranty Report:
Though sales keep falling, claims are rising after several years of declines, and the accrual rates are holding steady. So is the worst over? Or are there homebuilders out there with bigger problems ahead of them?
The ranks of publicly-held homebuilders continues to thin, thanks to declining sales, tightening credit, and falling prices. And just when you think it can't get any worse, it gets worse. The economic downturn that ended more than a year ago for the automakers and electronics companies doesn't seem to want to end for the builders and their suppliers.
Warranty Week is tracking the warranty expenses of 22 current and 25 former homebuilders whose stock is traded publicly and which report their warranty expenses to the U.S. Securities and Exchange Commission in their annual and quarterly reports, as required by FASB Inquiry Number 45.
We reckon these homebuilders represent about a quarter of the entire market, with the remainder of the market share going to either privately-held or non-FASB-compliant homebuilders. And we suspect that the frightening contraction of the single-family home market undergone by the 47 reporting companies in the last few years has been mirrored by the many non-reporting homebuilders. So the trends seen in this data, we believe, are representative of the industry as a whole.
The warranty data, which we have organized into 32 quarterly reports, has been aggregated and simplified here into eight annual reports covering the years 2003 to 2010. And that data strongly suggests that the worst is behind them. The bottom of the trough, we suspect, was reached in 2009.
Hopeful Signs
For the first time since 2005-2006, the total amount of claims paid by U.S.-based homebuilders increased in 2010. Claims were up 8.1% to $407 million last year, the first annual increase in four years. In an industry severely impacted by problems with mold and Chinese drywall, one shouldn't be cheering such an increase in expenses, but here we're taking it as a sign of increased activity.
Figure 1
New Home Warranties
Claims Paid by U.S.-based Homebuilders
(in US$ millions, 2003-2010)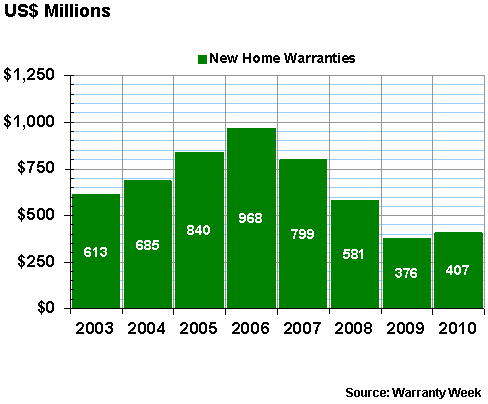 As can be seen in Figure 1, claims have fallen radically in the years since the peak came in 2006. Claims fell by 17% in 2007, by 27% in 2008, and by 35% in 2009. And even with the slight upturn in 2010, the claims total is still 58% below its peak. But it was down 61% from that peak a year ago.
Falling Accruals
In terms of accruals, however, the industry total is still contracting. Last year was the fifth in a row in which homebuilders set less aside as warranty accruals than they did the year before. Since the peak in 2006, industry accruals are down an astonishing 76%, to a total of just $246 million in 2010.
Figure 2
New Home Warranties
Accruals Made by U.S.-based Homebuilders
(in US$ millions, 2003-2010)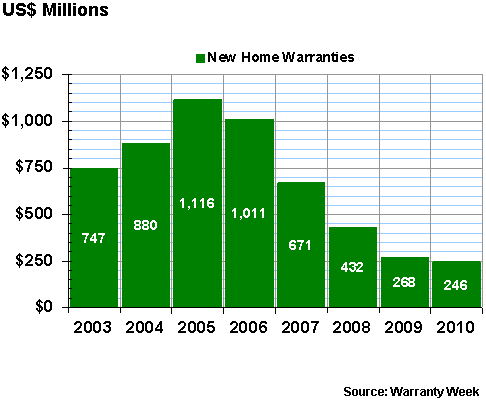 The reduction in accruals last year, however, was the smallest reduction in four years. Accruals fell 38% in 2009; 36% in 2008; 34% in 2007; and 9.4% in 2006. The annual decline in 2009-2010 was 8.1%.
Unfortunately, that record of declines looks likely to continue into 2011. So far we've collected first-quarter reports from 17 of the 22 active homebuilders. And the $38 million in first-quarter 2011 accruals reported so far is radically less than the totals reported in any of the 32 preceding quarters (the closest is the $52 million reported in the first quarter of 2009). Even above-average accruals by the five remaining not-yet-reported homebuilders wouldn't lift the first quarter total above the previous low.
But then again, new home sales are still declining in the U.S. New home sales fell 14% last year (revenue for just our group of warranty reporters fell by 5%). The U.S. Census Bureau and the Department of Housing and Urban Development estimates that new home sales in March 2011 were still nearly 22% below March 2010 levels.
Percentage of Sales
However, if accruals are measured as a percentage of sales revenue, something amazing happens to the data. As can be seen in Figure 3, the accrual rate, calculated by taking accruals as a percentage of home sales revenue, has been bouncing around between 0.7% and 1.1% of revenue for all of the past eight years.
Figure 3
U.S.-based Homebuilders
Average Warranty Claims & Accrual Rates
(as a % of product sales, 2003-2010)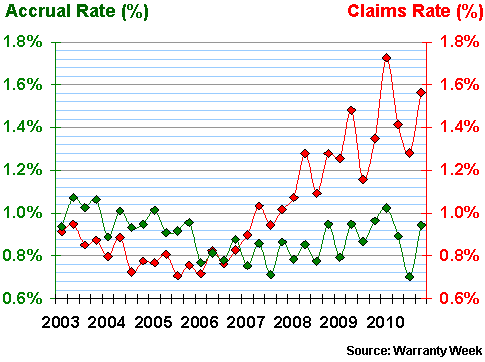 The accrual rate should remain about the same, even during a massive market downturn. That's because if a homebuilder is accruing one percent of a home's selling price (let's assume $200,000), then they only set that $2,000 aside if the home is actually sold. If they sell ten homes, they accrue $20,000. If they sell only five homes, they accrue only $10,000. And if no homes are sold, no accruals are made. It's always one percent of sales revenue.
And indeed, throughout the recession the accrual rate for homebuilders has remained very close to the 0.9% average it's developed over the past eight years. It's the claims rate that has soared. And that's more of a symptom of the recession than anything the homebuilders did.
Basically, during a recession, warranty providers are forced to fix last year's sales with this year's (diminished) revenue, and the math produces a rising claims rate percentage as a result of those diminished sales. Even if no homes are sold in the current year, warranty work is probably going to be needed on homes sold in past years. In other industries and with other companies whose sales have slowed to a trickle, we've seen claims rates soar as high as 22% because of this phenomenon.
The highest claims rate in Figure 3 is the 1.7% calculated for the first quarter of 2010. We should note that although we're still awaiting first-quarter 2011 reports from five of the 22 still-active homebuilders that we track, the 17 who've reported so far have produced a 1.6% claims rate. So that metric is still high.
In contrast, the 17 homebuilders that have already reported their first quarter 2011 data together have an 0.95% accrual rate, a level which is still stubbornly close to the historic average.
Falling Reserves
The most striking feature of the data in Figure 3 is the way the two lines for the claims and accrual rates crossed each other in the middle of 2006. From 2003 to 2006, the industry's average accrual rate was always above the claims rate. But since the beginning of 2007, the industry's average accrual rate has never been as high as its claims rate.
Inevitably, the gap between these rates is reflected in the warranty reserve fund balance. If accruals are deposits and claims are withdrawals, then the data in Figure 3 suggests the fund balance was growing between 2003 and 2006, and has fallen ever since. And indeed, that's exactly what the balance data in Figure 4 shows.
Figure 4
New Home Warranties
Reserves Held by U.S.-based Homebuilders
(in US$ millions, 2003-2010)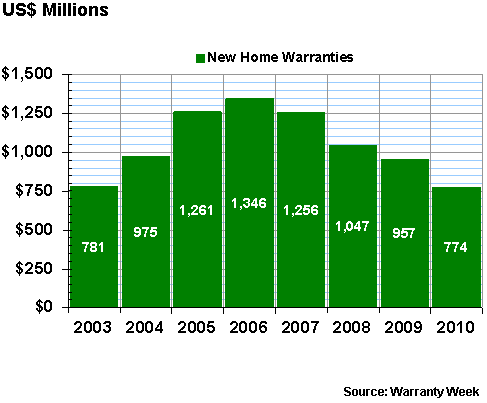 The peak in warranty reserves came in 2006, the same year as the peak in the claims and accruals totals, the same year as the peak in new home sales, and the same year that the claims and accrual rates crossed each other.
The reserve fund balance has fallen every year since. The decline was especially large in 2009-2010 (-19%), and was smallest in 2006-2007 (-6.7%). And it's been a 43% decline from 2006 to 2010.
Even with allowances for the five late reporters among our 22 tracked homebuilders, it looks like the balance has fallen even further in 2011. Among just the 17 homebuilders that have already reported, the warranty reserve fund balance slipped by $29 million in the first quarter of this year.
Rising Capacity to Pay Claims?
Amazingly, these declines have had little effect on the ability of homebuilders to pay claims. In fact, if we calculate the capacity of these reserve funds not in terms of dollars but as a multiple of the amount spent each month on claims, we'll see, as is detailed in Figure 5, that their capacity to pay claims has actually increased in recent years.
Figure 5
Homebuilders vs. U.S. Mfg. Avg.:
Reserves Held by U.S.-based Homebuilders
(in $ millions & months, 2003-2010)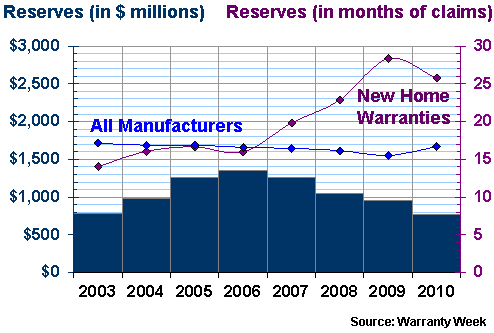 Back in 2003 to 2006, the capacity of all warranty providers to pay claims stood close to 17 months. The capacity of the homebuilders' reserve funds was only slightly below this level.
But in 2007, as claims began to fall, the capacity of the homebuilders' reserve funds actually increased to 19.8 months. It grew again in 2008, and actually peaked at 28.4 months in 2009. Last year, it fell back a bit to 25.8 months.
This is unexpected, to say the least. But it's probably due to the fact that claims declined a little faster than reserves. While claims are down 58% from their peak, reserves are down only 43%. And all through these years, the accrual rate remained close to 0.9%.
Lennar Gets Back to Normal
Let's look at three homebuilding companies: Lennar, D.R. Horton, and KB Home. All three followed the same basic pattern in recent years: Their claims rates soared, their sales plummeted, and they kept their accrual rates about the same.
Lennar is different, though, in that in 2010 their warranty metrics have begun to get back to "normal." Of course, normal is different for every company and every industry. So in this case, what we mean by normal is a claims and accrual rate close to each other, with both within a range of 1.0% to 1.5%.
In Figure 6, we can see that Lennar kept its accrual rate close to 1.0% even though its claims rate soared as high as 3.9%. That takes a bit of bravery, but it seems to have paid off. In 2010, the claims rate fell below three percent. And in the first quarter of 2011, it fell below two percent, to its lowest level since 2007.
Figure 6
Lennar Corp.
Warranty Claims & Accrual Rates, 2008-2010
(as a percentage of product revenue)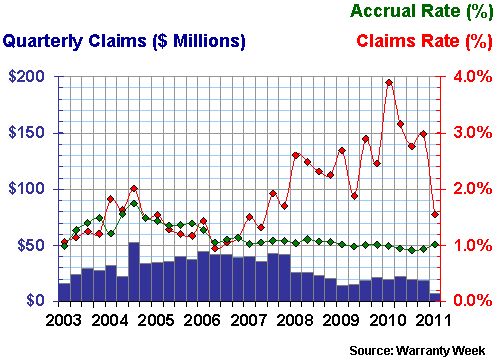 Lennar's claims rate is not yet back to the same range as its accrual rate, but it's clearly headed in that direction. As can be seen in Figure 6, the claims and accrual rates were very close together from 2003 to 2006, before the claims rate began to soar in 2007.
Now take a look at D.R. Horton, which is much larger than Lennar in terms of homebuilding revenue, but much smaller in terms of warranty costs. Over the years, D.R. Horton has kept its accrual rate extremely close to 0.5%. And until 2007, its claims rate was always lower. But then the lines crossed, and its claims rate has risen as high as 0.85%.
Figure 7
D.R. Horton Inc.
Warranty Claims & Accrual Rates, 2008-2010
(as a percentage of product revenue)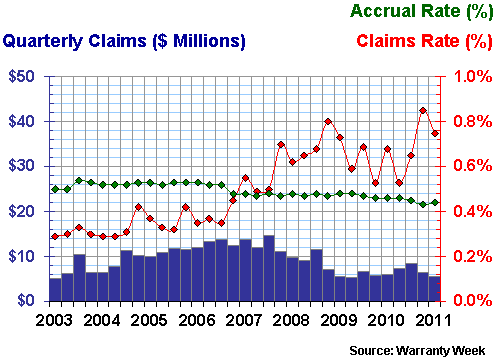 In the first quarter of 2011, Horton's claims rate fell back to 0.75%, but it's still above the accrual rate. And while Lennar seems to be closing the gap, it seems to be widening at D.R. Horton. However, we should keep in mind that the vertical scale is much smaller in Figure 7 than it is in Figure 6.
And then there's KB Home. The data in Figure 8 is unusual for several reasons. First, there's that final quarter of 2007 in which the company made no net accruals and reported no net claims paid. Second, while the claims data in 2010 was bad, the claims data from the first quarter of 2011 is even worse.
Figure 8
KB Home
Warranty Claims & Accrual Rates, 2008-2010
(as a percentage of product revenue)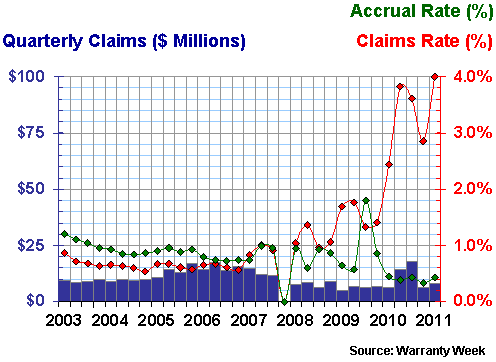 Also notice that for the last six quarters, as claims soared, the company actually reduced its accrual rate. Back in 2003 to 2006, KB Home averaged a 0.9% accrual rate. In the last six quarters, it's averaged 0.5%. So either KB Home is building its homes a lot better now, or it's reducing accruals to artificially low levels in an effort to conserve cash.
We have no idea which it is. But we note that at $87 million, KB Home's most recent warranty reserve fund balance is the smallest it's been since 2004. Suffice it to say that while Lennar is closing the gap, and while D.R. Horton is getting back to normal, KB Home is still deteriorating.
Eighth Annual Product Warranty Reports
Here are the links to the online editions of all eleven parts of this series:
Readers needing more detailed snapshots of individual companies in either a PowerPoint or Excel format are invited to view the list of charts and spreadsheets available on the Warranty Statistics page.