May 17, 2012
Appliance & HVAC System Warranties:
While they haven't made much progress with warranty cost-cutting, they also haven't seen much increase. And given all the financial problems reported by builders lately, merely staying the same looks good in comparison.
The times aren't very good in the appliance and HVAC industry, but they aren't falling apart either. Based on a compilation of warranty expense reports made by some 70 manufacturers in this sector since 2003, we might even call it a gentle decline.
Over the past two months, we've taken a tour of the U.S.-based manufacturing sector that began with the battered automotive industry, continued with a look at the relatively stable aerospace industry, and then spent multiple weeks looking at the ups and downs seen in high-tech electronics industry sectors.
Now we're wrapping it up with a look at the building trades. Last week, we looked at warranty expense reports in perhaps the grimmest sector of all: new home builders. Some of these companies are in their fifth or sixth year of declining sales, and few expect growth to resume in 2012.
Stable or Stalled?
But now we turn our attention to their suppliers, with a report on the makers of appliance and heating/cooling systems this week, and the manufacturers of fixtures, furniture and building materials next week. And the biggest surprise is that things are not so bad among the Whirlpools and Carriers of the world. What some might call a lack of progress, others might call a welcome level of stability.
Retail appliance sales are said to have grown slightly in 2010 and 2011 after dipping a bit in 2009. Warranty expenses, as can be seen in the charts below, do not seem to have followed the same pattern as sales, except that the annual changes have been small.
In Figure 1, we've added together the claims payments reported by the 70 companies over the past nine years, dividing them between those that sell systems aimed at heating, ventilation, and air conditioning, and those that sell appliances aimed at cleaning and grooming people and their clothing, or cooking and preserving their food. In other words, we split the market into HVAC and appliances.
Top HVAC manufacturers include United Technologies Corp., Johnson Controls Inc., and Lennox International Inc. Top appliance makers include Whirlpool Corp., Jarden Corp., NACCO Industries Inc., and Helen of Troy Ltd. And while there is some overlap (e.g. Whirlpool makes air conditioners for the window and Lennox makes wood-burning stoves), it's easy to divide them based on their product lines.
60/40 Split
In Figure 1, it's apparent that there's something close to a 60/40 split in the claims payments, in favor of the HVAC manufacturers. Back in 2009 the shares of the two groups were almost equal, but in 2011 they were almost back to the 60/40 split seen in 2003 and 2004.
Figure 1
Appliance & HVAC Warranties
Claims Paid by U.S.-based Companies
(in US$ millions, 2003-2011)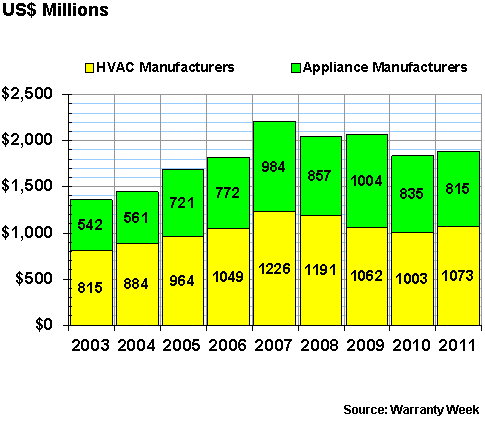 On a combined basis, the industry peaked in 2007, when manufacturers paid out $2.21 billion in claims. However, the peak years of the two groups were different. HVAC manufacturers paid out the most money in 2007, while appliance makers hit their maximum in 2009. This would be expected, since the HVAC industry is much more dependent on new construction, while there's more of a fallback business of appliance replacements in existing homes, which didn't deteriorate as fast or as early as new home sales.
Small Declines?
Unlike the dire conditions found among new home builders in last week's newsletter, it looks as if accruals made by appliance and HVAC manufacturers have more or less remained the same for the past six years. Of all the manufacturing industries we've profiled in the past few months, the only other segment to exhibit a similar recession-defying track record is the aerospace industry.
To be sure, 2007 is the peak year for the appliance/HVAC industry as a whole, but 2011 was only 7% below that peak. However, notice in Figure 2 that the appliance manufacturers continued to increase their annual accruals until 2009, while the HVAC manufacturers peaked in 2006.
Therefore, for the appliance companies, their claims and accrual peaks both came in 2009 (when sales were said to have dipped) while for HVAC companies the claims peak came in 2007, a year after the accruals peak. This fits with a pattern where claims lag a year or so behind accruals, which we've seen in several other industries.
Figure 2
Appliance & HVAC Warranties
Accruals Made by U.S.-based Companies
(in US$ millions, 2003-2011)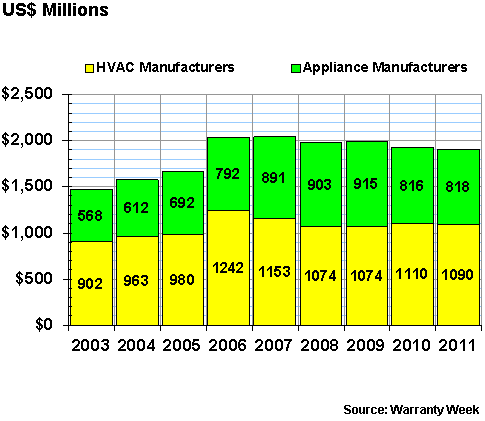 Notably, the appliance accruals grew slightly from 2010 to 2011, while the HVAC accruals declined slightly during the same period. The ratio between HVAC and appliance accruals has also been close to 60/40 for most of the period. But overall, what's remarkable about this data is how flat it's been since 2006. While the homebuilders continue to suffer through a deep depression, the suppliers of heating, cooling, cooking, cleaning and refrigeration systems are experiencing something more like a slowdown.
In other words, at least in the building sector the suppliers are doing less worse than their OEMs, the builders. That's somewhat different from the pattern in other industries. In the automotive sector, the OEMs were sharing their pain with their suppliers. In the high-tech sector, the OEMs were cutting costs while their component suppliers were remaining about the same. But with appliances and HVAC systems, the manufacturers are bypassing the new construction downturn by going after the existing home replacement market.
No Warranty Cost-Cutting?
The thing is, because their claims and accrual totals aren't changing much, and because sales aren't rising or falling all that much, there hasn't been much change in the rate of warranty expense either. When we take the annual totals for claims and accruals from Figures 1 and 2 and divide them by sales, we get the percentage rates in Figures 3 and 4. And they're not declining.
If anything, the claims and accrual rates for the appliance makers has increased in recent years. It's a little hard to spot a trend in the data of Figure 3 because of the seasonal effects seen in some of the older data, but basically you have increasing rates from 2003 to 2006, flat at the top from 2007 to 2009, and slight declines in 2010-2011.
Figure 3
Appliance Manufacturers
Average Warranty Claims & Accrual Rates
(as a % of product sales, 2003-2011)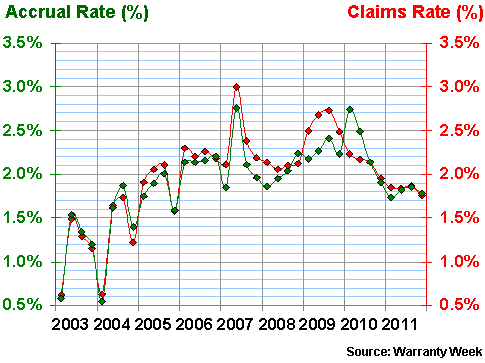 The story for the HVAC manufacturers is not much better. The early years in Figure 4 are showing the same kind of seasonal pattern as in Figure 3. but the trend is basically flat, with gradually increasing claims and accrual rates from 2003 to 2009 followed by slight declined in 2010 and 2011. It's most definitely not the kind of cost-cutting track record seen for other industry segments such as computer OEMs or telecom equipment makers.
Figure 4
HVAC Manufacturers
Average Warranty Claims & Accrual Rates
(as a % of product sales, 2003-2011)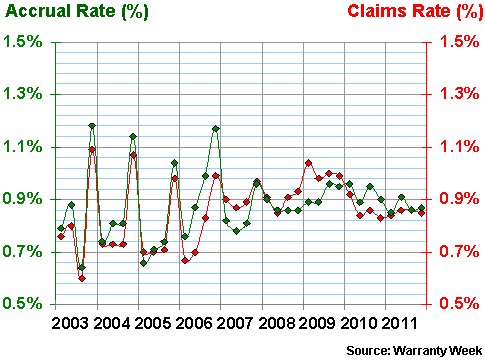 Notice, however, that while the claims and accrual rates for both the appliance makers and the HVAC companies both started in 2003 a little below the one percent mark, the HVAC companies stayed there while the appliance companies saw their rates rise far above that level. And now, the HVAC companies are still seeing their warranty costs hovering around 0.9% of their revenue while the appliance companies ended 2011 at around 1.8%.
Warranty Reserve Puzzle
The other warranty metric we track is the balance left behind in the warranty reserve fund after all the claims have been paid and the accruals have been made. In Figure 5, the big surprise is that the combined balances of the appliance and HVAC companies hit a new high of $3.34 billion at the end of 2011.
Figure 5
Appliance & HVAC Warranties
Reserves Held by U.S.-based Companies
(in US$ millions, 2003-2011)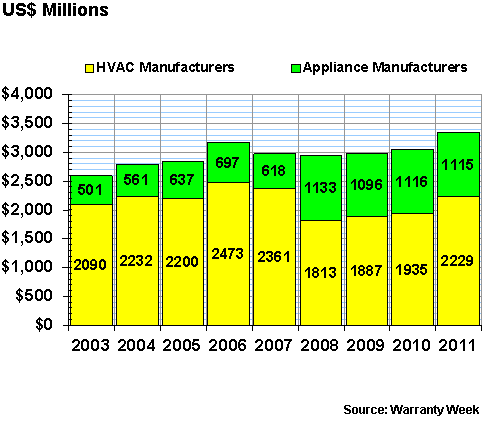 The previous high mark came at the end of 2006, with a combined balance of $3.17 billion in the warranty reserve funds of the companies in the industry. And that was also the peak for just the HVAC manufacturers. However, for the appliance makers only, the balance in 2011 was actually smaller than in either 2010 or 2008, and only marginally larger than in 2009.

We don't quite know how to interpret this. Last year saw the peak reserve balance for both the HVAC and appliance makers together, but it wasn't the peak year for either of them separately. Indeed, it was the third-highest year-ending balance for each of them separately, though it was the highest year-ending balance for both of them together. That's puzzling, to say the least.

The other puzzle is how the ratio in reserves has been much more heavily weighted in favor of the HVAC companies. It was 4:1 from 2003 to 2007, and has been around 2:1 since then. With both claims and accruals, the ratio has been much close to 3:2. And the strange thing is, the appliance companies are the ones whose claims and accrual rates rose the most, despite also being the ones whose warranties are shorter.

In other words, the HVAC manufacturers generally keep more reserves, but pay claims at a lower rate over a longer period. But the appliance vendors are keeping more reserves than they used to, even though claims rates are down from their peak.
Accrual "Market Share"
In Figure 6, we're taking the annual accrual totals from Figure 2, setting them to equal 100%, and then calculating the accrual "market shares" of the top appliance and HVAC manufacturers over the past nine years. As can be seen from the small amount of gray matter at the top, the largest warranty providers in the industry have historically accounted for 85% to 90% of the total.
There are three acquisitions spotlighted in the data of Figure 6. In 2005, Johnson Controls acquired York International Corp. In 2006, Whirlpool acquired the Maytag Corp. And in 2007, Ingersoll-Rand acquired Trane Inc. In each case, we've bundled them together so readers can see the transitions.
There's also an example in the chart of a company ceasing its warranty expense reporting because of an acquisition. In 2009, Goodman Global Inc. ended its short life as a public company after agreeing to be acquired by the private equity firm Hellman & Friedman. The company had been family-owned from 1975 until 2004, when it was acquired by a different private equity firm. It went public in 2006, and as a part of its filings for that event, it released warranty expense data for the years 2003 to 2005. But it ceased making reports in 2009 after going private again.
Figure 6
Top Appliance & HVAC Manufacturers
Accruals Made per Year
(as a % share of the total in Figure 2)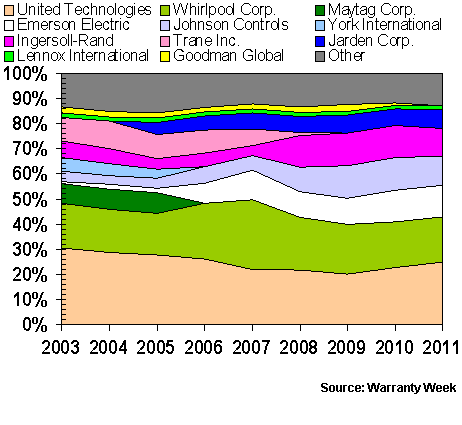 The "market share" data shows the continued dominance of United Technologies' Carrier Corp. division. But remember, those warranty figures from the parent company inevitably also include some Otis elevator as well as some aerospace warranty expenses from Sikorsky, Hamilton Sundstrand and Pratt & Whitney.
Whirlpool and Maytag appear to maintain a constant share of the industry's accruals over time, as do Ingersoll-Rand and Trane. Whirlpool/Maytag has kept its share close to 22% while IR/Trane has stayed close to 14%. United Technologies, meanwhile, within which Carrier is responsible for around 21% of annual revenue, has been responsible for between 20% and 30% of the industry's accruals over the years.
York and Johnson Controls seem to have widened their share over the past four years, which we suspect has a lot to do with the growing importance of HVAC to the company as opposed to its traditional business of manufacturing passenger car interiors and electronics. Emerson Electric's share of accruals also seems to have widened, but that actually has more to do with the lack of warranty expense reporting by the company back in 2003-2005. Its accrual rate, when reported, has always been close to one percent of revenue.
Jarden, meanwhile, began including warranty expense reports in its financial statements in 2007, following a string of small appliance acquisitions. But as with Goodman, when the company began reporting, it also provided a few past years of data for comparisons. Its share has remained close to 7% for multiple years. So even at the individual company level, the record for warranty expenses within the appliance and HVAC industry sectors has been one of stability and slight annual changes.
Ninth Annual Product Warranty Reports
As we begin to wrap up our annual survey of U.S.-based warranty providers, here are the links to the online editions of all the other parts of this series:
Readers needing more detailed snapshots of individual companies in either a PowerPoint or Excel format are invited to view the list of charts and spreadsheets available on the Warranty Statistics page.