August 18, 2016
Retail Product Warranties:
Though it's not common, there are some retailers, primarily in the auto parts business, that provide their own product warranties above and beyond what the manufacturers offer, and report those expenses in their financial statements. But it's likely to become more common in other lines of business, as more manufacturers open their own retail outlets or sell directly to consumers online, and more retailers begin to sell their own brands.
In the United States, there has been a clear line of separation between product warranties and extended warranties, and the companies that offer them. Most product warranties are offered by manufacturers, and most extended warranties are sold by retailers and dealers.
There are exceptions, of course. The world's biggest extended warranty program is offered by a manufacturer that also happens to be a retailer. Most of the car manufacturers have their own insurance companies to underwrite their vehicle service contract programs. And one of the world's biggest appliance retailers has several brands known for their durability and their long warranties. But for the most part, they're the exceptions to the rule: manufacturers offer product warranties and retailers sell extended warranties.
In Europe, it's different. In the United Kingdom, the Consumer Rights Act 2015 makes the retailer liable for product returns, refunds, failures, repair costs, and replacements -- not the manufacturer. In fact, even when the manufacturer offers a warranty for the first year or two, the retailer can be liable for a much longer period.
In the UK, some faulty items can be returned by the consumer to the retailer for up to five or even six years, as long as the consumer can prove the fault was present at the time of sale. The retailer is highly likely to in turn make a claim against the manufacturer, if the product is still within the manufacturer's warranty period, but the retailer is still the one with the initial liability.
In other European markets, product warranties for most consumer goods are automatically set by law to a minimum of two years. And in fact, some American manufacturers have faced legal problems when they tried to sell an extended warranty to cover that second year, without mentioning that it was already covered by a statutory product warranty. And they're getting into the same sorts of trouble with regulators in China, Australia, and elsewhere.
Don't Mention It
In the U.S., however, retailers do their best to act as if they are merely agents, passing through the manufacturer's warranty to the consumer, with no additional liabilities or duties of their own. And even in cases where they sell third-party extended warranties, again they try not to leave any fingerprints on the transactions. Consumers are told to call the manufacturer or contact the insurance company if they need to make a claim.
In their financial statements, Wal-Mart Stores Inc., Target Corp., Home Depot Inc., Staples Inc., and Amazon.com Inc. make absolutely no mention of the existence of manufacturer's warranties or extended warranties, or the liabilities they might retain or pass on from such arrangements. This, we would suggest, is the typical U.S. situation. The risk is not in the budget; no money has been set aside; and no mention of it is made in the annual report. If they do end up spending any money on warranty claims, it is immediately expensed, rather than paid through a warranty reserve fund.
But then there are a handful of retailers who do acknowledge the liabilities they could potentially face. For instance, Best Buy Co. Inc. mentions potential product warranty liabilities in relation to sales of its exclusive-brand products, which include Insignia, Modal, Dynex, Init, Platinum, and Rocketfish-branded items: "We have greater exposure and responsibility to consumers for warranty replacements and repairs as a result of exclusive brand product defects, and our recourse to contract manufacturers for such warranty liabilities may be limited in foreign jurisdictions," the company states in its annual report.
However, it does not mention any accruals or reserves set aside to deal with this eventuality, should it occur. In other words, if it happens, Best Buy will find a way to pay for it. But it's not in the plan. It's possible, but not expected.
It may be something of a surprise to our European readers to hear that U.S. accounting regulations and federal consumer laws do not actually require product warranties. Instead, they merely make rules about what must be disclosed if warranties are in fact provided. If manufacturers or retailers choose not to warrant their products, or to prohibit refunds or exchanges, they need only say so clearly before the sale is made. There are some exceptions such as state lemon laws that require warranties on cars, but again, these are the exceptions to the rule, which is let the buyer beware (subject to some implied warranties, which cannot be disclaimed).
Also, if U.S. manufacturers or retailers do offer warranties but do not maintain warranty reserve funds to finance them, and choose instead to pay the expenses out of cash on hand rather than through accruals, then no further disclosures are required. They simply pay out of pocket. It's nobody's business. And it's their risk -- a bit like going without flood insurance though you live next to a river. If it never rains, you'll be just fine.
Product Warranties Mentioned
There are a few retailers that mention product warranties only in passing. For instance, the home improvement and appliance chain Lowe's Companies Inc. states that its extended protection plans and repair services "provide customers with product protection that enhances or extends coverage previously offered by the manufacturer's warranty." But it also does not report any product warranty liabilities of its own. And it may not have any. For all the products it sells, the manufacturers' warranties cover failures, repairs, and replacements. Lowe's may help some of its customers with the warranty process and incur some expense by doing so, but those expenses are merely part of the cost of sales (and good customer relations).
And then there are a few retailers that are more or less following the European process, where the retailer deals with the initial claim, and then the retailer seeks reimbursement from the manufacturer. For instance, the bookselling chain Barnes & Noble Inc. reports that its Nook e-reader and other consumer electronics products are manufactured for it by a third-party located outside the United States.
And though its warranty expenses from these product lines are ultimately reimbursed, the company does note the risk of this setup: "Although arrangements with such manufacturers may contain provisions for warranty expense reimbursement, if reimbursement from such manufacturers is unenforceable or insufficient, the company may remain responsible to the consumer for warranty service in the event of product defects. Any unanticipated product defect or warranty liability, whether pursuant to arrangements with contract manufacturers or otherwise, could materially adversely affect the company's reputation, financial condition and operating results."
Meanwhile, in its financial statements, Sears Holdings Corp. mentions warranty only in regards to the self-insurance reserves it maintains for items such as "workers' compensation, asbestos, environmental, automobile, warranty, product and general liability claims." However, Sears Hometown & Outlet Stores Inc., a spin-off of Sears Holdings, did in fact report the payment of as much as $11 million in warranty claims per year from 2011 to 2013, but that sequence of reporting ended in early 2014.
Sears sells tools and auto parts for which it provides the product warranty and retains the liabilities. For instance, Craftsman tools and DieHard batteries are brands that carry generous warranties, and indeed are trading upon their perceived reliability and longevity, as expressed by those warranties. In addition, Sears sells extended warranties on major appliances and other durable goods which it sells. But it never reveals what these guarantees cost it per year, nor what its liabilities could eventually turn out to be, if, for some unimaginable reason, everything one day came back broken.
Manufacturers & Retailers
Apple Inc. is more of a manufacturer than a retailer, but like Sears, it does operate in both worlds. Its retail outlets do sell products for which it retains the liabilities for both product warranties and extended warranties (with some third-party insurance coverage for accidental damage protection). However, unlike Sears, it discloses the full extent of its product warranty liabilities, as well as the revenue it is deferring and recognizing from sales of AppleCare extended warranties. We last reported upon these programs in December 2015, so we won't repeat it here.
The same goes for Tesla Motors Inc. Yes, the company operates its own showrooms and sells directly to customers. But it's a car manufacturer, not a retail chain. In fact, in some U.S. states, it's been prohibited from acting like a retailer by local laws that require franchise dealerships.
When it comes to warranty, Sherwin-Williams Co. is more a manufacturer than a retailer, but like Apple and Tesla, it is definitely both. Its retail Paint Stores Group account for the vast majority of its $11 billion in annual revenue, followed by the Global Finishes Group, the Consumer Group, and the Latin America Coatings Group.
Unfortunately, the company is not clear about which of those groups are the primary sources of its warranty expenses. However, based upon a close reading of its annual reports, we're going to assume it was not from the retail paint stores. Instead, we believe it had more to do with the automotive finishes and industrial coatings.
But then there are a handful of retailers that do reveal the amount of money they are spending to enhance, extend, lengthen, or improve the product warranties of at least some of the items they sell. Most are in the auto parts business. And indeed, probably because of DieHard, the retail warranties on car batteries are a major component of these programs.
Among the thousand or so product warranty-reporting companies we track, we've found four that are primarily retailers: Advance Auto Parts Inc.; The Pep Boys -- Manny, Moe & Jack; O'Reilly Automotive Inc.; and U.S. Auto Parts Network Inc. However, one of these retailers was recently taken private by what used to be known as a corporate raider but is more politely now called a venture capital firm. So in the future our roster will be down to only three warranty-reporting retailers.
As we mentioned, most of these warranty-reporting retailers are in the auto parts business. And most of the warranties for what they sell are provided by the manufacturers, who pay the claims, make the accruals, and absorb the cost. But there are a few product lines such as batteries, shocks and tires, for which the retailers have to pay the product warranty costs.
Advance Auto Parts
Let's start with Advance Auto Parts, which, with sales in excess of $9.7 billion, is probably the largest auto parts retailers of all. At Advance Auto Parts, the additional product warranties are mostly on batteries, brakes, and shocks. "We estimate and record a reserve for future warranty claims at the time of sale based on the historical return experience of the respective product sold. If claims experience differs from historical levels, revisions in our estimates may be required, which could have an impact on our consolidated statement of operations." In other words, it acts just like a manufacturer.
In Figure 1, we can see that these additional warranties do indeed have a cost. It's always under one percent of total sales, but if sales of just batteries, brakes, and shocks were broken out separately, we'd suggest the percentage rates would be a lot higher.
Figure 1
Advance Auto Parts Inc.
Average Warranty Claims & Accrual Rates
(as a % of product sales, 2003-2016)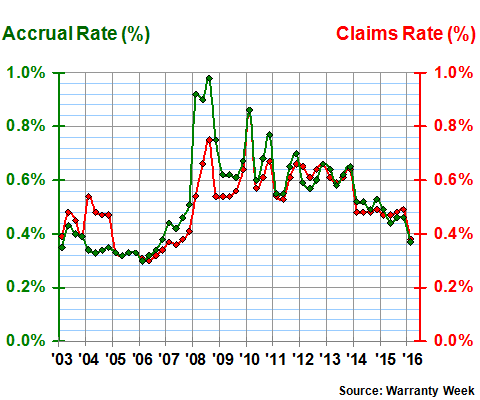 Make no mistake, Advance Auto Parts is one of the largest warranty providers in the U.S. Claims cost has been close to $48 million per year in each of the past two calendar years. That's more than Toro, or Middleby, or Rockwell Collins paid in claims last year. So while half a percent of sales may look low on a chart, it's really not when annual sales are close to $10 billion.
The Pep Boys
Pep Boys -- Manny, Moe & Jack, are actually a few years older than Advance Auto Parts. In fact, the latter got its start in 1932 through the spin-off of a few Pep Boys stores in the Roanoke VA area. Manny, Moe and Jack, meanwhile, opened their first store in 1921, and had over 800 locations by the time their descendants sold out to Carl Icahn's private equity company for a billion dollars.
The acquisition closed in February 2016, so Pep Boys released what is likely to be its last independent financial report for the quarter ended October 31, 2015. So in the chart below, we're leaving the two columns for the first half of 2016 blank, in hopes that someday Icahn Enterprises L.P. will help us fill them in.
Figure 2
Pep Boys
Average Warranty Claims & Accrual Rates
(as a % of product sales, 2003-2015)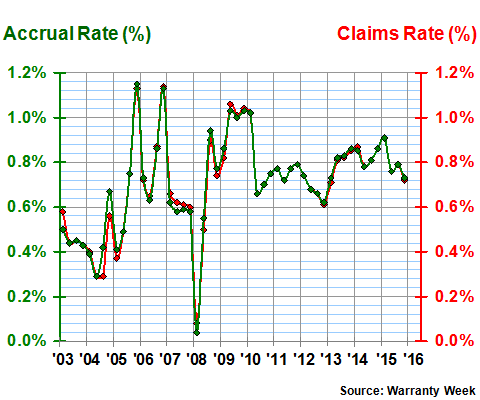 Once again, we see a retailer that's spending less than one percent of total revenue on product warranties, except for a few spikes in 2005-2006 and again in 2009-2010. And because Pep Boys is much smaller, that equates to $13 or $14 million a year.
But it's not just for products. There's also a cost of labor. "The company provides warranties for both its merchandise sales and service labor. Warranties for merchandise are generally covered by the respective vendors, with the company covering any costs above the vendor's stipulated allowance. Service labor is warranted in full by the company for a limited specific time period."
More Recent Examples
Our next two examples are more recent additions to the list of warranty providers. O'Reilly Auto Parts began reporting its warranty expenses in 2009, and U.S. Auto Parts began reporting its warranty expenses in 2010. That doesn't mean they just recently started paying claims (O'Reilly opened in 1957 and U.S. Auto Parts opened in 1995). But it does mean they now comply with U.S. accounting regulations that don't differentiate between retailers and manufacturers.
From 2009 until 2011, O'Reilly provided only its annual expenses, which we've chopped up into four equal parts. In Figure 3, we can see a company that's paying roughly 0.7% to 0.8% of its total revenue in warranty claims, with a noticeable dip below 0.6% in early 2015. In 2015, O'Reilly paid out $62 million in claims on just under $8 billion in sales. In money terms, this makes O'Reilly a bigger warranty provider than Advance, although O'Reilly's sales are lower.
Figure 3
O'Reilly Automotive Inc.
Average Warranty Claims & Accrual Rates
(as a % of product sales, 2009-2016)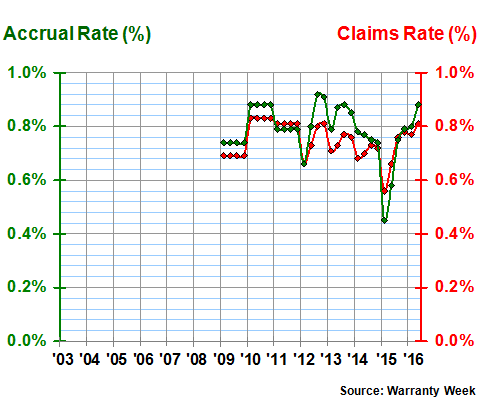 Like the other retailers, O'Reilly Auto Parts does not break out its warranty-covered product lines from the rest. In fact, it does not even suggest which products carry the warranties for which it is responsible. Instead, it details the type of contractual relationship that results in warranty expenses that it absorbs:
"Certain suppliers provide upfront allowances to us in lieu of accepting the obligation for warranty claims. For this merchandise, when sold, we bear the risk of loss associated with the cost of warranty claims. Differences between supplier allowances received in lieu of warranty obligations and estimated warranty expense are recorded as an adjustment to cost of sales."
U.S. Auto Parts
Finally, let's take a look at U.S. Auto Parts, which is a much smaller retail chain with roughly $300 million in annual sales and $50,000 to $100,000 in annual warranty costs over the past six years.
In Figure 4, you'll notice that the claims and accrual rates are measured in hundredths of a percentage point. In other words, it's a very minor expense. And the expense rates have steadily declined to the point where they most recently represented only 0.02% of total revenue, which is far less than the company's allowances for sales returns or for doubtful accounts (the company has not yet made any 2016 warranty disclosures, so we've left those columns blank).
Figure 4
U.S. Auto Parts Network Inc.
Average Warranty Claims & Accrual Rates
(as a % of product sales, 2010-2015)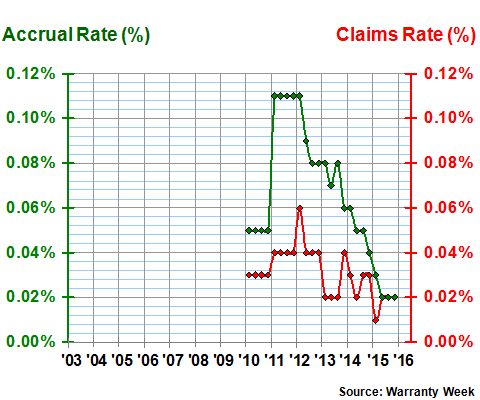 This is the way it is for most retailers. Even in cases where they are merely helping their customers obtain warranty service from the manufacturers, there is a small cost of labor and perhaps some minor office expense associated with the activity. The difference is, they don't establish a warranty reserve to pay the costs, so they don't need to report it as a separate expense in their financial statements. It's just another operating cost.
However, manufacturers such as Apple and Tesla are becoming retailers. HP, Dell, Sony, and many others sell directly to consumers online. And retailers such as Amazon.com and Barnes & Noble are becoming manufacturers, or at least they're selling their own brands of hardware, manufactured for them by others. And warranty is going to be a major issue for both customers and company accountants. Who is paying what, and what happens if some day they don't pay? Who's obligated to cover the shortfall?
Even if U.S. laws don't change to keep up with these new hybrid retail environments, in many countries the retailer is already on the hook for the warranty expense whether they're the manufacturer or not. If they pay with cash, they can avoid disclosures. But if they accrue for these routine and predictable expenses, and if they want to trade shares in New York, they will have to include warranty tables in their annual reports.