May 16, 2019
Telecom Industry Warranty Report:
While many of the top equipment manufacturers continue to lose business to, or get acquired by foreign firms, there are still several hundred U.S.-based telecom companies paying claims and maintaining warranty reserves. But there's no denying that the business isn't what it used to be a decade ago.
While rising expense rates are never a good thing, falling expenses aren't great either if they're also accompanied by declining sales rates and disappearing companies. Decades ago, U.S.-based manufacturers of broadcasting, networking, telephone, and radio equipment led the world. Nowadays, only a small segment centered around Internet infrastructure is all that remains.
To complete this annual snapshot of the telecommunications equipment's warranty expenses, we began with a list of 188 companies whose primary products are commercial equipment aimed at carriers and businesses, and we added an additional 17 companies whose principal product lines are in the consumer electronics, aerospace, medical equipment or security systems industry, but who also manufacture commercial gear.
The emphasis on commercial sales is important, because we're not counting huge consumer-oriented companies such as Apple and Microsoft in this category. We're also not counting the numerous European and Asian manufacturers that have either acquired or taken market share away from the formerly world-leading equipment providers.
From the financial statements of each of those 205 companies, we gathered four essential metrics: warranty claims paid, accruals made, reserves held, and hardware products sold. With the claims and accrual totals and the sales totals, we calculated an additional pair of percentage rates: claims as a percent of sales (the claims rate), and accruals as a percent of sales (the accrual rate).
We then split the rather large group into four smaller categories: 65 manufacturers of Internet and data communications equipment, 33 manufacturers of satellite and microwave communications systems, 59 manufacturers of landline and mobile telephone switches and equipment (but not consumer handsets), and 48 manufacturers of broadcast and cable television systems.
The leading warranty providers in the Internet/datacomm category included Cisco Systems Inc.; Extreme Networks Inc.; Itron Inc.; Juniper Networks Inc.; and Netgear Inc. Harris Corp., which is soon to merge with L3 Technologies, was the only large warranty provider in the satellite/microwave category, so we borrowed Garmin Ltd. from the consumer side of the business to keep them company. The top warranty providers in the phone category were Ciena Corp.; Plantronics Inc.; and Valmont Industries Inc. And then the top broadcast TV and cable equipment companies were Arris International; and Infinera Corp. All of these companies spent at least $10 million on warranty claims last year.
Warranty Claims Total
Added together, the 205 companies paid $926 million in claims last year, down from a total of $1.12 billion in 2017. But really, the dominant company on the list is Cisco, which by itself paid $588 million in claims during calendar 2018 (the company's fiscal year ends in July, so that figure is half from one fiscal year and half from another). Garmin and Arris are also very large warranty providers, but neither company spent even a tenth as much as Cisco did on claims.
This explains the dominance of the Internet/datacomm category in the chart below, which tracks the annual claims total of the telecom equipment industry since 2003. But also note that more than a decade ago, the phone category dominated, when telecom giants such as Nortel, Lucent, Avaya, and Motorola roamed the earth.
Figure 1
Telecom Industry Warranties
Claims Paid by U.S.-based Companies
(in US$ millions, 2003-2018)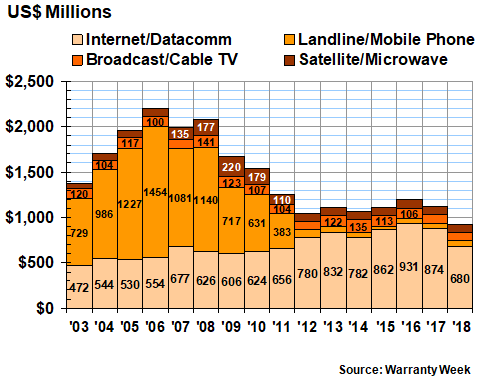 Nowadays, the phone portion of the telecom industry's claims are too small to fit a label. but in 2018, it was the only one of the four segments to see an increase in claims payments. Claims rose by 5.6% to $67 million. In contrast, claims fell by $2 million in both the broadcast/cable TV and satellite/microwave segments, which are also now too small to fit a label, but which declined to $90 million and $88 million, respectively, in 2018.
The big decline came in the Internet/datacomm category, which saw claims decline by 22% to $680 million last year, on the heels of large declines by three of its top warranty providers. Netgear discovered that most of what it thought were warranty claims were actually sales returns. The result was a massive decline in its claims cost, from $114 million in 2017 to only $13.3 million in 2018. But Cisco also cut its claims cost by $61 million and Juniper Networks cut its claims cost by $21 million, and these three were responsible for most of the segment's $194 million decline.
Most of the other changes in claims totals were far more modest. Valmont cut its claims cost by $7.2 million. Arris was down by $5.7 million. And Itron saw a $5.3 million drop -- nearly a third of its 2017 total. On the flip side, Plantronics acquired Polycom and saw its claims cost rise by $7.1 million or nearly 70%. Extreme Networks also continued its acquisitive ways and saw a 57% rise in claims to $14.6 million. And Infinera saw a 20% increase in claims to a $18 million total last year.
Warranty Accruals Total
It was much the same pattern with warranty accruals in the telecom equipment industry, with a few exceptions. Overall industry accruals declined by 16% to $902 million -- another new low water mark and the first time that both telecom claims and accruals fell below the $1 billion level.
But here, with the accrual totals in Figure 2, the decline was almost all in the datacomm category. The other three segments actually increased their accruals: phone by 53% to $60 million; satellite by 12% to $93 million; and TV by 2.9% to $80 million.
Figure 2
Telecom Industry Warranties
Accruals Made by U.S.-based Companies
(in US$ millions, 2003-2018)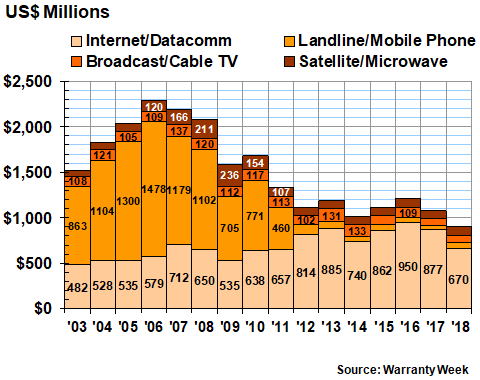 Once again, Netgear led the list, with a $118 million reduction in accruals almost entirely linked to its ASC 606 restatement. But Cisco also contributed with a $73 million reduction in calendar 2018 accruals. Itron, Juniper, and Arris reported their own accrual reductions.
Ciena led the list of increases, boosting its accruals from $8.0 million in 2017 to $21 million in 2018. Other proportionally large (by more than one-third) annual increases in accruals were reported by Extreme Networks, Harris, Infinera, Plantronics, and Valmont.
Warranty Expense Rates
The calculation of the claims and accrual rates, by taking into account the ratio between sales and expenses, is vulnerable not only to changes in claims and accrual totals as described above, but also by changes in sales totals. In 2018, most of the top warranty providers saw sales increases, so this in turn helped to lower the average claims and accrual rates.
In Figures 3 to 6, we're taking the claims and accrual totals from Figures 1 and 2 and dividing them by the corresponding product sales totals reported by each company. We're presenting the average claims and accrual rates for each segment of the telecom industry in its own chart, using the same vertical scale, in order to highlight the pattern each has developed over the past 16 years.
In Figure 3, we're looking at the 65 members of the Internet and data communications equipment category. Over the past 64 quarters, the group's average claims and accrual rates have been close to 1.7%, with a standard deviation of about 0.25%. But in 2018 the group's average expense rates dropped far below average, with the claims rate setting a new all-time low of just under 1.3%, and the accrual rate tying a record set in early 2009.
Figure 3
Internet & Data Communications Equipment Manufacturers
Average Warranty Claims & Accrual Rates
(as a % of product sales, 2003-2018)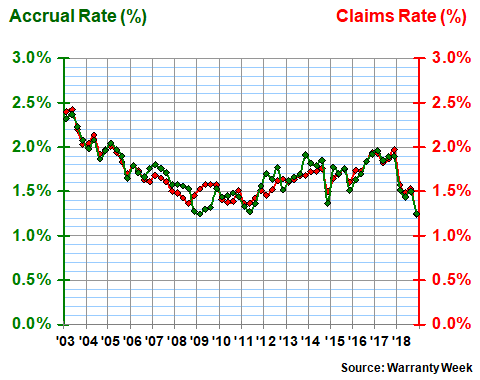 Again, most of the drop was a result of Netgear discovering the difference between warranty claims and sales returns. The company's claims and accrual rates were always among the highest of any manufacturer's, but now they're much closer to average. But that drop -- from 8.1% to 1.3% for claims and from 9.3% to 1.2% for accruals -- was enough to bring the industry average down to its lowest-ever level.
In contrast, Cisco reduced its claims and accrual rates only slightly. Juniper Networks cut its claims rate by more than a third. And Extreme Networks saw its claims rate rise by more than a third, which forced it to raise its accrual rate from 0.9% to 2.2%. Itron, meanwhile, cut its accrual rate in half after its claims rate fell from 1.0% to 0.6%.
Satellite & Microwave Expense Rates
Although there are 33 U.S.-based manufacturers in this group, most are at the smaller end of the warranty expense list. Only Harris and Garmin are spending more than $10 million a year on claims, for instance.
This group has remained fairly consistent over the past 16 years, remaining close to its long-term average expense rates of 1.4%, except during the recessionary years of 2008 to 2010. Coincidentally, several of the top companies in this category left the business around that time, including Andrew Corp., Stratex Networks, and Orbital Sciences Corp.
Figure 4
Satellite & Microwave Equipment Manufacturers
Average Warranty Claims & Accrual Rates
(as a % of product sales, 2003-2018)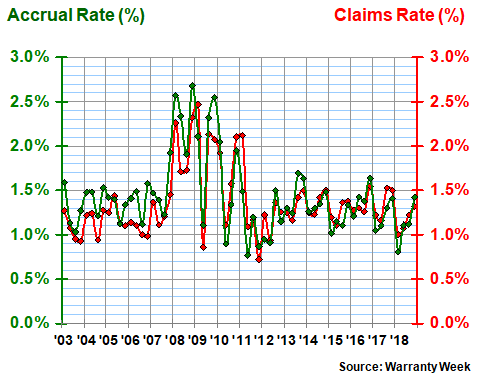 As was mentioned, those that were left behind were generally on the small side. Harris, once it closes its merger with L3, will be among the largest ones left. In 2018, its claims rate fell slightly, but its accrual rate rose. In contrast, Comtech Telecommunications saw a big drop in its claims rate and a more modest decline in its accrual rate. ViaSat Inc. saw a big drop in claims in 2018, but its accrual rate was unusually low in 2017, so by raising it back to normal last year, its accrual rate jumped significantly from one year to the next. Aviat Networks, a provider of microwave networking gear spun off from Harris and Stratex, cut both its claims and accrual rates by about a third.
Telephone Equipment Expense Rates
As was mentioned, we're not including the Apple iPhone in the landline/mobile phone equipment category, first because we've already included Apple in the computer warranty report, and second because Apple is spending more than seven times as much as Cisco on warranty claims, and more than four times as much as all 205 of the companies we're examining this week.
We used to include the big telephone switch makers such as Nortel and Lucent, but Nortel went bankrupt in 2009 and Lucent first merged with Alcatel in 2006, and then they merged with Nokia in 2016. Motorola split itself in half in 2011 and again in 2014, and what's left (Motorola Solutions Inc.) no longer reports its warranty expenses to investors.
Meanwhile, we have historically not included other major European and Asian telecom equipment makers such as Nokia, Ericsson, and Huawei in this U.S.-only category, though we do collect warranty expense data from each of them. Last year, Ericsson saw a small drop in claims but a big jump in accruals, while Nokia saw big jumps in both metrics as it continues to digest all its recent acquisitions. Warranty expense rates for both companies continue to remain comfortably below industry averages.
Huawei, meanwhile, used to report warranty expense rates comparable to Cisco. But last year, in accordance with its adoption of the International Financial Reporting Standard 15 on revenue recognition (the international equivalent of ASC 606), it "derecognised" about half its warranty reserves, reclassified them as deferred service revenue, and dropped its warranty expense rates to around 0.6% of revenue as a result.
As far as the U.S.-based portion of the carrier equipment industry, what's left behind is a rather small slice of the warranty-providing pie, but as can be seen in Figure 5, the expense rates of the remaining manufacturers have lately been on the low side. The 16-year average claims and accrual rates are just under 1.3%, but their standard deviation of 0.5% suggests quite a bit of change over that time period. From a high over two percent in 2006, they fell to a low under 0.5% in 2013. The expense rates then began to rise, but are lately back down to around 0.5%.
Figure 5
Landline/Mobile Phone Equipment Manufacturers
Average Warranty Claims & Accrual Rates
(as a % of product sales, 2003-2018)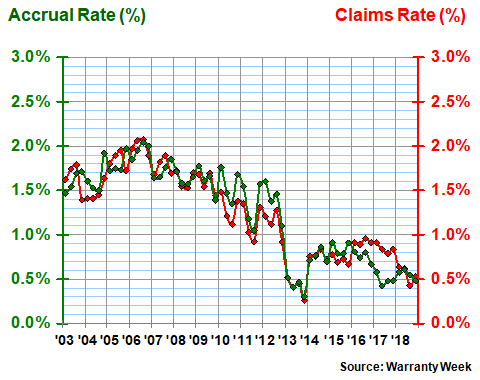 Ciena, Plantronics, and Valmont are the top warranty providers among the 59 companies that are (or were) in this group. In 2018, Ciena's claims rate remained about the same at 0.8%, but its accrual rate rose from 0.4% at the end of 2017 to 0.8% at the end of 2018. The merger-related increases in claims and accruals totals we mentioned for Plantronics were accompanied by a proportional jump in sales, so its claims and accrual rates hardly budged (claims rose from 1.2% to 1.4% and accruals rose from 1.1% to 1.2%).
Broadcasting Equipment Expense Rates
Of the four sub-groups within the telecom industry, the broadcast and cable television equipment manufacturers have consistently reported the lowest average warranty expense rates. Since 2003, they have averaged claims and accrual rates around 0.6%, with a standard deviation under 0.2%.
However, the phone equipment sub-group, whose expense rates are charted in Figure 5, have cut their claims and accrual rates in recent years, while the TV equipment group, charted in Figure 6, have seen their claims and accrual rates rise in recent years. As a result, during the second half of 2018, the 48 companies charted in Figure 6 have seen slightly higher warranty expense rates than the 59 companies charted in Figure 5.
Figure 6
Broadcast/Cable TV Equipment Manufacturers
Average Warranty Claims & Accrual Rates
(as a % of product sales, 2003-2018)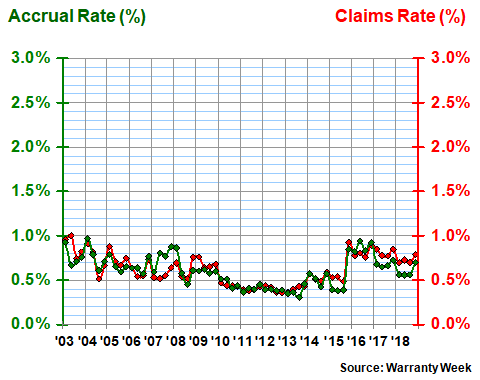 Arris International, which actually just filed its last-ever annual report for 2018 (it was acquired by CommScope Inc. last month), is by far the largest warranty provider in the broadcast/cable TV equipment category. In its final year as an independent company, it managed to cut both its claims and accrual rate by small amounts.
Meanwhile, many of the other companies we've been counting as cable/broadcast equipment companies are gradually themselves becoming more like broadband Internet and data communications companies. Now that Arris is gone, it may make sense to collapse this entire category into the data communications group.
Warranty Reserves Totals
Our final metric is the year-ending balance in the warranty reserve funds of all the telecom equipment companies we're tracking. Together, the 205 companies saw their reserve balance decline by $71 million to only $869 million by the end of 2018. As can be seen in Figure 7, it was the lowest balance for the industry as a whole over at least the past 16 years, if not ever.
Once again, the Internet/data group declined the most and declined the fastest, falling by 12% to $512 million. The satellite/microwave balance remained about the same, while the broadcast/cable TV balance fell by $6 million to $153 million. The collective balance of the phone equipment companies actually rose by $3.5 million to $110 million.
Figure 7
Telecom Industry Warranties
Reserves Held by U.S.-based Companies
(in US$ millions, 2003-2018)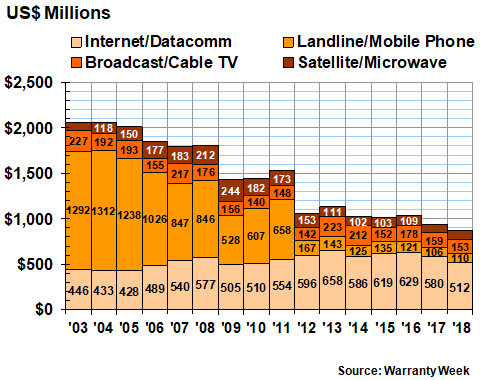 In dollar terms, the biggest reserve balance decline of all was once again reported by Netgear, whose reclassification took all but $14 million out of its warranty reserve fund (down from $76 million at the end of 2017). Cisco cut its reserves by $27 million, and Arris reduced its balance by $13 million. In percentage terms, Valmont's 15% reduction was also significant.
At the opposite end, Plantronics, Infinera, and Itron each reported warranty reserve balance increases that were significant in both dollar and percentage terms. Garmin, Ciena, and Juniper Networks reported much smaller increases. And both Harris and SPX kept their balances about the same.
Next week, we will close out our tour of the high-tech electronics sector with a look at the warranty expenses of medical equipment makers. After that, we will turn our attention to the building trades, where new homes, appliances, HVAC, and fixtures and furniture are the major categories of warranty-providing manufacturers.