October 10, 2019
Worldwide Aviation Warranty Expense Report:
Warranty accruals were up last year, but warranty claims continued to fall. It's still too early for the cost of grounding of the 737 Max to show up in the data, but why are Boeing's warranty costs always much larger than Airbus? Meanwhile, Bombardier and Dassault saw significant spikes in their warranty expenses last year, while Gulfstream and Embraer saw slight declines.
The world's civilian aircraft manufacturers spent over $1 billion on warranty claims last year, but that was barely half a percent of their sales revenue. More importantly, it was the fifth consecutive year that claims totals declines, after peaking in 2013. But their warranty accruals saw a sharp increase last year, rising to their highest level since 2014.
Since 2003, we have collected several warranty metrics from the annual reports of aircraft manufacturers. The primary metrics are the amount of claims paid per year, the amount of accruals made per year, and the amount of warranty reserves held at the end of each year. We also collect sales revenue data, and we use that to calculate two additional measures: claims as a percent of sales, and accruals as a percent of sales.
More than a dozen aircraft manufacturers, and more importantly, seven of the top ten manufacturers, include these warranty metrics in their annual reports. We estimate that these warranty reporters accounted for upwards of 75% of the claims paid and 79% of the accruals made by the entire industry worldwide last year. For the remainder, we have fashioned some estimates to allow us to calculate some worldwide totals.
Top Manufacturers
In broad terms, the universe of airplane manufacturers can be split into three segments. First are the commercial airliner manufacturers, led by the American Boeing Company and the European Airbus Group N.V. And then there are three manufacturers of the smaller commercial aircraft typically used on shorter flights: the Canadian company Bombardier Inc., the Brazilian manufacturer Embraer S.A., and the French company GIE Avions de Transport Regional (ATR), a partnership of Airbus and Leonardo S.p.A.
Last year, Airbus 50% of Bombardier Aerospace and Boeing acquired 80% of Embraer, so really there are only two keiretsu left: Airbus and Boeing. Other commercial airline manufacturers of the past, such as McDonnell Douglas, Lockheed, Curtiss-Wright, Vickers, Canadair, De Havilland, Fokker, Saab, Hawker, and Aerospatiale, have either left the business or have been acquired by one of these companies. The only real remaining competition they face are military spin-offs in China and Russia that also sell commercial airline models.
The second segment are the general aviation manufacturers, who make everything from biplanes to business jets. Market leaders include Textron Inc. (Cessna and Beechcraft), General Dynamics Corp. through its (Gulfstream Aerospace Corp.) subsidiary, and the Dassault Aviation Group, makers of the Falcon family. Bombardier Aerospace is also in this segment with its Learjets.
Other general aviation manufacturers include the Chinese-owned Cirrus Aircraft Corp.; Austria's Diamond Aircraft Industries GmbH; Italy's Costruzioni Aeronautiche Tecnam S.r.l; Germany's Flight Design GmbH; Switzerland's Pilatus Aircraft Ltd.; France's family-owned Daher; Australia's Mahindra Aerospace; Piper Aircraft Inc. (now owned by the Sultan of Brunei); Mooney International Corp.; CubCrafters Inc.; and the Honda Aircraft Company, a subsidiary of the Honda Motor Company.
Then there are some specialist general aviation manufacturers. Quest Aircraft Co. makes planes that can take off or land almost anywhere in the wilderness, using very short and irregular runways. It was acquired by Daher this past summer. American Champion Aircraft Corp. and Extra Flugzeugproduktions und Vertriebs GmbH make aerobatic planes. Waco Aircraft Corp. makes old-fashioned biplanes. Thrush Aircraft Co. and Air Tractor Inc. make crop dusters. But none of them report their claims and accrual totals, and several are still private companies, so we will have to construct both revenue and warranty expense estimates for them.
Excluding Military Warranties
The third segment are the military plane makers, led by the U.S. company Lockheed Martin Corp., and by its arch-rivals Aviation Industry Corp. of China (AVIC), and JSC United Aircraft Corp. (UAC) of Russia. Lockheed Martin makes the F-35 Lightning II. AVIC makes the Shenyang FC-31 fighter. UAC owns Sukhoi, makers of the Su-34 fighter, Tupolev, makers of the Tu-95 Bear bomber, and Mikoyan, makers of the MiG-29 family of military aircraft.
Dassault Aviation is also in the military aircraft business with its Mirage and Rafale jets. Embraer still makes some turboprops flown by various South American air forces. General Dynamics made the F-16, and Northrop Grumman made the F-14 Tomcat. There are also still some operational U.S. military jets made by Boeing, Beechcraft, Cessna, Cirrus, de Havilland, Gulfstream, Learjet, Pilatus, Raytheon, and Rockwell. And then there are a handful of other countries that have their own national military jet manufacturers, such as India, Iran, Israel, Japan, South Africa, Sweden, Taiwan, and the UK. However, military aircraft warranties, if they are even available, are financed very differently from civilian aircraft warranties, and are not included in this week's expense report.
Fortunately for us, eight of the top ten civilian aircraft manufacturers report their warranty expenses in their financial statements. Unfortunately for us, Bombardier and Textron also make a variety of land-based vehicles, and they do not separate the warranty expenses of those units from the warranty expenses of their aviation divisions. So either we will have to include some train and golf cart warranty costs in our airplane warranty expense report, or we would have to guess what the air/land split is for their worldwide warranty spending totals. We chose not to guess.
Worldwide Warranty Claims
In Figure 1 we are detailing the worldwide claims payments of the top ten manufacturers last year. Together, they comprise 92% of the total pie, which was $1.005 billion in 2018. However, the figures for UAC, AVIC, and ATR are estimates. All the others are taken from the companies' financial statements. But keep in mind that the figures for companies such as Bombardier and Textron cover much more than just planes. They also manufacture a variety of land-based vehicles, and they do not segment their warranty data by product line.
Figure 1
Top Airframe Makers Worldwide
Share of Claims Paid
(percent of US$1.005 billion total, 2018)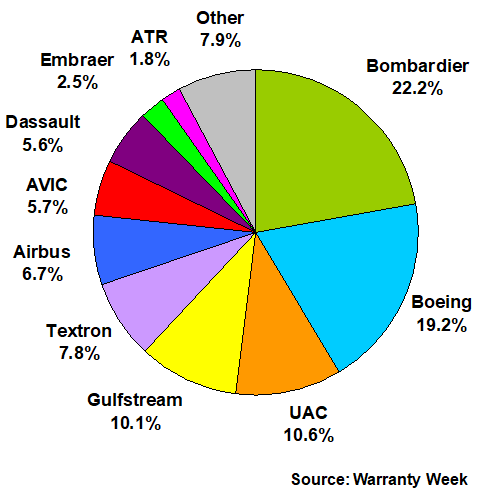 No doubt, this inclusion of rail and road vehicles is part of the reason Bombardier tops the list this year, and why Textron edged ahead of Airbus. Aircraft-related products and services comprised just under half their revenue last year, while the rest was from trains. Similarly, aviation accounted for about 58% of Textron's total revenue last year. Readers should feel free to make assumptions about what share of their claims came from aviation, and make the appropriate subtractions.
In Figure 2, we're looking at the seven-year trend. We could go back even further with data for Boeing, Airbus, and a few others, but we lack good data for many of the smaller manufacturers. Still, this chart details the five-year decline in claims, which if it continues could very well drive the worldwide industry total below $1 billion this year. Claims fell 0.7% last year, after declining by 8.6% from 2016 to 2017.
Figure 2
Top Airframe Makers Worldwide
Claims Paid per Year
(in US$ millions, 2012-2018)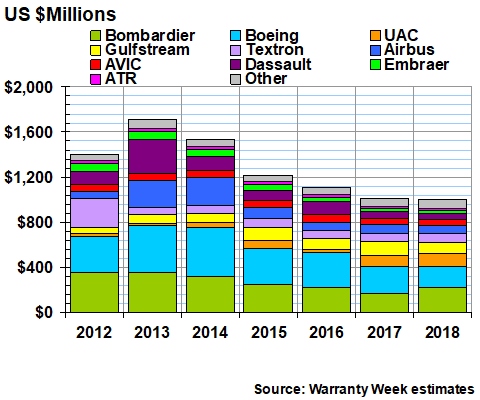 Claims were up a worrisome 34% for Bombardier last year, from $167 million in 2017 to $223 million in 2018. Textron saw a 13% increase. But once again, we don't know if those increases were caused by land or air vehicles.
Boeing saw a 20% decline in claims last year. Airbus saw an 18% decline. Gulfstream was down 17%, Dassault was down 13%, and Embraer was down 7%. The entire industry saw a $7 million decline, which equates to 0.7% of the 2017 total.
Worldwide Warranty Accruals
Warranty Accruals, meanwhile, absolutely soared last year, up from $1.188 billion in 2017 to $1.527 billion in 2018. But this time it can't be passed off on trains or golf carts. Dassault, the French manufacturer of the Falcon Jet, took the number one spot away from Boeing by suddenly raising its annual accrual total to $383 million, up from only $62 million in 2017. Its share of the pie therefore vaulted from only 5% in 2017 to 25% in 2018.
Figure 3
Top Airframe Makers Worldwide
Share of Accruals Made
(percent of US$1.527 billion total, 2018)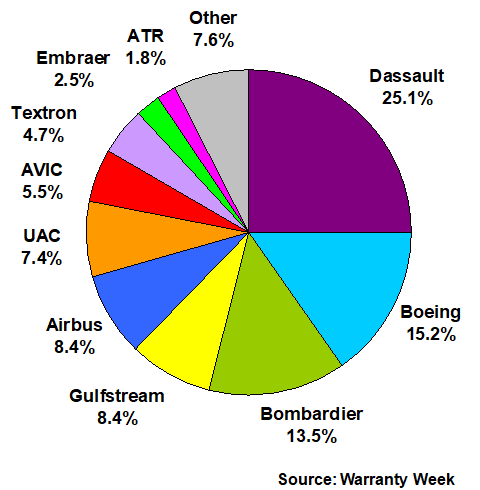 In Figure 4, we're once again detailing the seven-year record for these manufacturers. And in this chart, we can see that this sudden surge in accruals also happened to Dassault back in 2013, but not by enough to get it past Boeing. In 2019, however, Boeing is likely to retake the top spot, especially if its problems with the now-grounded 737 Max continue into 2020, as experts predict they will.
For what it's worth, Boeing has actually been reducing its accruals every year since 2012, with a $42 million decline reported just in 2018. But it was far from alone in doing so. Bombardier reduced its accruals by $21 million last year. Gulfstream cut its accruals by $17 million. And Textron's accruals declined by $9 million in 2018. Besides Dassault, the only other major increase in accruals was reported by Airbus, which increased its total from $78 million in 2017 to $128 million in 2018.
Sales vs. Expenses Anomaly
This may be a good time to note what seems to be a recurring anomaly in the warranty expense charts. We estimate that Airbus accounted for about 33% of the $191.5 billion annual revenue of the civil aviation industry last year, while Boeing's market share was 32%. So they are roughly equivalent in terms of sales revenue.
Yet Airbus accounted for only 6.7% of claims, and 8.4% of accruals. Boeing's shares of those pies were 19.2% and 15.2%, respectively. So both of the passenger airline market leaders have smaller shares of the industry's claims and accruals than they do its revenue, the anomaly is much wider at Airbus. And in fact, the only other manufacturer in these charts whose share of warranty expenses is smaller than their share of revenue is Textron, and only then by a slight amount in their accruals versus sales comparison.
In Figure 4, we're detailing the seven-year trend in accruals. And in every one of the seven years, Boeing's accruals exceed those reported by Airbus, by amounts ranging from $104 million to $420 million. And the same pattern was seen in Figure 2, with the gap ranging from $126 million to $250 million.
Figure 4
Top Airframe Makers Worldwide
Accruals Made per Year
(in US$ millions, 2012-2018)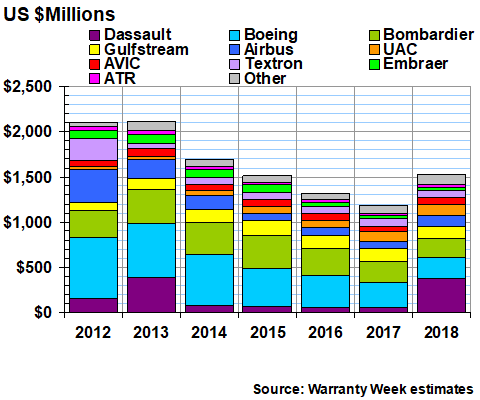 We should also note that the warranty metrics of the "other" category continues to grow. All of the general aviation and specialized aircraft manufacturers named above accounted for only 3.7% of claims and 2.6% of accruals back in 2012. By 2018, their share of those metrics had grown to 7.9% and 7.6%, respectively. And their share of total sales continues to grow as well.
Warranty Expense Rates
It is this relationship between claims, accruals, and sales that produces the percentages in the next chart. In Figure 5, we're taking the claims and accrual totals from Figures 2 and 4 and dividing them by sales data, to calculate an average claims and accrual rate for the entire industry. As is readily apparent, the industry's claims rate has fallen for five years in a row, while its average accrual rate bumped up from 0.7% in 2017 to 0.8% in 2018.
Figure 5
Top Airframe Makers Worldwide
Average Warranty Claims & Accrual Rates
(as a % of product sales, 2012-2018)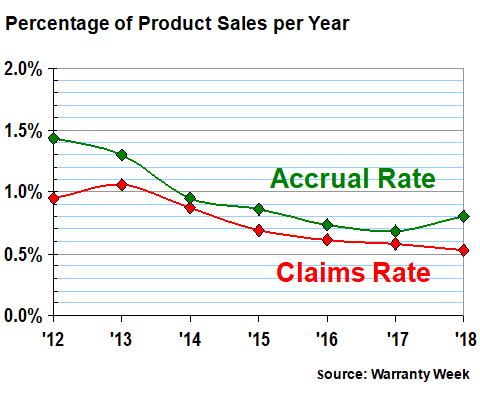 Interestingly, both Airbus and Boeing are reporting below-average claims and accrual rates, and are actually pulling the industry averages downward because of their size. The claims rates of Gulfstream and Bombardier are far above average, as are the accrual rates of Gulfstream and Dassault. The expense rates of Embraer and Textron, meanwhile, are much closer to average. But the point is that the world's two top suppliers of commercial airliners have below-average warranty costs.
Worldwide Warranty Reserves
We estimate that the balances in the warranty reserves of the world's civilian aircraft makers rose by about 5% last year. But at $4.56 billion, it was far from a record. In fact, it was the second-smallest total seen in the last seven years, as can be seen in Figure 6.
Figure 6
Top Airframe Makers Worldwide
Reserves Held per Year
(in US$ millions, 2012-2018)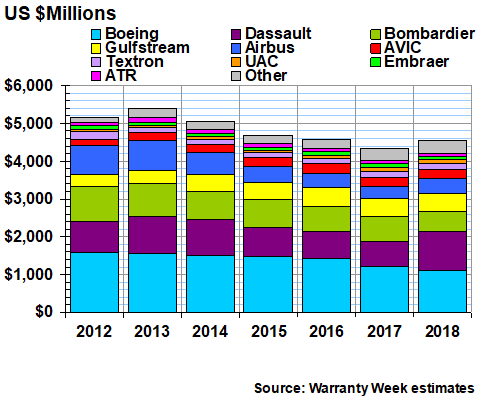 Boeing and Dassault each had a warranty reserve fund balance above $1 billion at the end of 2018. And they're the only two airframe manufacturers with that status (although United Technologies Corp., a major aerospace supplier, ended 2018 with $1.45 billion in its reserve fund). But Boeing and Dassault are heading in different directions, with Boeing's balance slowly declining from $1.57 billion in 2012 and Dassault's growing by more than half in 2018 alone.
Airbus and Gulfstream also let their balances grow last year, while Bombardier, Textron, and Embraer also let their reserve balances decline. And the reserves of all the manufacturers included in the "other" category once again grew faster than the industry average. Back in 2012 they comprised less than three percent of the total. Now their share is approaching eight percent.
Bottom line, the amount of claims paid by airframe manufacturers has declined for five years in a row, and so has the percentage of revenue that goes towards paying those claims. With accruals, the trend was downward until 2018, when Dassault made an enormous increase in the amount it sets aside each year -- enough to turn the industry's average accrual rate back upwards. And that in turn led to an upturn last year in warranty reserves, which had also been declining from 2013 to 2017.