December 12, 2019
OnPoint Warranty Aims for the Connected Home:
Not only is Louisville the headquarters for so many warranty experts, it's also the city they return home to after their excursions to other cities. OnPoint, in fact, launched last year after two of its co-founders who were on opposite coasts simultaneously realized there really is no place like home.
Like the lyrics to that enduring song say, "Oh, the sun shines bright on my old Kentucky home." Written more than 160 years ago by Stephen Foster about returning to his boyhood home, "My Old Kentucky Home" is still sung before the Kentucky Derby horse race every year. In fact, it's the official state song.
Rob Christian, whose ancestors crossed the mountains into Kentucky back in the 1700s with Daniel Boone, has now moved out of Kentucky and back into the state a total of three times in his career. Most recently, he returned to his roots after a gig on the West Coast, to co-found a warranty and service contract administration company called OnPoint Warranty Solutions LLC.
Warranty Excursions
Chris Smith, although he grew up in Mississippi, has made Kentucky his home for the past two decades, as he moved through executive level jobs at GE Appliances, ServicePower, and Service Net Solutions. When he got the call from General Electric in 1998 to move from Dallas to Appliance Park in Louisville, the company had just lost a ton of money on an ill-fated venture into the sale of service contracts for personal computers.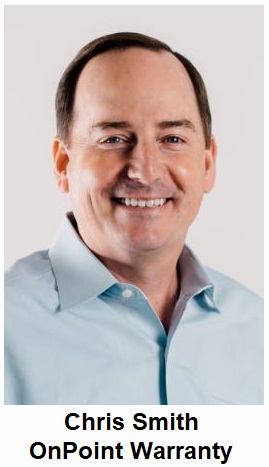 "Coming into a very bad situation, and then turning things around -- that's why people hire me," Smith said. The next time he got such a call, it was from Samsung Electronics America, in 2015, to fix its service operations. Little did he know that not even a year after he joined the Korean-based company, it would be hit by two different massive recalls. First, in October 2016, the batteries in the Samsung Galaxy Note 7 were found to be prone to overheating and bursting into flames, leading to the major airlines banning them from flights. And then a month later, Samsung had to recall some 2.4 million washing machines because they were found to be prone to vibrating so much that the top would fly off.
To make an obvious understatement, Smith became very busy towards the end of that year. But his previous experience with GE Appliances, ServicePower and Service Net might have made him the perfect man for the job. "We handled those problems so quickly, with high levels of customer service, that Samsung did not experience any dip in sales, or any blip in consumer satisfaction," Smith said. "I loved that job," he added. "Samsung treated me incredibly well. It was one of the best places I've ever worked. But it was in the wrong city."
Originally, Smith joined Samsung with the understanding that he would make the 750-mile commute from Louisville to Samsung's offices in Ridgefield Park, New Jersey every other week, and would telecommute from home the rest of the time. His family remained in Louisville while Smith stayed in New Jersey.
"I always stayed at the Marriott in Teaneck, because it was close to the office," Smith said. "My first year, I was there over 100 nights. They kept me on the same floor, usually in the same room. And I was there so much, that when I would walk down to the breakfast area, the chef that was always there had already started cooking my breakfast."
Back Home to Kentucky
Last year, he got a call from Rob Christian to talk about the need for a third-party administrator that manages warranties and service contracts for small and medium-sized clients. But even though he was looking for a way back to Kentucky after stability returned to Samsung, he wasn't all that receptive to the idea.
"I told Rob he was out of his mind," Smith said. But Christian said that the consolidation in the industry has left it dominated by a handful of big firms, who like to do business with other big firms. They had no time for clients that would bring in less than $2 million a year in net written premium. So there was an opening for a small company to focus on other small companies -- kind of what Service Net Solutions had done in its early days.
"So we tested the theory," Smith said. Together, they visited a handful of companies on the West Coast that had well-known names but small warranty programs. "And we quickly found out that these guys were having trouble getting third-party administrators to help them out."
Smith was convinced that there was a business there. So he decided to leave New Jersey for good, and return to Kentucky. Smith said that on his last night as a guest of the Teaneck Marriott, the hotel staff threw him a going away party. "My last day there, all the people who were working at the restaurant and at the front desk came to say their goodbyes," he said.
Over at ServicePower, Jenniffer Breitenstein was celebrating her 15th year at the company that she, Smith, and several other GE Appliances veterans had co-founded in 2003, the American subsidiary of a British software company called ServicePower Technologies plc. But the company had recently been acquired and taken private by Diversis Capital, and changes were in the offing. Then Smith called, and told her what he and Christian were thinking about putting together.
Last year, Christian, Smith and Breitenstein officially launched OnPoint Warranty Solutions as a Louisville-based business. Christian is the president. Smith is the CEO. Breitenstein is the chief marketing and operations officer. Michael Baumer, who worked with Smith and Breitenstein at GE Appliances and ServicePower, is the chief technology officer. Julie Messer, who worked at Service Net, is the chief customer officer. Their offices are actually just across the parking lot from where ServicePower used to be located.
Local Roots
Christian grew up in nearby Lexington and graduated from the University of Kentucky, which has a huge campus in the center of town. After college, he took a job in North Carolina with the Sara Lee Corp., which back then also owned several huge apparel brands such as Coach, Hanes, Isotoner, Playtex, and Kiwi in addition to the well-known food brands.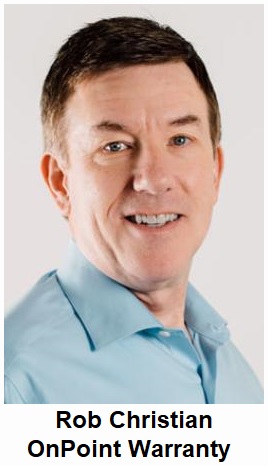 "There was a direct marketing division called Sara Lee Direct that took, from these various brands," he said, including "close-outs, overstocks and slightly imperfects, and sold them direct-to-consumer."
Back then, it was still largely mail order and direct mail. "I remember one year we printed 360 million catalogs," he said. Along came database marketing and targeted marketing, and Christian was part of it all for about five years.
"But my family and I wanted to come back to Kentucky," and he heard about an opening in the direct marketing department at GE Appliances in Louisville. So he joined GE Appliances in 1993, and worked on the direct marketing of warranties. That was his first return home.
A few years later, after several of his co-workers left GE Appliances to start Accent Marketing, he left to take a position at Sears Home Services in Chicago. At the time, Sears was one of Accent Marketing's major clients. Soon, Sears and Accent began to plan a joint venture that would delve into extended warranty administration and repair services. It was to be called PC Service Net. But then, after a change of leadership at Sears, the idea was dropped, and Accent decided to launch Service Net on its own. Once again, Christian moved back to Louisville.
Things didn't quite work out as planned, however, when Accent was acquired by a company that wasn't interested in operating an extended warranty administration company. So, Service Net was split off from Accent Marketing, and was moved out of the office space it shared with its former parent.
"We basically pulled the P&Ls apart," Christian said. Then they began to physically pull the companies apart, moving Service Net out of Louisville. But the site they planned to occupy across the river in Jeffersonville, Indiana, needed lots of work, so for almost 18 months, until October 2003, they worked out of five temporary locations across Kentucky and Indiana.
By all accounts, facilities manager Michael Neuman did an amazing job on the renovation of the new headquarters. It had been a railcar factory until it was abandoned during the Great Depression, and there were still some train tracks built into the floors. So the new site became a bit of a showplace that everyone wanted to see. They even ran tours for curious neighbors, politicians, and developers. "It was unlike any other office space in the metro area," Christian said. "It was one of the first old brick buildings that were turned into Class A office space. It became quite the talk of the town."
On opening day, however, there was one more challenge to be overcome. "We all moved in on Halloween," Christian said, "and suddenly everybody was in this incredible space." And as if the move-in date wasn't spooky enough, he said they promptly found an Indiana brown bat (Myotis sodalis) hibernating between the bricks in a wall. And since that type of bat is listed as an endangered species, they had to find a professional bat remover to do the job.
"He came with this bizarre contraption," Christian said. "And he captured this little bat. The thing was the size of a hamster. But we didn't want any trouble with the state of Indiana on our first day into the building."
Company Culture
Later, Neuman opened a company store inside the building, where employees could go to purchase Service Net-logo hats, shirts, coffee mugs, umbrellas, and other company swag. And he also began to plan fun events for the employees, such as one where the managers would wash the workers' cars in the parking lot, or another where a selected manager would get a pie in the face.
Every year, Service Net would throw a black tie gala benefit for the Boys & Girls Clubs of Kentuckiana. Employees solicited donations of products and services from local businesses, which would then be auctioned off to the highest bidder. The organization would then use the proceeds to buy items such as fleets of vans to help transport the kids from the clubs to their homes.
Another fun event was what became known as the Service Net Stakes: an annual party for invited guests attending the Consumer Electronics Show in Las Vegas. Greg Gadbois, the executive vice president of sales at the time, remembers how it perfectly blended the horse racing legacy of Service Net's Kentucky home with the gambling heritage of Vegas.
"We decided early on that we wanted to host a party/reception for clients and partners," Gadbois said. "And it started relatively small. The first few years were just small parties in a suite at the Rio [All-Suite Hotel & Casino]. Later, we came up with the concept to meld this celebration and industry event with our culture in Louisville and the Kentucky Derby."
The Service Net Stakes were born. At first, they used little wind-up horses that would skitter down a track. But after a few years of that, they enhanced the experience to feature old films of famous horse races from Churchill Downs, with attendees invited to place mock wagers on the outcome. In the era before one could Google the outcome of virtually anything in mere seconds, it somehow worked. A good time was had by all.
"I would actually dress up in a jockey uniform," Gadbois said. "There were hundreds of people. It became something that everybody wanted to be at. It was enjoyable to be a part of it, and to share that with our industry."
The result was that Service Net became known as a great place to work. Christian noted that even in the call centers, where turnover elsewhere in the industry can be very high, Service Net hardly lost any people during those first five or six years. "Most call centers in this area at that time were probably turning over 50% of the people on an annual basis. We were turning over less than 10%. People just loved it," he said.
That goal to make going to work fun is now making the transition to OnPoint. For Halloween, employees dressed up as superheroes, expanding on a theme whereby the company refers to its call center agents as "Customer Avengers," sworn to protect customers from bad service.
But in the current era, making an employee feel welcome and appreciated is going to require more than just superhero costumes, Smith noted. "We need a new generation to come in here and be able to run these businesses," he said. And that generation insists that in order to be known as a great place to work, a business has to treat people fairly, with no salary or job title differences based on gender or minority status. "So we are looking to bring young people into this business who want upward mobility and who have a passion for taking care of people. We are actively hiring college grads, and we're going to teach them this business, and let them run it for the next 20 years."
Moving On
By the time Christian left Service Net in 2006, the company had grown to about 400 employees. He began doing mergers and acquisition work, and soon helped engineer a combination between a parts company called Vance Baldwin Electronics and a laptop repair company called Cyber-Test, creating the company that today is called Encompass Supply Chain Solutions Inc. Robert Coolidge, who was with Vance Baldwin, is now the president & CEO of the company, which is still deeply involved in the supply of parts to appliance and electronics repair technicians.
"I'm the kind of person who is good at creating things from scratch," Christian said. "So I think that's probably what drew me to the M&A work."
A few years ago, Coolidge asked Chris Smith to join the board of directors of Encompass, something that Smith said has served as a learning experience for both of them. He gets to see what customers and clients have to go through to get the parts they need, and Coolidge gets to see what the needs of the administrators and technicians are like.
Next, Christian took a detour back into direct marketing, this time with an online publisher in Denver that had absolutely nothing to do with the warranty industry. "But people were still trying to pull me back in," he said. "And after a couple of years, I actually missed it."
He returned to the warranty industry through a position in Los Angeles with Harbor Freight Tools, which sells discount tools through over a thousand storefronts as well as online. And they had just launched an extended service protection plan backed by AmTrust. But Christian, by leveraging his previous experience at GE Appliances, Sears Home Services, and Service Net, was able to simplify the pricing model, move the program over to Assurant, and drive up contract sales by nearly 50%. Word began to spread.
"So I started to get these consulting opportunities while I was working at Harbor Freight," and tried his best to fit them in at night, keeping the tool business as his day job. Most were from manufacturers and retailers who needed help fixing their own warranty programs. So he founded OnPoint in 2015 as a consulting business to provide a company name to channel these moonlighting gigs through.
One thing led to another, and some of his consulting clients began to ask for additional help with administration and operations. And so he began to look for third party administration or outsourcing companies that were willing to take these on.
"But nobody wanted it," he said. "These opportunities were too small for the big guys, and the independent TPAs were focused on other things." So he decided to turn OnPoint into an administrator focused on mid-sized manufacturers, and including both product warranty and extended warranty. And he decided that it should be based in Kentucky.
Co-Workers At Last
Smith and Christian both worked at GE Appliances, but not at the same time. And they both worked at Service Net, but again, not at the same time. "We've wanted to work together for the better part of two decades," Christian said.
At OnPoint, Smith has the CEO title, and Christian has the president title. "But we share those roles," Christian said. "And we're both handling a variety of things. I'm doing a lot of the program creation and the pricing, and working with the insurance companies. And then he's doing a lot of the staff building, and is working with the tech guys to lay out the platform."
Smith said he is more of an operator, while Christian is very good at working with the underwriters and investors. "I'm more involved in systems and operating processes," he said. And then he, Christian, and Julie Messer split up the sales and client relations part of the business, based on who they worked with in their previous employments. "There's really not a retailer or OEM in the market that the three of us don't know," he added.
By the time Smith was leaving Samsung, he had held executive-level positions in the service contract business for nearly 20 years. "When I got the call from GE in 1998, they had just lost a lot of money in their service contract program," Smith said. "And it was all because of personal computers." Keeping up with the changing technology and parts was costly. But most of the problems weren't hardware -- they were software, and troubleshooting them was both costly and time-consuming, especially if GE sent out a technician to do it in person.
Smith was part of the team that was brought in to get the business back on track. They contracted with a help desk service provider to work on troubleshooting. They developed an application called Electronic Tech Availability that could better manage the independent contractors that were providing repair services alongside GE's own technicians. And the Zurich Insurance Group was brought in as an underwriter, and eventually an equity partner. By the time Smith left in 2003, GE Warranty Management was contributing about a third of GE Appliance's net operating income.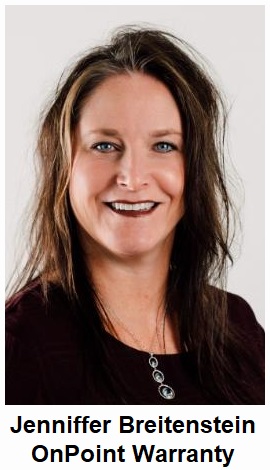 Along came ServicePower Technologies, a British software company that was trading on the London stock exchange at the time. They said they were interested in acquiring the source code behind the Electronic Tech Availability application from GE and turning it into the basis of a third-party field dispatch software business led by Smith and based in Louisville. Jenniffer Breitenstein and Mike Baumer, who also now work at OnPoint, also left GE and joined ServicePower Field Service Solutions.
Breitenstein, however, had actually gone from Service Net to GE, unlike most of the others who had moved in the opposite direction. "Chris hired me while he was at GE, away from Service Net," she said. "I actually started at Accent Marketing." In fact, she was hired to work on the Service Net program before it was spun off from Accent Marketing. And she quickly noticed that many of the top people at Accent Marketing and Service Net were GE veterans. So after four or five years of working there, she jumped at the opportunity to take a job at GE Appliance Park, to capitalize on the experience, learning, and networking opportunities that would be available at a Fortune 100 company like that.
At the time, Chris Smith was still based in Dallas, and GE was in a joint venture with Zurich to run its service contract business. "I came in as a project person, and eventually managed projects and marketing for the warranty management group," Breitenstein said.
After Smith and Breitenstein left GE Warranty Management to launch the North American office of ServicePower, Baumer and several other GE vets soon followed. "I came in with him, when it was just the two of us in an office." They acquired from GE the third-party field service management software they had been using to run GE Warranty Management, and used it as the basis of the ServicePower product launch. "I stayed with ServicePower for a very long time, almost 15 years," Breitenstein recalled.
But in 2007, Smith got a call from two of the founders of Service Net Solutions, asking if he would be interested in becoming the company's president. So Smith, like all the co-founders of Service Net had done in the previous decade, left GE Appliance Park for a job across the river.
Over the next few years, he said Service Net signed major clients such as Best Buy, Apple, Dell, and Hewlett-Packard. And it made a major effort to dominate the administrative side of the HVAC warranty and repair service business. And then in 2012, the insurance giant American International Group Inc. bought Service Net. Smith was asked to stay on for three more years to manage the transition. But then the Samsung opportunity came up.
Home Warranty Business
OnPoint is now building a cloud-based platform that uses components from several of the leading tool vendors, as well as some custom-built functionality. They're focusing on small to medium-sized retailers and manufacturers that need both factory warranty and extended warranty support, so there's no one single platform out there on the market that can do it all.
OnPoint is also close to launching its own brand of "connected whole home" support services. "It's not just service contracts," Christian said. "It could be things like technical support, or paid service. We're going to be redefining how customers get service for things in their home. And we're also doing some straight consulting work," he added.
When they launched the company, the co-founders talked about what they would do differently, if they had the chance to start yet another new warranty company.
"It's part of the learning process," Smith said. "You pick up things that you didn't know along the way. And what you try to do is you try to build on those things in your career."
One thing they learned from some of the best in the business is the strange paradox of warranty and service contracts. Smith said GE's Jack Welch pointed out to him that the insurance companies do best when claims aren't paid and service contracts aren't used. And then Sears pointed out that customers are happiest after they go through a positive break/fix experience -- happier even than if their product had never failed them and they never had to ask for a repair. And they're even more loyal to the brand, and more likely to buy from them again.
Administrators like OnPoint are somewhere in the middle, between underwriters who would rather not spend money and customers who hope they will. "If they don't call us, we make money," Smith said. "But we have retail partners and OEMs who want that customer to repurchase. It's more important than the warranty business, to get that customer back in the store and to keep that person in your brand, because of the competitive nature of retail."
Therefore, Smith said the co-founders decided to broaden the company's focus from merely the warranty work to the service experience. And paradoxically, they want to put their technicians in the home more frequently. So they're telling their staff to find more ways to say yes to the customer.
"We agreed that anything that we do is going to have phenomenal customer experience, which is easy to say, but very difficult to do," Smith said. "And we very much view ourselves as a service company that just happens to sell service contracts and home warranties. And you can even see it in our company name: OnPoint Warranty Solutions. We very much see ourselves delivering services that can make the customer's life easier."
Creating the Brand
Breitenstein said that in a reputation-driven industry like this, where it really is a small world and everybody knows everybody else, the co-founders are essentially the brand.
"We made a critical decision in the very beginning, because we had no brand," Breitenstein said. She noted that while Christian had been using the OnPoint name for some of his consulting work, the operating company was new. "But we each had very reputable personal brands, which we relied on at the very beginning."
Last month, Breitenstein won a Bronze Stevie Award for Female Entrepreneur of the Year. Dealerscope listed her as a member of the 2019 class of Powerful Women in Consumer Technology. Breitenstein, Kellie Harrison, and Julie Messer were each named Top Women in Business 2019. Rob Christian was selected by the Louisville Business Journal as one of the most admired CEOs in the city. The National Electronics Service Dealers Association named Chris Smith its Person of the Year in 2019. And the company as a whole was named 2019 Best Warranty Services Provider by Acquisitions International Magazine, and as one of 2019's 50 Fastest Growing Companies by the Silicon Review Magazine. So the accolades are accumulating.
Now, as OnPoint prepares to launch the HomEase connected home warranty service, brand reputation is going to be a key feature of the offering, in an industry where customer complaints, lawsuits, and regulatory actions are frequent.
"If you look at where we came from," Breitenstein said, "we were managing networks and customer interactions -- customer experience -- at Service Net, at GE, and at ServicePower, and Chris did it at Samsung and Rob did it at Harbor Freight and Sears. We know what it takes to manage a network. We know what a bad service experience looks like from a consumer perspective. And we know the bits and pieces that we need to put together from a partner ecosystem perspective, to make sure every time someone contacts us or we roll a truck, it's the best interaction that they can have, so they keep coming back to us and our clients."
Breitenstein said they have decided to use digital technology in a way that allows OnPoint to "meet consumers where they spend most of their time, which is online, on their devices." And that will differentiate OnPoint from many other administrators, who still rely very heavily on direct mail, phone, and sometimes email.
For instance, another administrator might receive a product registration postcard or some other raw lead data from a manufacturer, and would add the details into their database, resulting in one, or maybe two or three direct mail solicitations. In contrast, OnPoint would look to see if there were other records in other databases for that location and the members of that household, including demographic data and other public sources that don't have a direct link to service contracts.
"We can put together a picture of a location, and all the stuff that's in a location, whether we know about it from a product registration or a previous service contract sale, and then we can market not just service contracts on a one-to-one basis, but also a variety of contract protection services and repair services, to that location and all the users in it," Breitenstein said. "Why not take a look at that and try to capitalize on it and optimize what we can do, and what we can offer to consumers that brings them back to us as a single solution provider for all their product protection and repair needs?"
Multiple Underwriters
Christian said OnPoint is working with five different insurance companies as underwriters. He said that each underwriter has a different risk tolerance, and some prefer one side of the industry over others. "Customers like that," he said. "And if you have a customer with a non-traditional program, they know that we'll probably be able to get a price for it, because we're going to talk to two or three people."
OnPoint recently worked with a company that was developing a hybrid-energy-driven backup power generator system for hospitals. All they had was a prototype and several pre-orders. But they needed to have a product warranty backed by insurance.
"That was a real hard one to get, because effectively the machine didn't exist yet," Christian said. "But we managed to secure a policy for the company. We had to talk to six of them before we could find a carrier that would issue a policy on it. But we got it."
Smith said OnPoint is agnostic about what kind of contract governs the service, be it a product warranty, a service contract, or a customer-pays arrangement. It also is prepared to help customers troubleshoot problems themselves and perform self-repairs, if possible. "Our goal," he said, "is to deliver great service."
"We've gone from an idea on the back of a napkin to already having five big brands," Smith said. "It's gone faster than I would have expected. But what we've seen from the market demand is that there are people who have very complex problems that need assistance. And they're seeking us out."
One of OnPoint's first customers is GE Appliances, which is now owned by the Haier Group from eastern China, but is still based in Louisville. Samsung, another former employer, is also a client. OnPoint also counts DirectBuy, its recent acquisition Z Gallerie, as well as both the electronics and appliance manufacturer Furrion and the Italian range and hood manufacturer Superiore as clients.
Early next year, OnPoint plans to launch the HomEase home warranty service, which will be focused on the "connected home." But rather than following the traditional model of waiting for the customer to call to report something that broke, HomEase will include a suite of on-demand, for-pay services in addition to the break/fix coverage.
As more and more appliances and entertainment systems include Wi-Fi and connectivity to the Internet, they're bound to slip into that strange software-driven limbo where they don't work but they're not broken. It's like the old joke of the VCR "blinking midnight" because nobody knows how to set the time or the timer. The customer doesn't need a repair, but they certainly do need help.
"If your smart hub refrigerator is offline, and it's not connected to the Internet, that's not covered by your manufacturers' warranty, extended service plan, or your home warranty," Smith noted. "But consumers are looking for solutions to that. So we're going to have to provide troubleshooting services, and on-site services when we can't troubleshoot it over the phone. And we may even have to help that consumer secure those devices from outside threats and attacks."
So it has to be more than a traditional home warranty or service contract typically provides. And it's going to involve more phone time and house calls than a typical break/fix event typically includes. But that's what OnPoint is hoping will happen. "We want to be in the home more, and we want to create a lifecycle and a lifetime experience, and to build our brand around that," Smith said.
Christian said OnPoint has about 25 employees now, but they're hiring more soon. As a result, he said, it won't be long before the company is in the market for an expanded headquarters site. Will they look for an abandoned railroad factory? Or will they put up their own building on some green field, perhaps near the airport?
"We're definitely going to stay in Louisville," Christian said. "We like the talent pool here, and the fact that there's so much of the warranty industry here. It's a natural. All of our leadership team are living here. And customers and suppliers like to visit Louisville."