March 19, 2020
Truck Industry Warranty Metrics:
Claims are up but so are sales. Warranty reserve fund balances hit a new high at the end of 2019, and claims came close to doing so. And extended warranty sales continue to soar for most of the top on-highway and off-road truck, bus, industrial, construction, and farm equipment manufacturers.
It seems such a long time ago, last year. But even though everything has changed in a New York minute, the annual reports of the top warranty providers are almost all now online, so it's time to see how the averages and total expenses of various industries have changed. This week we will take a quick look at the truck, bus, and heavy equipment manufacturers.
We began by collecting three essential warranty metrics from the annual reports and quarterly financial statements of the top U.S.-based truck companies: the amount of claims they paid, the amount of accruals they made, and the amount of warranty reserves they held. We also collected data on product sales, and used that to calculate the percentage of revenue spent on claims and accruals (the claims rate and the accrual rate).
Truck Warranty Claims
In Figure 1, we are detailing the amount of claims paid by the 26 truck, bus, and other large vehicle manufacturers, as well as the 24 manufacturers of cars, motorcycles, and other small vehicles, three of which we profiled in the March 5 newsletter.
Truck claims grew by $285 million or nearly 10% last year, significantly faster than the 5% increase reported by small vehicle manufacturers. The 26 truck and heavy equipment manufacturers paid $3.163 billion in claims, up from $2.878 billion in 2018. It was their highest annual total since 2014, and the second-highest total of the last 17 years.
Figure 1
Automotive OEM Warranties
Claims Paid by U.S.-based Companies
(in US$ millions, 2003-2019)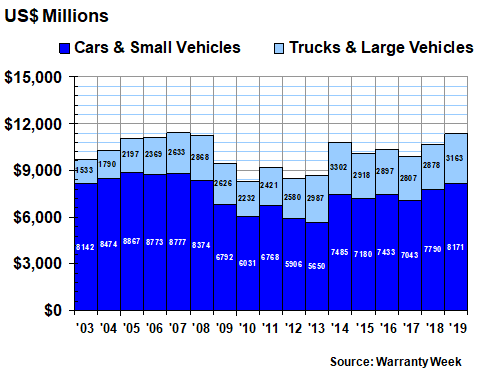 Caterpillar Inc. reported one of the largest increases in claims payments, with their annual total up by $120 million or 15%. Paccar Inc. reported a $72 million increase, a 26% rise. AGCO Corp., a farm equipment manufacturer, saw its claims cost rise by $24 million, or 14%. And Deere & Company saw a $78 million or 8.6% increase. Navistar International Corp. was one of the few to report a reduction in claims, with its annual total falling by $20 million, or -6.6%.
Warranty Expense Rates
Combined with product sales revenue figures, which showed only a 2.3% overall gain, both the claims rate and the accrual rate for the truck manufacturers rose. As can be seen in Figure 2, their average claims rate rose to just under 2.0% by the end of 2019, while their accrual rate rose to 2.1%, its highest reading in two years.
Figure 2
Truck & Large Vehicle Makers
Average Warranty Claims & Accrual Rates
(as a % of product sales, 2003-2019)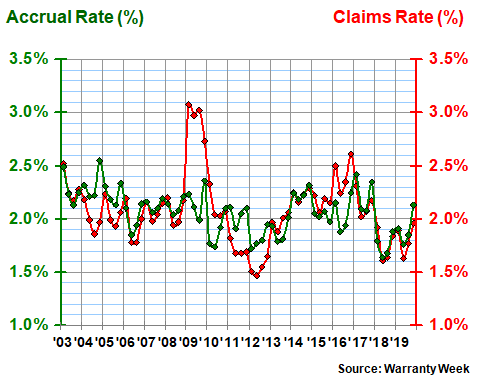 Among the largest manufacturers in the category, Caterpillar and AGCO saw the biggest percentage increases in their claims rates, while Navistar and Thor Industries Inc. saw the biggest decreases. Paccar, Deere, and Terex Corp. saw only slight increases in their claims rates.
Warranty Reserves
In Figure 3, we're looking at the end-of-year warranty reserve fund balances of the 26 truck manufacturers and 24 car manufacturers. Both groups grew at approximately the same rate, with truck manufacturers adding $408 million and the car manufacturers adding $1.12 billion to their reserve funds.
Figure 3
Automotive OEM Warranties
Reserves Held by U.S.-based Companies
(in US$ millions, 2003-2019)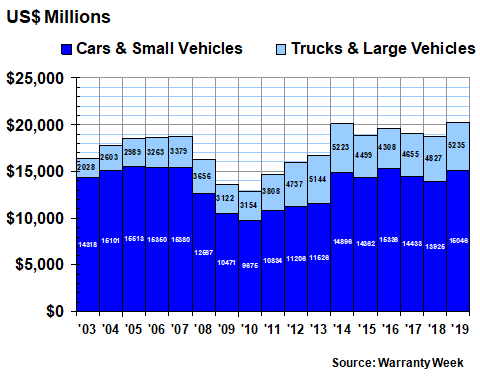 The year-end 2019 total for the industry was a record $5.235 billion, just edging out 2014 for the highest-ever annual total.
There are two truck manufacturers in the billion dollar club -- holding $1 billion or more in warranty reserves: John Deere and Caterpillar. Deere closed out 2019 with a $1.8 billion balance. Cat was close behind with $1.54 billion in its warranty reserve. But if we also include truck engine suppliers for a minute, then Cummins Inc. held even more reserves: $2.39 billion.
In the car segment, Ford, GM and Tesla each now hold more than $1 billion in reserves. In the truck engine segment, Cummins holds $2.39 billion. Outside of these automotive companies, the only U.S.-based manufacturers that maintain a warranty reserve of more than $1 billion are Apple, GE, Boeing, and United Technologies.
Top Claims Payers
In Figure 4, we're tracking the claims totals of three of the top manufacturers in the on-highway truck industry. We're including Cummins here as well. In fact, last year Cummins saw its claims cost rise by nearly a third, to $590 million, while Paccar was close behind with a 26% increase to $344 million. Navistar actually saw a 6.6% decrease in claims, to a level of $283 million for the year. So even though Cummins technically isn't a "truck" manufacturer (it makes engines, generators, and fire pumps), its warranty costs make it seem like one.
Figure 4
On-Highway Truck Warranties
Claims Paid by U.S.-based Manufacturers
(in US$ millions, 2003-2019)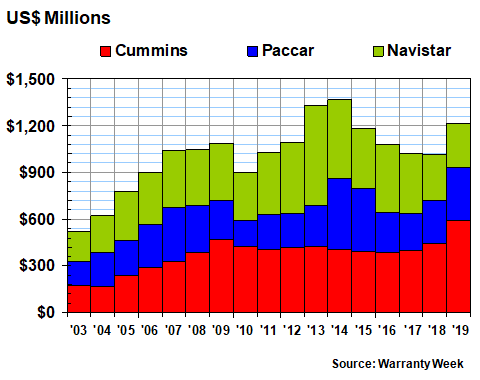 Converted into a percentage of revenue scale, the claims rates of these three companies each have a different story to tell. Navistar has had a rough decade, spending 5% and 6% of its revenue on warranty claims as it struggled to meet government standards for diesel emissions. But its claims rate is now the lowest it's been since 2010. Cummins just began paying for its emissions standards non-compliance, with its claims rate remaining close to 2.5% all year in 2019. And Paccar has remained close to the 1.4% level for more than four years, keeping its claims rate more or less stable since late 2010.
Figure 5
On-Highway Truck Warranties
Average Warranty Claims Rates
(as a % of product sales, 2003-2019)
In Figure 6, we're looking at the claims cost of three of the largest off-road vehicle makers: John Deere, Caterpillar, and AGCO. In 2019 the three of them together paid out just over $2 billion in claims, up $222 million or 12% from 2018 levels.
Figure 6
Off-Highway Vehicle Warranties
Claims Paid by U.S.-based Manufacturers
(in US$ millions, 2003-2019)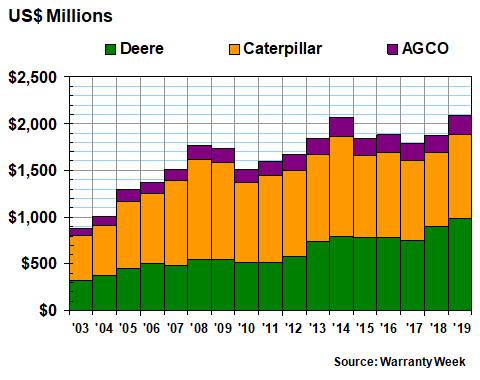 Notice that while Caterpillar spent the most on claims in every year from 2003 to 2017, in both 2018 and 2019 Deere took the top spot. Deere was still ahead by about $82 million in 2019. However, last year, Caterpillar's claims cost went up by $120 million while Deere's rose by just $78 million.
Figure 7 takes this claims data and turns it into a ratio by dividing each quarterly total by the amount of product sales. Deere clearly follows a seasonal pattern, as does AGCO to some extent. But what's remarkable is how the claims rates of the three companies seem to follow a similar long-term pattern, dipping to a low point in 2011-2013 and then rising to a high point after 2015.
Figure 7
Off-Highway Vehicle Warranties
Average Warranty Claims Rates
(as a % of product sales, 2003-2019)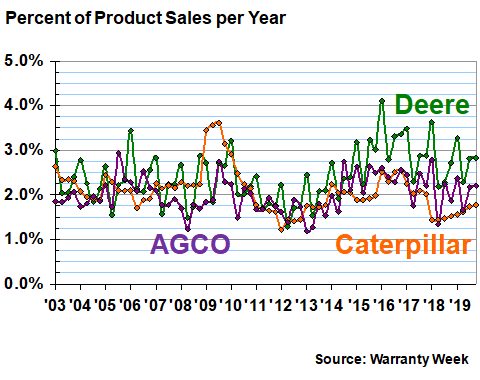 At the end of 2019, Deere's claims rate was 2.8%, AGCO's was 2.2% and Deere's was 1.8%. All three were up from a year before -- Cat and AGCO by about 0.3% and Deere by about 0.1%.
Extended Warranty Sales
For the final chart of the week, we collected several additional metrics from the annual reports of five manufacturers regarding their sales of extended warranty contracts. In Figure 8, we are charting the amount of new service contracts sold each year, from 2013 to 2019.
Figure 8
Commercial Service Contract Sales
New Contract Sales per Year
(in dollars, 2013-2019)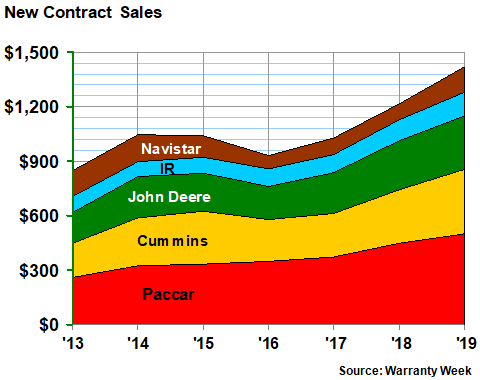 We should note that Navistar does not actually disclose the amount of new contracts sold. However, it does reveal how much of its service contract premiums are being recognized, amortized, or earned each year. And it also reveals the amount of deferred revenue held at both the beginning and end of each year.
Therefore, the amount of new contracts sold becomes a bit of an eighth grade algebra problem. For instance, in 2019 Navistar began its fiscal year with $255 million in deferred revenue and ended it with $279 million. If it recognized $113 million, how much would be needed to balance the equation? The answer is $137 million.
That amount pulled Navistar just in front of Ingersoll-Rand, which sold $133 million in new service contracts last year. Deere sold $292 million, and Cummins sold $356 million. But the top prize once again goes to Paccar, which sold $499 million.
The total for these five companies grew to $1.417 billion, a 17% increase. That represented a marginal slowdown from the 2017-18 growth rate, which was 18%. But it's faster than the 2016-17 growth rate of 10%, and it certainly beats out the slight contractions seen in both 2014-15 and 2015-16.