April 2, 2020
Extended Protection Plans:
Change what you think is working. A truly effective extended protection plan program should harness predictive analytics. Failing to optimize extended protection plans could mean leaving money and valuable data on the table.

Editor's Note: This column, written by Alexander & Preston
founder Jimmy Bynum, is the latest in an ongoing series of
contributed editorial columns. Readers interested in authoring
a contributed column in the future can click here to see the
Guidelines for Editorial Submissions page.




By Jimmy Bynum, Founder & CEO of Alexander & Preston.

Most companies today view extended warranties as a massive profit center but fall short in providing valuable insight into what each member of the value chain truly needs. Failing to optimize extended protection plans not only impacts customers and repair facilities -- it could mean leaving money and valuable data on the table.

With over 15 years of professional experience in the global extended protection business, I challenge those who work in the warranty space to do better. How? Take advantage of the rich data sources technology has created and, with professional guidance, optimize your service contracts to create a circular economy that provides value for manufacturers, dealers, and customers.

In the first article I did for this series, I covered the basics of extended protection plans. While our firm Alexander & Preston LLC has experience in both consumer and commercial programs, our primary focus remains on business-to-business (B2B) programs. Regardless of the products you intend to cover, a clear strategic plan up and down the value chain is essential to optimize the programs.

Part of the plan for a truly effective extended protection plan should harness predictive analytics. In fact, data should drive the business decisions -- not simply for your pricing and profit targets, but also to focus attention on quality and reliability. Companies need to move beyond reactive data collection in the form of aggregated warranty claims. Not only is this kind of data difficult to sift through without the right tools and expertise, but it also has the potential to negatively impact a company's bottom line.

Warranty data, along with field data from product health sensors that feed real-time data to central monitoring hubs and other information related to sales, can be used to create an intelligent extended protection plan. These analytics provide you a better understanding of the true costs of ownership. For example, data can help identify types of failures, which customers are most impacted, and what the root cause of an issue driving claims may be. This comprehensive data will also help to determine the right level of coverage to meet the customer's use patterns and support a company's business strategies and risk profile. Harnessing the data and curating it into fact-based decision-making information delivers the results. Simply knowing frequency and severity of claims is not enough -- one must know when, why, and how to resolve issues.

Of course, each company will want to carefully consider different risk management options to manage the liabilities associated with extended warranties, including self-insuring, insuring with a third-party company, or establishing a captive insurance company. But here again, analytics are central to making the right decision.
More than Risk Management
Doing a comprehensive analysis of your risk management options and ensuring you are optimizing an extended protection plan will reveal a lot about the way your company uses data as well as the systems and processes in place to ensure smooth operations.
In 2014, Alexander & Preston partnered with a large industrial equipment dealer to review their extended protection plan strategy and improve it for greater value. The dealer offered extended protection plans to their customers that were both underwritten by the manufacturer and placed on the dealer's balance sheet. They recognized the value in engaging outside expertise to assess current strategies and identify solutions that would serve their interests while meeting customer demands.
As a first step, our team conducted a comprehensive feasibility study, which included an assessment of the existing extended protection programs and an evaluation of those systems and data. From these findings, we recommended they re-domicile their existing captive to the U.S. to focus on extended service contracts. Captives can be advantageous as they provide more control. However, as Michael Corbett, director of the Captive Insurance Section for the Tennessee Department of Commerce & Insurance, told me, "Owners must want to be in the insurance business and willing to assume and share insurance risk," if they establish a captive.
Next, our team reviewed the extended protection plan terms and conditions and evaluated the claims history, going through each machine, line by line, to determine an appropriate pricing and market strategy. As part of this effort, we worked to integrate the new quotes for extended protection plans -- including terms, coverage type, and pricing -- into the dealer's new customer relationship management software (CRM) system. With the new system in place, we implemented a new extended protection program with dedicated claims adjudication.
The result: the dealer overcame a net loss in 2014 to make the new extended protection program profitable by 2016. Regular reporting and analytics provided the leadership team with tools to make data-driven decisions on coverage.
As a partner with a focus on program management for the long haul, we continue to collaborate to refine the program, maintain resources in place to appropriately monitor risk, and ensure that the program stays fully integrated and aligned with the dealer's financial and customer loyalty goals. With my firm embedded in an organization, dealers and manufacturers can focus on their core competencies -- sales, repairs, and customer support -- because we go above and beyond consulting services to understand the full picture of what you're doing and how we can partner together for long-term growth.
Universal Value -- Even in Different Industries
As the example above makes clear, so much of taking a more active role in risk management and data is planning. When a company establishes a plan, in the form of new processes for claims or pricing strategies, everyone wins. Taking that to the next level by using data to drive coverage, as well as parts demand requirements, increases value significantly.
To help make this point, consider the differences required to administer extended warranties for B2B and business to consumer (B2C) industries. The heavy equipment industry sold more than one million units, according to several sources, with a retail value of $110 billion. The consumer auto industry, meanwhile, sold more than 70 million cars with an average U.S. retail price of approximately $37,000 for new vehicles.
Regardless of industry, product, or distribution model, extended protection plans offer value for each member of the value chain, including the original equipment manufacturer, dealers and repair shops, and the end-user or customer. Both auto and heavy equipment industries distribute their product through independent dealers that also provide parts and service associated with maintenance and repairs. For manufacturers, the analytics and data generated by administering an extended protection plan will provide valuable insight into quality improvements and parts consumption that can lead to improved products that better address use patterns over time. For dealers, extended protection plans lock in revenue and earnings from parts and service; increase the resale value of well-maintained products; and strengthen customer and brand loyalty.
For customers, extended protection plans lower owning and operating costs; increase trade-in value of equipment; change variable repair cost to a one-time fixed cost; and create peace of mind knowing that the dealer will promptly handle any issues.
With commercial equipment, dealers can develop different go to market strategies with extended protection programs offered by the manufacturer, structured to meet end-user needs. Dealers know the customer best and are able to provide coverage options and packaging strategies to truly meet customer needs. This is an example of fixing something that you think is working for you. B2B extended protection plans should operate at lower profit margins when compared to B2C programs. The true value to dealers is keeping their customer in the repair channel, versus a big profit on an extended warranty.
Ashok Kartham, founder and CEO of Mize Inc., a leader in warranty service and contact management, summed up the benefits of the circular economy created by extended warranty best: "Global warranty and service contracts management software enables manufacturers to streamline processes, optimize claim costs, and improve product quality. Delivering good customer service experience during the standard warranty period will drive sales of long-term service contracts. The service contracts will then lead to higher profit margins for the manufacturers and their dealer networks. This cycle of effective warranty management, improved customer retention, and higher margins from the service contracts helps companies to maximize value."
Set a Clear Strategy Backed by Data
While extended protection plans typically focus on profits, more emphasis should be placed on developing a complete strategy to optimize warranty programs and drive long-term value up and down the value chain. Such a strategy is only possible with a focused and intentional approach -- and challenging the status quo. Looking at it another way, extended protection is one part of the entire product life cycle, including standard warranty and maintenance programs. Setting a holistic strategy will mature the warranty program to deliver value and improvements.
A critical component of a successful warranty program is transparency. If a company does not understand the full picture of their warranty program and claims -- and, importantly, are not bought into the role of warranty in customer loyalty -- they cannot begin to realize the opportunity on the table.
Vance Thomas, corporate warranty manager at Louisiana-Pacific Corp. (LP), has more than 25 years of experience in warranty. When he started his career, warranty was still widely considered an administrative service where you simply fix or replace what is broken. Since then, the industry has evolved to become a more integral part of a company's business with new services and systems entering the market. More recently, as analytics have become more sophisticated and visualized with tools like Power BI, warranty has taken on a whole new value.
"My job is to look at the data and build a narrative because the data always tells a story," said Thomas. "The building products industry is different than the commercial equipment industry in a number of ways. Our industry is vertically integrated, so we don't have suppliers building a product like a backhoe. This means that a claim will be evaluated to determine whether it's a manufacturing or product issue or an issue with installation. As in the equipment industry, however, we need data to drive decisions and maintain product quality and reliability."
Earlier this year, LP implemented a new cloud-based global warranty software from Mize. Thomas stated, "LP was previously using multiple systems by region, each with a separate process and data silos. The consolidation of these systems into a single global warranty platform from Mize helped LP to improve the consistency of warranty processes and the quality of data. LP now has an integrated global process starting from the initial customer case until final payment including inspection, estimate, claim, and settlement."
Added Thomas, "The LP team is able to run the reports and analyze the data within the Mize application as well as feed the data to other analytics tools such as Power BI. With gained efficiency in warranty process and automation, LP can focus on delivering a better customer experience and improving product quality." New tools from companies like Mize and Fast Iron (who I previously profiled in my third article) provide a more sophisticated approach to analytics and a rich data set that improve the maturity of the warranty program.
But another element of transparency that is vital to the success of a warranty program is securing buy-in from company executives. Thomas, for example, reports directly to LP's board and senior management to ensure they are kept apprised of any developments and product trends. Thomas' role is tied directly to legal and the manufacturing service and quality departments -- providing for a full integration of warranty with LP's core business. LP's customers have expectations and Thomas' role ensures that not only are those expectations met, but that the durability and reliability of their product builds loyalty.
If you're asking yourself how you can create buy-in and build transparency around your warranty program, the first step is to conduct an objective evaluation of your programs that will inform a comprehensive strategy. This is best done with an outside expert who can take your team through a structured evaluation. Based on many years in the industry, and meeting with a variety of companies, warranty and product life cycle programs are typically not given the attention they deserve. However, by being intentional and committing to developing and executing a plan, you can see gradual growth that provides for further program enhancements.
Don't Forget the Front End
As important and crucial as the data and back end solutions are, it's important to remember that plans -- any plans -- have to be sold on the front end. I recently spoke to John Quattrucci, president of Q Training Solutions, who has been involved in the service contract industry for the last 25 years. He had some interesting thoughts on this subject.
"You could have the greatest service contract program in the industry based upon data points, a claims process that is easy for the consumer, a broad service network and comprehensive coverage. If the people on the front end are not offering it -- or when they are offering it making sure the information the customer receives is accurate -- then the back end doesn't mean all that much. In fact, I would contend that most of the back-end issues that can make a customer's experience disappointing could be avoided if correct and clear information is given at point of purchase whether face to face or in an online purchase. Without proper education of your sales force around your program, including information on the back end, you run the risk of an over-promised and under-delivered program."
Added Quattrucci: "The biggest issue I addressed when I did service contract training was getting salespeople to stop saying 'If ANYTHING happens to your product, we'll fix it or replace it.' The word 'anything' creates an expectation that even the best programs cannot meet."
"The better the back end of the program is based on data and meeting the customer's needs, the more confidence the salespeople would have presenting it in an honest and upfront manner. The front end and back end have to work together for a program's long-term success while reducing the number of customer disappoints," concluded Quattrucci.
A&P's structured approach enables a seamless approach that includes assessing the current situation, establishing a strategic plan to make the right changes, making a transition to data-driven solutions, and optimizing processes that impact a dealer's bottom line.
Extended protection plans are valuable risk management tools and using predictive analytics to drive business decisions can reap enormous benefits. If you aren't seeing the kind of integrated solutions that will benefit you and your customers, change what you think is working for you.
About the Author: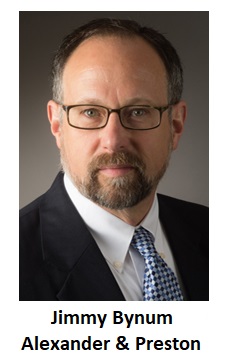 Jimmy Bynum founded Alexander & Preston in 2014 following a career specializing in extended protection plans and warranty. The company partners with OEMs and distributors of commercial and industrial products to optimize their risk management solutions. A&P services are available to commercial and industrial manufacturers of heavy equipment, agricultural equipment, medical devices, aerospace, and information technology equipment.
Prior to forming Alexander & Preston, Jimmy spent 12 years with Cat Financial Insurance Services, the extended protection plan (EPP) and captive insurance division of Caterpillar Inc., the global leader of industrial equipment, most recently as Global Marketing Manager, where he led efforts to integrate the insurance organization into the finance team.
Jimmy is active in the Nashville community and within the industry by serving as President of the Board at Oasis Center, past Board Member at the Texas Captive Insurance Association, and Vice President of the Global Warranty and Service Contract Association from 2011 to 2017.
Jimmy can be reached at Jimmy.Bynum@AlexanderPreston.com or +1 832-699-7911 ext. 101.