April 30, 2020
Computer Warranty Report:
Warranty accruals and reserves rose for the first time in years, but the long-term decline in the computer hardware industry continues nevertheless. Apple and HP see only minor changes in their warranty metrics. But some of the top disk drive makers are seeing expenses rise significantly.
Imagine a world on lockdown without either their laptops or a data network capable of bringing them their Zoom sessions. Imagine working from home without a single smartphone app. Now, imagine something breaks. What's a warranty worth when the shops are closed and the repairman doesn't answer his phone?
Since 2003, we've been tabulating the warranty expenses of the computer industry. Each year, at about this time, we began with a look at the annual reports and quarterly financial statements of 160 U.S.-based companies that are or once did report warranty expenses in the computer industry. Of those, 26 were manufacturing computers, 44 were making data storage systems, and 90 were manufacturing some sort of computer peripherals such as monitors, terminals, printers, scanners, etc.
From each financial statement, we extracted three key warranty metrics: the amount of claims paid, the amount of accruals made, and the amount of warranty reserves held. We also looked for the best figure representing product sales revenue (minus all service and non-product revenue, if possible), and we used that and the warranty metrics to calculate the percentage of sales revenue spent on claims (the claims rate) and the percentage of revenue set aside as warranty accruals (the accrual rate).
Warranty Claims Totals
What follows are the details of this data collection. In Figure 1, we are tabulating the amount of claims paid in the three industry segments over the past 17 years. Clearly, the computer segment dominates, accounting for anywhere from 80% to 90% of the total. But that's a direct result of the inclusion of Apple Inc. in this category, which is by far the largest warranty provider in the U.S.
In 2019, the computer manufacturers saw their claims payments decline from $5.564 billion to $5.275 billion, a 5% reduction. Data storage companies saw a 15% increase, from $255 million to $293 million. And the peripheral manufacturers saw a 14% decline, from $266 million to $228 million.
Figure 1
Computer Warranties
Claims Paid by U.S.-based Companies
(in US$ millions, 2003-2019)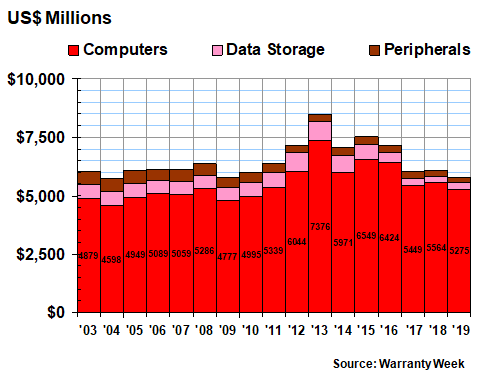 Apple is primarily a smartphone manufacturer, but of course has its beginnings in the computer industry with the Apple II and later the Macintosh. In 2019, Apple saw its calendar-year claims bill fall from $4.129 billion in calendar 2018 to $3.776 billion in 2019, an 8.5% decline. Seagate Technology, which fits into the data storage industry segment, saw a 13% decline to $91 million. Zebra Technologies Corp., which makes specialized equipment such as barcode scanners, RFID readers, and ID card printers, saw an even larger proportional decline of -16%, though the dollar total of the decline was only $5.0 million.
In terms of claims increases, one of the biggest jumps was seen at IBM, which saw claims rise by $60 million to $183 million, a 49% increase. Just behind them in both dollar and percentage terms was Western Digital Corp., which saw claims rise by $51 million to $173 million, a 42% increase. We should note that all these comparisons are based on calendar years, not fiscal years, so the results may not line up exactly for companies whose annual reports cover periods ending in June or September.
Warranty Accrual Totals
In Figure 2, we're looking at the amount of accruals made by the 160 companies in the years 2003 to 2019, once again dividing them up into computer, data storage, and peripheral segments. In 2019, all three segments saw an increase: +$253 million for the computer segment; +$2.62 million for the data storage segment; and +$850,000 for the peripheral segment. Overall, accruals rose by $257 million to $5.842 billion in all three segments together.
Note that while 2009 remains the year with the lowest annual total, 2017 and 2018 were not far behind. Part of the reason is large companies such as Dell Inc., Sun Microsystems, Lexmark International, and EMC Corp. getting acquired or going private in recent years. But part of the reason is also falling sales, as customers see a reduced need for laptop and desktop computers.
Figure 2
Computer Warranties
Accruals Made by U.S.-based Companies
(in US$ millions, 2003-2019)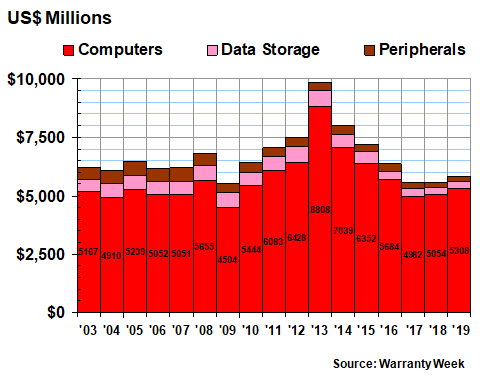 Among individual companies, Seagate reported one of the largest declines in accruals, falling from $137 million in 2018 to $93 million in 2019. Zebra Technologies saw a $9.0 million decline, from $34 million to $25 million.
At the other end, Diebold Nixdorf Inc. saw its accruals more than double from $23 million in 2018 to $52 million in 2019. IBM saw a $66 million jump to $187 million. And Western Digital saw a $389 million increase, to $193 million.
Warranty Expense Rates
In Figures 3 through 5, we've taken the dollar claims and accrual totals in Figures 1 and 2 and recast them as percentages of product revenue. In Figure 3, we're looking at the claims rate and accrual rate of just the computer segment, measured 68 times each since the start of 2003. The claims rate is in red and the accrual rate is in green.
Figure 3
Computer System Manufacturers
Average Warranty Claims & Accrual Rates
(as a % of product sales, 2003-2019)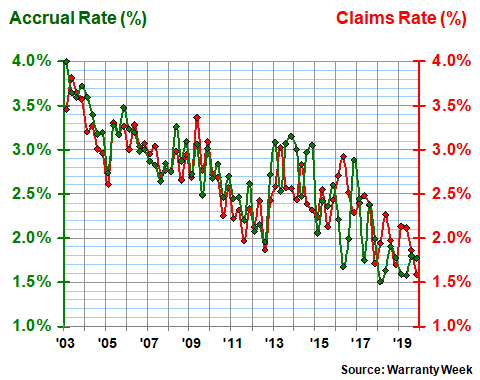 At the end of 2019, the average claims rate of the computer industry was just under 1.6%, while its accrual rate was just shy of 1.8%. As the chart above shows, both of these measurements are towards the low end of the 17-year record. In fact, it was the lowest-ever reading for the claims rate, though it was only the seventh-lowest reading for the accrual rate (the 1.5% reading of early 2018 is still in the lead).
In Figure 4, we're looking at the warranty expense rates of the data storage industry segment, which on the one hand shows a much more constant and predictable decline from 2003 to 2018, and on the other hand shows a much clearer upturn in 2019. Their average claims rate rose to 1.1% at the end of 2019 (their highest reading since mid-2016), and their average accrual rate rose to 1.3% (their highest reading since mid-2011).
Figure 4
Data Storage Manufacturers
Average Warranty Claims & Accrual Rates
(as a % of product sales, 2003-2019)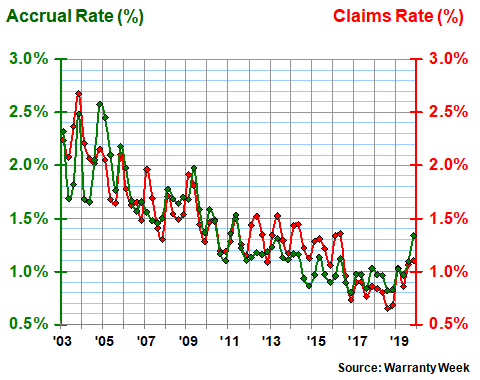 For peripheral manufacturers, which we're tracking in Figure 5, the most prominent features of their warranty expense rate record are the spikes in 2007, 2008, and 2009. But rather than marking the effects of the Great Recession, these are just reminders of the massive cost of the warranty work done on the Microsoft Xbox 360 gaming console.
Microsoft is still a member of the computer peripherals industry segment, but it simply stopped reporting its warranty expenses in 2012, after logging $1.76 billion in claims and $1.8 billion in accruals in the eight years before that. Others that have unilaterally decided to stop reporting their product warranty expenses include Eastman Kodak Co. and Unisys Corp. But since many top regulators now in office either can't or won't read, they're safe for now.
Figure 5
Computer Peripheral Manufacturers
Average Warranty Claims & Accrual Rates
(as a % of product sales, 2003-2019)
Out of all the top warranty providers in these three industry segments, NCR and Zebra Technologies led the recent declines in both claims and accrual rates. NCR's claims rate fell from 2.1% at the end of 2018 to 1.6% at the end of 2019, while its accrual rate fell from 2.1% to 1.4% over the same time period. Zebra Technologies' claims rate fell from 0.8% to 0.7% while its accrual rate fell from 0.9% to 0.6%.
Meanwhile, Western Digital and Seagate led the increases. Western Digital's claims rate rose from 0.5% to 0.8% while its accrual rate rose from 0.7% to 1.2%. Seagate's claims rate rose from 1.0% to 1.6% and its accrual rate rose from 1.1% to 1.7%.
But we should also give a mention to Diebold Nixdorf. The German-American company's claims rate remained about the same at 2.9%, but its accrual rate more than doubled from 1.3% to 2.9%. The company continues to report nine-figure net losses, so that increase has got to hurt.
Warranty Reserve Totals
Our final warranty metric to examine is the year-ending balance in the warranty reserve funds of the 160 companies we are tracking this week. Once again, we have divided them into three industry segments. And once again, it is the calendar year-ending balance we are examining, not the balance at the end of their fiscal years.
At the end of 2019, only the slightest of increases was noted for the three segments counted together. Warranty reserves grew by $482,000 to $6.081 billion overall. Computer reserves rose by $25.4 million, to $5.314 billion. Data storage reserves rose by $4.7 million to $593 million. And peripheral reserves fell by $29.7 million to $174 million. And it was the first annual increase since 2013-2014.
Figure 6
Computer Warranties
Reserves Held by U.S.-based Companies
(in US$ millions, 2003-2019)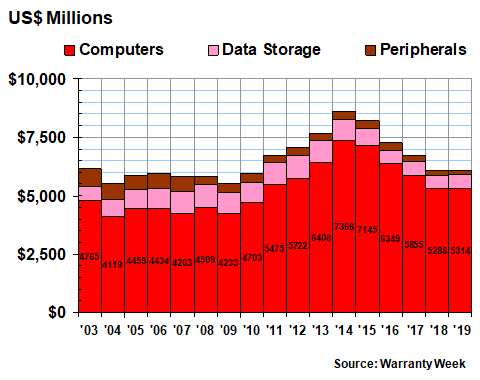 The biggest drop, in both dollar and percentage terms, was reported by Seagate, which let its warranty reserves drop from $222 million at the end of 2018 to $169 million at the end of 2019. Second in dollar terms was Hewlett Packard Enterprise's decline from $430 million to $400 million. Second in percentage terms was NCR's drop from $26 million to $21 million.
In terms of increases, Western Digital took the top slot in terms of both dollars and percentage increase, reporting a rise from $323 million to $378 million (a 17% increase). Apple, which has the largest warranty reserve fund in the entire electronics sector, saw its balance rise by $54 million by the end of calendar 2019. But given its size to begin with, that amount represented only a 1.4% increase.
HP Inc., which has so far avoided being mentioned, reported a $7.0 million increase in reserves, to $922 million, by year's end. It was the third-largest increase in absolute terms, yet it was also under one percent in relative terms. Meanwhile, IBM, Zebra, and Diebold Nixdorf each reported small decreases in reserves.