May 28, 2020
HVAC Equipment Warranty Report:
The big news is that after years in which most of the top HVAC companies were part of much larger conglomerates, now we have two new "pure play" industry members after the latest round of spin-offs and divestments.
One of the challenges of looking at a given industry's warranty expenses is when some of the top companies are in multiple unrelated industries. One can never know if the bulk of their warranty expenses arise from elevators, air conditioners, or avionics.
Fortunately, going forward in the HVAC industry, we have two "new" companies to examine, including one that invented air conditioning and another that invented refrigerated trucks. Both have roots going back more than a century. But before we get to that, we have to take one more look at the old list.
We began the process with a list of 40 U.S.-based companies primarily engaged in the manufacture of equipment for the heating, ventilation, and air conditioning (HVAC) industry. From each company's annual reports and quarterly financial statements, we extracted figures for three essential warranty metrics: the amount of claims paid, the amount of accruals made, and the amount of reserves held.
For each company, we also found figures for hardware sales revenue, making deductions wherever possible for non-warranted sources of revenue such as service, consumables, licensing, or investment revenue. And then, using these figures along with the claims and accrual totals, we were able to calculate the percentage of revenue spent on claims (the claims rate) and the percentage set aside as accruals (the accrual rate).
The big news in the industry, however, came after the end of 2019. On February 29, 2020, Gardner Denver Holdings Inc. completed the acquisition of the industrial business it purchased from Ingersoll Rand plc, and promptly renamed itself Ingersoll Rand Inc. At the same time, Ingersoll Rand plc renamed itself Trane Technologies plc.
On April 3, United Technologies Corp. completed its merger with the Raytheon Company, having previously spun off its HVAC operations into a new company called the Carrier Global Corp., and its elevator operations into a new company called Otis Worldwide Corp.
As a result of these mergers and acquisitions, that list of 40 HVAC industry companies has two new names on the roster: Trane Technologies and Carrier Global. And two familiar names are coming off the list: Ingersoll Rand and United Technologies. We'll get to an analysis of how these changes affect the metrics in a minute. First, we want to update the industry totals and averages.
Warranty Claims Totals
In 2019, industry claims paid fell by $215 million to $1.36 billion, their third-lowest level after 2016 and 2017. It was their biggest annual decline (-14%) since 2011-2012, ironically coming just a year after their biggest annual increase (+20).
Figure 1
HVAC Equipment Warranties
Claims Paid by U.S.-based Companies
(in US$ millions, 2003-2019)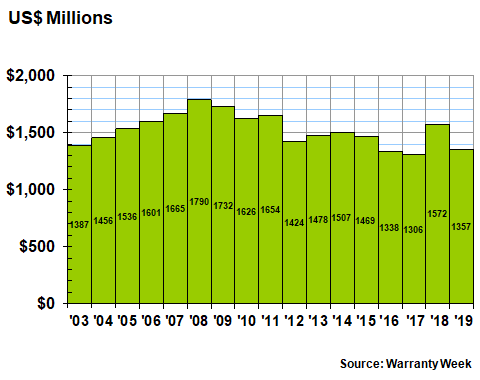 Since all the merger and acquisition action happened this year, the data in Figure 1 is unchanged by all that reshuffling. However, we should mention that Johnson Controls International plc, which owns the York HVAC brand, has restated its claims, accrual, and reserve totals for its fiscal year of 2018, apparently separating its product warranty and extended warranty funds in order to comply with the Financial Accounting Standards Board's ASC 606 revenue recognition principles. Much of the industry's 2019 drop in claims is a direct result of that restatement.
Warranty Accrual Totals
Much the same happened with the industry accrual totals. The 2018 figures are higher than they should be, and the 2019 figures are lower than they would be had Johnson Controls not restated its 2018 warranty metrics. But for the record, accruals dropped by $192 million to just over $1.5 billion, an 11% decline. And once again, it was the biggest annual decline since 2011-2012, and it followed the biggest annual increase (+17%), which took place from 2017 to 2018.
Figure 2
HVAC Equipment Warranties
Accruals Made by U.S.-based Companies
(in US$ millions, 2003-2019)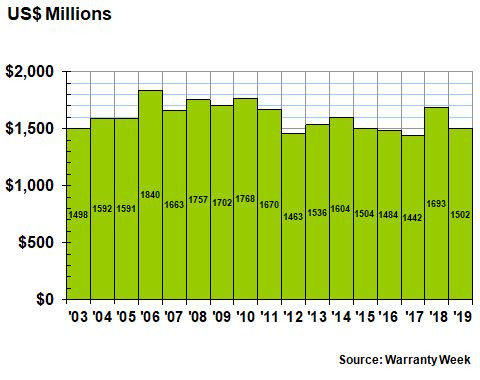 Johnson Controls alone reported a $158 million drop in claims and a $150 million drop in accruals, if one compares the original 2018 filing to the 2019 filing. But if one compares the restated 2018 numbers to the 2019 numbers, the drop in claims was only $19 million while the drop in accruals was only $18 million. Still, a decline is a decline. And since sales were relatively flat, those declines had a beneficial effect on the company's warranty expense rates.
Average Warranty Expense Rates
In Figure 3, we're taking the totals reported in Figures 1 and 2 and dividing each of them by the corresponding sales totals, with two changes. First, since we compile the raw data on a quarterly basis, the expense rates are also calculated on a quarterly basis. And second, since it's already the end of May 2020, we included some preliminary data for the first quarter of this year. Of all the companies we track, only Modine Manufacturing Company had yet to file its latest financial report before this newsletter went to press.
Figure 3
HVAC Equipment Manufacturers
Average Warranty Claims & Accrual Rates
(as a % of product sales, 2003-2020)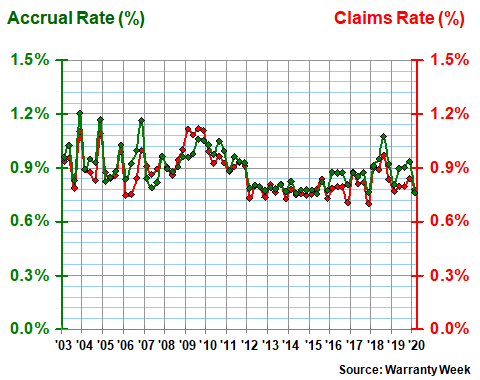 As can be seen in the chart above, both the industry's average claims rate and accrual rate have remained in a tight range of 0.8% to 0.9% for at least the past five quarters. Right before that, the industry average claims rate rose to 1.0% in the summer of 2018, and the accrual rate rose to 1.1% -- their highest levels since 2010 and 2006, respectively. Long term, the HVAC industry averages remain at 0.9%, with an 0.1% standard deviation (reflecting the relative stability of the data).
Goodbye United Technologies
And now onto the recent changes. In Figure 4, we are charting the claims totals reported by the three successors of the United Technologies conglomerate. Because the breakup is so recent, so far we have data from Carrier and Otis only for the first quarters of last year and this year.
Carrier, which is now nearly a "pure play" in HVAC, reported paying $39 million in claims, up from $36 million in the same quarter last year. Its accruals, meanwhile, fell from $40 million to $35 million. Raytheon is roughly three times larger, while Otis is roughly one-tenth as large as Carrier in terms of warranty expenses.
Figure 4
The United Technologies Breakup
Claims Paid by Successor Companies
(in US$ millions, 2019-2020)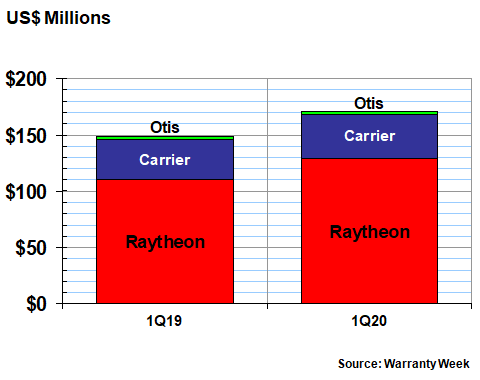 Going forward, we are going to reclassify Raytheon Technologies as an aerospace company, Carrier as an HVAC company, and Otis Elevator as a building materials company. And as the second, third, and fourth quarter figures arrive, we will be able to separate the expenses into the appropriate industries.
In Figure 5, we're calculating new expense rates for Carrier and Otis during the first quarters of 2019 and 2020, and we're relabeling the pre-existing United Technologies data as "Raytheon." As was mentioned, there is as of yet no Carrier or Otis data for the second, third, or fourth quarters of 2019, so their lines are straight with data points only at the beginning and end. But there are five data points on each of the Raytheon lines, for its claims rate and its accrual rate.
Figure 5
The United Technologies Breakup
Average Warranty Claims & Accrual Rates
(as a % of product sales, 2019-2020)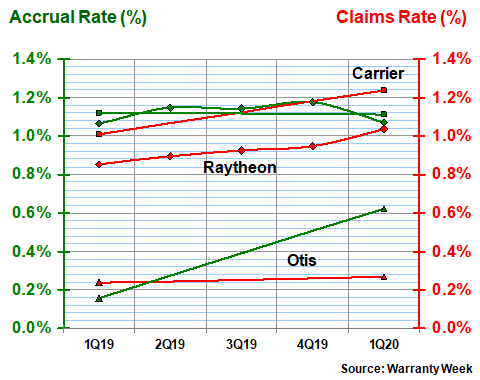 As we've suspected all along, the HVAC and aerospace metrics aren't all that different, especially for their accrual rates, which are practically on top[ of each other. Carrier's and Raytheon's claims rates were about 0.15% apart in early 2019 and were 0.2% apart in early 2020, however. And there's Otis at the bottom, with much lower expense rates than its siblings.
The Ingersoll Rand Breakup
The transaction between Ingersoll Rand and Gardner Denver is a bit easier to track, in the sense that no new companies were formed. Instead, two pre-existing companies were renamed, divisions changed hands, and one of the renamed companies (Trane) ends up being, like Carrier, almost a "pure play" in the HVAC industry alone.
Gardner Denver Inc. was the result of a merger nearly a hundred years ago between the Gardner Governor Company and the Denver Rock Drill Company. It reported its warranty expenses from 2003 until it was taken private in early 2013 by Kohlberg Kravis Roberts & Company LP. And then in 2017 it went public once again, and at that time it kindly reported its warranty metrics for both 2015 and 2016. Therefore, of the past 69 quarters, we're missing data for only seven quarters of 2013 and 2014.
Ingersoll Rand, meanwhile, was the product of a 1905 merger between the Ingersoll Sergeant Drill Company and the Rand Drill Company. In 2004, however, much of that legacy drilling equipment was sold to Atlas Copco. Meanwhile, Ingersoll Rand acquired the Thermo King refrigerated truck business from Westinghouse in 1997, and acquired Trane Inc., a top HVAC company, in 2007.
This year, Ingersoll Rand sold off its Industrials Group, which makes a variety of pumps, compressors, and other gear, to Gardner Denver. Then Ingersoll Rand renamed itself Trane Technologies, while Gardner Denver took on the Ingersoll Rand name. We're going to keep Gardner Denver, um, Ingersoll Rand in the mining, medical, and material handling equipment categories, and we'll keep Trane/Thermo King in the HVAC and truck supplier categories.
In Figure 6, we're looking at the past five quarters of claims data for Trane (fka Ingersoll Rand) and Ingersoll Rand (fka Gardner Denver). In 2019, Trane paid $153 million in claims (down 3.7% from 2018), while Ingersoll Rand paid $32 million, up from $25 million in 2018. In the first quarter of 2020, Trane paid $32.7 million while Ingersoll Rand paid $8.6 million.
Figure 6
The Ingersoll Rand Breakup
Claims Paid by Successor Companies
(in US$ millions, 2019-2020)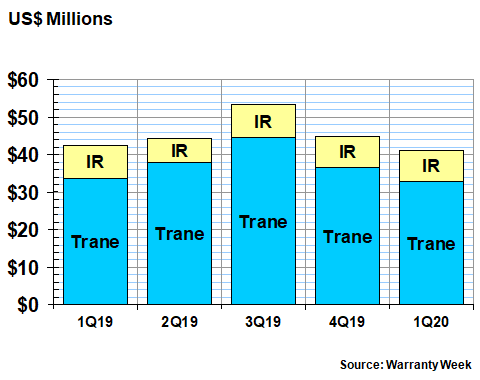 In Figure 7, we're tracking the expense rates of the two companies. As was mentioned, the acquisition and name changes took place at the end of February, so the divergence we see in the first quarter 2020 expense rate pairs has some relevance to that change in product lines. Trane, without the industrial products, saw its expense rates rise, while Ingersoll Rand, as it added its acquisition to its own pre-existing product line, saw its expense rates fall.
Figure 7
The Ingersoll Rand Breakup
Average Warranty Claims & Accrual Rates
(as a % of product sales, 2019-2020)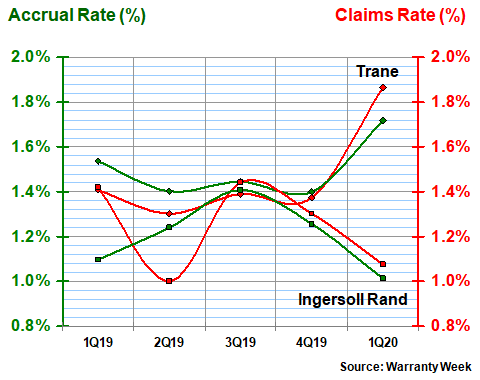 We should caution that one quarter's data does not make a trend. But as the chart shows, the two companies had virtually identical claims and accrual rates in the fall of 2019. Now their rates are separated by 0.8% and 0.7%, respectively. We will have to wait and see if this divergence continues, or if it was just an unfortunately-timed coincidence.
For our final warranty metric, we will skip the chart and just tell you the results. Over the past 17 years, the warranty reserves of the HVAC industry have ranged from a low of $2.83 billion in 2003 to a high of $3.62 billion in 2011.
Last year, the reserve balance came in somewhere in the middle of that range, at $3.03 billion. That represented a drop of $92 million from 2018. However, the balance has remained between $3.0 and $3.2 billion for eight years. So this is yet another example of the steady and predictable warranty metrics of the HVAC industry.