August 6, 2020
Worldwide Aviation Warranty Expense Report:
If you assumed that warranty expenses in the aviation industry is proportional to market share, you'd be way off. Companies with comparable market-leading sales totals have vastly different warranty costs, and some of the leaders in certain metrics have much smaller market shares in sales.
In certain markets, such as commercial planes, passenger cars, and construction equipment, a high enough share of the world's manufacturers announce their warranty costs to make it possible to fashion estimates for the non-reporters, and worldwide totals for the industries.
During our month off from publishing newsletters, we were able to gather statistics from all the Asian and European manufacturers who report their annual warranty costs, but take forever to do so. For instance, one major manufacturer, which we won't name (but they're from Mumbai) just told the SEC that its annual report for 2019 will be delayed. Another manufacturer, a Japanese conglomerate whose name means sunrise, is also well past fashionably late with its annual report.
So while we wait for those last few bits of data, we have a report ready this week on the warranty expenses of the world's commercial airplane manufacturers, and next week on the warranty expenses of the top jet engine makers. We will follow that with a look at construction equipment, and then a series of regional reports on carmakers in the U.S., Europe, China, Japan, and elsewhere in Asia. By then the procrastinators will hopefully be back on schedule.
Top Plane Manufacturers Worldwide
In broad terms, the universe of airplane manufacturers can be split into three segments. First are the commercial airliner manufacturers, led by the American Boeing Company and the European Airbus Group N.V. And then there are three manufacturers of the smaller commercial aircraft typically used on shorter flights: the Canadian company Bombardier Inc., the Brazilian manufacturer Embraer S.A., and the French company GIE Avions de Transport Regional (ATR), a partnership of Airbus and Leonardo S.p.A.
In July 2018, Airbus acquired 50% of Bombardier Aviation, and Boeing acquired 80% of Embraer's commercial aviation division, so really there are only two global competitors left: Airbus and Boeing. Other commercial airline manufacturers of the past, such as McDonnell Douglas, Lockheed, Curtiss-Wright, Vickers, Canadair, De Havilland, Fokker, Saab, Hawker, and Aerospatiale, have either left the business or have been acquired by one of these companies. The only real remaining competition they face are military spin-offs in China (AVIC) and Russia (UAC) that also sell commercial airline models.
The second segment are the general aviation manufacturers, who make everything from biplanes to business jets. Market leaders include Textron Inc. (Cessna and Beechcraft), General Dynamics Corp. through its (Gulfstream Aerospace Corp.) subsidiary, and the Dassault Aviation Group, makers of the Falcon family. Bombardier Aviation is also in this segment with its Learjets.
Other general aviation manufacturers include the Chinese-owned Cirrus Aircraft Corp.; Austria's Diamond Aircraft Industries GmbH; Italy's Costruzioni Aeronautiche Tecnam S.r.l; Germany's Flight Design GmbH; Switzerland's Pilatus Aircraft Ltd.; France's family-owned Daher; Australia's Mahindra Aerospace; Piper Aircraft Inc. (now owned by the Sultan of Brunei); Slovenia's Pipistrel d.o.o.; Mooney International Corp.; CubCrafters Inc.; and the Honda Aircraft Company, a subsidiary of the Honda Motor Company.
Then there are some specialist general aviation manufacturers. Quest Aircraft Co. makes planes that can take off or land almost anywhere in the wilderness, using very short and irregular runways. It was acquired by Daher last year. American Champion Aircraft Corp. and Extra Flugzeugproduktions und Vertriebs GmbH make aerobatic planes. Icon Aircraft Inc. makes amphibious light sport aircraft. Waco Aircraft Corp. makes old-fashioned biplanes. Thrush Aircraft Co. and Air Tractor Inc. make crop dusters. But none of them report their claims and accrual totals, and several are still private companies, so we will have to construct both revenue and warranty expense estimates for each of them.
Excluding Military Warranties
The third segment are the military plane makers, led by the U.S. company Lockheed Martin Corp., and by its arch-rivals Aviation Industry Corp. of China (AVIC), and JSC United Aircraft Corp. (UAC) of Russia. Lockheed Martin makes the F-35 Lightning II. AVIC makes the Shenyang FC-31 fighter. UAC owns Sukhoi, makers of the Su-34 fighter, Tupolev, makers of the Tu-95 Bear bomber, and Mikoyan, makers of the MiG-35 fighter jets.
Dassault Aviation is also in the military aircraft business with its Mirage and Rafale jets. Embraer still makes some turboprops flown by various South American air forces. General Dynamics made the F-16 for the U.S. Air Force, and Northrop Grumman made the F-14 Tomcat for the U.S. Navy. There are also still some operational U.S. military jets made by Boeing, Beechcraft, Cessna, Cirrus, de Havilland, Gulfstream, Learjet, Pilatus, Raytheon, and Rockwell. And then there are a handful of other countries that have their own national military jet manufacturers, such as India, Iran, Israel, Japan, South Africa, Sweden, Taiwan, and the UK. However, military aircraft warranties, if they are even available, are financed very differently from civilian aircraft warranties, and are not included in this week's expense report.
Fortunately for us, seven of the top ten civilian aircraft manufacturers, which account for 86% to 88% of the industry's total revenue, report their warranty expenses in their financial statements. Unfortunately for us, Bombardier and Textron, two of those top ten, also make a variety of land-based vehicles, and they do not separate the warranty expenses of those product lines from the warranty expenses of their aviation divisions. So either we will have to include some train and golf cart warranty costs in our airplane warranty expense report, or we would have to guess what the air/land split is for their worldwide warranty spending totals. We chose not to inject any more guesswork into the charts than was absolutely necessary.
Worldwide Warranty Claims
Worldwide, we estimate that all civilian airframe manufacturers paid $1.154 billion in warranty claims last year, an increase of $146 million, or 14%, over 2018 levels. That estimate is based on the addition of the figures disclosed in the manufacturers' financial reports, which accounted for $818 million, and the estimates constructed for those who did not report, which accounted for the remaining $336 million. For Airbus and Dassault, we had to convert their disclosures from euro into U.S. dollars. All the other reports were already in dollars.
Figure 1
Top Airframe Makers Worldwide
Claims Paid per Year
(in US$ millions, 2015-2019)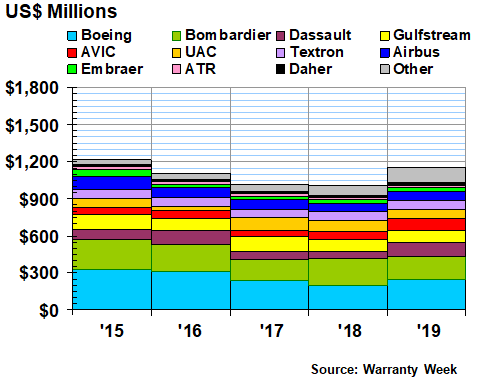 Note in Figure 1 that the industry's claims total is still a bit below the $1.217 billion total estimated for calendar year 2015. Longtime readers will also note that in the October 10, 2019 newsletter, we estimated the 2013 worldwide total to be $1.711 billion, which remains the all-time industry high as far as we know. The 2018 total is the lowest we've measured in the last ten years.
In 2019, Boeing saw its claims costs rise by $56 million to $249 million. But proportionally, the biggest increase was reported by Dassault, which more than doubled its claims costs to the equivalent of $113 million in 2019. Embraer, meanwhile, reported a 19% increase in claims, to $29.7 million.
Airbus and Gulfstream reported slight increases. Textron and Bombardier reported significant decreases, of -10% for Textron, and -18% for Bombardier. But again, as external observers, we can't tell if that was due to reduced claims costs for their land vehicles, for their airplanes, or a little of both.
In Figure 2, we're taking the 2019 claims reports and estimates, and including them in a pie chart for the top 11 manufacturers and dozens of others. The top four are based on figures in the annual reports of the manufacturers. Textron, Embraer, and Airbus are also based on figures in the manufacturers' own annual reports. AVIC and UAC are estimates, as are ATR and Daher. So that's 71% hard numbers and 29% estimates, which is about the same ratio as the construction equipment and passenger car industry reports we will be running in the coming weeks.
Figure 2
Top Airframe Makers Worldwide
Share of Claims Paid
(percent of US$1.154 billion total, 2019)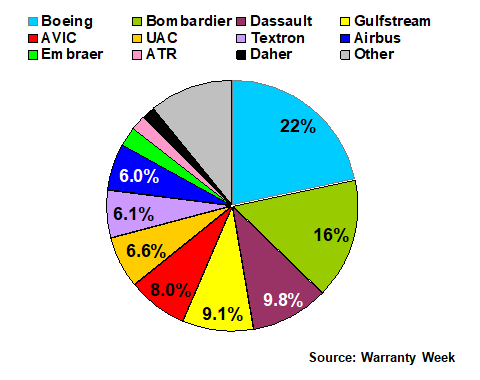 Note that Boeing has a 22% share of the claims pie, while Airbus has only a 6% share. In terms of sales revenue, they are always much closer than that. In fact, in both 2018 and 2019 Airbus reported more commercial aircraft revenue than Boeing. But in terms of claims costs, which are takes straight from the pages of their annual reports, Boeing's total was more than three times as large as Airbus' last year.
Some would suggest this is due to the 737 Max program's soaring warranty expenses. That plane was grounded in March 2019, after several crashes blamed on design flaws and manufacturing defects. Yet in 2017 and 2018, Boeing's reported claims costs were just under three times as large as Airbus'. In 2015 and 2016, they were more than three times as large. So this curious ratio predates the 737 Max program's problems by years.
Worldwide Warranty Accruals
In Figure 3, we're looking at the worldwide warranty accrual totals reported by seven of the top airframe manufacturers, and estimates constructed for the others. With this metric, the seven for which we have hard numbers taken from their annual reports account for 68% of the total, while estimates have been constructed for the others.
In 2019, accruals rose only slightly to $1.588 billion, primarily on a rise in sales of piston engine and business jet models included in the "other" category, as well as a big jump in Gulfstream's accruals (which are of course themselves for business jets too). Embraer also reported $16 million increase in accruals last year. But most of the others reported accrual total reductions: Dassault was down by $168 million; Boeing was down by $44 million; Bombardier was down by $26 million; and Airbus was down by $15.6 million.
Figure 3
Top Airframe Makers Worldwide
Accruals Made per Year
(in US$ millions, 2015-2019)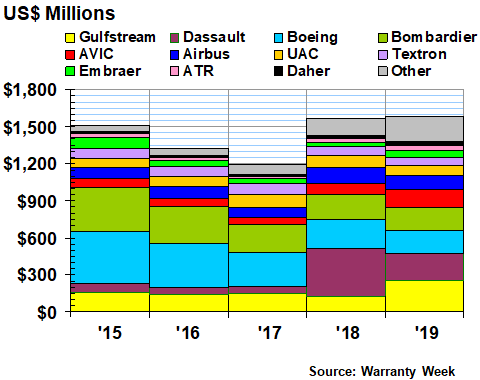 Although this was the industry's highest accrual total of the past five years, a look back at the October 10, 2019 newsletter will reveal that accruals were higher during every year from 2011 to 2014. In fact, in 2012 and 2013, accruals briefly exceeded two billion dollars per year, as Dassault, Airbus and Boeing each dealt with their various quality problems. Also, up until 2012, Textron was reporting its combined basic and extended warranty expenses (but just its basic warranty expenses from 2013 going forward).
The curious nature of the relationship between sales revenue and warranty expenses continues into the pie chart in Figure 4. It's not so bad for the Boeing vs. Airbus ratio, which for this metric has been under two for the past two years. But here, both Gulfstream and Dassault outpace Boeing, even though they both have single-digit market shares in terms of their sales revenue.
Figure 4
Top Airframe Makers Worldwide
Share of Accruals Made
(percent of US$1.588 billion total, 2019)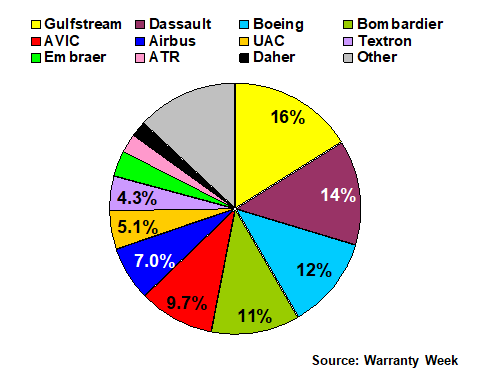 What makes it even more curious is that while Gulfstream doubled its accruals to $258 million in 2019, Dassault actually cut its accruals by the equivalent of more than US$168 million last year. In fact, in 2018, Dassault accounted for just under 25% of the entire industry's warranty accruals, versus a still-high 14% share of the pie last year. It would seem that while Boeing's manufacturing problems receive the most publicity, others have successfully kept theirs out of the public eye.
Warranty Expense Rates
In Figure 5, we're taking the claims and accrual totals in Figures 1 and 3 and dividing them by sales, to calculate a claims rate and an accrual rate for the industry as a whole. As is plain to see, both expense rates shot up last year, after accruals bottomed out at just under 0.7% in 2017 and claims bottomed out at just over 0.5% in 2018.
Figure 5
Top Airframe Makers Worldwide
Average Warranty Claims & Accrual Rates
(as a % of product sales, 2015-2019)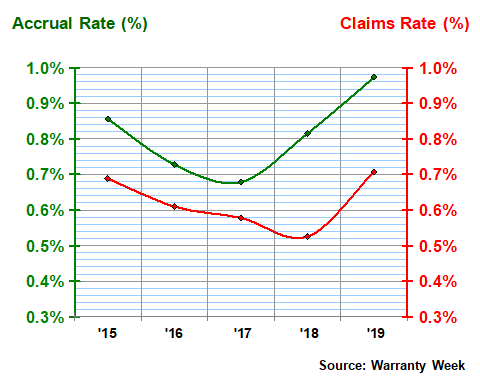 One would expect some amount of lag time between claims and accruals, in that the accrual rate is set at the time a product is sold, while the claims rate is determined after it has gone into service. However, what's unexpected is the large gap between the claims and accrual rates, which will eventually have to be filled by one-time changes of estimate that result in painful additions to the balance in the warranty reserve fund.
For instance, Boeing had to add $201 million to its warranty reserves in calendar 2019 to cover the unexpected surge in claims it faced after the grounding of the 737 Max. Among American manufacturers, only the top passenger car makers GM and Ford made larger changes of estimate last year. In contrast, both Dassault and Airbus took funds out of their warranty reserves last year, both for changes of estimate and in relation to some sales of operating units.
Last year, Airbus and Textron kept their accrual rates steady, while Dassault cut its accrual rate almost in half. Boeing raised its accrual rate from 0.4% to 0.6%, while Bombardier raised its rate from 1.4% to 1.7%. But the big changes, which helped nudge the industry average up by 0.15%, were reported by Gulfstream and Embraer. The latter increased its accrual rate from 0.9% to 3.9%, while the former raised its accrual rate from 2.1% to 3.5%.
The reason we spotlight these changes rather than the claims rate is because the accrual rate should remain about the same from one year to the next unless there's been a noticeable change in product reliability and/or repair cost. In other words, the behavior of Airbus, Textron, Boeing, and Bombardier is typical, while the rate cutting of Dassault and the rate raising of Gulfstream and Embraer are not. Those moves are examples of the solving and detection of manufacturing problems, respectively.
However, if a manufacturer fails to detect a problem in time, or if that problem suddenly appears, it also can account for it through a one-time change of estimate, as Boeing did. Either way, it's going to result in an increase in the warranty reserve balance, and a decrease to net income.
Worldwide Warranty Reserves
The commercial aircraft business is of course worldwide, so the warranty expenses reported by Boeing, Airbus, and the others are also gathered from their sales worldwide. But they're reported in U.S. dollars and euro, respectively, so most of the required currency conversions were done by the respective companies. For the dollar-euro conversions, however, we used annual averages of $1.18 for 2018 and $1.12 for 2019. And for the Russian and Chinese companies, we had to fashion additional estimates for the ruble and the yuan.
The reason we mention this is that the process of converting everything into U.S. dollars, as has been done in these charts, introduces its own brand of bias to the data. When the dollar is going up, it makes the reserves of Airbus, Dassault, and ATR look smaller. When the dollar is going down, it makes their figures look larger. And when the trend pattern changes rapidly from one year to the next, it can make their figures look like they're also changing rapidly, even if they haven't changed much at all.
For instance, the warranty reserve balance of Airbus fell ever so slightly from the end of 2018 to the end of 2019: 327 million euro down to 323 million euro, a 1.2% decline. But because of the change in the euro-dollar conversion rate, it shows up in the data of Figure 6 as a 6.4% decline, from $386 million to $361 million.
And it also skews the data in the opposite direction. Dassault, for instance, increased its warranty reserves from 871 million euro at the end of 2018 to 996 million euro at the end of 2019 (we hesitate to use the euro symbol € because even though it is turning 25 years old at the end of next year, some web browsers and email systems still refuse to display it properly). But in dollars, it shows up as only an $85.3 million increase, as the dollar's rise made the euro worth a little less.
We say all this as a preface to introducing Figure 6, in which the currency conversions play a major role. Boeing is in first place, as it should be, with a year-ending balance of $1.267 billion thanks to a net increase of $140 million during 2019. But Dassault is also over $1 billion, and AVIC is over half a billion dollars (admittedly, that's both an estimate and a conversion from a foreign currency).
Figure 6
Top Airframe Makers Worldwide
Reserves Held per Year
(in US$ millions, 2015-2019)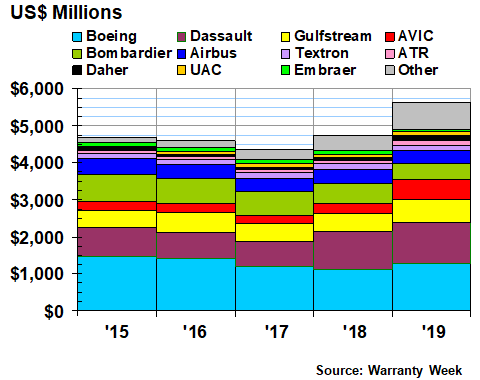 In terms of increases, however, there's no uncertainty about which is the largest, because both the candidates report in U.S. dollars. In absolute dollars, it's Boeing's $140 million (+12%), but proportionally, it's Gulfstream's $139 million increase (+29%). Third place goes to Dassault, whether the gain is calculated in dollars or euro (+8% or +14%).
And then in terms of reserve balance declines, Bombardier has the lead in absolute dollars with a $90 million drop (-17%), while Embraer has the proportional lead based on a $31 million drop (-32%). Textron and Airbus reported smaller declines.
Overall, we estimate that the balance in the warranty reserve funds of all commercial airplane manufacturers rose by nearly $900 million to $5.63 billion by the end of last year. And unlike the situation with the other warranty metrics, this represents a new high for the industry, at least for the last ten years. Second place now goes to the year-ending balance of $5.4 billion in 2013, and third place is the $5.17 billion estimated for 2012.
Worldwide Sales Trends
By the way, although we don't dwell on the sales totals of the manufacturers except to use them as the bottom half of our fractions for the claims and accrual rate calculations, we should note that we estimate that 2019 was the worst year of the decade in terms of sales growth, thanks to precipitous declined reported by Boeing, Bombardier, and Embraer.
The annual sales total of Airbus was actually up a bit last year, while Textron and Dassault were down a bit. However, Gulfstream, whose flagship product line is the inspiration behind the rap anthem "Like a G6," reported a healthy 18% increase in annual sales.
Most of the data we used for this report is published only once a year, and not until May or June for the preceding calendar year, so we can't easily make mid-year estimates. But at the halfway mark of the pandemic-plagued year of 2020, Gulfstream's sales were already down by $500 million over 2019's pace. And that was relatively good news -- Textron's product sales were down by more than $1 billion and Boeing's commercial airplane sales were down by an astounding $8.7 billion during the first half, as the airline industry suffered through the lockdown.