August 20, 2020
American Auto Warranty Expenses:
In this first part of a worldwide automotive warranty report, we find last year's slowdown turning into this year's slump. But the warranty expenses of the top U.S.-based automakers were actually up last year, and have failed to fall as fast as sales did this year, leading to increased expense rates.
Unit sales are falling but warranty expenses are rising, and the decline of the dollar is making imports more expensive for consumers and warranty work more expensive for international manufacturers. It's not the worst of all possible worlds, but the numbers compiled for our worldwide automotive warranty expense report are not encouraging.
The American auto manufacturers have already filed their mid-year 2020 expense reports. The Europeans filed their annual reports for calendar year 2019 in March and April. And the Asian manufacturers, many of whom follow a fiscal year that ends on March 31, have now all filed their financial reports, with the last one coming in last week. So now it's time to publish a worldwide passenger car and light truck warranty expense report.
We propose to cover the American companies this week and the European companies next week (we're counting Chrysler as part of a European company). And then we'll publish a report on the manufacturers based in Japan, China, Korea, and India on September 3, and will follow that up with a worldwide summary on September 10.
Warranty Metrics
Every year since 2003, we have gathered three essential warranty metrics from the financial reports of each auto manufacturer: the amount of claims paid, the amount of accruals made, and the amount of warranty reserves held. We also gather two additional metrics: the amount of automotive sales revenue, and the number of vehicles sold. Using these two latter metrics, we have calculated three additional measurements: claims as a percent of sales, accruals as a percent of sales, and accruals per vehicle sold.
For the worldwide report, everything is changed into U.S. dollars at prevailing exchange rates, and a global total is calculated for each metric. That work is now finished, but we won't give anything away until next month. For now, let's say that the three largest U.S.-based manufacturers -- General Motors Company, Ford Motor Company, and Tesla Inc. -- accounted for about 12% of the worldwide automotive reserves in 2019, 13% of the warranty accruals and sales revenue, 15% of the unit sales volume, and 16% of the claims paid. The industry's average claims rate is 2.4% and its average accrual rate is 2.5% -- up a bit from 2018 but not as high as in years past.
Because we now have 70 quarterly measurements for the American companies (as opposed to just 17 annual measurements for the Europeans and Asians), this week's report will be a hybrid of both annual and quarterly data. We don't want to confuse things with the extra two quarters of data, but we also don't want to ignore what amounts to an early look at the annual trends arising in the pandemic year of 2020. The short story? Things are not looking good for some of the automakers, unless sales return to a normal range real soon.
Warranty Claims Totals
Let's start with warranty claims paid. In Figure 1, we can see that total claims edged up last year to $7.82 billion, a $351 million jump from 2018. Proportionally, Tesla's claims rose the most, at +20%, but in dollar terms, Ford's $201 million increase was the largest of the three. GM's $109 million increase was in the middle, in both dollars and percentage terms.
Figure 1
American Auto Manufacturers
Claims Paid per Year
(in millions of dollars, 2003-2019)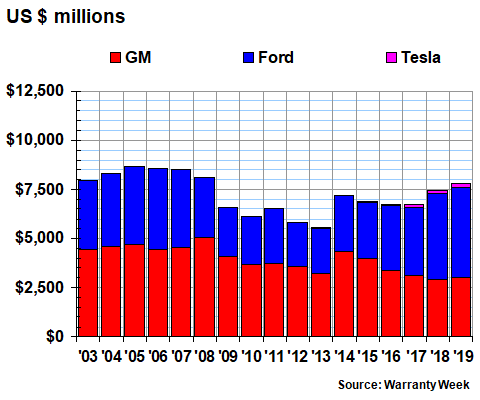 In the first half of 2020, however, things went a bit wacky. Because of the pandemic and the lockdowns that followed, sales plummeted, and accruals fell almost as fast. Claims, however, turned in a mixed record.
In the first half of 2020, Ford's claims fell by $247 million to $1.945 billion. But GM's claims payments rose by $73 million to $1.533 billion. And Tesla's claims jumped by $28 million to $143 million. The group's total claims payments for the first six months of 2020 therefore fell by $146 million to $3.621 billion.
Meanwhile, sales fell precipitously. GM's automotive sales revenue fell by 59% during the first six months of 2020, compared to the same period in 2019. Ford's sales fell by 54%. But Tesla's vehicle sales revenue fell by only 4.6%.
Warranty Claims Rates
The reason we mention this is because the claims rates calculated for the automakers in Figure 2 are the result of claims divided by sales. So when claims change a little, but sales change a lot, the result is what we see an the right side of the chart. By June 2020, GM's claims rate had soared to 4.9%, while Ford's was up to 4.3%. But Tesla, seemingly the least impacted by the lockdowns, saw its claims rate remain low at 1.2% -- blissfully remaining in the same range it's been in for the last 16 quarters.
Figure 2
American Auto Manufacturers
Warranty Claims Rates
(as a percentage of sales, 2003-2020)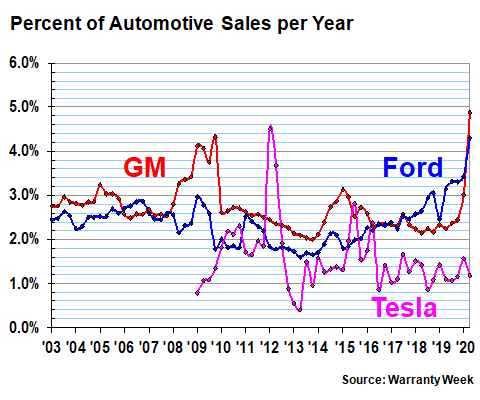 You can see the last recession's effects in the GM data, which soared above four percent in 2009. Tesla had a bad year in 2012, when its claims rate topped 4.5%. But there's never been a year like 2020, when both Ford and GM set new highs for their claims rates. And the year is only half over.
Warranty Accrual Totals
The story is less ominous in terms of warranty accruals, as it should be, because accruals should remain proportional to sales unless there's been a big change in either product reliability or repair cost. In Figure 3, GM's and Tesla's 2019 accrual totals are little-changed from 2018, but Ford's accruals rose by $598 million. And that caused the group's total to rise by $547 million to $6.483 billion.
In other words, two of the three kept accruals more or less proportional to sales. GM's 2019 sales fell 8%; accruals fell 2%. Tesla's 2019 sales rose 12%; accruals rose 2%. But at Ford, sales fell 3% but accruals rose 23%. Obviously, something changed.
Figure 3
American Auto Manufacturers
Accruals Made per Year
(in millions of dollars, 2003-2019)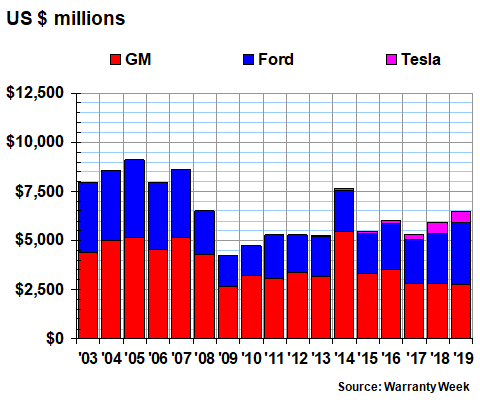 In the first half of 2020, the wackiness continued with this metric. In the first two quarters, GM cut its accruals by a third, and its sales fell by a third. Ford, however, saw a 35% sales decline but cut its accruals by only 12%. And Tesla saw its sales continue to rise during the first half, but cut its accruals by 10% anyhow.
In total, the three companies cut their accruals from just under $3 billion in the first half of 2019 to just under $2.37 billion in the first half of 2020. And the cuts were larger in the second quarter than they were in the first quarter. As well they should be: both GM and Ford said sales were down by more than half in the months of April, May, and June 2020.
Warranty Accrual Rates
In Figure 4, we're tracking the accrual rates of GM and Ford for 70 quarters each, and Tesla's accrual rate since sales began in 2009. GM and Tesla have both seen their accrual rates spike: Tesla in 2010 and GM in 2014. But Ford's had never spiked before, until now. As can be seen in the chart below, Ford's accrual rate rose from 2.3% at the end of December 2019 to 2.6% at the end of March 2020 and then to just shy of 2.8% by the end of June 2020.
Figure 4
American Auto Manufacturers
Warranty Accrual Rates
(as a percentage of sales, 2003-2020)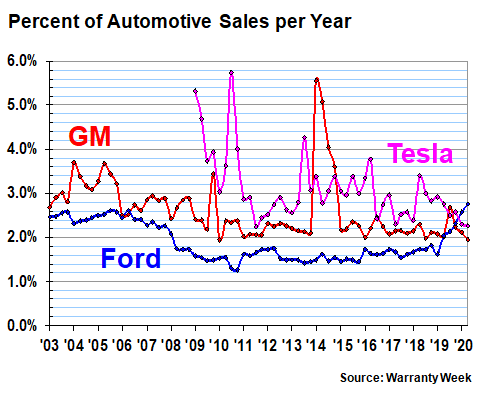 Ford's accrual rate has now risen for five straight quarters. GM's has fallen for three consecutive quarters, from a post-2014 high of 2.7% to its current level of just under 2.0%. And Tesla -- say what you want about its stock, its product, or its CEO, but its accrual rate so far this year has been downright ordinary. In fact, the metric almost tied the low-water-mark of 2.25% it set way back in 2011.
Accruals per Vehicle Sold
In the automotive industry, as in only a handful of other industries, it's also possible for an external observer to calculate a second type of accrual rate: the amount of accruals made per vehicle as it is sold. This metric is calculated by comparing current-year accruals to current-year unit sales volumes.
This method of calculating an accrual rate works fairly well for companies like these that sell mostly cars and light trucks. Yes, those products range from a basic $23,000 Ford Fusion to a fully-loaded $145,000 Chevrolet Corvette ZR1. But there are no locomotives, airplanes, or consumer electronics in the product mix (though during the pandemic the companies have also been making respirators and ventilators).
Tesla is also now in the solar panel and rechargeable battery business. Next year, it expects to begin shipments of the Cybertruck and Semi tractor-trailer truck. It gets a bit more complex with Asian and European automakers. Some are also leading manufacturers of motorcycles. Others are also major manufacturers of trucks and buses. One Chinese company makes mobile phones, cars, bikes, trucks and buses. And one Japanese company makes cars, motorcycles, generators, and even business jets.
One would expect the accrual rate per vehicle to be higher for luxury sedans and SUVs, so it's no surprise to see Tesla roaring off the chart. If an external observer could look at just Corvette accrual rates, or just the warranty metrics of Bentley's luxury models, Tesla's track record might not look so bad. But look at the eight-year trend below: in 2019, Tesla's accrual rate per vehicle sold fell to the not-astronomical level of $1,510 per unit.
Figure 5
American Auto Manufacturers
Accruals Made per Vehicle Sold
(in dollars, 2003-2019)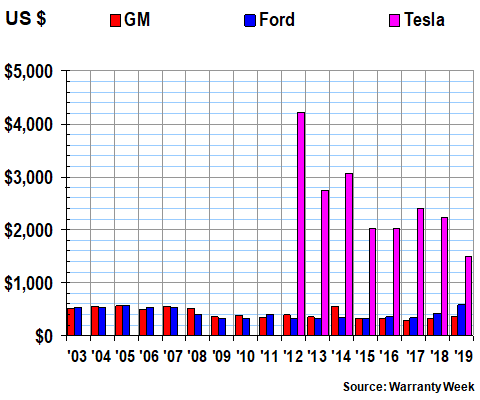 Tesla, in fact, is no longer accruing the most money per vehicle sold. In 2019, it slipped into second place. And its' only a few dollars ahead of the third-place finisher. In fact, there are now at least six manufacturers accruing more than $1,000 per vehicle sold. But we won't give any names away before we get to the Asian and European manufacturers in the weeks to come.
Suffice it to say that Tesla remains in the top tier of automakers in regards to this warranty metric. But it's no longer at the very top. The problem with Figure 5, though, is that Tesla is so different from either GM or Ford, and it accrues so much per vehicle, that it obscures the trends in the other two's data. So for Figure 6, let's remove Tesla and expand the vertical axis to fit just GM and Ford.
It immediately becomes clear that Ford has a problem. Its accrual rate per vehicle sold climbed to $591 in 2019, while GM's rose to $356. For GM, it was the highest accrual rate in five years, but for Ford, it was the highest since we began tracking this metric in 2003. And it was the second straight annual increase.
Figure 6
General Motors & Ford
Accruals Made per Vehicle Sold
(in dollars, 2003-2019)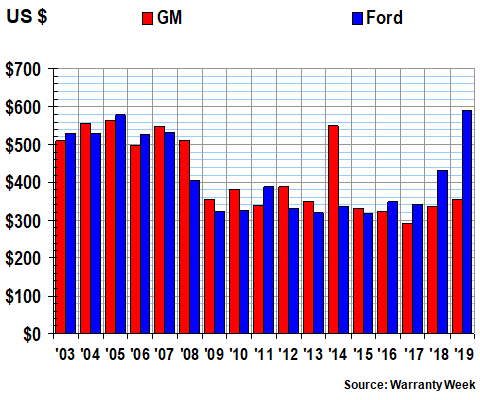 It's not as bad as it looks, however. While Ford's accrual rate is rising, on a worldwide basis it remains slightly ahead of Fiat and Honda and slightly behind Kia and Hyundai. And while GM's accrual rate is also rising, the metrics of some other manufacturers are also rising. So GM remains ahead of Kia and Hyundai, though it has now slipped back behind Toyota.
Warranty Reserve Totals
Our last warranty metric is the balance in the warranty reserve funds of the three American manufacturers at the end of each of the last 17 years. In 2019, the group's reserves rose by $1.1 billion to a level of $14.59 billion, their highest level since 2016.
Ford's reserves grew by $565 million. GM's reserves grew by $208 million. And Tesla's reserves grew by $341 million (a 46% increase), propelling it into the Billion-Dollar-Reserve Club with a balance of $1.09 billion. Only a dozen U.S.-based companies in any industry and perhaps 20 or 25 more worldwide carry more than a billion dollars in their warranty reserve funds, so it's a relatively small club.
Figure 7
American Auto Manufacturers
Reserves Held At Year's End
(in millions of dollars, 2003-2019)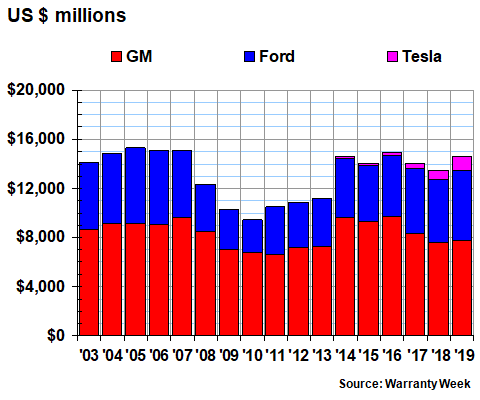 In the first half of 2020, Ford continued to let its warranty reserve grow, adding $379 million to reach a balance of $6.08 billion. It was the company's highest reserve balance since mid-2006. GM, however, let its balance decline by $758 million during the first half of this year, to just over $7 billion. And Tesla added yet another $108 million to its reserve fund, boosting its balance to $1.197 billion by the end of June.
At the end of 2019, GM had the fourth-largest warranty reserve fund among the world's automakers. By the middle of this year, it might have fallen into fifth place. Ford, meanwhile, may have risen from seventh place into sixth, depending on whether some of the European manufacturers are adding or shedding reserves during this market downturn. We actually won't know the answer to that until next spring, when their 2020 annual reports are published.
Reserve-to-Claims Ratio
But the more important metric is to compare the balance in the warranty reserve to the rate at which a company is paying claims. For instance, if a company has a $1.2 billion balance and is paying claims at the rate of $50 million a month, its warranty reserve's capacity would be 24 months. If its warranties are all exactly two years long, such a ratio would be ideal.
At the end of 2019, given GM's and Ford's warranty reserve balances (Figure 7) and its claims totals (Figure 1), the ratio between their reserves and claims were 29 and 15 months, respectively. After adding to its reserves, Ford had improved its ratio to 21 months by the end of June 2020. And even though GM cut its reserves, its ratio rose to 32 months, because its monthly claims payments also slowed.
Tesla, however, is in another realm when it comes to the adequacy of its warranty reserves. At the end of 2018 it stood at 37 months. By the end of 2019, its reserves-to-claims ratio had risen to 43 months. And by June 2020, it had climbed to an astonishing 58 months. In other words, even if it stopped making accruals now, at current spending rates those reserves would last almost five years.
It's not the highest ratio in the Billion-Dollar-Reserve Club. That distinction would go to Boeing Co., which is embroiled in the 737 MAX manufacturing crisis, as well as several other warranty predicaments. Instead, Tesla is in second place, just ahead of truck engine maker Cummins Inc., which has its own problems meeting diesel emissions requirements.
So what exactly is Tesla's problem? Yes, at eight years, its battery warranties are relatively long in terms of automotive component coverages. But they've been in the field for twelve years now, so the company must have a good grasp by now of the frequency and severity of claims. And that claims rate has been relatively steady (and relatively low) for four years in a row.
Yes, the company's accrual rates have also been high, but they're now much lower, and as a percentage of revenue they're now comparable to the rates seen at GM and Ford. Plus, on a per-vehicle basis, they're now in the same range as several European luxury brands. In fact, one of those luxury brands now accrues more per vehicle than Tesla.
The basic problem is, Tesla is setting funds aside like it's expecting a major problem to arise. But it's paying just for minor problems. And the difference between predicted and actual expenses is beginning to pile up. As a legendary senator once said, "A billion here, a billion there, pretty soon, you're talking real money."
The end result is that unspent funds are accumulating, and they may never be needed. In fact, Tesla could cut its warranty reserves in half and it would still have a comfortable cushion. However, if Tesla ever tries to right-size its warranty reserves, the short-sellers who have encircled its stock will surely cry foul, alleging some sort of accounting scandal. So we propose a solution: give it to us for safe-keeping. Let us invest it wisely, perhaps in Tesla's own high-flying stock, and we promise to give it back whenever it's needed, minus the capital gains we generate in the meantime. What could possibly go wrong?