October 8, 2020
Top 100 Warranty Providers of Mid-2020:
As we detailed in last week's newsletter, sales are falling faster than warranty expenses, so the average claims and accrual rates are rising. But that's just the average. Some companies are actually seeing sales increases, and for others so are their warranty costs. This week, we rank those changes, and spotlight the ten biggest percentage increases and decreases.
Almost exactly six months since we ran a listing of the Top 100 Warranty Providers of 2019 (Warranty Week, April 9, 2020), it's time to take a midyear look at changes reported during the first six months of this year.
First we found the hundred largest warranty providers in the U.S., then we compared their most recent warranty metrics to their year-ago readings. And then we determined the top 10 most improved and top 10 most deteriorated for each of three metrics: warranty accrual rate, warranty claims rate, and the balance in their warranty reserve funds.
In this way, we're comparing each company to itself over time, rather than comparing different companies. That's because a high expense rate might be normal for a company making diesel engines or appliances, while a low rate might be normal for a company making semiconductors or car seats. What's not normal, however, is an expense rate that doubles in a year.
List-Making Methodology Explained
To determine the 100 largest warranty providers, we totaled up the amount of claims they reported paying in their annual reports and quarterly financial statements covering the months of January 2020 to June 2020. But since some manufacturers report their warranty expenses only once a year, and they do not do so in the financial report covering the months of April, May, or June, we had to exclude them from the group.
Therefore, some large manufacturers, such as General Electric Co., Honeywell International Inc., and Eaton Corp. plc, are not part of this Top 100 list (though they were in the running on the April 9 list, because their annual reports were then fresh). And then there are companies such as Mohawk Industries Inc. and AutoZone Inc., which have simply decided not to follow accounting regulations any longer, and who have ceased including warranty expenses in their financial statements. Also not in the running is Wabco Holdings Inc., which was acquired in March 2020 by the German car parts maker ZF Friedrichshafen AG, and is therefore no longer filing its own financial reports. It too was a member of the April Top 100 list.
Altogether, we had to exclude a total of 18 companies from the Top 100. Or more precisely, we lowered the bar until we had 118 companies in the group, then we disqualified 18 companies because they're annual-only reporters, non-reporters, or they've been acquired this year.
And that, in turn, opened the list to companies such as American Woodmark Corp., Extreme Networks Inc., La-Z-Boy Inc., Meritage Homes Corp., and Plantronics Inc., which have never previously been a part of the Top 100 lists. It also opened things up for relative newcomers such as Carrier Global Corp., Cornerstone Building Brands Inc., and Welbilt Inc., which are entities created in recent years through spin-offs and mergers.
From the financial reports of each of the Top 100 warranty providers, we collected three essential warranty metrics: the amount of claims paid in the quarters that ended between January and June 2019 and 2020, the amount of accruals made during those same quarters, and the ending balance reported to be in their warranty reserve funds in June 2019 and 2020, or in the case of weird fiscal years, in the quarters that ended closest to but not after June 30 of each year.
We also collected product sales data from each company, and by dividing the claims and accrual totals by sales, calculated the percentage of sales those totals represented. The next step was to compare this year to last year, and to rank the ten largest increases and decreases. The idea is, while we can't compare different companies in different industries to each other, we can compare any company to itself, and then rank the biggest changes, for better or for worse.
Warranty Accrual Rate Decreases
In general, decreases in expense rates and balances are better than increases. Cutting your expenses in half is better than seeing them double. But the added complication of 2020 is that sales are also tumbling for some companies severely impacted by the pandemic. And the sad truth is that if a product isn't sold, it won't need any warranty work. So the rankings that follow may have more to do with falling sales (the bottom half of the fraction) than rising or falling warranty expenses (the top half of the fraction).
Something else we're doing in this report for the first time is running the charts from best to worst. If your name is in Figure 1, you're golden and you should ask for a raise. If your name is in Figure 6, on the other hand, it might be a good time to spiff up your LinkedIn profile and get those letters of recommendation in order.
Figure 1 is the best list to be on out of the six, and the best improvements are at the top of the list. So congratulations, Ingersoll Rand Inc., for cutting your accrual rate from 1.2% a year ago to only 0.2% now. It's also at the top of the claims rate reduction list in Figure 2, and is second on the reserve balance reduction list in Figure 3. However, a year ago the company was named Gardner Denver Holdings Inc., before it acquired the Ingersoll Rand Industrial business and changed its name.
So really, we're measuring the change in the product mix, and not improvements in the warranty expense metrics. The same goes for L3Harris Technologies Inc., whose very name shows the evidence of the merger between L3 Technologies and Harris Corp. And since Harris was the surviving entity, what we're really measuring is how much lower L3's warranty expense rates were before they were blended with those of Harris.
Figure 1
Top 100 U.S.-based Warranty Providers:
Top Ten Accrual Rate Reductions,
First Half 2020 vs. First Half 2019
(accruals as a % of product sales)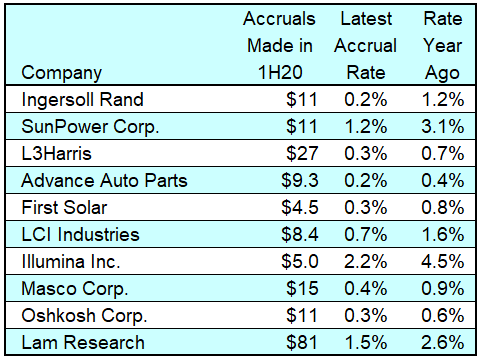 Source: Warranty Week from SEC data
The second name on the list, however, is there because of a real and actual drop in accruals. SunPower Corp., makers of photovoltaic cells and solar panels, saw its accrual rate drop from 3.1% to 1.2% over the past year, as its accruals dropped from $18 million to $11 million (sales also dropped, but not as fast as warranty expenses).
Another solar manufacturer also made the Top 10 list -- First Solar Inc., thanks to a massive drop in its accrual rate from 0.8% to 0.3%. So in one respect, what we might be seeing is a general improvement in the reliability and longevity of solar power equipment, as measured by a drop in their projected warranty costs. However, SunPower is about to spin off its manufacturing operations into a separate company based in Singapore, so this may be its last appearance on the list.
Notice that eight out of the ten companies listed in Figure 1 cut their accrual rates by half or more. Rounded off, it looks like Oshkosh Corp. did also, but without the rounding its accrual rate fell by just under half, from 0.61% to 0.34%. Still, the point we're making is that these ten are on the list because of massive reductions in their accrual rates.
Overall, 49 of the Top 100 warranty providers reduced their accrual rates in the past year, while 51 saw their accrual rates rise. The increases, of which five were more than a doubling of year-ago rates, are in Figure 6, the worst list.
Warranty Claims Rate Reductions
During the Great Recession of 2007 to 2009, many manufacturers saw their claims rates soar -- not because their products broke more often, but because of plummeting sales. Also, human behavior figured into the picture as well. As a customer, when you can't afford the upgrade or the replacement, you tend to want to keep your existing equipment in tip top shape. And as a dealer, when the showroom floor is empty, income from additional warranty work sure seems appealing. So there are reasons for an increase in claims, or more precisely, reasons for claims not to fall as far or as fast as accruals (or sales).
This time, it's different. It's a health emergency, not a financial meltdown. Because of the virus, many customers now fear the waiting room, or the service desk, or a trip to the FedEx office. And many manufacturers have responded to that fear by lengthening warranties that would otherwise have expired, taking the pressure off those fearful customers seeking warranty work.
From June 2019 to June 2020, only 43 out of the Top 100 warranty providers saw their claims rates fall. To be sure, 55 saw their total claims payments fall, but for some of those, sales fell faster (and their claims rates rose). It's a decent excuse that some of the companies named in Figure 5 could try, but who really wants to celebrate fixing fewer products because you're selling fewer products?
Anyway, five of the names in Figure 2 were also on the Figure 1 list: Ingersoll Rand, L3Harris, and Oshkosh, along with Lam Research Corp. and Masco Corp. In a way, being on both lists is a further confirmation that something is going in the right direction. For that matter, Masco also made the warranty reserve reduction list in Figure 3 -- a warranty trifecta! And because mergers usually represent expansions, Ingersoll Rand and L3Harris were among the Top 10 warranty reserve increase list in Figure 4, with an excuse.
But also note that Apple Inc. made this list, thanks to a reduction in its claims rate from 2.2% to 1.2%. Very large manufacturers don't usually make any of these lists, because the sheer inertia of their warranty metrics changes very slowly, like a supertanker attempting to make a turn. So that makes this claims rate reduction all the more remarkable. Funny that the circle of media that seemingly reports on everything Apple does hasn't yet picked up on this very good news.
Figure 2
Top 100 U.S.-based Warranty Providers:
Top Ten Claims Rate Reductions,
First Half 2020 vs. First Half 2019
(claims as a % of product sales)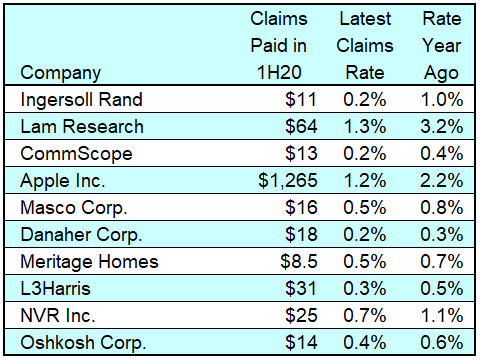 Source: Warranty Week from SEC data
There's good news all over this list, such as the fact that two homebuilders -- Meritage Homes Corp. and NVR Inc. -- made the list. Meritage even reported a 20% sales gain in the second quarter of 2020, which given its status as a homebuilder is all the more remarkable. NVR, however, saw a 10% sales decline. But claims fell faster, so its claims rate also fell.
However, this is not the Great Recession. This downturn is not decimating all the homebuilders. Among the Top 100 warranty providers, only 25 companies reported any sales gains. But amazingly, five of them were homebuilders. Besides Meritage, you have D.R. Horton Inc., Hovnanian Enterprises Inc., PulteGroup Inc., and Taylor Morrison Home Corp. And for Pulte, the sales gain was only 2.8%. But still, a gain is a gain, and in the midst of a pandemic, it's remarkable.
Warranty Reserve Balance Reductions
We're not sure why reducing your warranty reserve balance would be considered a good thing. It's a bit like cutting your checking account balance. If it happened because you're getting better at managing cash flow, that's a good thing. But if it's because you missed a paycheck, that's a bad thing.
Likewise, we're not sure why a balance increase would be a bad thing. But we're pretty sure a decrease would be better than an increase, in that it means more cash has been freed up to pursue more profitable activities than warranty work. Therefore, Figure 3 is before Figure 4 on our best-to-worst scale.
Four of the 10 names in Figure 3 made a previous appearance in Figure 1 or Figure 2. And as was Masco hit the warranty trifecta. Interestingly, two other companies on this list are on three charts -- Toll Brothers Inc. and Diebold Nixdorf Inc. However, they're on two "bad" charts and this, so it's nothing to celebrate.
The central idea of this week's exercise is that these are the warranty providers whose warranty metrics changed the most. Of the Top 100 warranty providers, only 40 made any of the six lists. And as was mentioned, very large companies usually don't make any. So again, the presence of a company as large as Raytheon Technologies in Figure 3 is unusual.
Only a dozen U.S. companies have a warranty reserve fund containing more than a billion dollars. Raytheon is one of them. But that's no surprise, since it's the product of a merger between Rockwell Collins, United Technologies, and Raytheon. What is a surprise is that its reserve balance actually fell. But that's because of the spin-off of Carrier and Otis Elevator.
Figure 3
Top 100 U.S.-based Warranty Providers:
Top Ten Warranty Reserve Reductions,
June 2020 vs. June 2019
(reserves in millions of US dollars)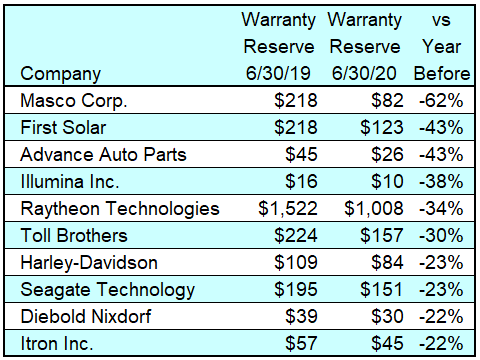 Source: Warranty Week from SEC data
Note also the return appearance of First Solar. It's here because its warranty reserve balance fell from $218 million to $123 million. And that may be another example of the "rightsizing" of the industry's warranty metrics as the product line becomes more reliable and the product in the field ages more gracefully than was initially expected.
And then there are the balance reductions that we could explain mathematically but not in terms of warranty expenses. For instance, both Harley-Davidson Inc. and Seagate Technology cut their warranty reserves by -23%. Why? No idea. It is what it is.
Warranty Reserve Balance Increases
On the other hand, it's easy to find a reason why L3Harris and Ingersoll Rand top this next list, of the Top 10 warranty reserve balance increases. Each is the product of a recent merger, so two separate balances became one.
But also note that there are two builders of recreational vehicles on this list: Winnebago Industries Inc. and Rev Group Inc. Again, that's not what happened during the Great Recession. Back then, they were lucky to survive the downturn, which hit homebuilders and automakers the hardest. And what are RVs? They're homes built on wheels.
Figure 4
Top 100 U.S.-based Warranty Providers:
Top Ten Warranty Reserve Increases,
June 2020 vs. June 2019
(reserves in millions of US dollars)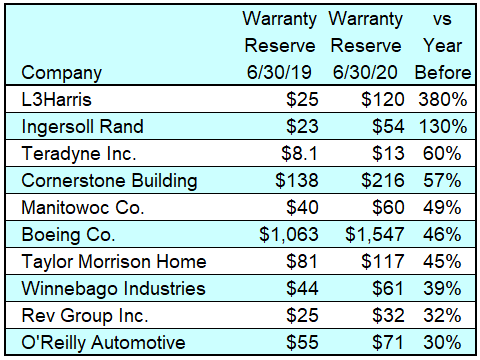 Source: Warranty Week from SEC data
Again, there is just one very large company on the list. This time it's Boeing Co., which is the victim of a perfect storm that combines its own product line failures (737 Max, etc.) with the fallout from the pandemic (nobody wants to fly). So it's no surprise to see its warranty reserve balance rise by $484 million.
What is a surprise is to discover that it was only the third-largest increase. Ford Motor Co. was the largest, with its balance rising from $5.1 to $6.1 billion. Apple was second with a $781 million increase. But on a percentage basis, neither gain was large enough to make the list.
Warranty Claims Rate Increases
Now we get into the pain lists. In fact, back in April during the peak of the first wave of the pandemic, it was just too depressing to include these next two. And it may get depressing again soon (Warranty Week, a non-essential business if ever there was one, is a few hundred meters inside a new "Red Zone" of high infection rates within the Queens section of New York City). But not today.
Here in Figure 5, the big name is General Motors Co., whose claims rate spiked to 4.9% because claims rose 5.0% while sales dove 59%. Ford saw its claims rate rise to 4.3%, but its year-ago claims rate was 3.1% while GM's was 2.2%. So for GM it's a more-than-doubling while for Ford it's a little more than a third. Like we said, we're measuring the pain of the gain.
Figure 5
Top 100 U.S.-based Warranty Providers:
Top Ten Claims Rate Increases,
First Half 2020 vs. First Half 2019
(claims as a % of product sales)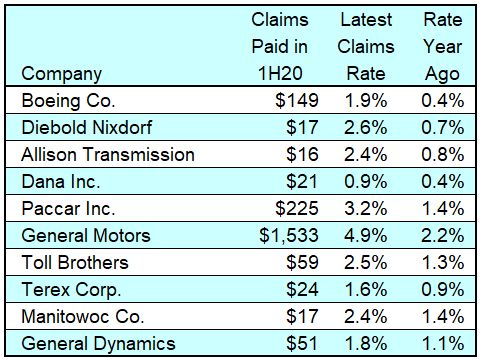 Source: Warranty Week from SEC data
We're not measuring the highest expense rates. We're measuring the biggest changes over the past year. So that's why GM is halfway down the list while Boeing is at the top. Boeing's claims rate more than quadrupled from 0.4% to 1.9%. It's not that 1.9% is good or bad. It's that paying claims at four times the rate of a year ago (although commercial airplane sales fell by more than half in the interim) is not good news.
Warranty Accrual Rate Increases
Which brings us to our most painful list: the top increases in accrual rates. It's the most painful because under the accrual method used by most companies to account for future liabilities, the amount these companies set aside as warranty accruals have a direct and inverse relationship to net income. When accruals fall, profits rise. And when accruals rise, profits fall.
Figure 6
Top 100 U.S.-based Warranty Providers:
Top Ten Accrual Rate Increases,
First Half 2020 vs. First Half 2019
(accruals as a % of product sales)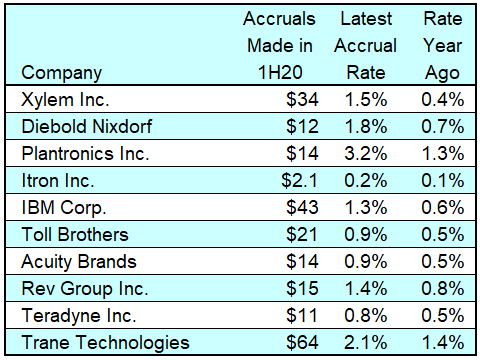 Source: Warranty Week from SEC data
Xylem Inc. is a spin-off of ITT Corp. It manufactures equipment used to transport, treat, and deliver water, and its name refers to the tubing that brings water from the roots to the leaves of plants. In the first half of 2020, however, its warranty accruals tripled to $34 million as its sales fell by -12%. The result was an accrual rate that rose from 0.4% to 1.5%, topping our chart.
Diebold Nixdorf, Plantronics, Itron Inc., and IBM Corp. each saw their accrual rate more than double. Nine of the 10 saw it rise by half or more -- the sole exception being Trane Technologies (the left-behind part of Ingersoll Rand), which saw its claims rate rise from 1.4% to 2.09%, just shy of half. But again, they have the excuse of a change in product mix thanks to a spin-off.
None of these latest accrual rates are concerning in and of themselves. And besides mergers and acquisitions, there are lots of other excuses for why they're up so much this June. But the real pain comes when the accruals are made. For instance, while Xylem's accruals tripled, Teradyne's doubled, and Diebold Nixdorf came just short of doing so ($6.2 million in 2019 to $11.8 million in 2020).
Remember, absent a change in product reliability or repair cost, accruals should remain more or less proportional to sales. And if that were the case, every company would be like Cisco Systems Inc. or Lennox International Inc., with their warranty accrual rates barely changing at all from one year to the next. In fact, they made exactly zero lists, as did newcomers American Woodmark, Extreme Networks, and La-Z-Boy. Better luck next year!