October 22, 2020
Mid-Year Aerospace Warranty Report:
While a big merger and a big spin-off have clouded the industry's warranty metrics, making year-to-year comparisons tricky, it's still pretty clear that the pandemic has hit aerospace companies hard. But the grounding of the 737 MAX a year before the lockdowns certainly didn't help.
While the Great Recession hit the automotive and homebuilding industries hard, the pandemic is impacting some industries the last downturn nearly bypassed. For instance, the warranty metrics of the aerospace industry hardly changed the last time around. But they're setting new highs and all-time lows in the current cycle.
It's not like 2008-09 again, when many people didn't have the money to buy a plane ticket. No, it's more like 1990-91, when people were absolutely scared of flying, and the jets from Europe carried more crew than passengers. No, the pandemic is a perfect storm of both those times, when people don't have the money and they're scared to sit near anyone they don't know.
The thing about the warranty metrics of the aerospace industry is how slowly they change. The charts of the automotive and homebuilding industries have mountains and valleys. In this industry, flatness is the rule. But as we'll show in the next few pages, things have changed dramatically in the last year or two.
We began by collecting warranty metrics from the annual reports and quarterly financial statements of 63 U.S.-based companies, of which six are what we're calling Aerospace OEMs (manufacturers of the airframes themselves), and 57 that are primarily engaged as suppliers to the OEMs. From each financial statement, we extracted three essential warranty metrics: figures for claims paid, accruals made, and reserves held. We also found figures for civilian aviation product sales revenue, and by dividing that into the claims and accrual totals, we were able to calculate claims as a percentage of sales (the claims rate) and accruals as a percentage of sales (the accrual rate).
All of the financial figures are summaries of all their product sales and warranty expenses worldwide. Therefore, the pre-Carrier-spin-off United Technologies Corp. figures also include some HVAC activity, and all of the Textron Inc. data also includes land-based vehicle revenue and warranty expenses. There's simply no other way for external observers to count it.
We did not, however, include any data for General Electric Co., even though it is an important supplier of jet engines for commercial aircraft. We wrestle with this question every time we take a look at the aerospace industry. If we include it, then it overwhelms the rest of the data. But if we exclude it, the picture is admittedly incomplete. For those who can't do without it, we suggest going back to the Worldwide Jet Engine Warranty Report published in August.
Warranty Claims Totals
In Figure 1, it looks as if the aerospace industry hit a new quarterly low of $213 million in claims payments during the second quarter of 2020, due primarily to the decline in supplier claims payments to under $100 million per quarter for the first time ever.
Much of that decline is related to the spin-off of Carrier Global Corp., which paid $92 million in claims in the second quarter, but did so separately from its former parent, which is now called Raytheon Technologies Corp. We explained some of this in the May 28 newsletter, and will do so again once we have a complete year's worth of separate data from Raytheon and Carrier.
Figure 1
Aerospace Warranties
Claims Paid by U.S.-based Companies
(in US$ millions, 2003-2020)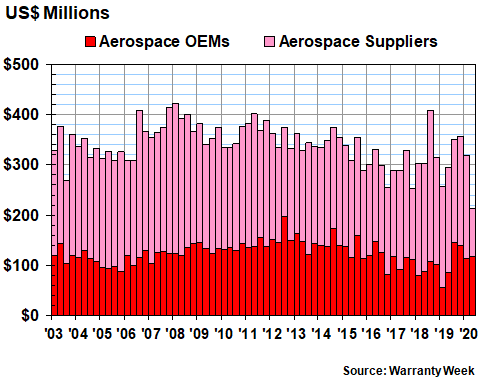 Notice also that the aerospace OEM claims totals have been higher than normal for the past four consecutive quarters, as Boeing Company continues to struggle with its 737 MAX and other product lines. The company saw claims more than double in the first half, from $64 million in the first six months of 2019, to $149 million in the first half of 2020.
But other OEMs ran into problems as well, such as General Dynamics Corp., which saw claims rise from $37 million to $51 million during the same period. Textron, however, saw claims fall from $38 million to $29 million during the first half of 2019 and 2020, respectively.
The biggest gain was the result of a merger. L3Harris Technologies Inc. is the result of a merger between L3 Technologies Inc. and Harris Corp., and it paid $31 million in claims during the first half of 2020, considerably more than the $5.0 million that Harris alone paid out in the first half of 2019. L3 paid $19 million last year, so their combined bill grew from $24 million to $31 million -- still a sizeable increase.
Others that saw big increases in claims include Woodward Inc. ($5.3 to $8.1 million); Garmin Ltd. (27 to $32 million); and Teledyne Technologies Inc. ($4.6 to $5.3 million). Others that saw big declines in claims payments during the first half included Crane Company ($10 to $6.5 million); Ametek Inc. ($9.3 to $7.6 million); and Moog Inc. ($9.2 to $7.8 million).
Warranty Accrual Totals
Every accrual total fell to a new low in the second quarter of 2020. The combined accruals of the OEMs and the suppliers fell to $128 million. Accruals for the OEMs alone fell to $49 million. Accruals for the suppliers alone fell to $79 million.
For the first half of 2020, industry accruals slipped below $400 million for the first time. A glance at Figures 1 and 2 shows no trace of the Great Recession left on the aerospace industry warranty metrics. But the pandemic sure seems to be having an effect now. Accruals for the OEMs are down -32%, against a -39% drop in product sales. Accruals for the suppliers are down -39%, against a -21% sales decline.
Figure 2
Aerospace Warranties
Accruals Made by U.S.-based Companies
(in US$ millions, 2003-2020)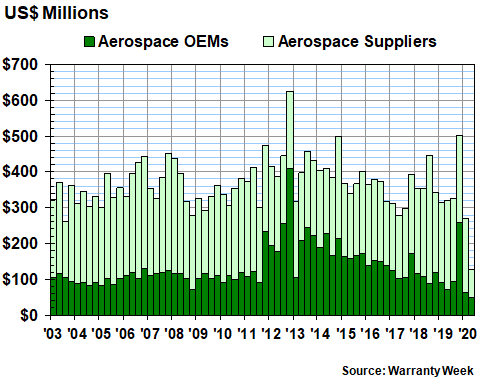 Once again, Boeing leads the declines, with accruals falling by -59% while sales fell -53%. Raytheon also fell fast, but most of that was caused by the Carrier spin-off. Moog cut accruals by -46% as sales fell -11%. Textron cut accruals by -27% while sales fell -17%. FLIR Systems Inc. cut accruals -18% while sales remained flat. Ametek cut accruals by -16% as sales fell -14%.
At the other extreme, Crane saw the biggest increase in accruals, from $3.8 million to $5.2 million, followed by Woodware rising from $8.0 million to $11 million, and L3Harris rising from $21 million separately in the first half of 2019 to $27 million as a new combined entity in 2020.
One reason the Great Recession had only a minimal impact on this industry's data is the fact that the lag time between commercial airplane orders and deliveries frequently stretches to years. But this time, the public's sudden aversion to flying came about a year after the grounding of the 737 MAX, so orders had already been adjusted downward by the time the demand for seats evaporated.
In other words, this would have been a tough year for aviation manufacturers anyhow, but the pandemic really sealed the deal. Demand fell through the floor. For several weeks in the middle of April 2020, the U.S. Transportation Security Administration was processing less than 100,000 passengers per day, down from 2.0 to 2.5 million passengers per day on the same dates in 2019. Last Sunday, October 18, was the first and only date since March 16 that the TSA counted more than a million passengers per day in the U.S. And that was still not even 40% of the year-ago headcount.
Warranty Expense Rates
FLIR was the only large warranty provider in the industry to report any non-merger-related sales gains. And its sales gain was only 0.004%. As was mentioned, civilian product sales were down -39% for the OEMs and -21% for their suppliers. The reason this is important is because our claims and accrual rate calculations are heavily affected by declines such as these.
As we already mentioned, aerospace OEMs have seen a big rise in claims this year. Combined with a big decline in sales, one would expect their claims rate to soar. At the same time, accruals fell more or less proportionally to sales, so one would expect the accrual rate to remain about the same.
This is more or less exactly what we see in Figure 3. The aerospace OEMs have seen their claims rate rise to a new all-time high of just over 1.4% as of June 2020, while their accrual rate remains nominal at 0.7%. In fact, their accrual rate was higher than it is now for all but one quarter during the seven-year period from 2009 to 2015. On the other hand, it was lower than it is now during all but one of the past 17 quarters -- since 2016 began.
Figure 3
Aerospace OEM Warranties
Average Claims & Accrual Rates
(% of revenue, 2003-2020)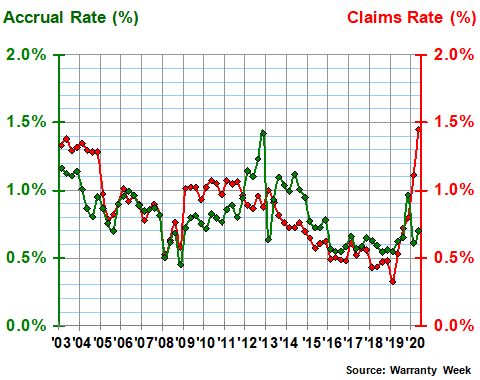 Boeing led the increases, with its claims rate soaring from 0.4% to 1.9% from June 2019 to June 2020. But its accrual actually declined a bit, from 0.5% to 0.4%. General Dynamics was second, with a claims rate rising from 1.1% to 1.8%, and an accrual rate rising from 1.5% to 2.0%.
On the supplier side, the increases were a bit smaller. Woodward's claims rate rose from 0.4% to 0.5%. Trimble's claims rose from 1.0% to 1.2%. And Garmin's rose from 1.4% to 1.6%.
And there were a few declines as well. L3Harris saw its claims rate fall from 0.5% to 0.3%. Crane's claims rate fell from 0.6% to 0.4%. And Raytheon's fell from 0.9% to 0.8%.
We should also mention that Moog's accrual rate fell from 0.9% to 0.4%. FLIR cut its accrual rate from 0.8% to 0.5%. And Raytheon cut its accrual rate from 1.1% to 0.8%.
These sound like modest declines and indeed, as can be seen in Figure 4, the supplier expense rates changed only modestly. In fact, with a claims and accrual rate of 0.7% as of June 2020, both metrics are actually now a bit below average.
Figure 4
Aerospace Supplier Warranties
Average Warranty Accrual Rates
(US$ accrued per unit, 2003-2020)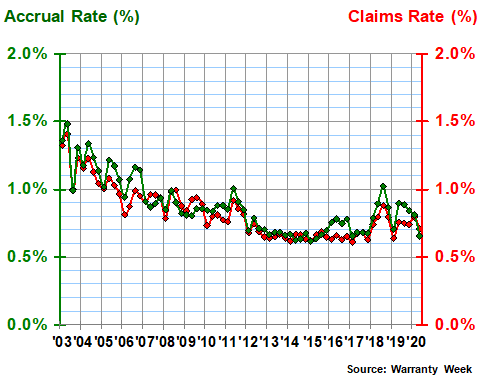 The chart does in fact look a bit like a ski jump, with expense rates for the suppliers declining from their all-time highs back in 2003 to their lows from 2013 to 2017. And in keeping with that ski jump metaphor, those expense rates turned a bit upward during the past 10 quarters, though they were once again on a down slope by June 2020.
Warranty Reserves
Our final aerospace industry warranty metric is the combined balances reported in their warranty reserve funds at the end of each of the past 70 quarters. As can be seen in Figure 5 below, the balances for all 63 companies briefly rose above $4.5 billion in mid-2014, and briefly rose past $4.0 billion in both the fourth quarter of 2019 and in the first quarter of 2020. But then they fell back again.
Warranty reserves for the six OEMs, however, nearly surpassed their all-time peak during the first quarter of 2020, rising to $2.32 billion. But that fell a bit short of their $2.35 billion peak in mid-2014.
For the 57 suppliers, their combined balances had fallen by June 2020 to $1.43 billion -- their lowest-ever reading. Once again the spin-off by Raytheon of Carrier is the main cause, with the HVAC company taking close to a half-billion dollars in reserves with it in March of this year, leaving Raytheon with just over $1 billion in reserves.
Figure 5
Aerospace Warranties
Reserves Held by U.S.-based Companies
(in US$ millions, 2003-2020)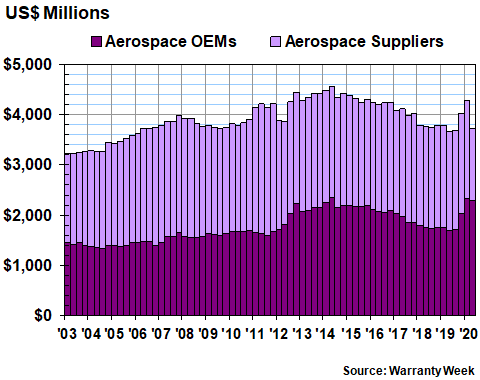 There were no other big dollar declines in reserve balances, though Crane's drop from $12.2 to $10 million was a notable decline at least on a relative basis (-18%).
All the other big-dollar changes were in an upward direction. For instance, Boeing's reserve balance rose by $484 million to $1.55 billion. General Dynamics' balance rose by $139 million to $621 million. And L3Harris saw its reserves grow from $108 million separately as of March 2019 to a combined $117 million by March 2020 and $120 million by June 2020.