November 19, 2020
Warranty Snapshots of Planes & the Building Trades:
Unlike the passenger car industry, there is no clear trail of pandemic-induced calamity in the warranty metrics of the building trades or the aerospace industry. It hasn't been a good year for many manufacturers, but it hasn't been the Worst Year Ever, as it has for many students and workers, not to mention all the families that lost their loved ones.
Last week, we took a look at brand new sales and warranty accruals in the car, truck, recreational vehicle, and heavy equipment industries, looking for signs of a drastic downturn in the lockdown-damaged second quarter, and perhaps the beginnings of a recovery in the recently ended third quarter. We found some, but in general, the further the industry is from consumers, the less damage we found.
This week, we're looking at five more industries, of which some, such as the new home builders, were utterly decimated in the Great Recession 12 years ago. But we can't find many that show a clear impact from the virus and the lockdowns it caused, even those that squarely face consumers. So it appears that even while the virus rages, they were still buying new homes, appliances, tools, and generators. They just weren't shopping for new cars.
Aviation Warranty Accruals
Let's start with the top aerospace companies: Boeing Company, General Dynamics Corp. (the parent of Gulfstream Aerospace Corp.), and Raytheon Technologies Corp. (the merged successor of Raytheon and United Technologies Corp.). In Figure 1, it's clear that these three set a new 21st Century low for warranty accruals in the second quarter of 2020, in which Boeing accrued only $11 million; Raytheon accrued only $16 million; and Gulfstream accrued only $29 million.
It's equally clear that General Dynamics accrued an enormous amount (actually, $174 million) in the fourth quarter of 2019, while United Technologies (it didn't become Raytheon until this April) regularly accrued more than $100 million per quarter before spinning off Carrier and Otis. So that makes the drop-off in 2020 all the more noticeable.
Figure 1
Aerospace Warranties
Accruals Made by Top U.S.-based Manufacturers
(in US$ millions, 2003-2020)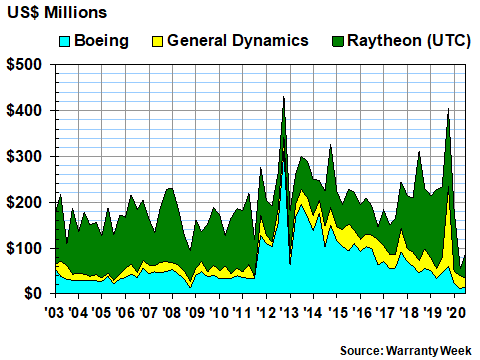 For the first nine months of 2020, Boeing's accruals are off by -61%, compared to the same period in 2019. But its commercial aircraft sales are down -54%, so the two metrics are declining more or less proportionally. And the good news is that the 737 MAX may soon be flying again (and selling again), after the U.S. Federal Aviation Administration clearing the plane to fly again (after repairs are made).
Boeing suffered its own accrual spike way back in late 2012, and its accruals have been declining ever since. General Dynamics said precisely nothing in its last annual report about the spike in accruals, which actually doubled in 2019, compared to 2018. But let's get back to the 2020 story here. For the first three quarters of 2020, its accruals are down -14% while its product sales are down -17%. So again, there's a proportionality to the metrics.
Apples to apples, Raytheon said its accruals fell from $325 million in the first nine months of 2019 to $206 million in the first nine months of 2020 -- a -37% decline. Product sales, again, after accounting for the spin-off of Carrier and Otis, actually grew by +23%, so a big accrual reduction was not an obvious move for the company this year.
Appliance & HVAC Accruals
In Figure 2, we're tracking the warranty accruals of three of the largest home appliance and heating, ventilation, and air conditioning companies in the U.S. We count three spikes and one trough for Whirlpool Corp., and one persistent spike (in 2008-09) for Trane Technologies plc (formerly Ingersoll-Rand plc). But for Carrier Global Corp., all we have is 2019 and 2020 warranty data, and there haven't been any spikes yet.

Figure 2
Appliance & HVAC Warranties
Accruals Made by Top U.S.-based Manufacturers
(in US$ millions, 2003-2020)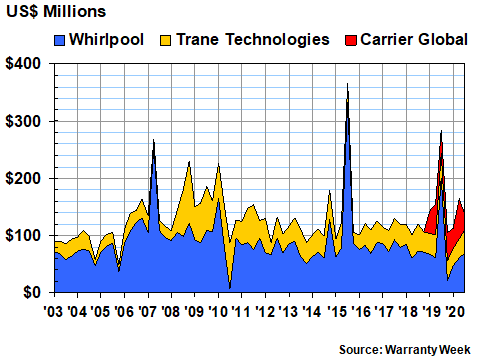 Whirlpool cut its warranty accruals nearly in half, from $329 million in the first three quarters of 2019 to $178 million in the same period in 2020. Product sales, however, are down only -7.3%, which for a pandemic is more like spectacular growth. For Trane, sales are down -26% while accruals are down -14%. And for Carrier, sales are down -9.3% while accruals are down only -1.5%. So there's a mixed picture in this sector of over- and under-reactions by the warranty managers to the sales declines.
New Home Warranty Accruals
We spent an entire column going over the warranty metrics of the new home builders in the October 15 newsletter, so we won't do it again here. But the startling conclusion of that column -- that sales are up -- seems to be carrying forward into the summer of 2020.
We're spotlighting three of the larger builders here: Lennar Corp., PulteGroup Inc., and Toll Brothers Inc. And for all three, accruals are up in 2020, while sales are up for two out of three of them.
However, the most noticeable feature of the chart below is how seasonal the accruals seem to be -- rising with the temperatures, and peaking in the fourth quarter of each year, before falling back again in the first quarter of the following year. It seems to have happened every year besides perhaps 2007 and 2008, which of course were the bottom of the last boom-bust cycle.
Figure 3
New Home Warranties
Accruals Made by Top U.S.-based Manufacturers
(in US$ millions, 2003-2020)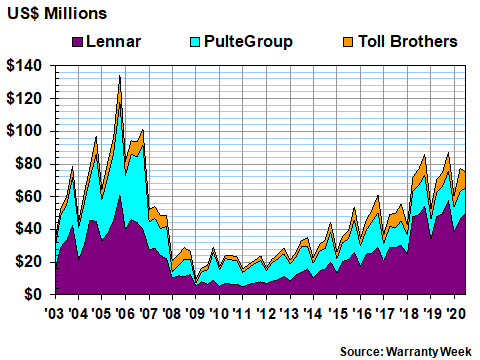 This year, Lennar has the distinction of earning the warranty marksman award for the first nine months of 2020. Accruals grew by $3.5 million to $134.9 million -- a +2.6% increase, while sales also grew by exactly +2.6%.
Pulte saw a +10% increase in accruals and a +7.1% increase in sales. Toll Brothers, meanwhile, raised its accruals by +27% even though its sales were down by -7.4%. And although we shouldn't extrapolate the data of three companies to represent a whole industry, we note that while accruals for these companies grew by +14% in the first quarter of 2020, they grew by +9.5% in the second quarter, and by only +0.1% in the third quarter.
We saw a similar trend in units sold, with new home sales rising by +12% and +5.0% in the first and second quarters of this year (we don't yet have complete results for this industry segment, because builders such as D.R. Horton Inc. and Beazer Homes have yet to file their annual reports). But perhaps the story of this year will be one of declining growth rates? Then again, anything with a positive sign in front is a welcome miracle during this really awful year.
Building Material Warranty Accruals
In Figure 4, we're looking at three of the largest suppliers of building materials: Stanley Black & Decker Inc., Pentair plc, and Masco Corp. You can easily spot the moment when the Stanley Works acquired Black & Decker (right at the end of the first quarter of 2010) from the spot where its warranty accruals suddenly quadrupled.
Pentair, meanwhile, has undergone multiple acquisitions, divestitures, and relocations over the years, most recently shedding its water valve and electrical equipment lines of business and landing in London. And Masco actually just recently got out of the cabinet-making business, though it remains the owner of top home improvement brands such as Hansgrohe, Delta Faucet, and Behr Paint.
Figure 4
Building Material Warranties
Accruals Made by Top U.S.-based Manufacturers
(in US$ millions, 2003-2020)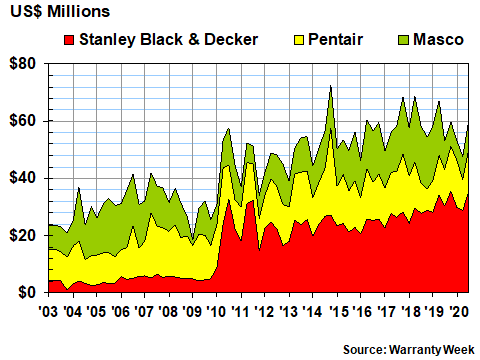 In terms of warranty accruals, because there are so many moving parts, it's difficult to separate the organic changes in accruals and sales from the acquisitions and divestitures. But according to our figures, accruals at Stanley Black & Decker are up marginally so far this year while sales are down -5.6%. Pentair's accruals are up +11% while sales are up +0.9%. And Masco has cut its accruals by -48% while sales fell -7.9%.
And there is most definitely a notch in the second quarter 2020 data, with the total accruals for these three coming in at the lowest level since early 2016. But then again, accruals rebounded in the third quarter to a level approximating the quarterly average for the last decade.
Power Equipment Warranty Accruals
Our last snapshot is of three companies that manufacture electrical power generating equipment. Generac Holdings Inc. makes portable generators and backup generators powered by gasoline, propane, or natural gas, while SunPower Corp. and First Solar Inc. manufacture residential rooftop and utility-grade solar-powered systems.
Late last year, SunPower spun off its solar panel manufacturing into a separate company called Maxeon Solar Technologies, which tremendously complicates a snapshot of its warranty metrics. Accruals fell -24% while sales fell -43% in the first three quarters of this year, and claims are down by -34%. How much of that went to Maxeon is so far unclear, because the new company is nominally based in Singapore and has yet to file an annual report containing any warranty metrics.
First Solar, meanwhile, is doing great. Sales rose +70% in the third quarter after rising +10% in the second quarter and remaining flat in the first quarter of 2020. But accruals are down by nearly a third for the year so far, from $12 million during the first nine months of 2019 to $7.9 million so far this year.
Figure 5
Power Generation Equipment Warranties
Accruals Made by Top U.S.-based Manufacturers
(in US$ millions, 2007-2020)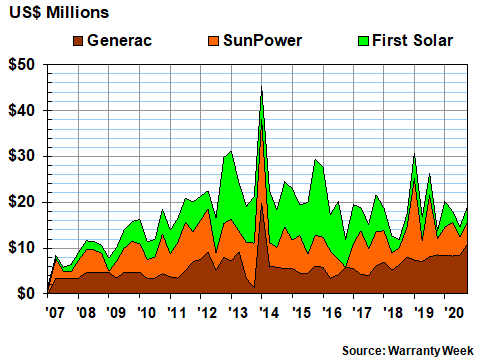 There's a notch in the accrual data in Figure 5, but it happened in 2018, not 2020. By the way, we left out the 2003-2006 warranty data because all three companies were just getting going at the time and were making only meager accruals. The other notable feature of the chart is the simultaneous spikes that hit Generac and SunPower in early 2014. But a recession? None to be found here.
In fact, of the five snapshots in this newsletter, we're not sure any of them show clear evidence of a coronavirus-induced recession. The only companies in these charts with automotive-like sales declines are Boeing and SunPower, and the former has product problems that pre-date the virus while the latter spun off its manufacturing.
Trane and Raytheon are also recent restructuring stories, so year-ago comparisons are deceptive. In contrast, First Solar and Generac are growing swiftly, while eight of the others have recently seen sales rise or fall by less than plus or minus 10%.
The only one with a dependable downturn story in both its warranty accruals and sales metrics, out of 15 candidates, is General Dynamics. And we say that only because the company said so in a press release. But in an ironic twist, business executives are increasingly traveling more in their existing private jets, to avoid the perceived dangers of commercial flights during the pandemic. They're just not buying new planes.
Luck of the Draw?
Perhaps we just picked a lot of relatively undamaged companies for this report? A few we wanted to include are still a few weeks away from filing their annual reports for fiscal years that ended on September 30 (not all are as swift as Apple Inc.), so we had to skip them. The 15 we included here, however, have filed their latest quarterly financial statements in just the past few weeks. And companies that disclose their warranty metrics only once a year, such as General Electric and Honeywell, are of no use to us when looking for evidence of a downturn in the second and third quarters.
Next week, we're taking a break for the U.S. holiday of Thanksgiving, which itself is increasingly being called a super-spreader event. But we'll be back on December 3, when we'll do one more round of snapshots for half a dozen sections of the computer and electronics industries. So far, however, it seems that the passenger car industry is the one most damaged by the pandemic, with recreational vehicles and trucks not far behind.