February 11, 2021
Extend Partners with PCMI:
The way they've implemented their administration system allows online merchants to add protection plan programs to their websites in a matter of days. Hundreds of retailers have already done so, including Peloton, Advance Auto Parts, Logitech, and iRobot, plus some that are no bigger than a mom-and-pop storefront on the Shopify platform.
There are two big problems for warranty administrators: On the front end, it is difficult to cost-justify the amount of coding work it takes to set up small merchant accounts, and on the back end, it is difficult to change or add insurance underwriters.
PCMI, a longtime sponsor of this newsletter, aims to fix both those problems. Its Policy Claim and Reporting Solutions (PCRS) software, which has been used to administer more than 50 million extended warranties and service contracts, and to process more than 23 million claims, allows administrators to work with hundreds of small merchants and add multiple insurance underwriters.
Extend Inc., an extended warranty administrator based in San Francisco, is using PCMI's PCRS platform as a way to connect with the online shopping sites of hundreds of small to medium-sized merchants, enabling them to sell extended warranties with very little set-up time. And for larger sites, it can leverage the data reporting capabilities of PCRS to quickly integrate with existing insurance underwriters.
On its website, Extend lists some of its clients' recent achievements. An online headphone retailer called 1More USA Inc. reached a 14.6% attach rate only three months after partnering with Extend. Wine fridge and cigar humidor retailer NewAir.com achieved an 11% attach rate after adding Extend protection plans to its website in only five days. Portable blender sales site BlendJet.com sold over $50,000 worth of extended warranties in its first two months of working with Extend.
Platform-as-a-Service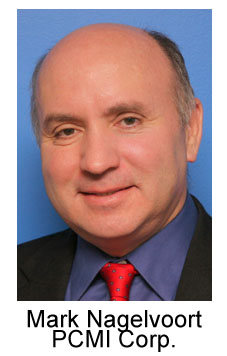 Mark Nagelvoort, president & CEO of PCMI, said one of the major reasons Extend has been able to link up so quickly with small to medium-sized merchants is the architecture of the PCRS administration system. Rather than software that a client installs on their own servers in their own data center, PCRS is available as both a Software-as-a-Service (SaaS) and a Platform-as-a-Service (PaaS), he said. In both cases, PCMI runs the servers, data storage, network, and infrastructure. But PaaS allows customers to extend the application and seamlessly interface to other systems.
"PaaS is extremely powerful because it allows our customers to build their own interfaces on top of our core system," Nagelvoort said. "Extend took our base PCRS software and built a whole unique layer on top of it so they could differentiate themselves from their competitors." Other platform architectures might not have made that so easy.
"They were able to focus on customizing this layer to fit their customers' needs all while we focus on running the infrastructure of PCRS," he added. "If we did not expand our software to include this functionality, we could not offer our customers this flexibility that allows them endless opportunities to scale, especially since there is no upfront capitol. It also supports multi-country and multi-language," he said.
Woodrow Levin, the co-founder and CEO of Extend, said another advantage of the architecture is the way the back end of PCRS can just as easily integrate with multiple insurance underwriters.
"We're newish to this space, and we've been appointed as an administrator by Fortegra, AIG, and DAK, and others. One of the reasons that they support us is because we have PCMI on the back end, because they're so well-known and so trusted," he said.
"We have PCMI as our system of record on the back end, and then it being fungible where we can plug into it and utilize it as we see fit, and create this digitally native modern customer experience for customers to interact with our offers, but then sucking in all that data and putting it in a trusted partner, which is PCMI," he said.
Growth Mode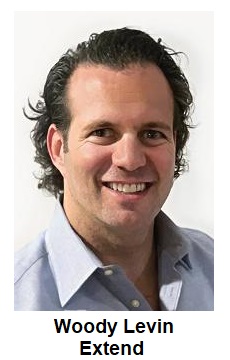 Levin said Extend now employs 110 people, half of whom are engineers. Its website currently has a long list of additional openings. PCMI more than doubled its headcount in 2020 to 140 people, and continues to hire new employees at all three of its offices, in Park Ridge, Illinois; Krakow, Poland; and Chiang Mai, Thailand. So both companies are definitely now in growth mode.
Last month, PCMI announced its first equity investments, led by a Boston-based growth equity firm named Equality Asset Management LP, and also including a Chicago-based firm called First Analysis Corp., which also acted as the exclusive financial advisor to PCMI. Winston & Strawn LLP was the legal advisor to PCMI, and Goodwin Procter LLP was the legal advisor to Equality Asset Management.
In 2019, Extend announced that it raised $16.4 million in Series A financing led by GreatPoint Ventures. Venture firms Pritzker Group Venture Capital, Lightbank, and Shah Capital Partners also participated in the round, along with private investors Rick Smith (ex-CEO of Equifax), Michael Marks (ex-CEO of Flextronics and CEO of Katerra), Jason Robins (CEO of DraftKings), and Erik Torenberg (Village Global).
At that time, Extend also acquired select warranty administration assets from Affinity Insurance Services, an affiliate of Aon Warranty Solutions. It also hired former Aon Warranty Solutions senior vice president Pedro Rodriguez, who joined Extend as its senior vice president of insurance and strategy.
In 2020, Extend announced it raised an additional $40 million in a Series B round of financing, led by Meritech Capital, with participation from PayPal Ventures as well as from existing investors Great Point Ventures and Shah Capital Partners.
Extend also appointed Jason Robins of DraftKings to its board of directors, where he joins Andrew Pearlman, founding managing partner at GreatPoint Ventures, Alex Clayton, general partner at Meritech Capital, and Joe Moss, another co-founder of Extend as well as its chief product officer.
Brand Name Customers
Some of Extend's clients are little more than a mom-and-pop Shopify online storefront run out of a garage in the suburbs. But others are well-known and established retail brand names that just so happen to be recent arrivals to the extended warranty market.
"We work with 175-plus merchants, including Peloton, Advance Auto Parts, Logitech, Harman Kardon, Crown & Caliber, iRobot, and others. So we've seen really great adoption for this easy-to-integrate solution," Levin said.
To give the system a try-out, we went shopping on the Crown & Caliber website for a high-end Patek Philippe Calatrava Pilot Travel Time ref 5524G watch in white gold, selling for a cool $41,375. And before we could even pay, the website offered us our choice of a three-year protection plan for $2,999, a two-year plan for $2,199, or a one-year plan for $1,599.
Figure 1
Patek Philippe Extended Warranty Offer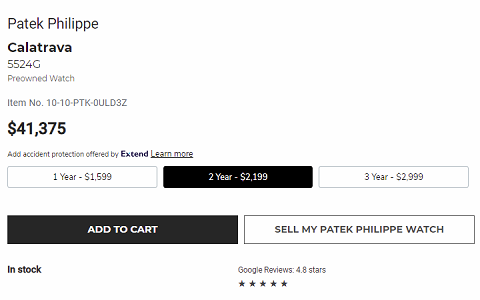 Each service contract includes accidental damage in handling protection as well as the standard mechanical and electrical damage coverage and defect protection. For each plan, the administrator is Extend, and the underwriter is Lyndon Southern Insurance Company, a unit of Fortegra Financial Corp. And all of those details are relatively easy to find, before a shopper hits the buy button.
Late last year, Extend partnered with Guardsman, which is now a unit of the Amynta Group. Extend can now administer furniture and mattress protection plans sold by its online merchants, while relying on Guardsman to service the claims. It could also lead to some deals with major retailers who now sell furniture but haven't sold protection plans, Levin said.
"We are moving upstream very quickly," he explained. "And we are going to go after the big box deals, and we can run those through PCRS, because their system scales. And we can go to those merchants and tell them we can drive them more revenue, because we use machine learning to optimize our offers and bring up those attach rates, with a better customer experience. And merchants today are trying to determine how do they differentiate themselves from Amazon and Walmart. It's with choice. And Extend empowers them to give their customers choice."
New Payment Services
"At Extend, we're an API for a solution that allows any merchant to offer extended warranties and protection plans. So, much like what Affirm, Afterpay, and Klarna did for the buy now, pay later space -- an easy to integrate solution -- we're doing that today for any merchant that wants to offer extended warranties."
Afterpay US Inc., for instance, works with retailers such as Steve Madden, Mac Cosmetics, Forever 21, Skechers, and Dick's Sporting Goods, integrating its payment service into their shopping websites. That way, when a customer is finished shopping and is ready to pay, they can choose among the options: credit, debit, PayPal, or Afterpay. If they choose the latter, they're redirected to the Afterpay website where they can get approved for four interest-free installment payments, due every two weeks.
Klarna Inc., a Swedish company, is a payment service that works with Macy's, H&M, Sephora, Timberland, and others, using much the same formula. The merchants get paid in full immediately, and the payment service works with WebBank on the consumer financing. To publicize the service, Klarna contracted with actress Maya Rudolph to produce a TV ad featuring four quarter-sized cowboys, which aired last weekend during the Super Bowl -- in the fourth quarter, of course.
Extend, in a similar fashion, integrates into a merchant's website so they can offer extended warranties to the customer as they're going through the checkout process. Levin explained some of the synergies in a blog post last summer. Extend's protection plans are a great complement to point-of-sale consumer financing tools, he concluded. The addition of either to an online sales website seems to increase product sales and to decrease the abandonment of shopping carts before checkout. In fact, his company works with some of the same merchants as the payment services do.
Affirm works with iRobot and Peloton. Klarna works with Harman Kardon. Some of the other clients work with Google Pay or PayPal Credit, which offer their own extended payment terms. And then they each also offer Extend protection plans to the buyer at checkout. And PayPal Ventures is of course an Extend investor.
"We have a rock-solid back-end system in PCRS. We are providing a modern, digitally-native experience around extended warranties that has never been seen before. We are literally driving an AppleCare-like experience for all merchants in all regions," Levin said.
"We strive to deliver the best customer experience from start to finish," he added. "It's transparent and easy to understand, with visually-appealing offers with text that's dynamic based upon the type of plan it is (i.e. furniture, consumer electronics, sports and fitness, or auto parts)."
Levin said that electronic commerce has soared in popularity, because customers are avoiding in-person shopping whenever possible. "We've seen 15 years of growth happen in the last year because of the pandemic," he said. "So retailers have been working to figure out how do they provide the best experience for their customers."
An obvious enhancement was for merchants to add same-day shipping. Another was to include more financing options. And, Levin noted, the way that payment services such as Affirm and Klarna have managed to insert themselves into the checkout process in a way that actually increased the conversion rate.
"Giving customers choice -- giving them greater peace of mind, upped the overall purchasing rate," he said. "And we're seeing the same thing here with extended warranty. Adding an extended warranty digitally to the checkout flow, we're seeing double-digit-percentage purchase conversion increases for some of our merchants."
Extend is doing this by adding a "Learn More" button on the merchant's webpage, which leads to a small pop-up box that details some of the features of the protection plan. If that's not sufficient, there's an additional "See Plan Details" button that leads back to pages on Extend's own website, including the full terms and conditions.
A Different Approach
In this way, Nagelvoort noted, the merchant needs to add little code to their own pages, while Extend can provide increasing layers of detail through the pop-up box, webpages, and eventually the full legalese of the PDF file. But the customer never has to leave the merchant's page to get there. That page remains open, awaiting the customer's return.
"This is a whole different approach," Nagelvoort said. Integrations with merchant websites used to take months, if not a year, as various programmers had to write and test the code. And the cost of such detailed integrations made them difficult to justify if the expected volume of protection plan revenue was not high enough.
"The time to market here for merchants is tremendous," Levin added. "We can be live, selling warranties, in under 24 hours. Because we're already integrated with PCRS, we can just capture that information and push it back there programmatically. There's no additional work to be done to plug into their platform. And that lack of cost in order to integrate is a benefit."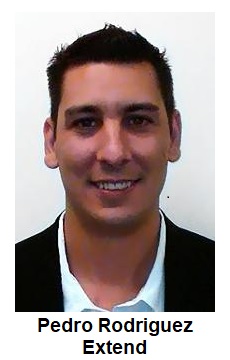 Pedro Rodriguez, Extend's senior VP of insurance and strategy, said this fast and low-cost integration capability is opening the sale of protection plans to a much wider array of online retailers. "Prior to Extend, the industry would turn away deals if they didn't yield a certain annual volume in premium," he said.
At one of his previous employers, an insurance underwriter, they wouldn't even consider signing a merchant unless the relationship promised at least $10 million a year in premiums. But with a low cost of entry and a short time to market, it becomes possible to aggregate dozens of merchants and get to that kind of run rate anyhow, he said.
"We could sign a deal today, and we could have them live in a matter of days selling protection plans online," Rodriguez said. In fact, he noted that one Extend client currently runs a Shopify store out of his garage, selling about $15,000 worth of extended warranties a year.
Rodriguez noted that PCRS also takes the question of how are we going to manage yet another insurance company off the table. "We don't have to worry about replicating or integrating with another insurance company," he said. "It's pretty much there already. As soon as we understand the data layout and how they want the data, we just pull it from the system and send it to them. The system is flexible enough that I can set up plans that are associated with a specific obligor. And I can run those plans in the PCRS system that are different from other plans that are tied to another insurance company. The system gives us the ability to plug in as many [obligors] as we want, or to move business accordingly. So it removes that headache, and allows us to move fast."
Essentially, Extend is removing the barriers to entry that make the insurance companies not want to do the deal, and it's also eliminating the barriers to entry from the point of view of the investments and the technology that these merchants would have to build, Rodriguez said. "Literally, I've never seen anything like this in my 23 years in the extended warranty industry."
It also allows Extend to provide protection plans for a wide variety of products, Rodriguez added. "No matter if you're selling a GPS, a laptop, or a piece of furniture, we want to be capable of enabling hundreds of merchants across many different product verticals."
The key to this new approach, he said, is the way that PCRS is structured to be a Platform-as-a-Service, which frees up Extend to focus on these small merchants. "Having the partnership with PCMI, and using the PCRS system, allows us to go focus on these other things, and to go tackle and solve these bigger issues that have existed within the industry," he said. "It allows us to go focus on those, and then, to put all our data into PCRS as the system of record, and then report back to the insurance companies."
Rodriguez added that PCRS also allows Extend to add or change insurance companies at the back end as needed. "It's a plug and play for us," he said. "Now we do have to send them data, and they may have their own requirements, but getting data out of the system is the same whether I'm sending it to AIG, DAK, or Guardsman."
Chatbot Claims Submission
But where Extend really begins to differentiate itself is when a customer needs to file a claim. Customers who click the File a Claim button on the Extend website are greeted by Kaley, a "virtual claims specialist." The chatbot system first asks the customer for their email address or an Extend contract ID, and if the customer offers an email address, Kaley sends them a temporary 6-digit code to verify their identity.
"Kaley is an automated chatbot that you can text from your phone, 24x7x365, and file a claim. And she takes you in an automated fashion through all the adjudication questions," Levin said. "Kaley ingests that information, and then pushes it through APIs over to Mark and his team at PCMI."
Figure 2
Extend's Kaley Chatbot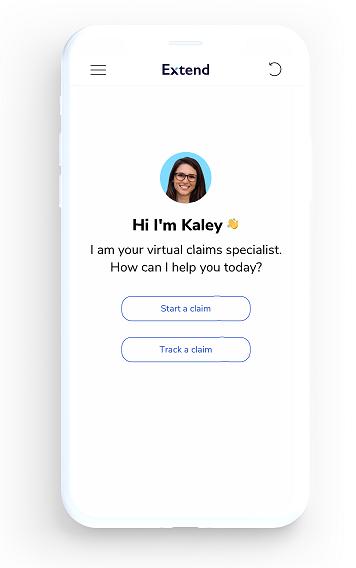 Levin noted that Kaley now handles about 98% of all of Extend's claims. But a handful of customers still insist on doing it over the phone. And the PCRS platform is flexible enough to be able to handle inputs through a variety of methods.
"It hasn't been difficult. And they've been able to ingest information from our system in a multitude of ways. They can do it through APIs. They can do it through flat file transfers. We can even do manual updates if need be," he said.
European Expansion Plans
Right now, Kaley speaks English only, but Levin said Extend has plans to expand later this year into Canada, the United Kingdom, and the European Union. "We're building something called real-time localization into the system, so she will soon be able to translate all of our conversations, text streams, and customer emails. So we'll be operating in 12-plus languages by the end of this year," he said.
The multilingual nature of the PCRS system will help smooth that expansion, Levin said. But he also noted that another advantage of working with PCMI is its recent launch of a new European data center, which will allow Extend to keep its European customer data within the EU borders at all times. Since 2018, the EU has enforced the General Data Protection Regulation (Regulation (EU) 2016/679) of the European Parliament and of the European Union Council, which regulates how data can be collected, what disclosures must be made, and how long the data can be kept on file.
Most importantly, the GDPR prohibits the transfer of data outside the EU unless appropriate safeguards are followed, and it mandates the prompt disclosure of all data security breaches. Violators can be fined up to four percent of their annual revenue. And the EU has quite aggressively imposed these GDPR fines on U.S.-based companies in recent years.
In 2019, Google LLC was fined 50 million euro (US$60.26 million) for GDPR violations, including not obtaining the consent of its European users when their data was collected to help with advertisement personalizations, and not providing those customers with an easy means to curtail or stop that data collection from occurring.
Last year, hotel chain Marriott International Inc. was fined 20.45 million euro (US$25.29 million) for a data breach that happened to Starwood Hotels and Resorts Worldwide years before it was acquired by Marriott. From 2014 to 2018, some 339 million guest records worldwide were accessed by unknown hackers, although the new owners of Starwood were fined for just the data breaches that occurred during the five months after the GDPR went into effect in May 2018.
At the federal level, the U.S. doesn't have an equivalent to the GDPR, although California does and so does Canada. Any American company that plans to expand into Canada or Europe will need to comply with these laws, or risk the possibility of attracting one of these headline-grabbing fines. So by keeping their European customer data in Europe, PCMI, and therefore Extend, are avoiding some major headaches that would otherwise have driven up the cost of doing business.