March 4, 2021
RV Warranty Update:
Severely damaged during the Great Recession, the RV industry actually grew last year, and the survivors of that downturn a decade ago have also learned how to keep their warranty expenses under control, despite the health emergency. Winnebago, in fact, raised its warranty accruals in 2020 by exactly the same proportion as sales.
This isn't their first rodeo. Recreational vehicle manufacturers went through an existential crisis a decade ago when the Great Recession nearly knocked them all out of business. Sales plunged. Warranty expense rates soared. And survival of the fittest became a motto for the industry.
During the pandemic, however, RV sales actually soared, as a private home on wheels became a desirable asset in an era when neither hotels nor airlines were considered safe. Warranty expense rates rose for some, but never soared above the danger zone like they did in 2008.
While we wait for the last handful of stragglers to file their 2020 annual reports with the U.S. Securities and Exchange Commission, we thought it a good time to look back on how it looked a decade ago, when vehicle sales fell, home sales fell, and vehicle-home sales absolutely fell through the floor. Some of the survivors saw sales fall by as much as 40% or 50% back in 2008 and 2009, and it got so bad that some RV dealers were giving away vehicle sales contracts just to move the orphaned inventory off their lots.
For the periods 2006 to 2010, and again for 2016 to 2020, we extracted three metrics from the annual reports of all the RV makers: the amount of claims they paid, the amount of accruals they made, and the amount of product sales revenue they reported. Using the latter metric as our divisor, we were able to calculate two additional metrics: claims as a percent of sales (the claims rate), and accruals as a percent of sales (the accrual rate).
In Figure 1, we've named five of the largest RV makers during the years before the Great Recession. Navistar International Corp. is there because it used to own Holiday Rambler before selling it to Allied Specialty Vehicles. Navistar also used to own Workhorse Custom Chassis, before selling it in 2012 after heavy losses. Navistar continues to do well in the truck and bus industry, but is no longer making motor home chassis. Meanwhile, Workhorse is transitioning into an electric bus and van manufacturer, and is an investor in the Lordstown Motors Corp., which is making electric cars.
A longer list of the dearly departed would have to include the All American Group Inc.; Featherlite Inc.; Fleetwood Enterprises Inc.; Kingsley Coach Inc.; Monaco Coach Corp.; National R.V. Holdings Inc.; and Rexhall Industries Inc. And that doesn't include all the smaller custom trailer and motor home manufacturers that saw their sales evaporate in 2008.
Winnebago Industries Inc. and Thor Industries Inc. continue into the present day as major RV manufacturers. But most of their competitors from a decade ago have gone out of business. And they've acquired some, as has Rev Group Inc., the newest major RV manufacturer, which acquired Monaco, Fleetwood, and other RV and specialty truck brands.
Claims Paid a Decade Ago
In 2006, the RV manufacturers included in Figure 1 paid $593 million in warranty claims. By 2010, their claims cost was down to only $374 million, because so few of them were left to pay any claims on the meager amount of models they sold in the years before. But then, as the chart suggests, a bit of an upturn began at the end of 2010.
Figure 1
American RV Manufacturers
Claims Paid per Quarter
(in millions of dollars, 2006-2010)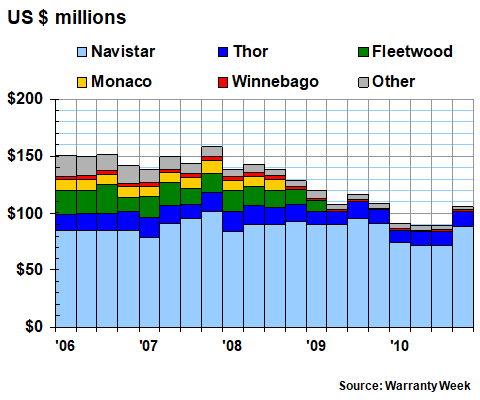 Monaco stopped paying claims in the third quarter of 2008. Fleetwood stopped in the first quarter of 2009. Those of you in the automotive industry will also recall that it was in early 2009 that both General Motors and Chrysler went bankrupt, with the U.S. and Canadian governments stepping in to guarantee their warranty payments. They did no such favor for the RV manufacturers.
In Figure 2, we can see that by the end, both Monaco and Fleetwood were paying the equivalent of six percent of their revenue in warranty claims. Then they stopped paying claims altogether, and dealers left with unsold inventory had to either sell it as-is at a discount or find another way to guarantee the merchandise. Some bought RV extended warranties and gave them away with every purchase. So did some customers, who found out the hard way that product warranties go down with the ship, while extended warranties backed by insurance do not.
Figure 2
American RV Manufacturers
Warranty Claims Rates
(as a percentage of sales, 2006-2010)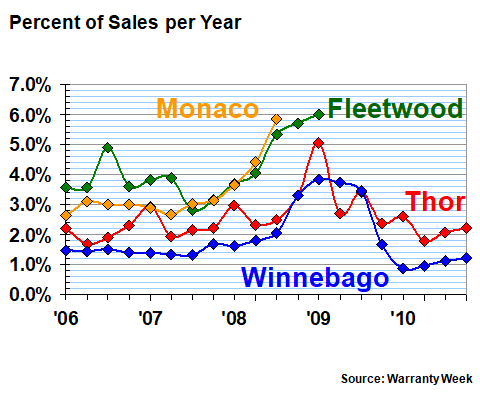 Note that there's a hump in the data at the height of the recession, even for the survivors. Thor's claims rate hit 5.0% and Winnebago's rose above 3.8% in the first quarter of 2009, as the stock market hit bottom and a new president took over the White House. And by 2010, they were more or less getting back to normal.
Accruals Made a Decade Ago
Claims, of course, are the amounts the manufacturers pay to dealers and customers to repair or replace defective merchandise. Accruals are the amounts they set aside as vehicles are sold, to finance those future payments. Therefore, if a manufacturer has an accurate picture of their warranty costs, accruals should remain more or less proportional to sales. Sales rise, more accruals. No sale, no accruals.
In Figure 3, it's pretty clear that sales were declining for years before we even knew there was a recession. Industry accruals topped out at $626 million in 2006, and fell to $271 million by 2009. But then they rose to $343 million in 2010, as the recovery got under way.
Figure 3
American RV Manufacturers
Accruals Made per Quarter
(in millions of dollars, 2006-2010)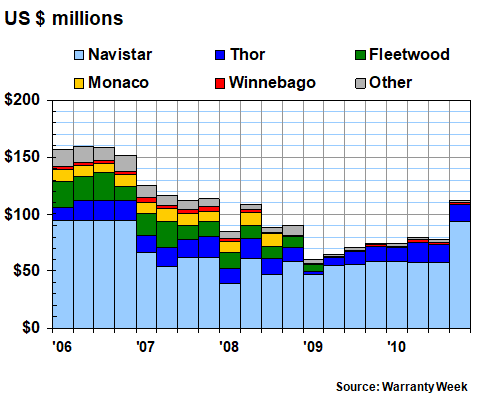 In Figure 4, what's clear is that the long-term survivors kept their accrual rates at rational levels -- especially Winnebago, whose long-term average accrual rate over 18 years is 1.6%. Thor for some reason cut accruals in early 2009, but it too soon returned to form, remaining close to its long-term average accrual rate of 2.5%.
Figure 4
American RV Manufacturers
Warranty Accrual Rates
(as a percentage of sales, 2006-2010)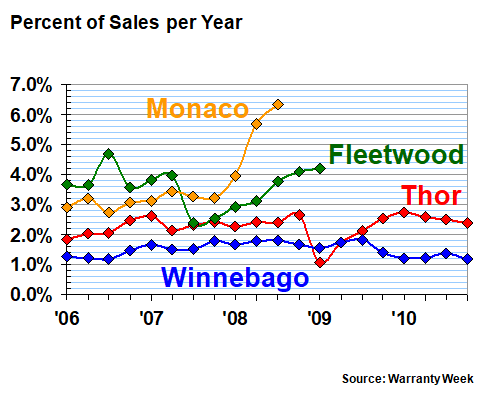 Monaco and Fleetwood? They both went bankrupt, reorganized, and ended up as part of the Rev Group. But note that even before they went bankrupt, their accrual rates were higher than average. And also note that towards the end, their accrual rates were rising not because the amount of warranty work was larger than expected, but because they had not properly financed the predicted warranty work at the time of sale. In other words, the bills came due but the coffers were empty.
Warranty Claims Today
Now let's switch to the present day, or at least to the years 2016 to 2020. In this round we've left out the "other" category because frankly three out of the four smaller players have yet to file their 2020 annual reports, as is their right (smaller companies get up to an extra month to meet the SEC's deadline). But we still have Thor and Winnebago, as well as the acquisition collection now known as Rev Group.
Figure 5
American RV Manufacturers
Claims Paid per Quarter
(in millions of dollars, 2016-2020)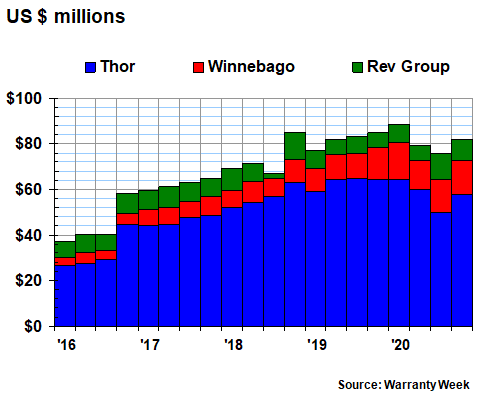 Note the downturn in 2020, but also note the upward slope of the quarterly claims totals from 2016 to 2019. For this industry, or at least for these three companies, the bottom of the pandemic cycle occurred in the summer of 2020. But it wasn't very deep -- the previous low was in the summer of 2018.
On an annual basis, there was hardly any downturn at all. These three RV manufacturers paid $326 million in claims in 2020 -- exactly $2 million less than they did in 2019. And both those annual figures were way up from the $176 million tallied in 2016 and the $248 million reported in 2017.
RV Claims Rates
In Figure 6, we see once again that Thor's claims costs spiked not long before we knew we were in a recession. In fact, perhaps we should make this into a leading economic indicator? Whenever Thor's claims rate rises above four percent, everyone should sell and go to cash.
Figure 6
American RV Manufacturers
Warranty Claims Rates
(as a percentage of sales, 2016-2020)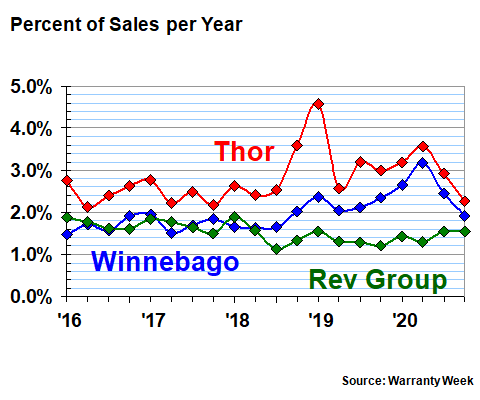 But seriously, we also see in Figure 6 the same hump in the data for the second quarter of 2020, when the lockdowns prevented some customers from seeking warranty work, and prevented many customers from doing any shopping for new RVs. Then again, Rev Group's claims rate barely moved.
In Figure 7, we're looking at the total amount of accruals reported by these three manufacturers. The data is a bit more jagged, so it's hard to compare one year to the next. But the accrual total last year was actually up by about $200,000, from $295.6 million in 2019 to $295.8 million in 2020. However, accruals peaked in 2018 at $338 million.
Figure 7
American RV Manufacturers
Accruals Made per Quarter
(in millions of dollars, 2016-2020)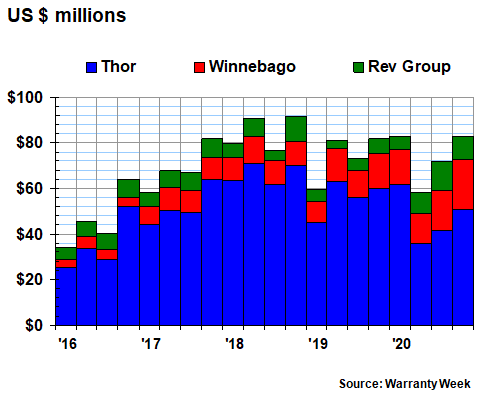 Finally, in Figure 8, we see five years of accrual rate calculations for Thor, Winnebago, and Rev Group. And this time, Thor's accrual rate also heralds the beginning of a recession -- another new leading economic indicator?
Last year, Thor reported a sales increase of +18%. Its warranty accruals, however, were down by -16%. Winnebago's product sales were up +35%, and so were its accruals -- a perfect match! Rev Group, however, reported a -5.2% sales decline and an +83% increase in its warranty accruals. It is therefore highly likely to join Thor and Winnebago in the list of the top 100 warranty providers for 2020.
Figure 8
American RV Manufacturers
Warranty Accrual Rates
(as a percentage of sales, 2016-2020)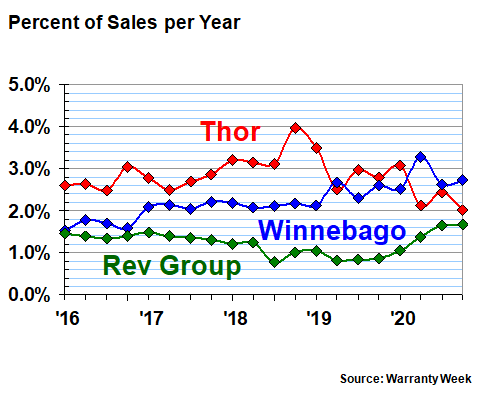 Maybe we should stop making jokes about coronavirus, given all the death and suffering it has caused? Actually, if you Google Warranty Week's physical location, you'll notice that it's about a mile south of a place called Corona, New York, which was the world's epicenter of the virus for a while last April. Back then it was no joke either, with a mere trip to the shops calling for respirators, surgical gloves, and face shields.
Not Everything Is Awful
So after eight charts and several pages of explanation, perhaps this is the roundabout way to get to the theme of this week's newsletter: Back in the recession of 2008-09, the new car and new home industries virtually collapsed, taking the new RV industry with them, while this time around, nobody could go shopping, and air and rail travel was considered dangerous. So people bought themselves what was essentially a private home with a steering wheel and set out to count the headlights on the New Jersey Turnpike and all go look for America. Sounds like a song.
We know a couple from Connecticut, in fact, who planned to retire in a few years, buy an RV, and drive around the interstates for the fun of it. But then both were laid off in March 2020, and when the thought of taking a middle seat on a commercial flight became unbearable, they rented an RV for their summer vacation last year. Several national parks later, they're in the market for a permanent temporary new home on wheels.
So perhaps this is an example of how not everything was awful last year, and how some industries hit hard last time were less unfortunate this time. Last week we saw how things were mildly bad in the trucking industry and two weeks ago we saw how the passenger car industry was zapped badly during both recessions. But next week, we will take a look at warranty expenses for site-built homes, hoping for some more not-bad news.