June 3, 2021
Enduring Changes in the Post-Pandemic Warranty Industry:
Key observations from an AmTrust roundtable discussion with service contract industry leaders Aleem Lakhani, Michael Frosch, Kenneth Mac, and Sreevathsa Prabhakar.
By Aleem Lakhani, AmTrust Specialty Risk
Financial headlines about the first quarter of 2021 are in remarkable contrast to a year earlier, when the COVID-19 pandemic was in its first three months (Q2/2020) and devastated the economy. Back then, GDP was down at an annualized rate of 32.9%, consumer spending was down 10.5%, and spending on services was down 13.3%. Almost all categories decreased, except a few shining areas related to personal computing, home improvement, outdoor and fitness products, given the shift to work from home and physical mobility constraints (Forbes, August 2, 2020).
However, GDP grew 1.6% in the first quarter of 2021 and is expected to expand to 3.1% in the second quarter. Consumer spending is expected to grow by nine percent this year, and many product categories are already witnessing record-breaking growth rates (New York Times, April 29, 2021).
Figure 1
U.S. Economic Trends, Then & Now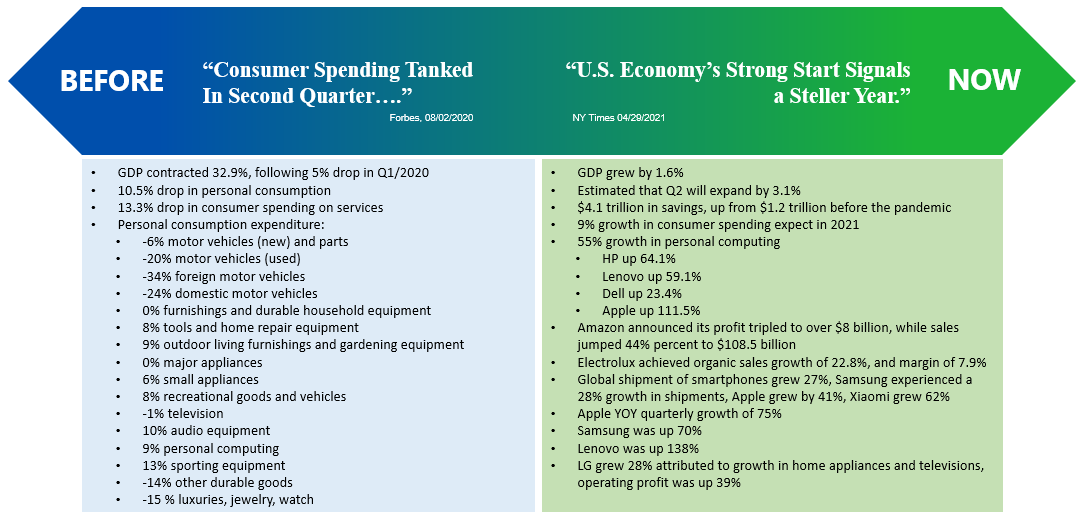 So what does this mean for the warranty industry as we come out of the pandemic in the U.S.? AmTrust Specialty Risk recently hosted a roundtable discussion with three leaders in our industry, including Michael Frosch (president & founder of Personal Safeguards Group), Kenneth Mac (vice president, GM Financial), and Sreevathsa Prabhakar (CEO & founder of Servify). Topics included what the enduring changes are that the pandemic produced and what changes to expect for our industry moving forward.
First, understanding the risk from supply chain disruption to your business is critical, and business continuity plans must include planning for such circumstances. "If you weren't ready before the pandemic, you certainly couldn't develop capabilities, like a service network, afterward," commented Frosch.
Online Shopping Growth
Second, the migration online was clearly witnessed in all spheres. Undoubtedly, retailers rapidly moved to embrace ecommerce technologies out of necessity but have since gained a greater appreciation of its importance overall as part of an omnichannel approach to serving their customers and attracting new customers.
Warranty providers have also learned the importance of customer experience. People and technology have been instrumental in this change. While technology has enabled greater capabilities to deliver a better customer experience, people in sales channels have recognized the importance of all customers; past, present and new.
Prabhakar spoke about how during the lockdowns, retailers focused on customer engagement with previous customers. "It's not just about new customers any longer," he stated. The data supports his assertion, as brand loyalty was impacted as customers tried other brands and are more exploratory now than previously. Customer experience is integral to customer retention. Accordingly, warranty providers must focus on a customer-first approach above all else.
Figure 2
Recent Changes in the Service Contract Industry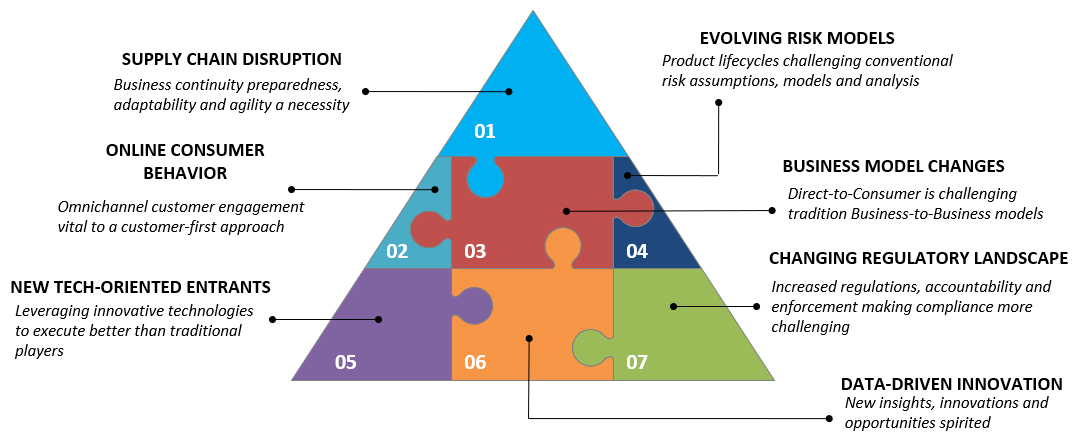 Third, cost structures have changed. Savings from the migration online have yielded impressive profits for firms that can harness the power of the digital medium. Amazon reported the tripling of profits in Q1/2021 to over $8 billion as sales increased 44% to $108.5 billion (New York Times, April 29, 2021).
But it's not just about savings and profits; it's also about changes in the sales channel, specifically the Direct-to-Consumer (D2C) model of doing business. Kenneth Mac spoke to both legislative and attitudinal barriers to automotive OEM D2C sales and customer relationships. However, changes are inevitable, dealerships are coming around and collaborative solutions are being developed as evidenced in the sale of electrical vehicles.
Electric Cars and Longer Warranties
Four, Mac also spoke to the next major transformation that will significantly impact the provisioning of extended warranties for automotive. Electric vehicle manufacturers offer eight years/100,000 mile warranties on the battery; some even more. Internal Combustion Engines (ICE) typically had a five-year/60,000 mile warranty, and hence extended warranties were more meaningful to customers.
What will happen with the scope of, and demand for, vehicle service contracts resulting from this base coverage, and how will underwriting models change accordingly? Prabhakar shares the same viewpoint. He spoke about improving quality of consumer products and innovative diagnostic technologies that impact the underwriting considerations, opportunities to open sales in the aftermarket and transform the customer experience. The net takeaway is that risk models are changing for which underwriting assumptions, practices and rating must change simultaneously.
Five, technology is spiriting new entrants that are not like traditional players, said Frosch, who noted that many are part of financially well-endowed technology companies. These tech companies are leveraging innovative technology to execute well in sales and administration. However, they're also delivering coverage at lower price points.
This will impose more pressure on insurers to modify their approaches, resources, and methodologies to produce lower premium costs and challenge traditional administrators that are less tech-savvy in how they operate end-to-end. The landscape is changing. Insuretechs are quickly entering the extended warranty world and changing how we should think about how we can be competitive in this new era.
Six, data is imperative to drive business and innovation. Sreevathsa Prabhakar spoke about the importance of data and innovative technologies, such as artificial intelligence, which enables significant changes in customer experience, operational practices and transaction opportunities. Data brings new insights and fosters new opportunities. It opens a better understanding of relationships to improve operational capabilities and execution, and data informs our understanding of customer expectations to provide services that customers want.
Shifting Regulatory Landscape
Seven, and the final point, is that the regulatory landscape is shifting as well. "Authorities are increasingly imposing constraints in sales, rating, marketing and reinsurance practices," Frosch said. Increased compliance requirements and regulatory scrutiny will make it more difficult to do business the same way. Some authorities are also imposing limits on commissions and margins.
Consequently, while technology is spiriting innovation and change in the industry, regulators are clamping down. There's a longstanding discourse about whether legislative demands stifle innovation. Certainly, the constraints will impact sales, costs and profitability; however, its quantification is a subject for researchers to consider.
The confluence of these seven factors will profoundly impact the extended warranty business. It paints a picture in which technology will drive the creation of big data that will consequently change traditional business processes to yield greater efficacy in rating, sales, operations and customer experiences. Concurrently, the industry must operate more transparently and accountably in conformance with increased governmental intervention in regulating the affairs of the warranty world.