August 12, 2021
Top Asian Automaker Warranty Expenses:
While the top carmaker in India seems to be getting its warranty expenses under control, recall-driven warranty costs have spiraled out of control for the top two Korean carmakers. Hyundai's accrual rate more than doubled to nearly 6.5% last year, while Kia approached 5%.
While in last week's newsletter we detailed the warranty expenses of nine automakers based in Japan, this week we aim to focus in on the top two carmakers based in South Korea and the top carmaker based in India.
We detailed ten years of data for these three companies in the August 15, 2019 newsletter, so this time we will focus on just the record of the past five years.
The big news is that while Tata Motors Ltd. finally seems to be getting a firm grip on the relatively high warranty expense rates generated in recent years by its Jaguar Land Rover luxury brands, warranty costs at both Hyundai Motor Co. and Kia Motors Corp. seem to now be spiraling out of control. Hyundai, known around the world for its extra-long powertrain warranties, more than doubled its warranty accruals in 2020, while Kia raised its accrual total by more than a billion U.S. dollars last year.
In its most recent annual report, Hyundai blamed it on an engine recall. "During the year ended December 31, 2020, the Group has reflected effect of new information and longer period of historical claim data in the measurement of warranty provisions in relation to the recall of theta 2 and other engines," was the reason given for why its warranty accruals soared to unprecedented levels last year.
Kia included similar language in its latest annual report: "During the year ended December 31, 2020, the Group reflected the effects of changes in accounting estimates, of which derived from the new information and recall experiences (i.e. Seta 2 engine), in sales warranty provisions."
But that's all we got. That's all the explanation the manufacturers provided to their shareholders about some radical increases in their warranty expenses. So let's put all this news into a series of six charts, which hopefully will provide some perspective on how costly these recalls really are, and how they deserve not a pair of sentences, but an entire newsletter.
From every annual report, we extract three essential warranty metrics and two additional sales metrics. The warranty metrics are the amount of claims paid, the amount of accruals made, and the amount of warranty reserves held at the end of each year. The sales metrics are automotive product sales revenue and unit sales.
With the claims, accruals, and revenue figures, we calculate two additional metrics: claims as a percent of revenue (the claims rate) and accruals as a percent of revenue (the accrual rate). And with the accrual and sales data, we also calculate the amount of accruals made per vehicle sold.
Warranty Claims Totals
Because we are mixing the financial reports of companies that report in two different currencies, and because the eventual worldwide report will have all the regional reports translated into U.S. dollars, the data in this week's newsletter will also be denominated in U.S. dollars.
In Figure 1 we are looking at the amount of claims payments the companies reported from 2016 to 2020. Readers should note that Tata follows a fiscal year that ends on March 31, so the amount listed in the 2020 column for them is actually for the months from April 2020 to March 2021. And readers with sharp eyesight will note that the amount of claims paid actually declined for the company in the most recent fiscal year.
Tata's claims total declined by -12% to $1.14 billion in the most recent fiscal year, after rising for most of the years since it first acquired Jaguar Land Rover in 2008. Hyundai's claims payments also declined, at a slightly faster pace of -14%, to a total of $1.665 billion in 2020. Kia's claims payments actually rose slightly, however, to $1.581 billion -- coming very close to surpassing Hyundai's total for the first time.
Figure 1
Top Asian Auto Manufacturers
Claims Paid per Year
(in millions of US dollars, 2016-2020)
The value of the Indian rupee gained about 3.4% last year, compared to the U.S. dollar, according to the figures Tata includes in its annual reports. Their conversion factor is 73.1 rupees to the dollar for the most recent fiscal year and 75.7 rupees to the dollar for the fiscal year ended March 31, 2020.
In order to obtain a conversion rate for Kia and Hyundai, we turned to a document published by the U.S. Internal Revenue Service, entitled "Yearly Average Currency Exchange Rates," which is used by Americans to pay federal taxes. On that list, the exchange rate for the South Korean won is listed at 1179.2 to the dollar for 2020 and 1165.7 to the dollar for 2019 -- a decline in strength for the won of about -1.2%.
In other words, changes in foreign exchange rates made only a minor contribution to Tata's -12% claims total reduction, and also may have been responsible for a good portion of Kia's +1.8% claims total increase. And Hyundai's claims total decline would have been slightly larger had the exchange rate remained the same.
Indian Numbering System
We should note that many of the financial figures in the Tata annual reports follow the Indian numbering system, which is slightly different from the one used by most European and American companies.
In India, a lakh is a unit of one hundred thousand, while a crore is a unit of ten million. So in terms of powers of ten, you would count from ten, to hundred, thousand, ten thousand, lakh, ten lakhs, crore, and then ten crores (100 million).
Lakhs and crores are used in the financial statements of Indian companies instead of millions and billions. They are also written differently. In Europe and America, commas are inserted after the thousands, millions, and billions, as in 1,000,000,000 for one billion. But in India, commas are inserted after the thousand, lakh, and crore, as in 10,00,00,000, or ten crores (100 million), and as in 10,00,000, or ten lakhs (one million). It's the same number of zeros, but the commas are in different positions.
Therefore, when a company reports its sales as 2421 crore rupees, it would be the same as 24.21 billion rupees -- basically, move the decimal point two places to the left and change the units from crores to billions. And 24.21 lakh would be 2.421 million -- move the decimal one place to the left and change the unit labels from lakhs to millions.
Warranty Claims Rates
All three companies reported more modest changes in their revenue totals than in their claims totals. For Hyundai, revenue fell -2.3%, while for Tata, revenue fell -4.5%. Kia, in contrast, reported a +1.8% rise in automotive sales revenue.
All of these changes, in turn, affected each company's claims rate, which is calculated by dividing the totals in Figure 1 by the corresponding revenue totals. As can be seen in Figure 2, Hyundai's claims rate fell from 2.7% to 2.4%, while Tata's claims rate fell from 3.9% to 3.4%, and Kia's rose slightly to 3.2%.
Figure 2
Top Asian Auto Manufacturers
Warranty Claims Rates
(as a percentage of sales, 2016-2020)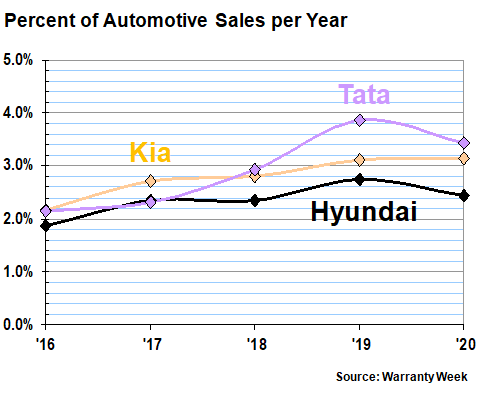 For Kia, this slight increase was a continuation of a multi-year trend that has been under way since 2010, when the company's claims rate was just over one percent. And for Tata and Hyundai, last year's decline ended a nine-year rising trend for Hyundai and a seven-year rising trend for Tata. So that's a bit of good news for both.
Warranty Accrual Totals
In Figure 3, however, what we see is the extreme dimensions of the wallop that hit the books of Hyundai and Kia last year. While warranty accruals plummeted by almost half for Tata, they more than doubled for Hyundai, and soared as well for Kia. This time, neither sales nor foreign exchange did much to mitigate the damage.
Figure 3
Top Asian Auto Manufacturers
Accruals Made per Year
(in millions of US dollars, 2016-2020)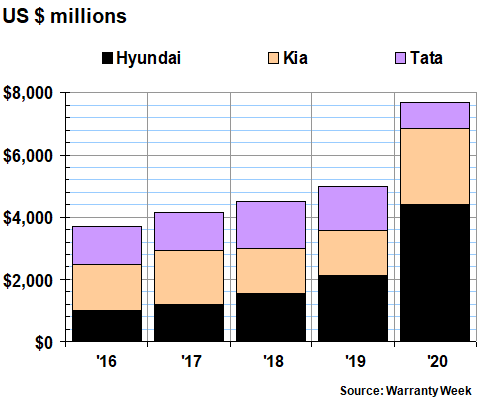 Hyundai's warranty accrual total rose from $2.125 billion in 2019 to $4.384 billion in 2020. Kia's accrual total rose from $1.452 billion to $2.466 billion. And Tata's accrual total slipped below the $1 billion level for the first time in three years.
Warranty Accrual Rates
As was mentioned, Hyundai's revenue was down slightly while Kia's was up slightly. So that served to slightly widen the change in Hyundai's accrual rate and slightly lessen the change in Kia's accrual rate. And that means Hyundai's accrual rate more than doubled, from 3.0% to 6.4%, while Kia's rose by just over two percentage points to 4.9%.
Figure 4
Top Asian Auto Manufacturers
Warranty Accrual Rates
(as a percentage of sales, 2016-2020)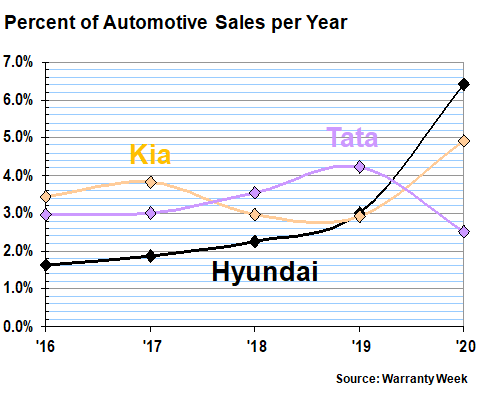 Meanwhile, Tata's accrual rate fell from 4.2% to 2.5%, its lowest level in five years. Whatever problems the company was having with Jaguar Land Rover seem to now be behind it, though one year does not make a trend. So let's put it a different way: Tata's accrual rate peaked at 4.2% and is now declining.
Accruals Per Vehicle Sold
Because most major auto manufacturers readily disclose the number of vehicles they sell each year, there is an alternative way to measure accruals. By dividing the accrual totals from Figure 3 by the number of vehicles sold, we can calculate the amount of accruals made per vehicle.
This closely follows the way that the manufacturers themselves calculate their accrual totals. If they determine by their best estimates that the average warranty cost of their product line is $500 per vehicle, then every time they sell a vehicle, they would set aside $500 in warranty accruals. The average for some makes and models might be higher, and for others might be lower. Whatever the correct amount, every time they sell a given vehicle, they would set aside that predicted amount.
In the future, if there are unforeseen quality issues, recalls, or increased repair costs, they might need to correct the amount of past accruals with some additional accruals. And this seems to be what Hyundai and Kia are doing to account for their engine recalls. It's not so much that the warranties for vehicles going out the door last year will cost more as it is an admission that the warranties for previous years' models will cost more than was initially predicted.
Unfortunately, our calculations cannot account for this semantical difference. We don't know how much of the spike in 2020 accruals is for 2020 sales, and how much is for 2019 and previous-year sales. And so, in Figure 5 we can only calculate the amount of accruals made per vehicle using the simple formula: accruals / unit sales = accruals per unit. But we can add the warning that it doesn't tell the whole story.
Figure 5
Top Asian Auto Manufacturers
Accruals Made per Vehicle Sold
(in US dollars, 2016-2020)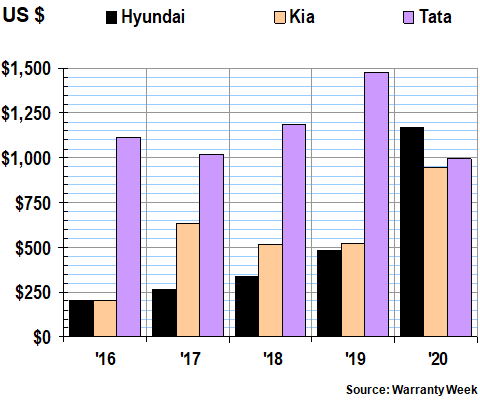 Let's start with the good news. Tata cut its accrual rate per vehicle by -33%, to $994. And that's a combination of a -43% decline in accruals and a -13% in unit sales, with a slight tailwind from the foreign exchange rates. And it's the first year Tata came in below $1,000 per unit after spending four years above that level.
And now to the bad news. Hyundai, which reported the lowest warranty accrual rate per unit sold for all automakers based outside of China in every year from 2012 to 2015, is now up there with the German luxury brands that are regularly accruing more than the equivalent of $1,000 per vehicle sold.
In 2020, Hyundai's unit sales fell by -15% while its accruals more than doubled, so its accrual rate per vehicle soared from $480 in 2019 to $1,171 in 2020. Kia, whose unit sales fell by -6% while its accruals rose by more than $1 billion last year, saw its accrual rate per vehicle soar from $524 to $945 per vehicle. And that's just $49 dollars per vehicle less than Tata's accrual rate last year.
Warranty Reserve Totals
Our final warranty metric is the amount of money left in the warranty reserve funds of the manufacturers at the end of each year. Once again, the figures for Hyundai and Kia are as of December 31 of each year, while for Tata the figures are from three months later at the end of March. And once again, while the original figures were reported in either Korean won or Indian rupees, we are translating them here into U.S. dollars, using the prevailing rates for each year.
An initial glance at Figure 6 suggests that while Tata's reserve balance has remained fairly steady for five years, the balances held by Hyundai and Kia, which were fairly steady from 2016 to 2019, rose significantly in 2020. And indeed, that's the story the actual figures tell as well.
Figure 6
Top Asian Auto Manufacturers
Reserves Held At Year's End
(in millions of US dollars, 2016-2020)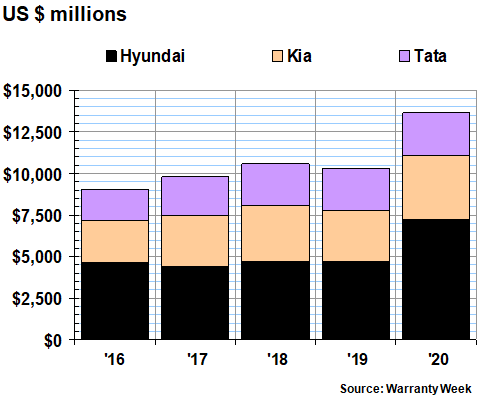 In dollar terms, Tata's warranty reserve balance has remained very close to $2.5 billion for the past three fiscal years. However, if counted in rupees, it has been growing at a much faster pace for the past decade, in order to keep up with the steady depreciation of the currency. But as was mentioned, the rupee gained value versus the dollar last year. And this mitigated the decline in Tata's reserves from 193 billion rupees to 186 billion rupees.
Kia and Hyundai, meanwhile, set new records for their warranty reserve balances whether they're measured in won or dollars. Hyundai's total topped 8.5 trillion won, or roughly $7.22 billion, while Kia passed 4.5 trillion won, or $3.86 billion.
That moves Hyundai into sixth place among the 20 automakers that maintain a reserve balance of more than $1 billion, passing BMW and Stellantis. Kia, meanwhile, remains in tenth place, behind Honda but ahead of Suzuki.
We have a little more work to do on our Chinese automaker data before we can construct a worldwide total for automotive warranty expenses in 2020. But so far the same pattern we've seen in several regions seems to be prevailing worldwide: claims fell, as did sales, but accruals and reserves rose. And because of the interplay between revenue and expenses, both the worldwide average claims and accrual rates rose as well last year.