September 16, 2021
Mid-Year U.S. Auto Warranty Expenses:
As if the pandemic wasn't enough of a challenge, the top U.S.-based automakers also now face a spike in recall costs that have driven up their warranty accruals dramatically, not only at the end of 2020 but also in the middle of 2021. The result is alarming warranty expense levels not seen before, but easy to spot in these charts.
They say a picture's worth a thousand words, which means this week's newsletter is worth 5,000 words in addition to the text below. It doesn't take a graduate degree in warranty analytics to see in the charts below that something dramatic happened to the warranty metrics of the top U.S.-based automakers in the second quarter of 2020, in the fourth quarter of 2020, and again in the second quarter of 2021.
The electric car sales of Tesla Inc. continue to soar, even through the worst of the pandemic last year. And its warranty expenses are keeping up the pace, soaring alongside sales. But the warranty expenses of General Motors Co. and Ford Motor Co. are also soaring, and their sales are not. And electric car sales, or more properly the safety recalls of past EV sales, are part of the reason for that spike.
From the annual reports and quarterly financial statements of the three companies, we extracted three essential warranty metrics: the amount of claims paid per quarter, the amount of accruals made per quarter, and the amount of warranty reserves held at the end of each quarter. We also collected data on automotive product sales, and by dividing the claims and accrual totals by those figures, we calculated the percentage of sales revenue spent on claims (the claims rate) and the percentage of sales set aside as accruals (the accrual rate).
Because we've done this exercise countless times since 2003, and because all that data is online (for instance, see the August 20, 2020 newsletter), we will include just the past five years of data in the following charts. But actually, all the main points we want to make are in just the last six quarters of data, from the beginning of the pandemic in the winter of 2020, to the middle of 2021.
Warranty Claims Totals
In Figure 1 below, we're looking at 22 quarters of claims payment data for GM, Ford, and Tesla. The highest quarterly totals came at the end of 2019 and in the first quarter of 2020, but there have been five quarters where claims exceeded $2 billion. The first and second quarters of 2021 were not among them.
Figure 1
U.S.-Based Auto Manufacturers
Claims Paid per Quarter
(in millions of dollars, 2016-2021)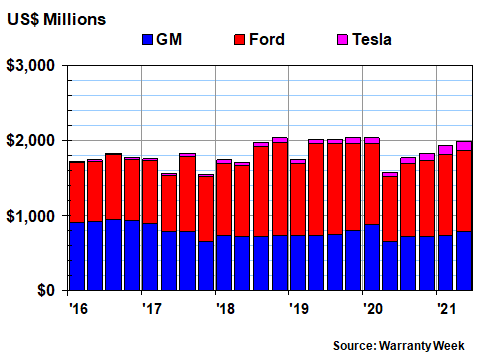 In other words, while the quarterly claims total was rather steady in recent years, it's still below its peak now. And the second quarter of 2020 looks like a notable notch in the data, with claims falling below $1.6 billion -- the lowest reading since early 2017.
Most likely, that dip was pandemic-related, in the sense that during the months of April, May and June 2020, the lockdowns prevented many customers from bringing their vehicles in for service, and prevented many dealerships from having the staff to do the warranty work. And then in the third quarter things got a little better, and so on, and so on to the present day.
Warranty Claims Rates
In Figure 2, the story gets a little more interesting. As we saw during the Great Recession a decade ago, sales revenue plummeted during the worst of the pandemic lockdowns. And since we calculate the claims rate by dividing claims by sales, we can see in the figure below that as a result of that sharp decline in sales, GM's and Ford's claims rates spiked during that dark quarter. GM's claims rate rose to 4.9%, while Ford's rose to 4.3% during the second quarter of 2020. But it had more to do with falling sales than rising claims. In fact, to be precise, what really happened is sales fell faster than claims.
Figure 2
U.S.-Based Auto Manufacturers
Average Warranty Claims Rates
(as a percentage of sales, 2016-2021)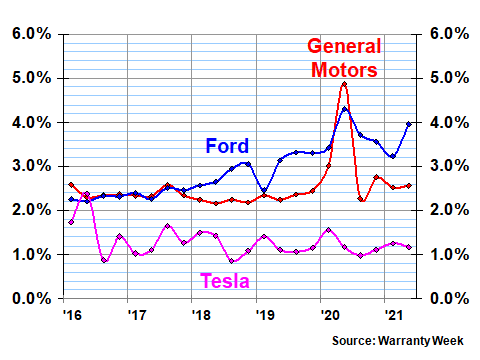 The other thing we wanted to point out about the data in Figure 2 is the way that Tesla's claims rate sems to bounce along the bottom. While GM's long-term claims rate average is 2.7%, and while Ford's is 2.5%, Tesla's claims rate average is only 1.5% -- and it's obviously been below that level lately. Admittedly, we're averaging 74 data points for GM and Ford (back to 2003) and only 54 for Tesla (since 2008), but the recent trend is plain as day in the chart above.
Warranty Accruals
Next we'll take a look at the warranty accrual story. And yes, the plot thickens even more around this metric. In the chart below, you see the deep notch in the second-quarter-2020 accrual data. But you also see the massive spike in accruals from the fourth quarter of last year and the second quarter of this year. No amount of excuses or explaining is going to fix this: there's a warranty problem, plain as day.
Figure 3
U.S.-Based Auto Manufacturers
Accruals Made per Quarter
(in millions of dollars, 2016-2021)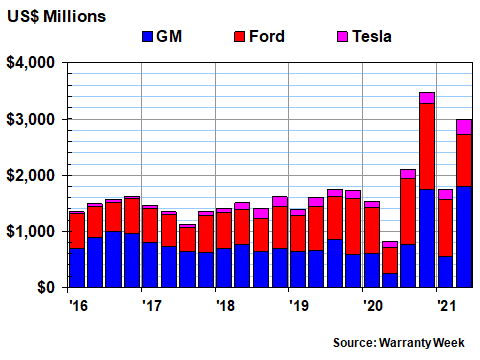 For these three automakers, accruals plunged -48% in the second quarter of 2020, to just $829 million. And then in the second quarter of this year, they more than tripled to just under $3 billion. but the new high water mark remains the fourth quarter of 2020, when the companies accrued $3.48 billion -- more than twice the year-before quarter's total.
As to why the accruals of Ford and GM have spiked so dramatically twice in the last year, we'll leave it up to them to explain to their investors. Ford's annual report makes reference to "a $610 million charge in our fourth quarter 2020 results for a field service action related to three million Takata airbag inflators," as well as to "an accrual for estimated future warranty and field service action costs, net of estimated supplier recoveries ("warranty accrual"), of $8,172 million as of December 31, 2020, of which the United States comprises a significant portion."
GM's annual report makes reference to "increased costs of $0.4 billion primarily due to the Takata Corporation recall of $1.1 billion partially offset by decreased other campaign and warranty-related costs," and later on adds some detail with reference to "an accrual of $1.1 billion, which represents our current estimate of the expected costs of complying with the recall related to the Takata passenger-side inflators in certain GMT900 vehicles, which are full-size pickup trucks and SUVs."
For the second quarter of 2021, the explanations of the spikes in warranty expense rates are even more opaque: From Ford's quarterly financial report: "Our estimate of reasonably possible costs in excess of our accruals for material field service actions and customer satisfaction actions is a range of up to about $1.1 billion in the aggregate." And for GM: "In the three months ended June 30, 2021, we recorded warranty recall campaign accruals of $1.3 billion, of which $812 million relates to the Chevrolet Bolt EV."
Warranty Accrual Rates
In the aggregate, they make it sound like nothing too concerning. And as can be seen in the chart below, for Ford it really does mean just a few quarters with an accrual rate elevated above three percent. But for GM, it means an accrual rate that soared to 5.8% during the months of April, May, and June 2021. That's higher than GM's early 2014 ignition-switch-related peak of 5.6%, and represents a new post-2003 high for this GM warranty metric. So that's quite concerning.
Figure 4
U.S.-Based Auto Manufacturers
Average Warranty Accrual Rates
(as a percentage of sales, 2016-2021)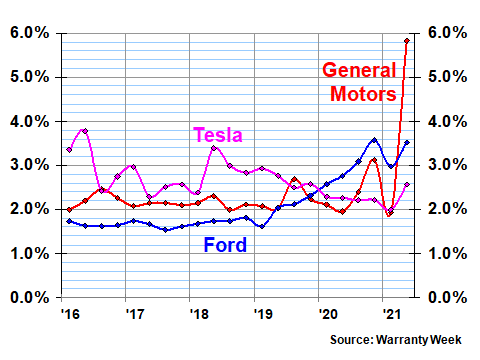 Chevrolet's website provides more detail on the Bolt recall. "Out of an abundance of caution, GM will replace defective lithium-ion battery modules in Chevrolet Bolt EVs and EUVs with new lithium-ion modules. We will notify customers when replacement parts are ready," the website states. "We are working aggressively with LG to adjust production to have replacement modules available as soon as possible."
And this is why we have such a thing as the news media. Love them or hate them, the daily newspapers do provide an important additional level of detail that the financial statements and the press releases do not. "GM tells Bolt owners to park 50 feet from other cars in parking garages, confirms 12 fires," read a headline from yesterday's Detroit News. "General Motors recalls newer Chevrolet Bolt EVs to address battery-fire risks," reported the Wall Street Journal last month. So yes, there is a big problem with what the lawyers might call "vehicle thermal events" within that product line.
Warranty Reserves
Our final warranty metric is the balance left in the warranty reserve at the end of each quarter. And based on the news so far it should come as no surprise that the combined reserves of these three automakers hit a new record of $18.9 billion on June 30, 2021.

Figure 5
U.S.-Based Auto Manufacturers
Reserves Held per Quarter
(in millions of dollars, 2016-2021)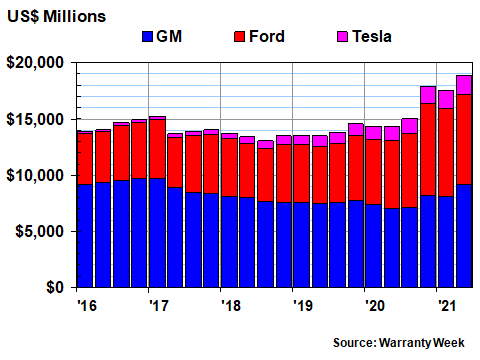 The size of the gains are astonishing. Tesla's reserves have grown 41% since June 2020. Ford's warranty reserves are up 32% since that point in time. And GM's have grown 30% in the last year. It's the highest balance for GM since the ignition switch episode in 2014-2017. It's the second-highest balance for Ford after its year-end 2020 reading of $8.17 billion smashed the old record. And it's a new record for Tesla, which of course has been growing at a high rate for years.