October 21, 2021
Mid-Year HVAC & Appliance Warranty Metrics:
The totals and averages are moving in response to the ups and downs of the top manufacturers. But they didn't move much in response to the pandemic or the lockdowns that follows. At the same time, for at least one top home improvements retailer, the extended warranty business is booming.
Airplanes and air conditioners have little in common, but in terms of warranties at least, the heating, ventilation and air conditioning industry shares two key attributes with aerospace: long warranties that prompt manufacturers to keep massive reserves handy, and a booming market for separately-priced performance warranties and protection plans.
And now we can add a third key attribute: the warranty metrics of both the civil aviation industry and the HVAC/appliance industry didn't seem to suffer much of a downturn last year as the pandemic hit other industries fairly hard, and despite what conventional wisdom would have predicted (empty planes, deserted office buildings, etc.). In fact, the warranty troubles of a few top manufacturers seemed to deliver more impact than any macroeconomic trends did.
Extended Warranty Metrics
Before we begin with our annual mid-year update of all the product warranty activity in the HVAC and appliance industries, we thought it would be a good time to include a check-in on the extended warranty side of the business. Lowe's Companies Inc. is the world's second-largest hardware retail chain, with 1,973 outlets in the U.S. and Canada as of the end of their second fiscal quarter on July 30, 2021.
Also as of the end of their second fiscal quarter, the home improvements and appliance retailer broke its own record for quarterly service contract sales, which they set only last year during the depths of the pandemic. Last year, during the months of May, June, and July 2020, they sold $167 million worth of new service contracts -- the revenue for which they immediately deferred, as accounting regulations require. And then during those months of this year, they sold $168 million worth, resulting in the following chart.
Figure 1
Lowe's Companies Inc.
New Service Contract Sales per Quarter
(in US$ millions, 2016-2021)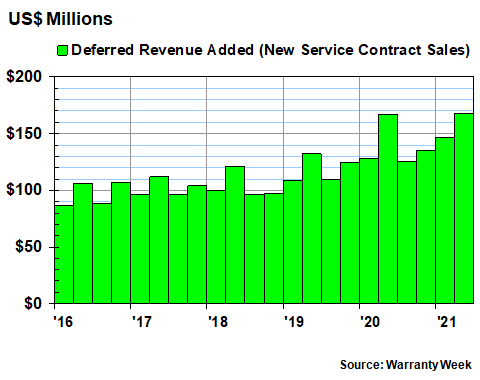 We just want to make the point that this is not the pattern we're seeing with actual product sales, which are now being haunted by parts shortages and supply chain interruptions as well as crazy panic buying patterns that are clearing shelves (Want a plain-looking top-freezer refrigerator? Hope you can wait until December 2nd!). In other words, product protection plans are really popular and are actually now topping out in terms of revenue while product sales are already faltering due to a lack of product to sell.
In hard numbers, Lowe's saw +15% growth in service contract sales during the months of February-April 2021, but only +0.6% growth in the second fiscal quarter (service contract sales grew +9% during the months of November 2020 to January 2021). Growth for the first half of 2021 now stands at +7%, but that's just the mathematical average of a swift and a slow growth rate. And given that Lowe's is a pace-setter for the industry as a whole, we'd suggest that the same thing is happening at the Home Depot Inc., Best Buy Company Inc., Walmart Inc., and Menard Inc. Products might be in short supply, but protection plans are selling like hotcakes.
Product Warranty Trends
And now let's turn back to the manufacturers and product warranties. Since we're tracking just U.S.-based manufacturers, and since the supply problems are most affecting the importers, they don't show up in these charts. Simply put, American appliance manufacturers are losing market share and their warranty expenses are following that trend.
We should note that in the charts that follow, we're tracking 39 appliance and parts manufacturers and 40 HVAC system and parts manufacturers. This time around, we're leaving out GE Appliances, first because General Electric Co. hasn't owned the company since mid-2016, and second because the new owners at the Haier Group do not report their warranty expenses at all. We're also omitting warranty data from United Technologies/Raytheon Technologies Corp. for 2016-2018, though we are including data from the spun-off Carrier Global Corp. HVAC unit for 2019 and onward.
From the quarterly financial statements and annual reports of each of those 79 companies, we collected three essential warranty metrics: the amount of claims paid, the amount of accruals made, and the amount of warranty reserves held. We also collected product sales data, which we used to calculate the percentage of sales paid in claims (the claims rate) and the percentage of sales set aside as accruals (the accrual rate). The charts for each of these five warranty metrics follows.
Warranty Claims Totals
Basically, wherever you look, claims totals are falling. For the second quarter of 2021, claims are down -6% in the HVAC sector and -12.5% in the appliance sector. For the first half of this year, HVAC claims are down -1.5% to $460 million, while appliance claims are down -25% to $248 million.
Figure 2
HVAC & Appliance Warranties
Claims Paid by U.S.-based Manufacturers
(in US$ millions, 2016-2021)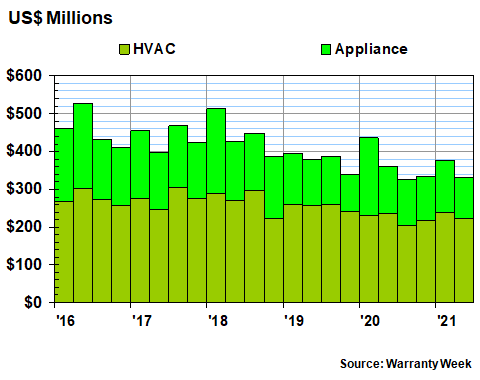 Some of the drop-off on the appliance side is due to the unusually large claims payments that Whirlpool Corp. reported in the year-ago first quarter (see Warranty Week from October 29, 2020 for more). The company paid out a larger-than usual $86 million in claims in the first quarter of 2021, but that's down -31% from an extra-large $124 million total a year before.
The other thing we've noticed in the last six quarters is a pandemic-related and supply-chain-linked pattern where in one quarter a manufacturer's claims total is significantly below average. But that's followed by a quarter that's significantly above average.
For instance, Carrier paid out only $19 million in the third quarter of 2020 but paid $35 million in the fourth quarter. At Johnson Controls International plc, one quarter last year was $20 million and the next was $10 million. This suggests there's some time-shifting going on, either because customers with empty buildings can't make claims or manufacturers short of staff can't process payments -- or perhaps it's a little of both?
Warranty Accrual Totals
Further clouding the picture, notice what you don't see in Figure 3 below: a dip in the second quarter of 2020 as the lockdowns began. Accruals fell -9% to $371 million in that year's second quarter, and grew +5.5% in this year's second quarter. But again, it was the $201 million that Whirlpool set aside in the third quarter of 2019 that threw everything off. In other words, any effect the pandemic may have had was obscured by the unrelated trouble Whirlpool was having long before the pandemic began.
Figure 3
HVAC & Appliance Warranties
Accruals Made by U.S.-based Manufacturers
(in US$ millions, 2016-2021)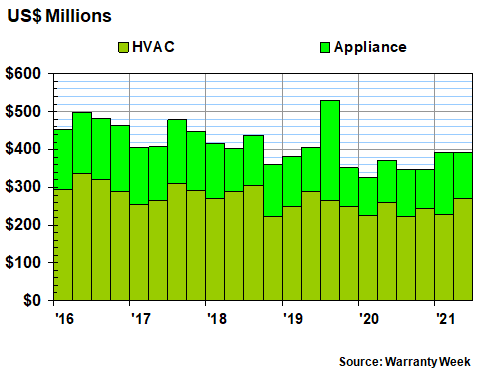 For the record, appliance accruals soared by +63% in the first quarter of 2021 (Whirlpool strikes again), and grew by +9% in the second quarter, for a $73 million jump in the accrual total for the first half of this year to $285 million. HVAC accruals were up +1% in the first quarter and +4% in the second quarter of 2021, combining for a $12 million gain in the first half to a total of $498 million.
Warranty Expense Rates
And as if there wasn't already enough uncertainty built into the metrics, product sales have also been somewhat erratic. All the majors saw slight to significant sales declines late last year, but the year-over-year comparables in 2021 have been on the good-to-great side. For the industries as a whole, HVAC sales are up +14% as of June 2021, while appliance sales are up +24% at mid-year.
That should have had an effect on warranty expense rates, but a quick glance at the charts in Figures 4 and 5 suggests it didn't. Or to be more precise, there really isn't much difference between the 2019, 2020 and 2021 data.
Figure 4
HVAC Warranties
Average Claims & Accrual Rates
(% of revenue, 2016-2021)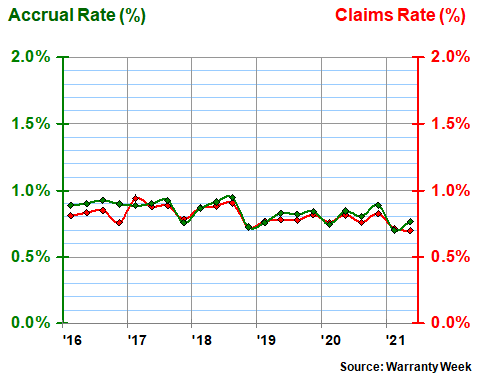 The HVAC manufacturers are a little below average with their claims and accrual rates in 2021, and they were a little above average in 2020. But by little we mean plus or minus 0.1% at most.
On the appliance side in Figure 5, the variance was a little greater -- plus or minus 0.4% from their recent averages in 2020 and 2021. And as can be seen in the chart below, there was the sort of spike in the claims rate early last year that one usually sees during market downturns, when sales fall but claims don't. But as we've already noted, there wasn't a recession in these industries last year. And this year, there's a shortage and a backlog.
Figure 5
Appliance Warranties
Average Claims & Accrual Rates
(% of revenue, 2016-2021)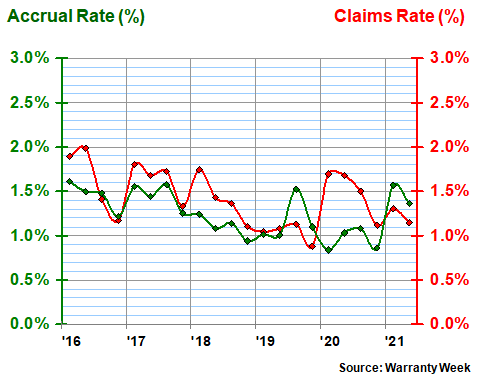 Some of the individual companies are either getting back to normal or cutting expense rates to new lows. Whirlpool, for instance, has cut its claims rate in half, from recent spikes as high as 3.1% to its current 1.5% claims rate and 1.9% accrual rate. Carrier, in its short history as a separate company, has this year gotten its claims rate under one percent while its accrual rate is just barely above that mark -- a new low. Trane now has its claims rate down to 1.3% and its accrual rate down to 1.5%, after going as high as 1.9% in 2020. And Johnson Controls hasn't seen a one percent expense rate in nearly three years, after spending three years before that well over one percent.
Warranty Reserve Balances
Our final warranty metric is the balance reported in the reserve funds of the 39 appliance and 40 HVAC companies at the end of each quarter. And by way of explanation, the sudden jump in the HVAC balance in the middle of Figure 6 is entirely due to the addition of $477 million in Carrier reserves at that time.
It's not as if the money suddenly appeared in 2019. But since we're not including former parent United Technology's data for 2016-2018, it sure looks like it did.
Figure 6
HVAC & Appliance Warranties
Reserves Held by U.S.-based Manufacturers
(in US$ millions, 2016-2021)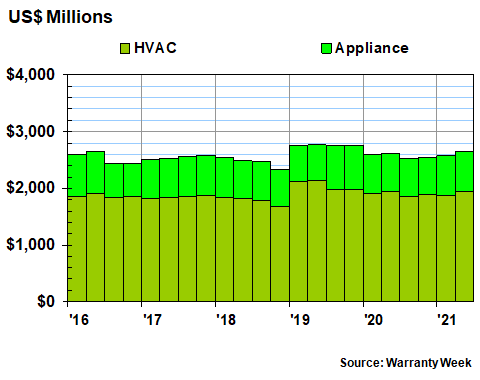 By June 2021, the HVAC and appliance companies were holding a combined $2.64 billion in warranty reserves, up a slight $20 million from the midpoint of 2020. But the HVAC balance was actually slightly higher a year ago, and was significantly higher two years ago.
In other words, as the shape of the data suggests, as soon as Carrier joined the club, overall HVAC warranty reserve balances began to decline. However, the dip has ended on the appliance side. As of June 2021, appliance warranty reserves are once again up above $700 million, after five quarters below that level.
For what it's worth, over the long term, the HVAC side pays about twice as much claims and makes about twice as much accruals as the appliance companies, but their reserve balances are typically three times as large. That's because HVAC warranties are typically much longer, so while they're less costly on a percentage-of-revenue basis, they require a higher level of money in the reserve fund.