November 11, 2021
Extended Warranty Revenue Trends:
Because so many extended warranty programs are run by small private companies or by huge companies that don't break out their service contract revenue, it's almost impossible to size the business accurately. But four companies reveal just enough financial data to suggest that 2020 and 2021 have been really good years for the product protection industry.
Readers inquired about the data behind a line in last week's newsletter that "while the start of the lockdowns might have put a short-term crimp on [extended warranty contract] sales, protection plans recovered quickly and then soared in the summer and fall of 2020." So rather than reply separately and privately to their questions, perhaps it would be better to send the same information out to all 6,500 of you at once.
The financial metrics of the extended warranty industry are largely opaque and unavailable, with the exception of occasional nuggets of data in press releases and occasional news articles such as this. The so-called industry reports and market studies hawked by no-name "research firms" are largely useless -- we used to call them "clip jobs" because of the way they take clippings from public sources such as this and turn them into expensive "market analysis reports."
So we are going to compile actual financial data from four market-leading extended warranty companies that illustrate our point that there was no recession in the extended warranty industry last year. In fact, quite the opposite happened, despite or perhaps because of all the uncertainty caused by the pandemic and the lockdowns that followed.
From the vehicle service contract and brown and white goods retail segments of the extended warranty industry, we will look at the books of Assurant Inc. From the home warranty industry, we will look at Frontdoor Inc., parent of American Home Shield. From the retail appliance industry we will look at Lowe's Companies Inc. And from the computer and mobile phone industry, we will repeat some data from the newsletter last week about Apple Inc.
Hopefully, the outcome will be that the lack of an industry downturn will be plain to see in these snapshots of the consumer extended warranty industry, taken from four different angles.
Assurant Growth
As an insurance company under writing extended warranty programs all over the world, Assurant is a bellwether for the entire retail side of the industry. Especially since its acquisition of The Warranty Group in 2018, its operations have become more or less evenly-split between VSCs and brown/white goods retail extended warranties.
Assurant calls those operations Global Automotive and Connected Living, respectively, and calls their combined operations Global Lifestyle. In Figure 1 below, we are charting the quarterly revenue totals for each unit for the past 23 quarters, ending with the third calendar quarter of 2021.
Figure 1
Assurant Inc.
Global Lifestyle Segment
Quarterly Revenue
(in US$ dollars, 2016-2021)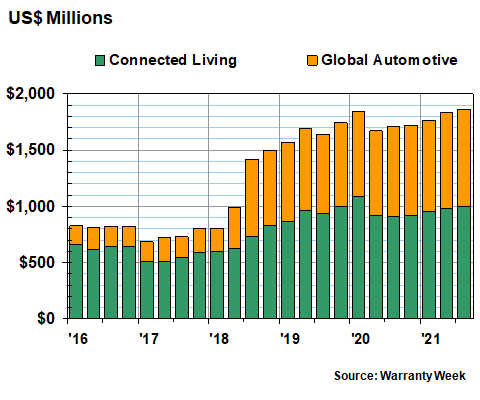 In the first nine months of 2020, Connected Living revenue grew by $150 million, or 5.4%, while Global Automotive revenue grew by $179 million or 8.4%. In the first nine months of 2021, the Connected Living revenue growth rate slowed to 0.6% while the Global Automotive revenue growth rate rose to 9.7%. On a combined basis, Global Lifestyle rose by 6.7% in the first nine months of 2020 and by 4.6% in the first nine months of 2021.
But you don't need any numbers to see what the data tells you in the chart above. While Global Lifestyle revenue hit a record in the first quarter of 2020, it broke that record in the third quarter of 2021. Connected Living revenue still hasn't rebounded past the billion-dollar level it achieved back then, but revenue has never been higher than it has been in the three quarters of 2021.
So how's net income doing, you ask? In Figure 2, we are tracking two metrics: the segment net income of Global Lifestyle, and the profit margin that amount represents, compared to segment revenue.
Figure 2
Assurant Inc.
Global Lifestyle Segment
Segment Net Income & Profit Margin
(in US$ millions and percent, 2016-2021)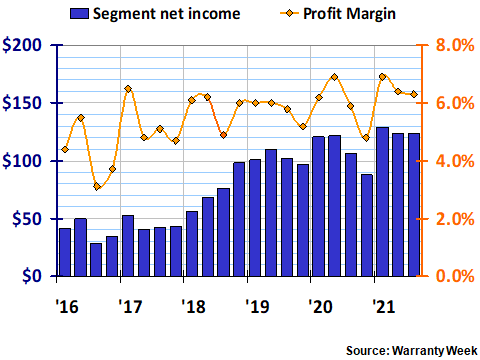 Once again, we see that net income has never been higher in dollar terms, with the $129 million level achieved in the first quarter of 2021 representing a new record. And though it's a little hard to see, that quarter's profit margin of 6.93% was also a new record high, beating out the second quarter of 2020 by just a few basis points.
For the first nine months of 2020, net income was up by 12% over 2019 levels. For the first nine months of 2021, net income grew a further 7.9%. We'll decline to reveal the amounts, forcing the clip-jobbers to look it up themselves. After all, the point of this week's newsletter is that all this data is easily and quickly available to anybody who cares to look for it.
Frontdoor Growth
Frontdoor is the parent company of American Home Shield as well as the HSA, OneGuard and Landmark home warranty brands. It is by far the largest player in the home warranty and home service contract industry in the United States. It was part of ServiceMaster until 2018, when it was spun off into what amounts to a "pure play" publicly-traded extended warranty company. As such, it too is an excellent bellwether for the industry as a whole.
In Figure 3, we're tracking total revenue broken into four segments: direct initial sales of home warranty contracts to homeowners; initial sales of home warranty contracts to homeowners through the real estate channel; annual renewals by all of these homeowners; and other revenue sources.
First of all, it's clear that home warranty sales are a seasonal business, with sales doing best from April to September, and worst from October to March. Second, the summer is always a little busier than the spring, and the fall season is always a tiny bit better than the subsequent winter.
Third, the company's sales are clearly dominated by renewals, which represent anywhere from 66% to 69% of total revenue in any given quarter. And fourth, while initial sales through the real estate channel dominates, direct sales are catching up.
Figure 3
Frontdoor Inc.
Quarterly Revenue Segments
(in US$ dollars, 2017-2021)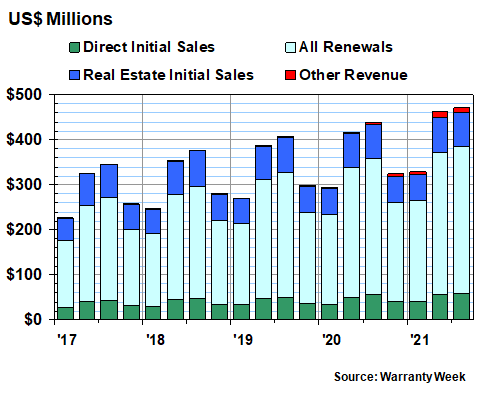 So what do our eyeballs tell us? First of all, the third quarter of 2021 was the best ever for revenue, with the second quarter of this year coming in second-best ever. In third and fourth place? Those same quarters last year. And so on and so forth.
But what's a little hard to see is that the third quarter of this year was also the best-ever for direct sales and for renewals. And the percentage of revenue represented by renewals came awfully close to surpassing 70% for the first time.
For the first nine months of 2020, total revenue was up 8.0%. For the first nine months of 2021, total revenue was up 10%. Other revenue is actually growing the fastest, while real estate revenue is stuck in neutral.
But what about profitability? In Figure 4, we're tracking net income and the profit margin those amounts represent. On first glance, it appears profitability is also more or less seasonal, though this year the summer has been significantly better than the spring.
Figure 4
Frontdoor Inc.
Net Income & Profit Margin
(in US$ millions and percent, 2016-2021)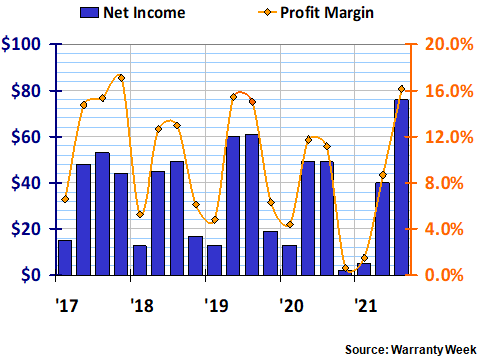 Ans while profit margins didn't set a record this year (that honor goes to the fourth quarter of 2017's 17% rate), this year's third quarter takes second place at 16%.
Year over year, net income actually fell in 2020 to $111 million for the first nine months of last year, but it actually rebounded this year to $121 million, a growth rate of 9.0%. And the fourth quarter of 2020 is about as close as you can bet to a break-even quarter without going negative, which Frontdoor has never done since its spinoff from ServiceMaster.
Lowe's Growth
In Figure 5, we are repeating a chart that ran in the October 21 newsletter, primarily because Lowe's is on a fiscal year in which quarters end in April, July, October, and January. And given that the company's third quarter ended less than two weeks ago, there is no new data since that newsletter.
Lowe's Companies Inc. is the world's second-largest hardware retail chain, with 1,973 outlets in the U.S. and Canada as of the end of their second fiscal quarter on July 30, 2021. At the end of that quarter, the home improvements and appliance retailer broke its own record for quarterly service contract sales, which they set only last year during the depths of the pandemic.
Last year, during the months of May, June, and July 2020, they sold $167 million worth of new service contracts -- the revenue for which they immediately deferred, as accounting regulations require. And then during those same months of this year, they sold $168 million worth, resulting in the following chart.
Figure 5
Lowe's Companies Inc.
New Service Contract Sales per Quarter
(in US$ millions, 2016-2021)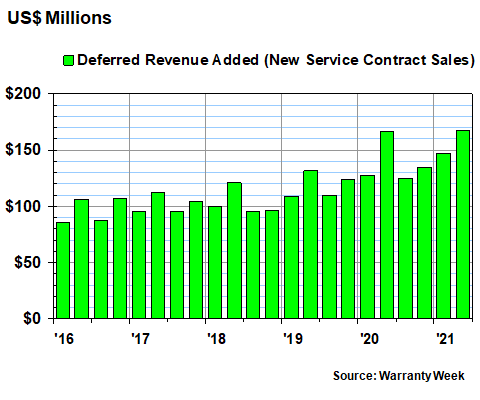 For the first half of fiscal 2021, extended warranty revenue is up by 6.8%. For the same period last year, extended warranty revenue was up by 22%. Yes, that's right: for the months of February to July 2020, during the depths of the lockdowns, extended warranty sales rose 22% over the first half of fiscal 2019. And as your eyeballs tell you, the second quarter last year was the best-ever until the second quarter of this year edged it out.
But what about profitability? Sadly, Lowe's does not break out that metric. So we will have to look at something else: the amount of extended warranty claims it reports. And, we can compare the amounts in Figure 5 to appliance sales, to calculate what amounts to an attach rate in dollars, rather than the traditional metric, which is done in terms of percentage of units sold.
Figure 6
Lowe's Companies Inc.
Extended Warranty Claims per Quarter
& Extended Warranty Sales/Appliance Sales %
(in US$ millions and percent, 2016-2021)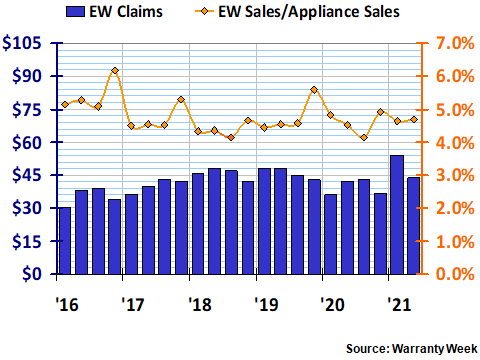 On that basis, we note that claims hit a new record high in the first quarter of 2021. In fact, claims are up 26% in the first half of this year, while they were down by 19% in the first half of 2020. And that, we suggest, is the clearest mark the pandemic left on the industry: delayed repairs and/or replacements.
The sale of extended warranties, meanwhile, compared to the sale of the products they protect, continues to hum along at a rate close to 4.8%. Sometimes it's a little above; sometimes it's a little below. But that's the nature of an average, isn't it?
We do note, however, that this metric hit a new low of 4.1% in the months of August to October 2020. And it set a high water mark of 6.2% during the months of November 2016 to January 2017 -- the holiday season. Wonder how things will look during this year's holidays?
AppleCare Growth
In last week's newsletter, we dissected the AppleCare protection program fairly thoroughly, so we won't spend much time here repeating that data. In fact, we'll load it all into one easy-to-read chart, with the warning label that unlike the data above, all of this Apple data is pure conjecture based on our own estimates. Apple does not reveal the size nor profitability of its AppleCare program.
Figure 7
Apple Inc.
Extended Warranty Sales Estimates
& Extended Warranty Sales/Product Sales %
(in US$ millions and percent, 2016-2021)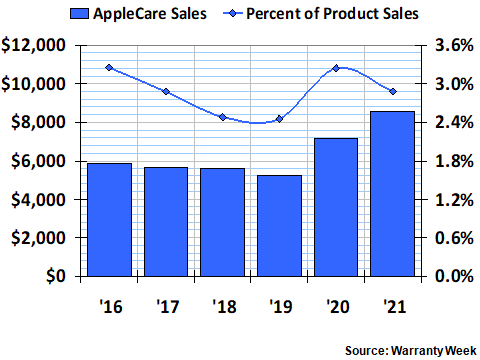 The estimates are pretty clear, though. We suggest that the AppleCare program grew to $8.5 billion in the fiscal year ended September 25, 2021 -- a 20% growth rate. Sales growth was even swifter in the previous year, growing 37% to $7.15 billion.
However, product sales grew even faster, so the comparison between AppleCare revenue and product revenue results in a 2.9% rate last year, down from 3.2% in fiscal 2020. And the rate in fiscal 2016 was actually one basis point higher than it was in fiscal 2020, so we cannot say it set a record during the pandemic. But we can say that Apple is and remains the world's largest extended warranty company.
And what we can conclude is that while service contracts for brown and white goods and home warranties for existing homes had a bit of a slowdown during the pandemic, they're back to breaking records in 2021. AppleCare's slowdown was over before the pandemic started. Automotive protection plan sales have never been better, even though sales of new cars are still stuck in low gear.