December 16, 2021
Nine-Month 2021 Warranty Report:
This year, product sales took off but warranty expenses didn't follow. The result is that early in the year, warranty expense rates dove to levels never reached before, before rising back to typical levels later on. And the cause of this dip wasn't the automakers. This time it was the computer manufacturers.
As 2021 comes to a close, we can't wait until all the annual reports are published in February and March to find out how manufacturers' product warranty expenses are shaping up for the year. And so, what follows is an early look at this year's totals and averages based on data available through the first nine months of the year.
For each of the past 19 quarters, we looked at the books of all warranty-reporting manufacturers, extracting three key metrics from each quarterly financial statement and each annual report. From the notes at the end, we found figures for total claims paid and accruals made. And from the income statement at the top of each document, we found figures for product sales. And then, by dividing claims paid and accruals made by product sales, we calculated claims as a percent of sales (the claims rate), and accruals as a percent of sales (the accrual rate).
Historically Low Accrual Rate Reached
We'll get to the claims and accrual totals further down. But up top, we want to show you the average claims and accrual rate data for all manufacturers, because something very peculiar happened late last year and then early this year. As can be seen in Figure 1 below, in late 2020 the average accrual rate rose to nearly 1.5% -- its highest level since the end of 2014. And then in the first quarter of 2021, that expense rate fell to just above 1.0% -- its lowest level ever (or at least since warranty expense reporting began in 2003).
It's possible that warranty providers decided to over-accrue late in 2020 -- figuring it was a loser of a year already so why not drive up expenses above and beyond what was needed? And then in early 2021, they could "notice" the past-year over-accruals and cut their current-year accruals to historic lows. It's possible, but it's not likely.
That's because there are two problems with that theory: first, warranty accruals are supposed to be tied to sales and predicted future costs, as companies always explain in the methodologies section of their financial reports. Second, manipulations such as this are called earnings management and are a type of financial fraud, and the Securities and Exchange Commission prosecutes executives who engaged in fraudulent earnings management and then go sign and certify their annual reports anyhow. So this cannot be the cause.
And it certainly wasn't the automakers. As we already detailed in the November 18 newsletter, the recent gyrations of the warranty expenses of the top U.S.-based passenger car manufacturers were driven more by the pandemic's lockdowns, followed by increased safety recalls. The lockdowns gutted sales in the second quarter of 2020, and the recalls drove up expenses in the fourth quarter of last year.
And rather than hitting historic lows this year, General Motors' warranty expense rates are currently at historic highs. So while the carmakers may have contributed to last year's highs, if anything they hindered the journey to this year's lows. And since small-vehicle-manufacturer's claims and accruals represent roughly a third of the all-industry totals, the accrual-rate decline to one percent seen in the chart below must have been caused by companies counted in the other two-thirds.
Figure 1
All U.S.-based Companies
Average Warranty Claims & Accrual Rates
(as a % of product sales, 2017-2021)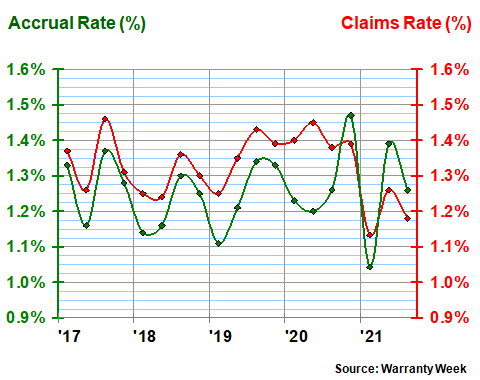 So if it wasn't the automotive industry that caused this historic plunge, who was it? In an attempt to figure out how this happened, we took a deeper look at the first-quarter 2021 warranty expense data, trying to identify which manufacturers caused this historic drop. If it wasn't GM or Ford, it would have to have been some other rather large warranty providers, with the emphasis on the plural. So we looked at the metrics of the 58 companies that have paid more than $10 million in claims so far this year, and have reported their claims and accrual totals in all their 2021 financial reports. In other words, no estimates -- hard numbers only.
In the year between March 2020 and March 2021, the all-company average claims rate dropped from 1.40% to 1.13%, while the accrual rate dropped from 1.23% to 1.04%. Those represented declines of -19% and -15%, respectively. And just in case the 2020 expense rates were the anomaly, we also looked at pre-pandemic data and found that the average expense rate declines during the two years from March 2019 to this March were -10% and -6%, respectively.
We then looked for large companies that reported expense rate declines greater than both those one-year and two-year averages. And we found seven that did so: Apple Inc.; Danaher Corp.; Garmin Ltd.; HP Inc.; L3Harris Technologies Inc.; Thor Industries Inc.; and Western Digital Corp. The two that fell fastest were Apple, whose claims rate fell from 1.5% to 0.9%, while its accrual rate fell from 1.6% to 0.4%; and HP, whose claims rate fell from 2.2% to 0.8% while its accrual rate fell from 2.2% to 0.7%.
So there's the probable source: top companies in the computer and smart phone industry. Keep that in mind as we go through the claims and accrual totals in each of the three broad industry sectors in the following six charts.
Warranty Claims Totals
Each quarter, after we gather the warranty expense data from each manufacturer, we divide the hundreds of reporting companies into three broad sectors: electronics, vehicles, and building trades. And then we divide those sectors into 18 different industries.
From the electronics sector, we follow seven: computers; telecom equipment; semiconductors and printed circuit boards; consumer electronics; medical equipment and scientific instruments; data storage systems; and computer peripherals. From the vehicles sector, we follow four: cars and cycles (small vehicles); trucks and buses (large vehicles); automotive parts suppliers; and aerospace. And then from the building trades, we follow seven more: appliances and HVAC; new home builders; building materials; power generation equipment; material handling systems; security systems, and sports equipment.
Keep in mind that there are roughly 65 U.S.-based companies that basically flout accounting regulations and publish their warranty expenses only once a year, in their annual reports. In order to keep to our quarterly format, we have to create placeholding estimates for them in the charts below. Otherwise, their quarterly entries would be blank, for lack of data.
We estimate that these 65 companies account for roughly 8% to 9% of claims and 5% to 8% of accruals, depending on the quarter. But there are some large companies among this group, including Advanced Micro Devices Inc.; DexCom Inc.; Eaton Corp.; General Electric Co.; Honeywell International Inc.; Illinois Tool Works Inc.; and Sherwin Williams Co. And some of them have an outsized presence in certain industries, such as GE in the power generation equipment category.
Claims in the Electronics Sector
In Figure 2, we're tracking the claims payments of the electronics sector over the past 19 quarters. Note that there are two notches in the recent data: in the pandemic-plagued second quarter of 2020, and in the first quarter of 2021. Sorry to make you jump ahead, but that same notch is present in Figure 5, which tracks accruals made in the electronics sector. As we said, there's the culprit.
Figure 2
Worldwide Warranty Claims Payments
of U.S.-based Electronics Manufacturers
(claims paid in US$ millions, 2017-2021)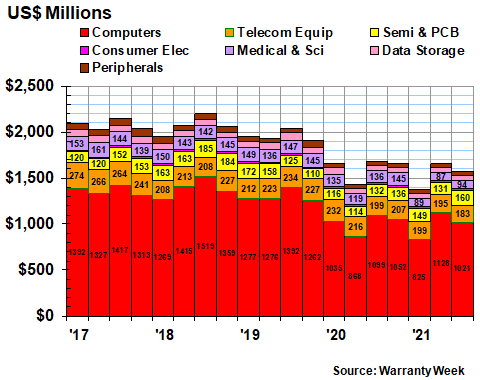 For the first nine months of 2021, claims are up slightly in the electronics sector. But that's primarily a balance between a big jump in semiconductor claims and slight declines in most of the other industries. For instance, both computers and peripherals are down about one percent for the nine-month period.
However, if we assume 2020 is itself an anomaly, and we compare 2021 data to the same period in 2019, a slightly different pattern emerges. Then we would find claims are down by more than 7%, with computer, data storage, and medical equipment claims down by more than a quarter.
And we can't blame it on the annual-only expense reporters. Besides AMD and DexCom, there aren't that many large companies in this sector that publish their warranty data only once a year. Bruker Corp. and Dentsply Sirona Inc. are the only others we expect to report paying more than $10 million in claims per year.
We think the cause, as was previously mentioned, is Apple and HP, which are becoming more erratic with their warranty expenses. For an example, one need look no farther than the November 4 newsletter, which detailed Apple's product warranty metric.
Claims in the Vehicle Sector
In Figure 3, we're looking at the vehicle sector, including not only cars, trucks, buses, and other land vehicles, but also flying vehicles such as planes and helicopters. Note the notch in the data for the second quarter of 2020, but also note that claims fell in the third quarter of 2021 for the first time since then.
Figure 3
Worldwide Warranty Claims Payments
of U.S.-based Vehicle Makers
(claims paid in US$ millions, 2017-2021)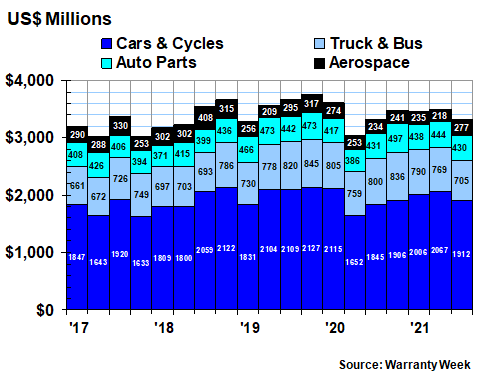 Except for that pandemic-plagued second quarter last year, the most recent quarter came in the lowest since early 2019. For the first nine months of 2021, truck & bus and aerospace claims are down around four percent from 2020 totals, while cars & cycles and auto parts are up around six percent from last year. As was mentioned, claims in all industries are up around 1.3% from the first nine months of 2020.
For those that think 2020 was just one great big statistical anomaly, however, we note that while all four of these vehicle industries saw reduced claims from the first nine months of 2019 to the first nine months of 2021, all four declined at rates less than the all-industry -7.4% average. For instance, cars & cycles fell from $6.04 billion to $5.98 billion, while truck & bus fell from $2.33 billion to $2.26 billion.
Claims in the Building Trades
Among the seven non-vehicle and non-electronics industries that we're loosely grouping under the heading of building trades, there's really nothing very remarkable to see in their claims data. The three quarters of 2021 contained neither the highest nor the lowest claims totals of the past few years, with everything remaining on a more or less even keel for the past 19 quarters.
However, if you look at the power generation equipment data, you'll see the danger of inserting placeholding estimates for large warranty providers that don't report quarterly data. GE is the largest company to follow this non-GAAP practice, and the result is that claims in the quarters of 2021 -- indeed the quarters of any given year for that industry -- are relatively similar in size because we have to break GE's annual totals into four equal parts.
Figure 4
Worldwide Warranty Claims Payments
of U.S.-based Building Trade Companies
(claims paid in US$ millions, 2017-2021)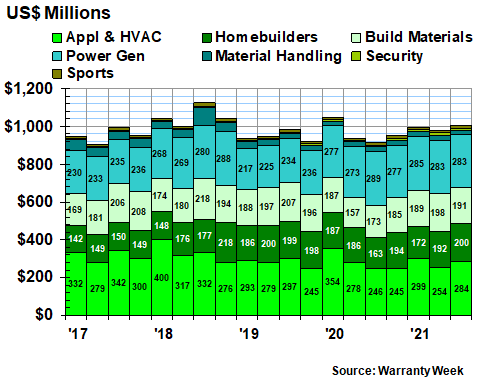 For the first nine months of 2021, claims are down in the appliance and HVAC category, as we've already probed in depth in the October 21 and December 2 newsletters. And we've already detailed how the new home builders are doing in the September 23 newsletter. So we won't repeat that here.
But let us say that of the seven industries in this sector, while one saw claims decline and six saw claims rise, three of those industries saw claims rise at rates close to the all-industry average. The three that saw claims rise faster -- homebuilders, building materials, and security systems -- are riding a wave of new home construction and existing home improvements that so far has shown no signs of receding (though inflation and rising interest rates are sure to have an impact someday).
Still, let's not get carried away with the idea that claims are soaring in this sector. Claims in the first nine months of 2019 totaled $2.87 billion and were $2.90 billion in the first nine months of 2020. So the $2.98 billion we've counted for the first nine months of 2021 is up only three percent from 2020 and only four percent from 2019. That's lower than the inflation rate.
Warranty Accrual Totals
Next let's shift the focus to the less reliable metric: the amount of accruals made by companies in each of these 18 industries and three sectors. Why are they less reliable? The amounts accrued are determined by the companies themselves, based on their best guesses of future costs, and in 2020 and perhaps moreso at this point in 2021, predictions about what next year will look like are unreliable and probably wrong.
In contrast, the amount of claims paid is determined by customers, and more precisely by the frequency and severity of the defects in the products they bought in years past. In other words, while accruals are based on forward-looking guesses, claims are based on historical facts (which may or may not have been measured accurately, but that's another topic).
Still, if we look back at Figure 1, notice that both warranty metrics dropped suddenly together in the first quarter of 2021. Part of that was caused by the good fortune of sales increasing faster than expenses, but part of the cause will be seen in the three charts that follow.
In Figure 5, what you see are clear notches in the data for the third quarter of 2020 and an even deeper notch in the first quarter of 2021, with a big spike in the last quarter of 2020. It's almost the same pattern that was seen in Apple's accruals, specifically Figure 2 of the November 4 newsletter. In fact, Apple is driving this chart to a large extent, since HP and IBM are the only other relatively large warranty providers we're tracking in the U.S.-based computer industry. The rest are importers.
Figure 5
Worldwide Warranty Accrual Payments
of U.S.-based Electronics Manufacturers
(accruals made in US$ millions, 2017-2021)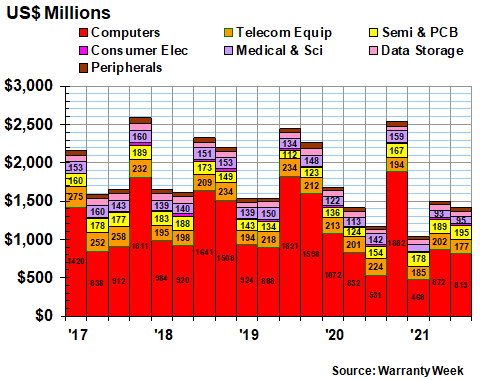 But if we leave aside the erratic accrual pattern of the computer industry, the totals for the other six show a similar story. For the first nine months of 20201, three are up and three are down, but the only one up by more than the all-industry average is semiconductors & printed circuit boards. That category has seen accruals rise from $389 million in the first three quarters of 2019 to $414 in 2020 and $562 million in 2021, which translates into a 36% one-year growth rate and a 45% two-year growth rate.
In contrast, the rates of decline in other electronics industries are significant. In data storage, accruals declined by -10% and -18% for one and two years, respectively. In telecom equipment, the one- and two-year declines are -12% and -13%, respectively. And in medical & scientific equipment, the declines are -26% and -34%, respectively.
Vehicle Accrual Totals
Accruals have also become quite erratic in the vehicle sector, but at least there we can point to the pandemic and the recalls as causes. In Figure 6 what we see are three years of relative stability, followed by two years of variability, to choose a kind word.
The $5.16 billion accrued by companies in this sector in the fourth quarter of 2020 was more than a billion dollars higher than the total in any other quarter since 2003. And the $2.02 billion accrued by these same companies in the second quarter of 2020 was the lowest total of the past 18 years, though some desperate quarters in 2008 came close.
In other words, 2020 was a complete anomaly, with totals and averages not to be trusted as representative of anything. But then what should we call the irregular pattern that we've seen so far in 2021?
Figure 6
Worldwide Warranty Accrual Payments
of U.S.-based Vehicle Makers
(accruals made in US$ millions, 2017-2021)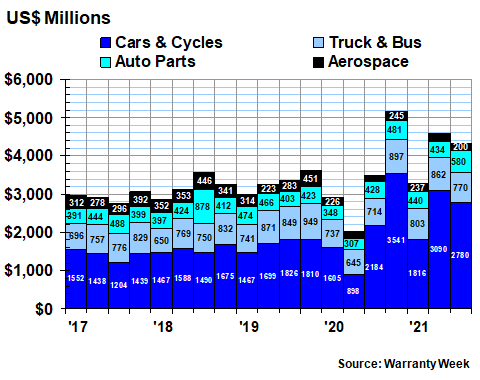 For now, though, let's not call it anything. Instead, let's simply observe that compared to 2019, two of the four vehicle industry groups have increased their accruals, and two have decreased their accruals.
Companies in the cars & cycles group raised their nine-month accruals by $2.7 billion from 2019 to 2021. Auto parts manufacturers raised their accruals by $111 million, or about eight percent, over the same period. Truck & bus manufacturers cut their accruals very slightly, but they also would have shown an increase had Navistar not stopped reporting (it was acquired by Volkswagen in July). And then as the aerospace industry continues to recover from the recent problems at Boeing, its accruals have fallen by $189 million or -23% since the first nine months of 2019.
Accruals in the Building Trades
In any given quarter, companies in the vehicle sector account for somewhere between 55% and 65% of the claims and accruals of all American manufacturers, while companies in the electronics sector account for 20% to 29%. And that typically leaves 11% to 17% for the building trades sector in any given quarter.
Also, primarily because GE is in this sector, but also because other annual-only warranty expense reporters such as Baker Hughes Co.; Flowserve Corp.; Fortune Brands Home & Security Inc.; Sherwin Williams Co.; and Valmont Industries Inc. are in this sector, there is relatively more uncertainty caused by our insertion of placeholding estimates here than there is in either the vehicle or electronics sectors.
While the building trades account for 11% to 17% of the claims and accruals in the 17 years between 2003 and 2020, it holds fully two-thirds of the placeholding estimates inserted into the totals during the first three quarters of 2021.
In contrast, 24% of the guesswork goes into the vehicle figures, while only 10% of the electronics sector is estimated. So scratch off another possible reason for the instability found in the vehicle and electronics sectors. It's not because of estimates. However, it could be blamed for the relative stability in the figures below. After all, if we're simply repeating 2020 figures as placeholder estimates in 2021, of course they look the same!
In other words, the figures below are the most likely to change when the real data comes out in the annual reports in February and March 2022. Then again, only the power generation industry figures, where GE dominates, are likely to change radically. There are not a lot of annual-only expense reporters among the appliance, HVAC, or homebuilder companies, and that's where the money is.
Figure 7
Worldwide Warranty Accrual Payments
of U.S.-based Building Trade Companies
(accruals made in US$ millions, 2017-2021)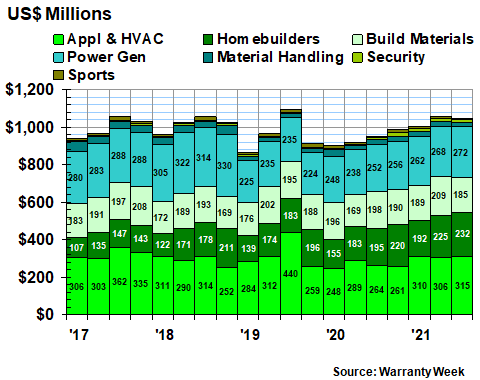 Accrual totals for the first nine months of 2021 are up in six of the seven industries grouped under the building trades sector, with only material handling showing a decrease. Then again, that industry's nine-month-2021 total is about the same as the nine-month-2019 total, so perhaps what we're seeing is a return to pattern after an anomalous 2020? Or perhaps we're merely seeing the reflection of our own placeholder estimates? Time will tell.
Meanwhile, there have been big jumps in accruals in the appliance & HVAC category as well as among new home builders. But we've already given that pandemic-related nest-building trend plenty of space in recent newsletters, so we'll skip it here. And as we already said, those are not estimates.
Note however that in the 19 quarters charted in Figure 7, the sector's accrual total has been above $1 billion nine times and below $1 billion 10 times. So let's adopt $1 billion as the median level of quarterly accruals. On that basis, the sector's total has been above the median all three of this year's quarters, and below it all of last year. The years 2017 to 2019 were more evenly split above and below.
And finally, while accruals in the building trades sector were up in 2021 compared to both 2020 and 2019, they were not up as much as in the vehicle sector. And as a result, they were not up by as much as the all-industry average of +25% for 2020-2021 or the +6.7% all-industry average gain for 2019-2021. To put it all together, we counted $18.06 billion in accruals during the first nine months of 2019, and $15.46 billion in the first nine months of 2020. And, including our placeholding estimates, we project the first nine months of 2021 to be in the range of $19.27 billion.
Happy Holidays!
And with that, we put an end to yet another tumultuous year. Incredibly, this is the nineteenth year-ending issue of Warranty Week, which began with a report on the warranty disclosures of online retailers at the end of 2002. It has been a pleasure to send all of you more than 900 newsletters in the decades since then.
We're going to take a short break for the holidays, and will return in a new year, with a new sense of optimism, in January 2022. Until then, we wish all our readers a happy holiday and a healthy, safe, and prosperous new year!