March 17, 2022
Annual Truck, RV & Car Warranty Trends:
Throughout the automotive industry, sales revenue was generally up from a terrible 2020, but warranty expenses were either down or did not rise as fast as sales. The result was a drop in claims as a percentage of sales for 10 of the 12 companies we're tracking in this week's newsletter.
It's been a while. What was supposed to be a two-week break for the holidays turned into a three-month sabbatical. But we're back, and there's fresh new product warranty data to publish.
Historically, more than half of the warranty claims and accruals reported by all U.S.-based manufacturers have come from companies in the automotive industry. So let's start there, with snapshots of the warranty metrics of three passenger car manufacturers, four recreational vehicle makers, and five truck and bus companies.
Roughly a third of all U.S.-based claims and accruals have been reported by the three leading passenger car makers: Ford Motor Co.; General Motors Co.; and Tesla Inc. Another 12% or 13% come from the top truck, bus, construction and farm equipment manufacturers, led by AGCO Corp.; Caterpillar Inc.; Cummins Inc.; Deere & Co.; and Paccar Inc. And then a small-but-important share of warranty expenses comes from the RV industry, which is led by Rev Group Inc.; Skyline Champion Corp.; Thor Industries Inc.; and Winnebago Industries Inc.
Passenger Car Claims
Before we go on we should mention that while we also have warranty expense data in hand from Stellantis N.V., the parent of Chrysler Group as well as brands such as Fiat, Dodge, Jeep, Citroen, Vauxhall, Opel, and Peugeot, it's denominated in euro. So we'll save that for a European automotive warranty report that we'll deliver in April or May, depending on the annual report publishing schedule of the other top European OEMs.
In terms of U.S.-based passenger car makers, the top three are Ford, GM, and Tesla. But as can be seen in Figure 1 below, in terms of warranty claims, Tesla is still a tiny sliver of the total, and is barely visible for the first six years of this ten-year chart.
Figure 1
Passenger Car Warranties
Claims Paid by Top U.S.-based Manufacturers
(in US$ millions, 2016-2021)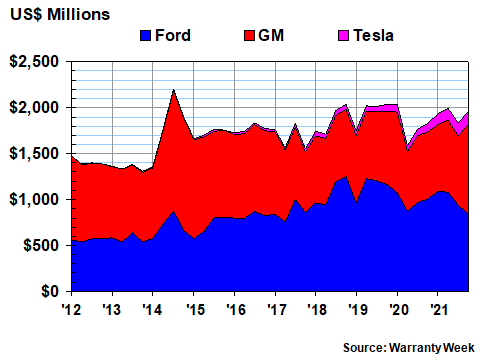 In all of 2021, Ford paid $3.95 billion in claims -- fractionally more than it paid in 2020. GM's claims total grew by about 9% to $3.25 billion in 2021. And Tesla's claims cost rose by 68% to $525 million. But its product revenue was up by 66%, so Tesla's warranty expenses are growing more or less proportionally with sales.
Notice the deep notch in the claims total for the second quarter of 2020, which of course was the depths of the pandemic lockdowns. Also notice the spike in claims back in mid-2014, which is when GM had its ignition switch recall and Ford had its own warranty problems.
In 2021, the car and small vehicle category, into which Ford, GM, and Tesla fit, saw claims rise by about 6.7% to $8.02 billion, which was much faster than the 1.1% growth rate seen for claims paid by all manufacturers.
Passenger Car Accruals
Claims totals depend on all sorts of factors, not the least among them the ability for customers to bring their vehicles in for warranty work. During the pandemic lockdowns, that became more difficult, so warranty work was time-shifted to later periods. But warranty accruals -- the amounts set aside by manufacturers to pay for future claims -- are made at the time a product is sold, so they ordinarily rise and fall proportionally to sales.
That doesn't always happen, for a variety of reasons. Sometimes a manufacturer detects a change in product reliability or repair cost, so it adjusts warranty accruals accordingly. And by measuring the change in accruals and comparing it to the change in sales, we can report when the data doesn't agree with itself.
For instance, we already mentioned that Tesla's sales were up 66%. Claims grew 68%, and as we can see in Figure 2, accruals also grew. In hard numbers, the company set aside $1.056 billion in warranty accruals last year, up 69% from the 2020 total. So the three metrics are more or less in agreement.
Figure 2
Passenger Car Warranties
Accruals Made by Top U.S.-based Manufacturers
(in US$ millions, 2012-2021)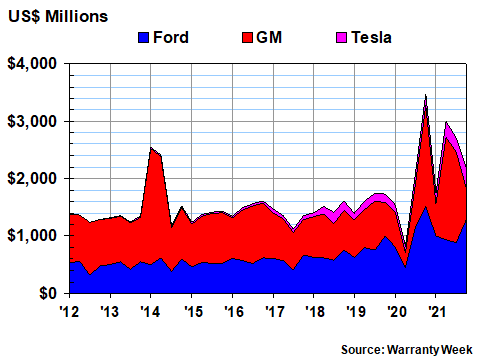 Ford, on the other hand, saw a 25% increase in product sales revenue last year. But its claims rose by only 0.7% while its accruals grew by 4.3% to $4.1 billion. So Ford is either not expecting warranty expenses to grow as fast as sales are bouncing back, or it's not fully funding the liability it faces in future years. Time will tell.
GM, meanwhile, saw its product sales revenue grow by only 4.5% last year. But its claims cost rose 9% and its accruals rose by a huge 32% jump to $4.485 billion. So GM is suggesting that it expects warranty costs to rise faster than sales in future years.
Passenger Car Expense Rates
The interplay between claims and product sales is illustrated in Figure 3, which tracks the quarterly totals for each metric over the past 10 years. One can see what happened during that miserable second quarter of last year, when claims fell but sales fell even faster, and the claims rate for both GM and Ford spiked above four percent. But also notice how relatively unchanged the Tesla claims rate has been over the past five or so years, and how flat it remained during 2021.
Figure 3
Passenger Car Warranties
Accrual Rates for Top U.S.-based Manufacturers
(as % of product revenue, 2012-2021)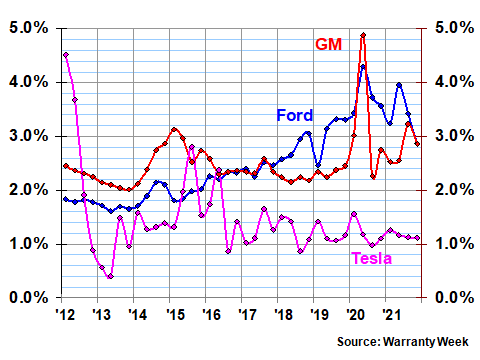 Tesla ended 2021 with a claims rate stuck at 1.1% -- fractionally higher than its year-ending figure in 2020. Meanwhile, Ford and GM ended 2021 virtually tied for second place with 2.9% claims rates. Actually, to break the tie, GM's claims rate was one hundredth of a percent lower than Ford's in 2021. But Ford gets the Most Improved Award, having brought its claims rate down from 3.6% in 2020.
GM's claims rate actually rose a tiny bit last year, from 2.75% in 2020 to 2.86% in 2021. And Tesla's claims rate actually rose an even tinier bit, from 1.11% to 1.12%. But they were the only two vehicle manufacturers to see increases in their claims rates among all 12 companies profiled in this week's newsletter.
RV Claims Totals
In Figure 4 we're looking at 40 quarters of claims payments by four of the top RV manufacturers. Rev Group did not begin reporting until 2016, before its stock began trading publicly in 2017. but the story of this industry has been one of slow-but-steady increases in warranty claims, except for that horrible period in mid-2020.
Figure 4
RV & Mobile Home Warranties
Claims Paid by Top U.S.-based Manufacturers
(in US$ millions, 2012-2021)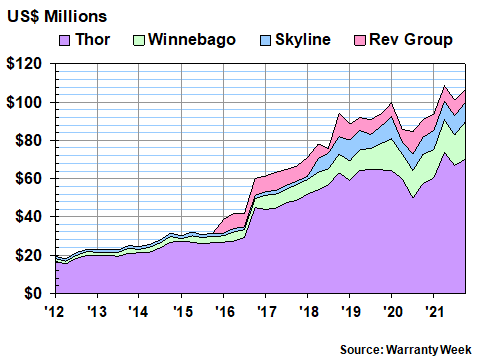 For all of 2021, Thor's claims cost grew 17% to $271 million. Winnebago's claims cost grew by 14% to $67 million. Skyline Champion's claims cost rose 12.5% to $40 million. And Rev Group actually saw its claims cost fall by 10% to $31.6 million. None of these changes in claims were proportional to sales. But as we will see, their changes in accruals were a bit closer to proportional.
RV Accrual Totals
In Figure 5 we're looking at the ten-year trend in claims paid per quarter by these four RV manufacturers. And while with this metric there was a much sharper dip in 2020 and a much more pronounced spike in 2021, this ended up being closer to the pattern in sales.
In 2021, Thor's accruals rose 56%, to $296 million for the calendar year. But its product revenue rose 56% in the fourth quarter, and by 51% in the fiscal year that ended on July 31. Winnebago's accruals rose 38% to $94.3 million, and its sales rose 46% in the fourth quarter and by 54% in the fiscal year ended on August 28. Skyline Champion's accruals rose 20% to $43.3 million in calendar 2021, and its sales were up by 42% in the fourth quarter.
Figure 5
RV & Mobile Home Warranties
Accruals Made by Top U.S.-based Manufacturers
(in US$ millions, 2012-2021)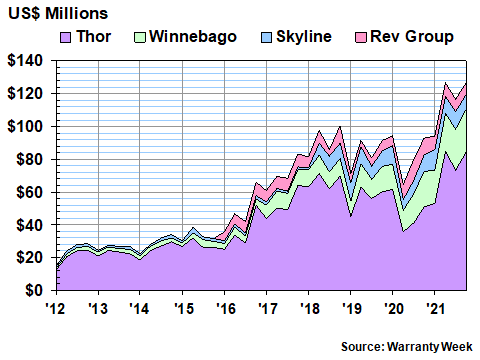 The only one whose warranty metrics disagreed with sales was Rev Group. The company ends its fiscal year on October 31. And while its total revenue rose by 5% last year, claims were down 10% and accruals fell by 18% to $31.1 million in 2021. And so, like Ford, Rev Group is either planning on warranty expenses not rising as fast as sales, or it's underfunding its liabilities. Again, time will tell.
RV Warranty Expense Rates
The thing about the data in Figure 6 is how it all ends up in virtually the same spot. By the end of calendar 2021, Skyline's claims rate was at 1.9%; Thor's claims rate was at 1.8%; and Winnebago's claims rate was at 1.7%. The only outlier was Rev Group, which ended 2021 with a 1.3% claims rate.
Figure 6
RV & Mobile Home Warranties
Accrual Rates for Top U.S.-based Manufacturers
(as % of product revenue, 2012-2021)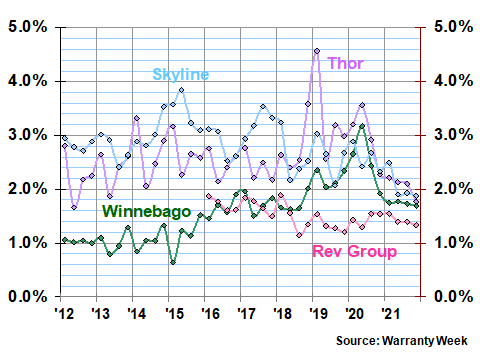 Ten years of data gets a little jumbled, but it's still possible to see that Thor had a spike in claims in early 2019. Winnebago topped out in mid-2020. And Skyline had a big spike in 2015, followed by a smaller spike in 2017. Again, Rev Group is the outlier, with six years of steady-but-declining claims rates, which, like Tesla's in Figure 3, have been the lowest in their peer group's for multiple years.
Truck & Large Vehicle Claims Totals
Our third group includes four large vehicle manufacturers and one truck engine maker. We should note that because Navistar was acquired in July by a subsidiary of Volkswagen, we have discontinued including the company in this cohort. But the others represent the largest U.S.-based providers of on-highway trucks, farm equipment, and construction equipment.
In Figure 7 we should note what we don't see: any lasting damage from the pandemic lockdowns. But that's no surprise: trucking, farming, and construction were considered essential services during the pandemic lockdowns, so of course their equipment operators were able to obtain warranty work when needed.
Figure 7
Truck & Large Vehicle Warranties
Claims Paid by Top U.S.-based Manufacturers
(in US$ millions, 2012-2021)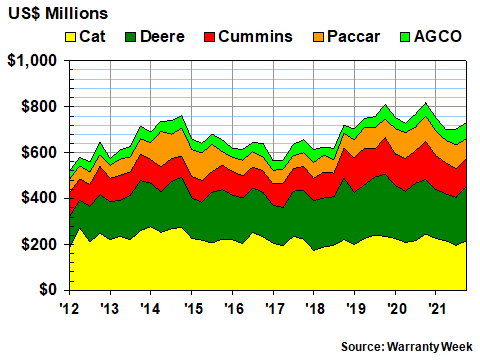 Last year, claims totals generally declined within this group. In calendar 2021, Caterpillar's claims fell 4.8% to $854 million. Deere's claims total fell by 8.3% to $864 million. Cummins fell 10% to $530 million. Paccar's claims total fell by 9.4% to $396 million. The only outlier was AGCO, whose claims total rose by 18% to $242 million.
Truck & Large Vehicle Accrual Totals
Compared to Figure 7, the pattern in Figure 8 is much more chaotic. First of all, there is a very noticeable notch in the data during the pandemic lockdowns. Second of all, the 2018 spike in Cummins' accruals (caused by engine emissions warranty-related claims) is quite prominent. Harder to see is the complete absence of accruals made by Cummins in the fourth quarter of 2021.
Traditionally, manufacturers such as Cummins report their warranty expenses in increments of three months, six months, nine months, and twelve months. And for Cummins, the accrual amounts listed in their financial statements for nine months and twelve months were the same, meaning there were no additional accruals during the tenth, eleventh, or twelfth months of last year. That's unusual, but not surprising given the magnitude of the problems it has faced during the last four years.
Figure 8
Truck & Large Vehicle Warranties
Accruals Made by Top U.S.-based Manufacturers
(in US$ millions, 2012-2021)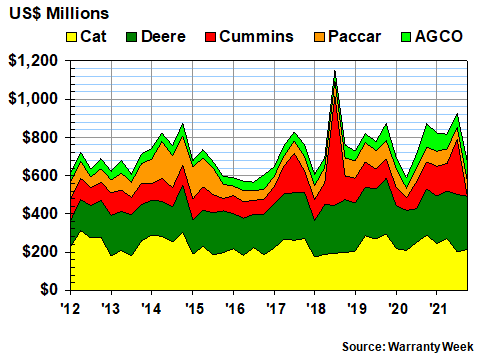 Only Deere reported a close match between accrual and sales growth. Accruals rose 26% to $1.07 billion last year while sales rose 27%. AGCO came close, with accruals rising 11% and sales rising 22%. So did Cummins, with accruals rising 34% and sales rising 21%.
Meanwhile, Paccar's accruals rose only slightly to $298 million but sales rose 21%. And Caterpillar's accruals fell 3.8% to $931 million, but product sales rose 23%. So both these companies, like Ford and Rev Group, are either predicting warranty expenses won't rise as fast as sales, or they're underfunding their liabilities. Time will tell.
Warranty Expense Rates
In our last chart, there was simply too much scribble to allow us to present ten years of data, so we had to shorten the time horizon to five years. And the irony is that like with the RV segment, after all that scribble, they all end up in the same place anyhow.
Figure 9
Truck & Large Vehicle Warranties
Accrual Rates for Top U.S.-based Manufacturers
(as % of product revenue, 2017-2021)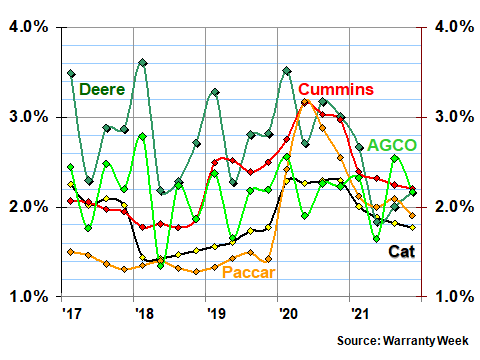 For all of 2021, Cummins had an accrual rate just over 2.2%. Deere and AGCO's accrual rate was just under 2.2%. Paccar was at 1.9%, and Caterpillar was at 1.8%. All but Cummins were lower at the end of 2021 than they were at the end of 2020.
One final note: because of the lag time between when a vehicle is sold and when it needs warranty work, the claims rate is heavily influenced by both changes in claims and sales totals. And when those vehicles are used seasonally, as would be the case with farm equipment, the claims rate also follows a seasonal pattern.
Notice how for both Deere and AGCO the claims rate peaks in the winter and falls in the spring and summer. This of course follows the growing season in the northern hemisphere.
In contrast, the data for Cat, Cummins, and Paccar (parent company of the Kenworth, Peterbilt, Leyland, and DAF truck brands) show little to no seasonality, reflecting the year-round use pattern for their equipment.