December 15, 2022
Worldwide Aviation & Jet Engine Warranty Report:
Claims were down for the aircraft but up for the engines, while warranty accruals and reserve balances were up considerably for both groups. But warranty metrics in the aviation industry are still far below the peaks they set several years ago, before the pandemic caused demand for air travel to nearly cease.
To close out the year, this week we're tabulating worldwide warranty expenses in both the commercial aircraft industry and in the jet engine industry. We're measuring their warranty expenses with three metrics: claims paid, accruals made, and reserves held. And we're adding two more percentage rates: claims as a percent of sales, and accruals as a percent of sales.
The world of aircraft manufacturers can be split into three segments. First are the commercial airliner manufacturers, led by the American Boeing Company and the European Airbus Group N.V. Then there are three manufacturers of the smaller commercial aircraft typically used on shorter flights: the Canadian company Bombardier Inc., the Brazilian manufacturer Embraer S.A., and the French company GIE Avions de Transport Regional (ATR), a partnership of Airbus and Leonardo S.p.A. However, in recent years, Airbus acquired 50% of Bombardier Aviation, and Boeing acquired 80% of Embraer's commercial aviation division, so really there are only two major global competitors left: Airbus and Boeing.
The second segment are the general aviation manufacturers, who make everything from antique biplanes for air shows to modern business jets that can fly close to the speed of sound. Market leaders include Bombardier Aviation with its Learjets, Challenger, and other aircraft brands. But there's also Textron Inc., the owners of the (Cessna and Beechcraft) brands; General Dynamics Corp., through its (Gulfstream Aerospace Corp.) subsidiary; and the Dassault Aviation Group, makers of the Falcon family of business jets.
And then there is a third segment: the military plane makers, led by the U.S. company Lockheed Martin Corp., and by its superpower arch-rivals the Aviation Industry Corporation of China Ltd. (AVIC), and United Aircraft Corp. PJSC (UAC) of Russia. Lockheed Martin makes the F-35 Lightning II. AVIC makes the Shenyang FC-31 fighter. UAC owns several military jet manufacturers, including Sukhoi, makers of the Su-57 fighter; Tupolev, makers of the Tu-95 Bear bomber; and Mikoyan, makers of the MiG-35 fighter jets.
Most of the market-leading commercial and general aviation companies publish their warranty expenses in their annual reports. In the lists above and in the charts below, the two major exceptions are AVIC and UAC -- neither of which currently publish their warranty expense reports. However, the aircraft manufacturers who do publish their warranty expenses accounted for 88% of the industry's worldwide sales in 2020, and 86% in 2021.
Warranty Claims
In Figure 1, we're totaling the claims payments reported by these companies over the past five years, as well as the estimates we've fashioned for AVIC, UAC, and the many general aviation aircraft manufacturers included in the "other" category. We estimate the industry claims total was $1.035 billion in 2021, down about 7.4% from 2020's $1.117 billion total. For an easy comparison, all the worldwide figures have been converted into U.S. dollars.
Figure 1
Top Airframe Makers Worldwide
Claims Paid per Year
(in US$ dollars, 2017-2021)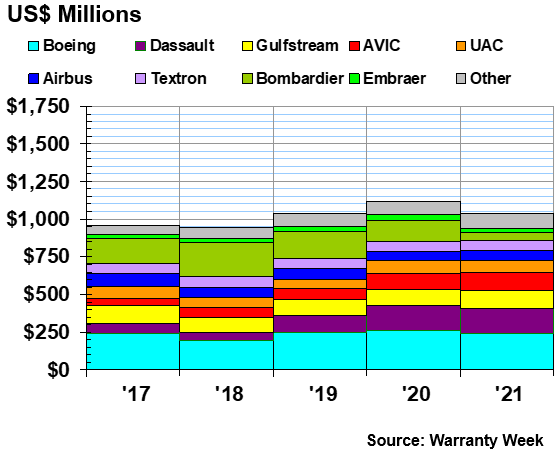 Relatively speaking, Bombardier's claims total was down the most while Gulfstream's claims total was up the most. Bombardier's reported claims total fell from $146 million to $53 million. Gulfstream's rose from %108 million to $124 million.
The largest claims total was reported by Boeing in both 2020 and in 2021. In 2020, the company paid $260 million in claims, while in 2021 that total fell at just about the industry-average rate to $241 million. In both years, the company accounted for about 23% of the industry's claims while accounting for just 14-16% of its product sales revenue.
In contrast, Airbus reports a market-leading figure for product revenue but a much smaller share of warranty expenses. That's because its warranty expenses are equal to only 0.1% to 0.3% of revenue, while for most of the others it's 1% to even 3.5% of revenue. More on that later.
Aircraft Warranty Accruals
In 2021, industry accruals -- the amounts that aircraft manufacturers set aside to finance future warranty claims -- grew at an 11% rate to $1.06 billion worldwide. That increase, however, came after a steep drop from 2019 to 2020 as the effects of the pandemic took hold.
Figure 2
Top Airframe Makers Worldwide
Accruals Made per Year
(in US$ dollars, 2017-2021)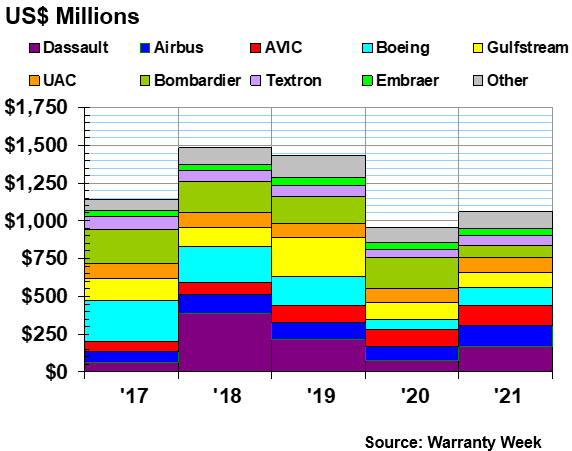 Once again, Bombardier was down the most, with its accrual total falling from $207 million in 2020 to $82 million in 2021. Dassault was up the most, with accruals rising from $76 million in 2020 to $170 million in 2021.
Airbus and Boeing also saw their accruals rise swiftly, with Airbus up from $93 million to $136 million, and Boeing up from $65 million to $116 million.
Compared to Sales
When compared to product sales revenue, a different picture emerges. Overall, we estimate that worldwide industry sales revenue grew by 6.6% in 2021 to $122.9 billion. Accruals grew by 11% but claims fell by 7.4%. As a result, the industry's accrual rate rose slightly while its claims rate fell swiftly.
Sales, however, are still not even close to their pre-pandemic levels: $153.6 billion in 2019; $180.2 billion in 2018; or $166.8 billion in 2017. As a result, because there's a lag time of sometimes multiple years between when a plane is sold and when it requires warranty work, the claims rate rises when the sales rate falls.
Figure 3
Top Airframe Makers Worldwide
Average Claims & Accrual Rates
(as a % of product sales, 2017-2021)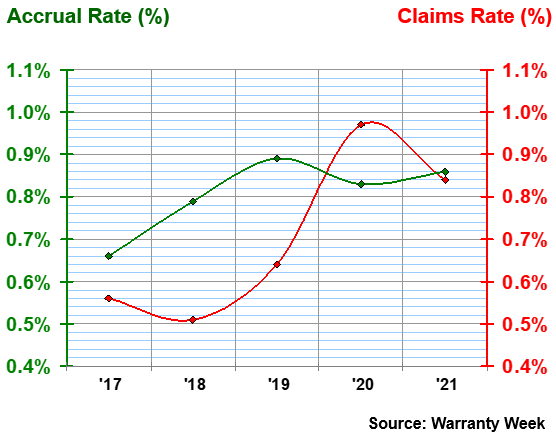 Over the past five years, the industry's claims rate has risen from 0.5% to nearly 1.0%, while the average accrual rate has remained within a much more narrow band. That's because the percentage is calculated by dividing any given year's warranty expense by the same year's sales. In years where sales fall precipitously (sales were down -29% during the pandemic year of 2020), that tends to elevate the claims rate, while the accrual rate remains relatively unchanged.
For instance, Boeing's claims rate doubled from 0.8% in 2019 to 1.6% in 2020, before falling back to a more typical 1.24% in 2021. Its accrual rate was 0.4% in 2018 and 2020, and 0.6% in 2019 and 2021.
Airbus, in contrast, has had unusually low claims and accrual rates for all the years we've been observing them. Its claims rate remains close to 0.1% while its accrual rate ranges from 0.2% to 0.3%. But it's not the expense we think is at fault -- it seems like the revenue figure must include additional product lines or service revenue where warranty is not an issue.
Warranty Reserves
Our final metric for this group is the balance held in the warranty reserve funds of all these companies at the end of each year. In 2021, the total soared above $6 billion for the first time, up 14% from the $5.268 billion measured at the end of 2020.
Figure 4
Top Airframe Makers Worldwide
Reserves Held per Year
(in US$ dollars, 2017-2021)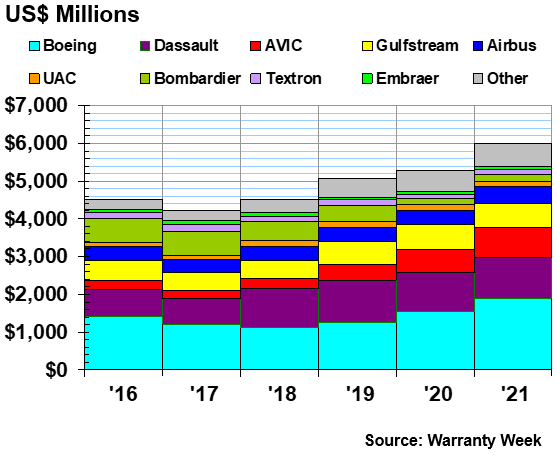 Boeing has a habit of adding funds separately to cover its huge product recalls (see Figure 6 in the October 28, 2021 newsletter for more), so they don't show up as regular accruals, as charted in Figure 2. But they do show up in the year-ending warranty reserve balance, and on this metric, Boeing leads not only in size but also in growth. Reserves grew 24% from $1.53 billion in 2020 to $1.90 billion in 2021 -- much faster than the 14% industry growth rate.
Airbus also saw its warranty reserve balance grow swiftly, increasing by 19% to $440 million by the end of 2021. The reserve balances at Bombardier, Textron, Embraer, and Dassault grew at much slower rates, while Gulfstream actually reduced its balance by about $19 million to $641 million in 2021.
Jet Engine Market
The jet engine market is actually of a comparable size to the aircraft market, with $135 billion in sales last year, compared to $133 billion in 2020 and $142 billion in 2019. Dollar-for-dollar, however, the jet engines generate a lot more warranty expense than the aircraft they're attached to, as the following charts will illustrate.
The list of the world's top jet engine manufacturers includes Rolls Royce Holdings plc; GE Aviation, a subsidiary of General Electric Co.; Pratt & Whitney, a subsidiary of Raytheon Technologies Corp. (formerly known as United Technologies Corp.); Safran Aircraft Engines, a division of the Paris-based Safran S.A.; Honeywell Aerospace, a division of Honeywell International Inc.; the Munich-based MTU Aero Engines AG; and privately-held Williams International from Pontiac, Michigan.
There are also several joint ventures amongst and between some of the top industry players. The Engine Alliance is a joint venture between GE Aviation and Pratt & Whitney. CFM International is a joint venture between GE Aviation and Safran Aircraft Engines. Safran also has a joint venture with Boeing Co. to produce auxiliary power units for aircraft.
PowerJet is a joint venture between Safran and UEC-Saturn. International Aero Engines AG, also known as IAE, is a joint venture of Pratt & Whitney, MTU Aero Engines, and Japanese Aero Engine Corp. Rolls Royce and Avio S.p.A. are former IAE shareholders. And Avio in turn was formerly part of Fiat S.p.A. However, those two along with MTU and ITP Aero, a Spanish subsidiary of Rolls-Royce, are also partners in a military aerospace engine consortium called EuroJet Turbo GmbH.
In the following charts, we're listing just the top six manufacturers, with no need to add any in the "other" category. That's because these six represent very close to 100% of the worldwide industry, and all six publish their warranty expenses in their annual reports.
Jet Engine Claims
In Figure 1 we're looking at the reported annual claims totals, converted into U.S. dollars for the European manufacturers. Claims were actually up a very tiny bit in 2021, to $1.75 billion. But that is still down from the $2.07 billion seen in the peak year of 2018.
Figure 5
Top Jet Engine Makers Worldwide
Claims Paid per Year
(in US$ dollars, 2017-2021)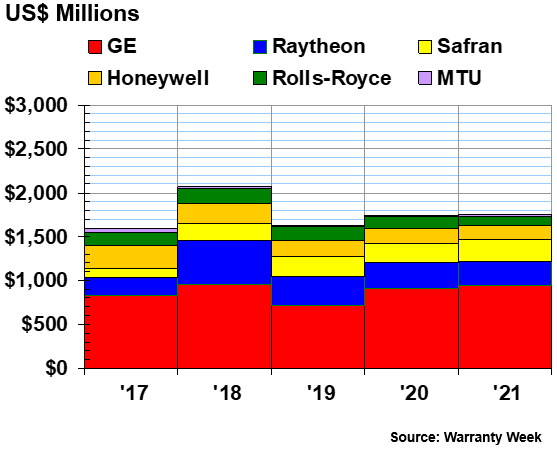 MTU Aero Engines, with a barely visible slice of the claims total, was actually the manufacturer for which claims rose the fastest last year. Its claims total in 2020 was $12.5 million, but it was $20.1 million in 2021. Safran was also up, from $219 million in 2020 to $251 million last year. GE Aviation was up by $32 million from 2020 to 2021, but because of its larger base, that equated to a much smaller +3.5% growth rate.
On the down side, Raytheon's Pratt & Whitney, Honeywell Aerospace, and Rolls-Royce all saw their claims totals fall in 2021. The latter's fell the fastest, from $134 million in 2020 to $103 million in 2021.
Engine Warranty Accruals
Warranty accruals made by these six jet engine manufacturers were up by 10% last year, versus a product sales growth rate under two percent. As we will see in Figure 7, this helped drive the industry's accrual rate up in 2021, while its claims rate fell a bit.
Warranty accruals in this industry totaled $1.851 billion in 2021, up from $1.685 billion in 2020, but still down from the $2.732 billion reported in the peak year of 2018. Sales also peaked that year, at $189.5 billion.
Figure 6
Top Jet Engine Makers Worldwide
Accruals Made per Year
(in US$ dollars, 2017-2021)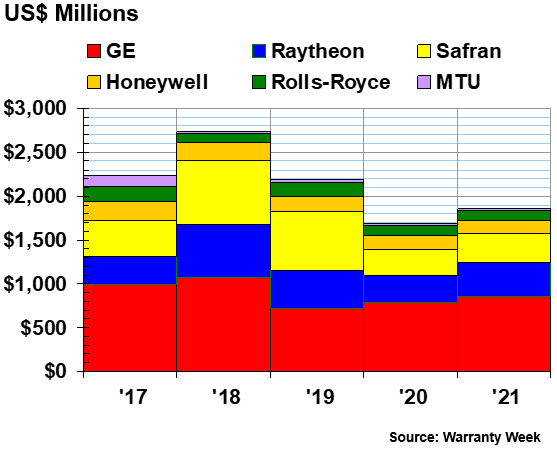 MTU, Raytheon, and Safran saw their accruals rise faster than the industry average, while GE Aviation's accrual rate rose a tiny bit slower than average. Rolls-Royce and Honeywell actually reduced their accrual totals in 2021.
When compared to sales, the industry totals in Figures 5 and 6 provide the data points charted in Figure 7. The industry's accrual rate peaked at 1.54% of sales in 2019, while its claims rate peaked at 1.31% in 2020. In 2021, the industry's average accrual rate rose to 1.37%, while its average claims rate fell to 1.29%.
Figure 7
Top Jet Engine Makers Worldwide
Average Claims & Accrual Rates
(as a % of product sales, 2017-2021)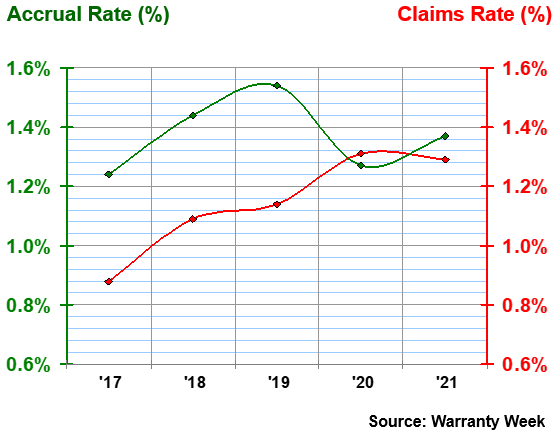 GE's expense rates rose the most. Its claims rate jumped from 2.4% to 2.8%, while its accrual rate rose from 2.1% to 2.5%. But keep in mind that these figures reflect the company's entire product line, since aviation warranty expenses are not broken out separately.
MTU and Safran also saw their expense rates rise in 2021. Honeywell saw its expense rates fall slightly, while Raytheon and Rolls-Royce saw their claims rates fall while their accrual rates rose.
Warranty Reserves
The combined year-end warranty reserve fund balances of the six manufacturers actually rose a slight bit in 2021, after falling in both 2020 and 2019. Warranty reserves grew by $15 million to $5.085 billion by the end of last year, but these are still far below the $6.03 billion measured in 2018 and the $5.84 billion measured in 2017.
Figure 8
Top Jet Engine Makers Worldwide
Reserves Held per Year
(in US$ dollars, 2017-2021)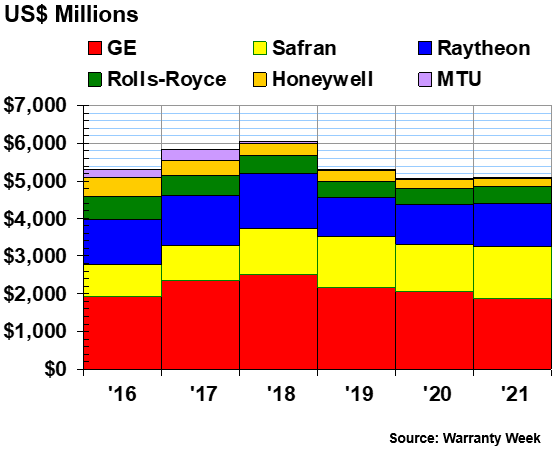 Raytheon and Safran saw their reserve balances rise the fastest, while GE, Honeywell, and MTU saw their balances fall the fastest. Rolls-Royce was down ever so slightly.
On a combined basis, the top manufacturers in the commercial aircraft and jet engine industries held $11.09 billion in warranty reserves at the end of 2021, an increase of $755 million from their balances at the end of 2020.
Warranty claims for the combined industries declined by $75 million to $2.785 billion, and represented about 1.08% of their combined sales revenue. Warranty accruals rose by $275 million to $2.912 billion, and represented a combined 1.13% of their reported product revenue.
Happy Holidays!
And with that, we put an end to yet another tumultuous year in the warranty business. Incredibly, this is the twentieth year-ending issue of Warranty Week, which began with a report on the warranty disclosures of online retailers at the end of 2002, which followed an opening of the website on December 6, 2002. It has been a pleasure to send all of you the 916 newsletters we've published in the two decades since then, not to mention countless industry headlines, and all sorts of industry-wide facts and figures.
We're going to take a short break for the holidays, and will return to our regular weekly schedule in the new year, with a new sense of optimism, in January 2023. Until then, we wish all our readers a happy holiday and a healthy, safe, and prosperous new year!