September 7, 2023
Building vs. Buying Warranty Administration Software:
Last month, PCMI hosted a webinar entitled "Buying vs. Building Warranty Software," with Alpha Warranty, one of their clients. Executives from the two companies discussed the warranty administrator's decision to purchase PCMI's Policy Claim Reporting Solutions (PCRS), rather than developing their own software.
The choice of an administration platform can either enable business growth or hinder its expansion. At this point in the evolution of the U.S. extended warranty industry, most dealers and retailers of any size already have a protection program in place, and those programs are run by an administrator, using some sort of contract and claims administration software platform.
But everywhere, the possibilities are expanding. In the auto industry, vehicle service contracts are just the core offering in a suite of protection plans that will cover dents, glass, carpets, key fobs, wheels, and even the value of the outstanding loan, should the car be totaled. In the electronics industry, smartphones and laptops can be insured against not only defects and accidental damage, but also loss and theft. And the home warranty industry is widening to cover not only central air and major appliances, but also home entertainment systems, security alarms, and even the sewer pipes buried in the ground outside.
Keeping Up With Market Innovations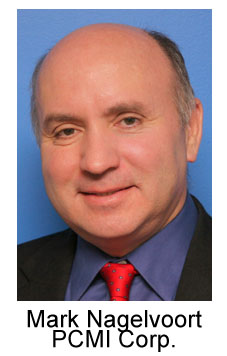 Whether that administration platform is homegrown or licensed, it has to keep up with innovations in the marketplace -- in the way contracts are sold, how they are signed, what they cover, how customers pay for them, and perhaps even how claims and refunds are processed and paid for. For instance, the iPhone just turned 16; Amazon Alexa isn't even nine. Contactless payment cards came to the U.S. just 19 years ago; consumer Wi-Fi is only 24. And monthly billing for service contracts is still young.
Last month, PCMI, one of our longtime newsletter sponsors, hosted a webinar entitled, "Building vs Buying Admin Software," featuring two executives from one of its client companies, Alpha Warranty Services Inc. Mark Nagelvoort, the founder and chief executive officer of PCMI, said the webinar was intended to explain the decision-making that went into Alpha Warranty's decision to buy PCMI's Policy Claim Reporting Solutions (PCRS) instead of developing their own admin software.
"When it's a major change, people go through a build versus buy, because there is a lot of development talent at Alpha." he said, and they could have written their own replacement system. But instead, they chose to buy PCRS. So he said the webinar would delve into that decision-making process, the trade-offs for each option, the implementation, and finally the outcome.
Time For A Change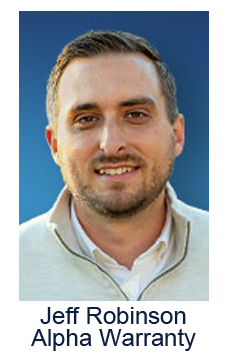 Jeff Robinson, chief operating officer of Alpha Warranty, said the company has been in business for just over 20 years, selling vehicle service contracts through auto dealers. It's based in South Jordan UT, just south of Salt Lake City, and it remains privately-held.
The company had been running a legacy vehicle service contract administration system whose deficiencies were beginning to impact the business. "We reached a point around five years ago, where we knew it was time for us to make a change," Robinson said. First of all, there were problems with the old system's uptime and with its stability, he said. "If our systems are not up and live, we can't process claims and we can't sell contracts. We can't do our critical functions without this technology system working well."
"We were on a different system," Robinson said, "built by another industry provider, and we were having some issues. And there's nothing more frustrating than having those types of issues and you know there's nothing we can do you sit back and wait. We just didn't have confidence in their team."
Robinson said that over the past two decades, Alpha had also dealt with innovations in the marketplace by building some new tools on the side, such as a point-of-sale system, a claims tracker, and a cancellation portal. But it couldn't get them connected seamlessly to the main contract administration system. "It was a real struggle and it prohibited us from innovating the way that we wanted to. So we knew it was time to make a change."
Build or Buy?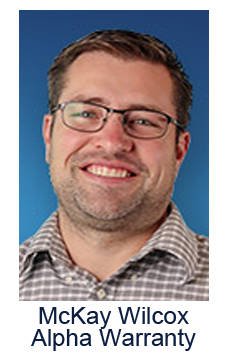 So they looked at three options: build their own new system, outsource the development of a custom system, or buy an admin system from PCMI. McKay Wilcox, Alpha Warranty's senior project manager, said they did briefly consider building their own system in-house. "We could build it exactly the way we wanted," he said. "We felt like maybe in the long run it might be cheaper. We would own it. And we could continue to customize it as things came up."
On the other hand, the company had only eight software developers on board and would have to hire many more if they were to try to build a system in-house. That would increase costs. And Alpha would have to train the new developers in how the vehicle service contract industry works, and what they needed the new system to do. They would need to understand not only how VSCs work, but also the intricacies of reinsurance and Guaranteed Asset Protection (GAP) insurance -- not to mention dent, paint, carpet, seat, and wheel protection. And they would also have to be flexible enough to grow the system's capabilities in unexpected directions, such as if one of their dealerships expanded into power sports or recreational vehicles, and needed to sell service contracts for those items.
"We're not in the business of building a contract administration system." Robinson said. "That's not our focus. So if we're going to embark on that and spend a significant amount of our time and resources on that, we're really hurting the rest of the business."
Nagelvoort said the biggest issue he sees for his customers is the opportunity cost. What else could a company be doing for the nine months to three years it would take for them to develop an in-house system? "Do you want to be out talking to the dealers and continue your sales effort, and figure out what they need? It is a massive drain on a company, I think, from a time standpoint, to try and build a package," he said.
In contrast, Nagelvoort said, PCMI already has a diverse customer base of companies that administer service contracts in multiple product categories -- not only in passenger cars and recreational vehicles, but also in retail electronics, smartphones, and home warranty -- so they're used to being sent in unexpected directions. "Most people are shocked to find out we probably have 20 full-time people focused on how to do conversions right," he said.
Adding New Features
And there are 25 more people on the PCMI staff doing nothing but the testing of new features, quality assurance, and compliance. Last year, Nagelvoort estimates, the PCMI team successfully added some 300 different system enhancements without suffering any resulting downtime. In fact, he said, at any given moment there could be up to four redundant instances of a customer's system running on PCMI servers -- one in production, two for testing, and one for backup.
"This is our focus," Nagelvoort said. "This is what our company is for. We're out supporting administrators. We don't build DMS systems. We don't do life insurance. We don't do health insurance. Our whole focus is supporting the administrator."
Another option available to Alpha Warranty was to outsource the development of an admin platform. Wilcox said an administrator located not far from Alpha Warranty had chosen this option, and while they reported a large up-front cost in the millions, they said they were saving money over the long term.
And then there was the benefit of ownership. Whether it was built in-house or outsourced, Alpha Warranty would have owned the system. "We own the code. We own the data," Wilcox said. "We'd have it all, and could get access to it easily." But with the outsource option, as with the build-in-house option, Alpha would have to explain the vehicle service contract industry to the developers and explain to them how the system needed to work.
Buying a system has its own pitfalls, however. Chief among them is cost. There will probably be no long-term cost savings, Robinson said. Another problem would be features. Just as Alpha had to previously build its own tools for such tasks as cancellations, it might have to do so again with a new system.
But then there were also some fears about the size of the task. "Converting is a huge undertaking," he said, and they were nervous about how long it would take, given the number of customers and contracts it would involve. But PCMI assured them it could be done, and so the conversion from old to new began in 2020.
"When we converted," Robinson said, "which I think was about three years ago, I believe that we were bringing over just over a million contracts that needed to be converted. And at the time we had spent a couple of hundred million dollars on claims."
New Lines of Business
Then again, Robinson said he was somewhat reassured that PCRS already supported products and programs that Alpha Warranty was considering but had not yet launched. "So someday when we get to the point where we want to offer those products, we don't have to then worry about learning the process and designing a claims tool or a technology tool to handle that. It's already in there, and PCMI will show us how to use it," he said.
As far as cost, Robinson declined to discuss specifics, but he said the upfront costs were "relatively low." Then there were some conversion costs, and ongoing running costs were similar to those it paid previously. "So it really wasn't a hit on the budget."
The downside, Robinson said, is that PCRS is designed for multiple third-party administrators -- not just Alpha Warranty. "So we don't have direct control over building it to fit our exact processes, like we would if we built the system ourselves," he said. But then again, whatever innovations Alpha Warranty's own developers want to create can be connected to it in real time.
Furthermore, while Alpha Warranty was still evaluating PCRS, Robinson said the staff saw some demos that illustrated ways the administration process could be made more efficient, and/or more accurate. But what really closed the deal were the numbers PCMI provided on system uptime and stability, he said, which have proven themselves to be accurate ever since. "The system is always up," he said.
Platform-As-A-Service
"And then platform-as-a-service," Robinson added. "It's really important to us. We have all these technology systems on the side and we want them to seamlessly connect with our home base." PCMI, he said, encouraged them to continue building these add-ons, such as the cancellation portal and the point-of-sale system, and then plan to connect them to PCRS.
"The PAAS solution lets you extend the capabilities of our product and you get real-time accurate information," Nagelvoort noted. "We have some customers who want to put a big emphasis on that. They want to be able to write on top of our software and get direct real-time access to contracts and claims, where you sort of use us as a base and you can build on top of us. They're able to change that as fast as they want."
Robinson noted that Alpha Warranty wrote such an add-on for PCRS -- one that allows a repair facility to log onto the system and submit a claim that flows right into PCRS. So over time it can become something of a custom-built solution, even if it wasn't initially.
At the same time, other PCMI customers are also requesting feature upgrades, and from time to time Alpha sees something new in the monthly release notes that it could also implement. In that way, each administrator can benefit from the things that one suggests, and all can at least get a view of what innovations the others are requesting.
Nagelvoort spotlighted integrations as another innovation that PCRS customers can make use of. For instance, PCRS integrated several inspection companies into the system, so when an administrator is examining a claim, they can launch an inspection request from within the app -- they don't need to log out and log into a separate portal. And then, when the inspection report comes in, it triggers an alert that tells the admin it's ready to review.
High Cost of Security
Security is yet another cost consideration. "It is absolutely shocking how expensive security is today," Nagelvoort noted. "You have all the viruses; you've got all the intrusions; you've got all the penetrations; and you've got you've got all the compliance." PCMI, he said, gets letters all the time from auditors who want to know how data is being safeguarded -- is it being encrypted? "This has now turned into a full-time job," he added.
Just the amount of money changing hands is somewhat daunting. Nagelvoort said PCMI as a business is probably handling on the order of $7 billion in inbound premium payments per year on behalf of its customers, and perhaps $1.5 billion in outgoing claims payments. On the one hand, PCMI wants to make it as easy as possible for dealers to move that money from their accounts to the TPAs' and reconcile those transactions and deliver reports. But on the other hand, that's a huge security risk.
Robinson said that as Alpha's business grows, it has become even more important to have real-time monitoring tools in place, such as reports and dashboards. One dashboard shows all the open claims, their status, how long they've been in that status, and who's responsible for them. If they've been in a given status too long, their color codes will change, so somebody can stay on top of them.
"I can think of several examples like that, that have really enabled us to grow," Robinson said. Another client, Nagelvoort said, doubled its contract sales volume in only 90 days, and they took it for granted that the system could handle the sudden rise in activity. "Somebody has to be monitoring that, managing that, making sure it can handle the sudden increase in volume," he added.
Another direction for scalability to follow is when a client wants to add new lines of business, such as service contracts for motorcycles or power sports, or perhaps Guaranteed Asset Protection insurance, or even some sort of unemployment insurance coverage. "Maybe they never really pushed prepaid maintenance, but they sign a dealer group where that's a big deal," Nagelvoort said. "You don't want to say, 'Well, we can't handle that that line.' But it's already there for you."
Robinson said support for those products helps Alpha decide whether or not to enter a new line of business strictly on its merits as a business, rather than worrying about whether or not the admin system can handle it. "So when we reach the point in our business where we want to bring on those new products, it's just plug-and-play," he said.
Ultimately, of course, Alpha Warranty decided about three years ago to migrate from its legacy system to PCRS. And then it took about a year to complete the migration, In the two years since, Wilcox said, Alpha's new admin system has never had a critical outage.
Robinson said that in those two years, the rate at which Alpha develops its own add-ons and tools has only increased, and it is making heavy use of the reports and dashboards. "Our average time to handle a claim has dropped significantly, and the way that we've been able to do that is really through the access to that real-time data." he said. "We have much more control and visibility into that claims process."