October 19, 2023
Climate Change's Impacts on Warranty:
Climate change means hotter summers and colder winters, and both mean heavier wear and tear on HVAC systems, and more frequent claims on home extended warranties. Furthermore, recent environmental legislation on gas-powered appliances in Colorado will have a big and likely costly impact on service contract providers.
Warranty Week had the pleasure of visiting Chicago earlier this week, for the 14th annual Extended Warranty & Service Contract Innovations industry conference, held at the Palmer House. Eric Arnum, our publisher, presented three more of his ever-popular industry news flashes, about all of the recent innovations and developments in automotive, consumer electronics, and home and appliance warranties. And Drew Arnum, our editor-in-chief, co-chaired the conference, along with Tim Meenan, the founding executive director of the SCIC and managing partner of Meenan P.A.
The conference, organized by Roz Applebaum of the Strategic Solutions Network, was a rousing success, with several hundred attendees, and two days of engaging presentations, panels, and round-table discussions about topics across the extended warranty industry.
During the first day of the conference, Applebaum announced the new Warranty Industry Annual Awards, which will be presented for the first time at the same conference next year, in October 2024. These will be peer awards, and further information on the submission criteria and selection processes will be announced later this winter. Right now, we know that there will be five awards categories, for which individuals and companies can be nominated, or nominate themselves: Innovative Product Design, Technology Innovation Leadership, Customer Experience Excellence, Operational Performance & Administration, and "Warranty Industry Champion." Take a look at Applebaum's announcement at the end of this newsletter for more information.
We heard in presentations this year that many global hot topics are impacting and influencing extended warranty providers, such as artificial intelligence and labor shortages in the skilled trades. Another key theme that emerged is that climate change is already affecting the warranty industry in a variety of ways, from legislation against climate change that touches the service contract industry in several states, to more frequent warranty claims for HVAC units, which had to work extra hard this summer, as the world experienced yet another hottest summer in recorded history.
More Frequent HVAC Claims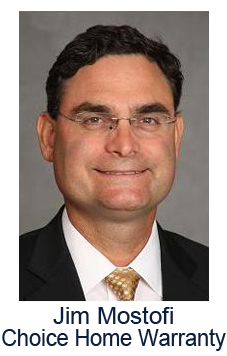 In his presentation "Service Network Trends and Techniques to Improve Efficiency Within an Ever-Changing Landscape," the CEO of Choice Home Warranty, Jim Mostofi, put forth some intriguing statistics about recent evolutions in home warranty, and specifically HVAC service contracts. We sat down with him during the conference for some insight into climate change's recent impacts on his business.
"Weather is actually very important, primarily for two reasons," Mostofi said. "We cover air conditioning in the summer, and we cover heating in the winter. And if the weather is unusually warm, we're going to have more claims in the summer, and if the weather is unusually cold, we're going to have more heating claims in the winter. So weather has a direct impact on the frequency of the claims that we incur and provide home warranties for."
Mostofi continued, "Generally speaking, the quality of HVAC units is better, which would indicate lower frequency of claims, but because you're combining that with increased heat in the summer, and increased cold in the winter, it's kind of offsetting the expected reduction in frequency, and making it flat to a little up instead."
Modern HVAC units are much more energy efficient than they were as recent as a decade ago, so it's surprising that these advancements haven't driven down claims. Units are smaller, have better insulation, and typically don't need to run for as long as they used to in order to reach the same desired temperature. In addition, older HVAC units use refrigerants that can harm the ozone layer, which have become increasingly expensive to source and replace, as there is now a ban on their production. This is an extra incentive for homeowners to replace older units with newer, more efficient ones, as it can get to a point where replacement is cheaper than repair, especially for units over a decade old. Other innovations, such as HVAC zoning systems, smart-phone apps that can adjust thermostats remotely, the usage of sensors in vents, and variable-speed compressors, should all drive down homeowners' energy bills, and reduce the need for frequent repairs on HVAC units.
However, as Mostofi pointed out, home warranty providers haven't seen the expected reduction in the frequency of claims. This doesn't mean that every claim is a huge, costly repair. But for every one of these claims, a service technician needs to come out and diagnose the problem, obtain the necessary parts, and return to fix the unit. And increased inflation has driven up the cost of parts and labor, meaning that claims severity and cost was up as well.
And it's likely that this frequency of claims will continue to increase, especially in those areas that have been profoundly impacted by heat waves in recent years, such as the U.S. southwest and South. The "20 degree rule" for air conditioning units states that one should avoid setting their thermostat lower than 20 degrees colder than the outside air. But how can one follow this rule when the average daily temperature is 100° F for two weeks, as it was in Las Vegas this summer, or above 110° F every day for 30 days straight, as it was in Phoenix?
Of course, geography has a big impact here as well. New York and California, both major population centers, did not experience heat waves, so home warranty service contract providers in the northeast and on the west coast may not have seen the same trend that Mostofi observed. However, migratory patterns in the United States continue to move from the northeast, Midwest, and west coast, and to the South and southwest. The South's share of the U.S. population has increased from about 25% in 1950, to about 60% in 2020. North Carolina, South Carolina, Texas, Florida, Georgia, and Arizona all saw at least 10% population growth in the 2020 Census, while New York and California both lost enough population to lose one seat each in the House of Representatives.
We were curious about whether other home warranty providers have seen similar increases in the frequency of their HVAC warranty claims, or if this phenomenon was unique to Choice Home Warranty. So we took a look at the 2Q 2023 financial statement of Frontdoor, the owners of American Home Shield, and found this statement:
"The demand for our services, and our results of operations, are affected by weather conditions. Extreme temperatures, typically in the winter and summer months, can lead to an increase in service requests related to home systems, particularly HVAC systems, resulting in higher costs and lower profitability, while mild temperatures in the winter or summer months can lead to lower home systems claim frequency, resulting in lower costs and higher profitability. For example, favorable weather trends in the first six months of 2023 as compared to the first six months of 2022 resulted in a lower number of service requests per customer, which favorably impacted contract claims costs."
So it's not just Choice Home Warranty; the weather is impacting the whole home warranty industry. When the weather is good, like it was this spring, claims frequency and costs are reduced. And we expect that when Frontdoor releases its 3Q financial statement in the coming weeks, we will find much higher claims costs, as a result of the heavy usage of HVAC systems in this year's record-breaking summer heat.
Legislation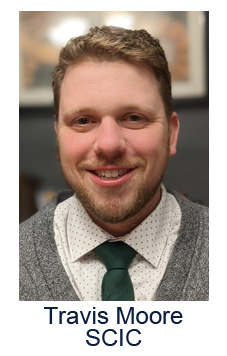 During his "2023 Legislative Roundup" presentation, Travis Moore, General Counsel at the Service Contract Industry Council (SCIC), gave an overview of many of the new and proposed state laws affecting the service contract industry. We were surprised to find that several of these laws touch upon climate change, and rope in extended warranty providers, though they are perhaps not an obvious first choice to regulate in response to environmental concerns.
Moore noted that because it's up to each state to regulate service contracts, there are different state laws that go in different directions. Recently, the service contract industry has ended up in the crosshairs of the larger national debate about gas stoves, which emerged earlier this year and became a hot-button issue. In March, the South Dakota state legislature "passed a law that effectively prohibited any laws that would ban the use of natural gas," Moore said. And then, on the other hand, "you have other states, like Colorado, which are limiting natural gas and other form of energy, in favor of renewables."
Moore continued,
"Concurrently, it has an impact on the service contract industry, particularly home. Although I imagine it will end up affecting everyone at some point, the biggest one is definitely HVAC and home service contracts. Colorado recently passed legislation that requires service contract providers to offer electric power replacements to any appliances that go out that are covered under the service contract, in place of gas fuel appliances."
While it's a well-intentioned environmental measure from Colorado, the law isn't quite compatible with home warranty. Moore noted,
"If a company wants to offer an electric replacement, that's fine, right? But service contracts by their very nature want to replace like with like, to keep things functioning the way they were. It's not a contract to provide for upgrades. So that creates challenges for companies, because frankly, these contracts aren't priced for it, they're not built for it, it just doesn't really work. And now they're legally obligated to do it."
Other gas stove bans, such as those recently passed in New York and California, only require electric appliances in new construction, "so it's not necessarily hitting service contract providers yet," Moore said. "But obviously, there's trends that are moving in that direction, so it's something that we all have to be aware of."
Moore continued, "Technology changes, times change, and there's certainly, undeniably, a desire from many states and many policy makers to push the nation towards a greener future, and that can have an impact when you're in the business of repairing equipment that's run on fuels that are considered not ideal for the environment."
HVAC Claims Data
Climate change is already impacting home warranty providers, and has been costly in several ways, from more frequent claims on HVAC units, especially in the Sun Belt states, to Colorado's new requirement for "every home warranty service contract issued or renewed in Colorado on or after July 1, 2024" to provide "coverage for the replacement of any of certain gas-fueled appliances" with electric ones.
We were curious whether the product warranty data backs up these observations, so we took a look at the total claims and accruals of Trane Technologies plc and Carrier Global Corp, the country's two largest HVAC manufacturers. We also gathered data on each company's quarterly product revenue, in order to calculate our two expense rates: total claims as a percentage of sales (the claims rate), and total accruals as a percentage of sales (the accrual rate). Our data is as the second quarter of 2023, since the third quarter data has yet to be published.
First, we looked at Trane's warranty expense rates, shown in Figure 1.
Figure 1
Trane Technologies
Claims and Accrual Rates
(as a % of product sales, 2014-2023)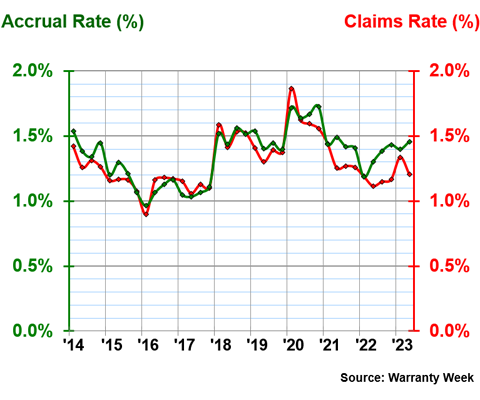 We can see that Trane's warranty expense rates fell from 2014 to 2018, which was when many of these technological advancements began to really impact unit efficiency and the frequency of necessary repairs. However, both the claims and accrual rates jumped in the first quarter of 2018, and again in the first quarter of 2020. This also suggests the impact of heating in the winter on warranty costs.
While warranty expense rates have fallen for Trane in the past couple of years, these rates are now back to the same levels as they were in 2014. As Mostofi remarked, one would expect that with all of the technological advancements in HVAC of the past decade, Trane would be spending a smaller proportion of its product revenue on warranty expenses by now. The initial drop seems to indicate what Mostofi stated about improving technology driving down claims costs, and the subsequent increases help reveal the impact of climate change. Certainly, it is telling that Trane's 2023 warranty expense rates are just about the same as they were back in 2014.
According to the National Oceanic and Atmospheric Administration (NOAA), every year since 2014 has been one of the top 10 hottest years on record. 2016 holds the top spot for the hottest year on record, with 2020 in second place, and 2019 in third. Ranked tenth is 2010, which is likely to be kicked off the list once 2023 is over.
Figure 2 shows Trane's total quarterly warranty claims costs, without being in proportion to quarterly product revenue. This chart reveals some further seasonal and annual patterns.
Figure 2
Trane Technologies
Claims Paid per Quarter
(in millions of U.S. dollars, 2014-2023)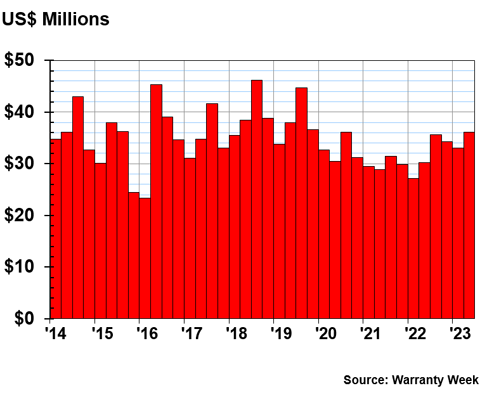 We can see that total claims costs soared especially during the summers (third quarters) of 2017, 2018, and 2019, with a smaller but still notable bump during the summer of 2020. Trane also saw a bump in total warranty claims during the summer of 2022, but this is less noticeable in Figure 2 because claims remained high during the winter, barely dropping during the fourth quarter of 2022 or the first quarter of 2023. Overall, it looks like Trane has found ways to improve the technology and keep claims totals lower since 2020, but the initial drop in late 2015 and early 2016, followed by the sharp increase in claims totals, seems to prove our theory about climate change's negative impact offsetting the positive impact of technological advancement in HVAC systems.
We must also note that Trane underwent some structural reorganization around the same time. At the beginning of 2020, Ingersoll Rand plc and Gardner Denver Holdings Inc. merged, and renamed itself Ingersoll Rand Inc., while spinning off Ingersoll Rand's HVAC and refrigeration business as Trane Technologies plc. However, Ingersoll Rand didn't have many products under product warranty outside of HVAC and refrigeration, so this merger and spin-off didn't affect the data too much.
Figure 3 shows the warranty expense rates of Carrier Global Corp., from the beginning of 2019 to the second quarter of 2023. While we do have data available from before 2019, that was the year that United Technologies began its merger with Raytheon, and spun off its HVAC business as Carrier Global Corp. Since United Technologies and Raytheon also had significant product warranty expenses in aerospace, we did not include those pre-2019 data here.
Figure 3
Carrier Global Corp.
Claims and Accrual Rates
(as a % of product sales, 2019-2023)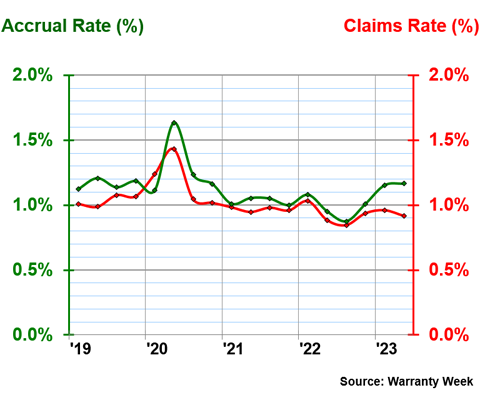 Figure 3 is not quite as revealing as Figure 1, but we can still see the trend that, with the exception of expense rates going up during the second quarter of 2020 due to the pandemic, Carrier's warranty expense rates have not changed much over the past five years. The claims rate during the second quarter of 2023 was slightly below the claims rate during the second quarter of 2019, but overall, we don't see much of a decrease, despite improvements in technology.
Portable Generator Claims Data
Finally, we decided to do a bit of research into the warranty expenses of Generac Holdings Inc., the country's leading portable generator manufacturer.
In February 2021, Texas experienced a winter storm that resulted in power outages in more than 4.5 million homes across the state. As a result, many homeowners went out and purchased portable generators, to ensure that their homes wouldn't lose heat if another similar event occurred in the future. While these portable generators are not typically covered under home service contracts, they do come with their own product warranties.
As such, we took a look at the past ten years of Generac's warranty expense rates, depicted in Figure 4.
Figure 4
Generac
Claims and Accrual Rates
(as a % of product sales, 2014-2023)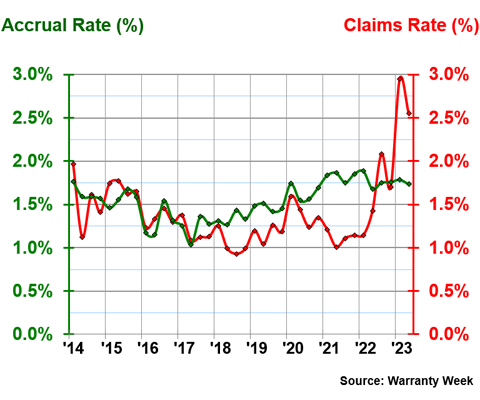 We can clearly see that Generac's claims rate has soared since the second quarter of 2022, while the company's accruals haven't increased nearly as much. It's very possible that the springtime surge in claims was a result of more usage during the winter. Furthermore, there was a huge spike in the claims rate during the first quarter of 2023, likely because many 2021 purchasers turned on their generators during the winter to find that they weren't working properly, as generators are something that aren't used all of the time, and often aren't regularly maintained.
Figure 5 shows Generac's claims totals, without being normalized by quarterly product revenue.
Figure 5
Generac
Claims Paid per Quarter
(in millions of U.S. dollars, 2014-2023)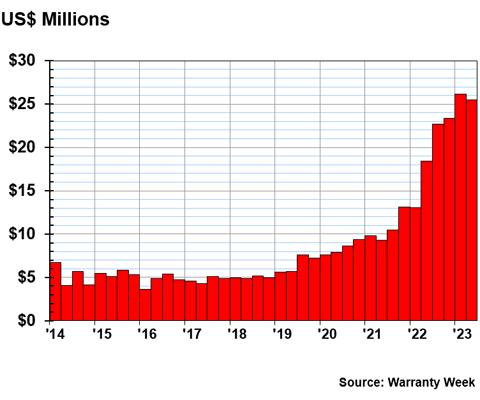 Again, we can see an even more emergent pattern of increasing claims every quarter from the second quarter of 2022 to the first quarter of 2023. Portable generator product warranty costs have soared for Generac in the past year and a half. Depending on how cold this winter is, we may likely see this trend continue.
---
Warranty Awards Announcement from Roz Applebaum
I am excited to announce the Strategic Solutions Network 2024 Warranty Industry Annual Awards! These awards are designed to bring the spotlight to those individuals and companies that deserve recognition for innovations and service excellence.
The 2024 awards will feature five categories with one winner per category. They are:
Innovative Product Design
Technology Innovation Leadership
Customer Experience Excellence
Operational Performance & Administration
And the final award will be "Warranty Industry Champion" — to recognize an individual who contributed the most to the industry for that year.
We will provide in-depth awards information, submission criteria, and selection processes on a special Warranty Awards website, to be launched later this winter.
In April 2024, there will be an interim awards progress update at SSN's inaugural Warranty & Service Contract Innovations for Vehicles and Consumer Products conference (formerly known as the SSN Global Warranty event).
In October 2024, award winners will be announced at the 15th Annual Extended Warranty Innovations conference.
These awards were designed with the invaluable input of our temporary advisory board, and I would like to thank the members: Angie Breedlove, Eric Arnum, Drew Arnum, Doug Bell, and Chris McDonald, for their time and contributions.
We are creating an awards Steering Committee by year end that will act as an independent adjudicator to ensure the fairness and impartiality of the process. Warranty Week and SCIC have already committed to serve on the steering committee.
These awards are our chance to create something that will recognize innovation and excellence and celebrate these achievements. So, I welcome you all to get actively involved in making the awards a success.
If you have any thoughts, ideas, and suggestions, please email Roz Applebaum at roz@strategicsolutionsnet.com.