December 18, 2002
WHY WARRANTIES MATTER
by Eric Arnum, Editor

Warranties are everywhere, but few people give them much thought. New homes have warranties. Automobiles have warranties. Home appliances, consumer electronics, computer software, toys -- virtually anything of value comes with a warranty. Even the jumbo jets flown by the major airlines are sold with warranties.

Warranties, like insurance, offer the buyer some protection. Some companies are mixing the two, selling what amounts to health insurance policies for automobiles, guaranteeing their repair after breakdowns as well as accidents. In fact, one of the biggest points of differentiation between extended warranty vendors today is the health of the insurance companies that ultimately back their policies.

At its root, a warranty means a manufacturer believes their product won't break prematurely, but just in case it does, here's how we'll repair or replace it. An extended warranty means we know things wear out over longer periods, but we think our products will beat the odds. A warranty is the backup to a statement of quality: it won't break but if it does, you're covered.

In a May 2002 article about warranties carried in the e-business journal Line56.com, D.F. Blumberg Associates Inc. pegs the market for warranty claims processing systems at $194 million, plus another $110 million for Internet-based warranty processing services. Together, those markets are growing at a 19 percent annual rate, the company said.

Warranties, however, are often lost in the shuffle of electronic commerce acronyms -- CRM for customer relationship management, PLM for product lifecycle management, ERP for enterprise resource planning, and half a dozen more three-letter words having to do with supply chain, quality assurance, distribution, and logistics.

CUSTOMER INTELLIGENCE

That's a shame, because warranties -- especially for manufacturers that use channel partners, distributors, retailers, etc. -- can be a primary source of customer feedback. They not only identify the end user, but they also provide a means to gather opinions and suggestions. But those opinions won't count for much if they're kept on product registration postcards or locked away on "green screens" and mainframe databases. With proper analysis, all that data might even identify potential new markets or product lines.

More importantly to the followers ERP and PLM, the data gathered from warranty claims can help identify defects in time to redesign the product or modify the manufacturing process. More importantly to the disciples of CRM, customer care, and call centers, the efficient use of warranty claims data can help avoid product recalls, decrease breakdowns, and increase customer satisfaction.

Efficient warranty management can reduce costs, not only by reducing defects and improving quality, but also by providing a more exact predictive tool for repair and replacement costs. Manufacturers who once relied on guesstimates to allocate reserves for warranty claims can easily use the data to justify reductions in warranty reserves to the actuaries and financial types. More efficient warranty claims processing systems and services also could provide those financial types with the tools they need to reduce innocent mistakes and outright fraud.

INCREASED REVENUE

For retailers and dealers, extended warranties are an enticing source of additional revenue. Many times the sale of an extended warranty generates more profits than the original product. It also provides an excellent source of demographic data and a contact list that can be used to sell upgrades, enhancements, or follow-on products.

Extended warranties also can increase sales. For instance, in the automobile business, some people say Chrysler recently has taken some market share away from Ford and General Motors precisely because its new warranties last longer. Other automakers have countered with lower prices and better financing terms, but the prospect of manufacturers standing behind the quality of their products for more miles and more years seems to resonate with consumers.

Warranties are everywhere. The question, then, for thousands of warranty processing professionals, is why so few take notice of them. In a search of the World Wide Web, more than 9.5 million out of the three billion pages indexed by Google.com contain the word "warranty." Yet only 12 pages use the term "warranty management professional."

It's not as if they don't exist. We know they do. Some of our best friends are warranty management professionals. They might call themselves service managers, quality assurance managers, or directors of customer support, but their business is worrying about products that are less than perfect. We think it's time they had a publication of their own. Sure, dozens of publications carry an occasional article on warranties, but none do so regularly. They'll toss around new acronyms and put e- in front of everything, but they don't write much about the repairs, returns, and recalls that are part of almost every product life cycle.

Introducing Warranty Week, a publication about and for professionals responsible for, or concerned with, warranty management issues. Your eyeballs are focused on the inaugural issue, which is available both on the Web and as an email newsletter. For those of you reading this through a Web browser, please bookmark us and remember to return next week. For those of you reading this in an email message forwarded to you by a colleague, please consider signing up for your own free weekly delivery. You have your choice of plain text or HTML email editions.

We're initially sponsored by Entigo Corp., a company that has realized the potential of warranty claims processing systems and has now refocused itself accordingly. But that doesn't mean we won't be covering what SAP AG or other vendors are doing with their warranty management systems. Think of us as the in-flight magazine for the warranty industry. We know there are other airlines, but there's nothing in their seat-backs except some air sickness bags. So push your seat back, enjoy your complimentary beverage, and be sure to ring the flight attendant's bell if there's anything you need.
This Week's Warranty Headlines:


Kia Web site drives the most traffic to showrooms
AutoRemarketing.com, Dec. 17, 2002
Callaway Golf Co. changes auditors after warranty reserve dispute; Deloitte & Touche replaces KPMG.
Press Release, Dec. 16, 2002
Read that warranty's fine print before buying a used car
The Guardian, Dec. 14, 2002
Release of TREAD Act auto safety data is disputed.
L.A. Times, Dec. 13, 2002
Today's cars are built to last, with some models boasting 70,000- to 100,000-mile warranties
Indianapolis Star, Dec. 12, 2002
Carfax publishes teen holiday car buying tips
Business Wire, Dec. 10, 2002
New PeopleSoft CRM for High Technology includes online product registration module
News Release, Dec. 9, 2002
No room for error: Today's supply chain software tools had better be easy to install, easy to manage, and render a quick return on investment
EBN, Dec. 5, 2002
Bridgestone/Firestone comeback "well ahead of schedule"
Corporate News, Dec. 4, 2002
How to bulletproof your PC's warranty
PC World, Dec. 2002

more warranty headlines


-
Free subscription to Warranty Week: Click here for the plain text or the HTML email edition.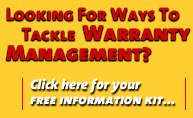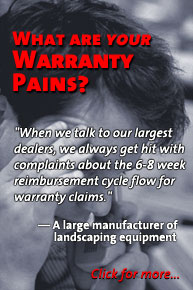 Sign up for a free subscription to Warranty Week:




Sign up for a free subscription to Warranty Week: