September 10, 2009
Automotive Warranties:
With GM now government-owned and several mobile home makers trapped in bankruptcy, industry-wide warranty statistics are losing their meaning. And thanks to the distortions caused by massive sales declines this year, claims rates have also lost much of their relevance during this recession. But among at least the well-run warranty providers, accrual rates have remained proportional to sales rates and quality levels.
It has been perhaps the most convulsive half year ever within the American automotive industry, with the bankruptcies of two of the largest OEMs following a radical sales decline for all the top OEMs.
Automotive warranties were impacted in three big ways. First, the U.S. government temporarily stepped in to guarantee the warranties of General Motors and Chrysler in case the companies themselves could not pay. Second, when the old GM ceased operations, it also ceased to be the largest warranty provider in the U.S. And third, most of those left behind saw their sales fall and claims stay the same, causing claims rates to soar.
Of the 106 publicly-traded and U.S.-based manufacturers that are primarily automotive OEMs or their parts suppliers, only 77 have published their midyear warranty statistics so far. Six others are late with their year-end 2008 data, 11 have yet to file their second quarter 2009 data, and 12 publish their warranty data only once a year (so there's no 2009 data for them yet).
Among the 77 who have published their warranty data for the first six months of 2009, 61 saw their claims rate rise -- 17 saw that rate more than double in the year from June 2008 to June 2009. Of those same 77 companies, all but four saw sales fall, and more than half of those saw sales fall by a third or more. As far as we can tell, Winnebago Industries takes the dubious top prize, having seen sales fall more than 70% in its fiscal year so far, and claims rising more than 100%.
New Number One Warranty Provider?
With the temporary absence of General Motors from the roster of publicly-traded manufacturers and warranty issuers, the Ford Motor Company at least temporarily assumes the dubious top spot in the automotive industry, with a reported $1.26 billion in claims paid during the first half of 2009. However, as we shall see next week when we tour the computer industry, so far this year Hewlett-Packard Co. has reported slightly higher amounts than Ford in terms of claims paid, and vastly more in terms of accruals made. So is HP the new number one? Or is it Ford? Or will GM soon snatch it back from both? Only time will tell.
Meanwhile, Ford's worldwide automotive sales fell more than 40% in the first half of this year, so even though claims fell from $1.64 billion to $1.26 billion, the claims rate (computed by dividing claims by sales) rose from 2.2% to 2.8%. As can be seen in Figure 1 below, Ford's claims rate was actually a slight bit higher during the first quarter, but both of this year's data points are vastly higher than anything seen in 2007 or 2008.
Figure 1
Ford Motor Co.
Warranty Claims & Accrual Rates, 2003-2009
(as a percentage of product sales)
But wait, there is actual good news in the Ford numbers. First, as noted in last week's newsletter, the company reduced its warranty reserve by a staggering $1.25 billion over the past year, along with the aforementioned reduction in claims and a $633 million reduction in accruals. Those accruals actually shrank faster than sales, meaning there's been a measured gain in quality. So now the company sets aside only 1.6% of sales in accruals, down from 1.8% a year ago and 2.4% two years ago.
More importantly, as Figure 1 shows, Ford's accrual rate is now at its lowest point ever. And that's a trend worth celebrating. Ironically, a year or two ago Ford was seen as the weakest of the top OEMs, and would probably have taken the top spot in a poll that asked respondents which company they thought was most likely to be the first to file for bankruptcy. Instead, it not only survived, but improved.
Sizing the Industry Without GM
Speaking of bankruptcies, our former number one American-based warranty provider is in transition, to put it mildly. The General Motors Corporation went bankrupt and changed its name to the Motors Liquidation Company, and then sold most of its assets to the American and Canadian government-owned General Motors Company.
From a warranty perspective, neither the old GM nor the new GM is reporting either its revenue or its warranty spending to the U.S. Securities and Exchange Commission. So therefore, we have no data for either entity for the second quarter of 2009, even though we're all technically co-owners of at least one of them.
Without GM's data, it makes little sense to attempt a total for the U.S.-based automotive industry. And GM is simply too large a proportion of that industry, and both its sales and claims are changing so radically, that it makes little sense to venture a place-saving guess of GM's actual claims cost or claims rate. While in bankruptcy, are they paying claims at early last year's rate of $400 million a month or earlier this year's $300 million-a-month rate? Over the course of a year, that's a billion dollar difference.
Still, we can say with some certainty that for the 77 companies that still remain, claims paid in the first half fell by a slim 8% from $3.8 billion in 2008 to $3.5 billion in 2009. Claims didn't fall very fast or very much in early 2009 because during those months both OEMs and parts suppliers are fixing problems they produced in 2007 and 2008, if not before. Because of that lag time between sales and claims, the sales decline this year and therefore the coming drought for warranty work, won't become acute until some time in 2010 or 2011.
Accruals, however, fell steeply, from $3.6 billion in the first half of 2008 to only $2.4 billion this year. That is more or less proportional to the steep drop in sales, as it should be. And the warranty reserves of these 77 companies fell by almost 15% from $11.33 billion in June 2008 to $9.67 billion in June 2009. But again, without GM in the total these figures don't say much except to confirm that the industry is radically contracting but claims costs aren't.
Emerging From Bankruptcy
Delphi is actually a GM spin-off, and GM still accounts for more than 25% of Delphi's sales. Delphi actually preceded GM into bankruptcy, and will follow it out in the next month or two if all goes well with its reorganization plan.
As can be seen in Figure 2, so far in 2009 Delphi's warranty claims rate has shot up radically (the red line), but the absence of any spike in the claims paid (the blue bars) suggests this is entirely to blame on a sales decline. And in fact, Delphi's sales were down 51% in the first half of this year.
Claims paid actually fell from $79 million in the first half of 2008 to $64 million in the first half of 2009. Accruals fell from $31 million in 2008 to $27 million in 2009. But because of the decline in the sales that go into the bottom half of the fractions, the percentage rates associated with both metrics actually rose.
Figure 2
Delphi Corp.
Warranty Claims & Accrual Rates, 2003-2009
(as a percentage of product sales)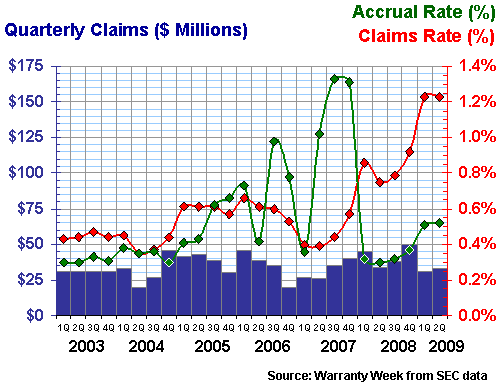 This is a pattern that repeated itself across the automotive industry. Claims fell a little, sales fell a lot, and claims as a percentage of sales rose noticeably. It had everything to do with the recession and nothing to do with changes in quality. Still, at a time when cash is scarce, it really hurts to have an expense like warranty that refuses to decline as fast as revenue.
Paccar, as owner of the Kenworth, Peterbilt and DAF Truck brands, is one of the leaders in the on-highway truck industry. Until this year, Paccar also was one of the most predictable of the automotive warranty providers. In the six years between 2003 and 2008, the company's claims rate never went below 1.5% nor above 2.5%, while its accrual rate remained in an equally tight range of 1.7% to 2.7%.
But then in 2009, Paccar saw a traumatizing 55% decline in first half product sales, and unfortunately that coincided with a slight uptick in claims paid, from $154 million in the first half of 2008 to $163 million in the first half of 2009. Even more unfortunately, given the mathematical formula for the claims rate (claims divided by sales), that slight uptick is magnified by the big sales decline. So the claims rate more than doubled from 2.1% to 4.9%.
In response, Paccar actually cut the accruals it made, from $169 million in the first half of 2008 to $116 million in the first half of 2009. That's a 31% decline. But again, because sales fell by an even steeper 55%, the resulting fraction is distorted, and the accrual rate actually rose from 2.3% to 3.5%. Accruals should have been cut by the same 55% rate as sales.
Recessionary Warranty Pattern
Both of those rate increases can be seen below in Figure 3. Similar increases can be seen in Figures 1 and 2, as well as in Figures 4, 5, 6 and 8. In fact, only one of these charts doesn't show any impact from the recession, and we're not even sure about that one. In that case (Figure 7), it's the lack of a recent spike in claims that's unexpected.
Figure 3
Paccar Inc.
Warranty Claims & Accrual Rates, 2003-2009
(as a percentage of product sales)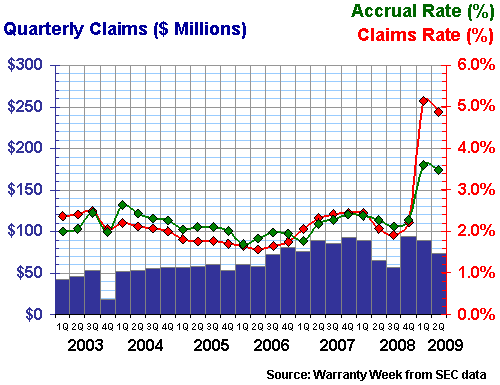 In general, across the industry, the bigger the sales decline, the bigger the resulting distortion of warranty claims rates. For instance, the massive sales decline reported by recreational vehicle maker Winnebago was the cause of the equally dramatic rise in its claims rate, seen in Figure 4. It's worth noting, however, that the company's accrual rate was little changed.
What this means is that product quality was consistent from year to year. But what it also means is that Winnebago has the warranty processing controls in place, and the accounting experience behind it, to pay claims on past unit sales without needing to change the accrual rates on current unit sales. In other words, the system works. The accruals really are made at the time of sale and really do accurately reflect the anticipated claims cost for each unit sold. One doesn't need to modify accruals to fix a developing hole in the warranty reserve. Even when sales fall 71%, the numbers work if you cut accruals by 73%.
Figure 4
Winnebago Industries Inc.
Warranty Claims & Accrual Rates, 2003-2009
(as a percentage of product sales)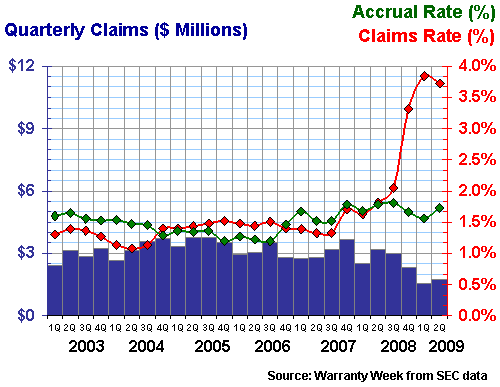 The numbers also worked for Wabco Holdings. Sales fell by more than half, and claims jumped from $13 million to $18 million, but the accrual rate remained relatively unchanged at 1.2%. In other words, accruals fell in proportion to sales, so the ratio between them remained at a constant 1.2%. But, as with Paccar and Winnebago, the sales decline distorted the claims rate, causing it in this case to more than quadruple, from 0.8% to 3.6%.
This is more or less the way it should be. Accruals are estimates a company creates for itself, based upon its own internal information on failure rates and repair costs. Absent some measurable change in quality or repair cost, accruals should remain proportional to sales. Claims, however, will rise and fall on their own schedule, and they don't respect recessions.
Wabco Holdings was part of American Standard from 1968 to 2007. But then in the middle of 2007, American Standard divested its automotive business, spun off Wabco as a separate company, renamed itself Trane Inc., and was acquired by Ingersoll-Rand a year later.
In the chart below, we've included just the Wabco-specific data, which extends back to just the beginning of 2005 (and that year's quarterly data is our estimate, based on just one annual report). It's the first time we're running this company's chart in a newsletter, primarily because we now have more than three years of quarterly data to chart, and secondarily because the recession has so clearly distorted Wabco's recent claims rate. If a picture's worth a thousand words, seven of these eight slides are worth at least half a textbook on the effect recessions have on warranty metrics.
Figure 5
Wabco Holdings Inc.
Warranty Claims & Accrual Rates, 2003-2009
(as a percentage of product sales)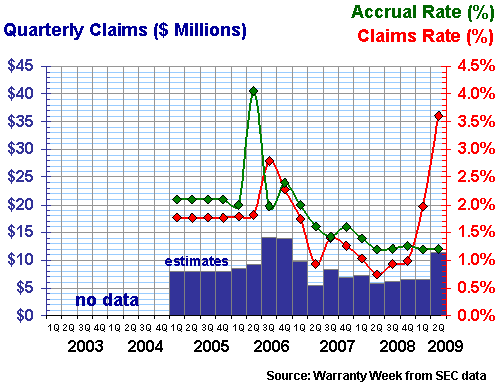 The data in Figures 4 and 5 are perhaps the best example of why claims rates lose their relevance in a recession. And they also show why the accrual rate is the more useful and trustworthy metric in times like these. That's why we're listing just the accrual rates in the top story on the Warranty Week home page, and why we're highlighting the impact of sales in these percentage calculations.
Federal Signal is a major player in the cleaning truck business, making everything from the Elgin sweepers to the Vactor sewer cleaners. But it's also a supplier of mining equipment and wind turbines, and it makes lots of the gear used by police and fire departments (though it has now sold its E-One fire engine subsidiary to a private equity firm), such as megaphones, lights, sirens, alarms, and even license plate recognition systems.
Suffice it to say that Federal Signal is a diversified manufacturer with a wide product mix. As can be seen in Figure 6, the company's warranty costs have come down considerably since 2003 and 2004. But what's even more impressive is how closely the company has matched its claims and accrual rates over time. When one rises or falls, so does the other. That's a sign that the company's internal financial controls are sophisticated enough to know when and whether warranty costs are rising or falling across multiple product lines and geographies.
Figure 6
Federal Signal Corp.
Warranty Claims & Accrual Rates, 2003-2009
(as a percentage of product sales)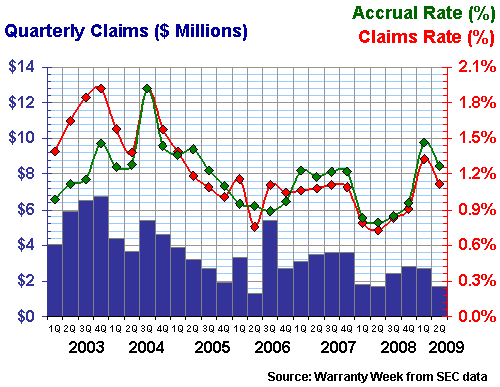 The same closeness between the lines can be seen in Figure 7, which tracks the warranty costs of Briggs & Stratton. But what's even more notable about the data is how the engine and lawn equipment maker seems to have completely missed a season in 2008. Every year since at least 2003, the company's warranty claims and accrual rates rise in the summer and fall, as would be expected of a company selling power equipment overtly tied to the growing season. That is, it happened at the end of every growing season except 2008.
No More Seasons?
Instead, for the past eight quarters, claims and accrual rates have fallen steadily and have kept falling through the summer and fall. There was no spike in 2008, as there were in the five previous years. It's as if the company has found a way to break the cycle -- to keep claims rates low all year, year to year.
Sales are down only marginally this year, so it can't be that. And there does seem to be at least a bottom of the trough forming in the first half of this year, so it should be interesting to see whether the rest of the pattern resumes and claims rise in the second half of this year. But still, what's most notable about Figure 7 is what isn't there.
Figure 7
Briggs & Stratton Corp.
Warranty Claims & Accrual Rates, 2003-2009
(as a percentage of product sales)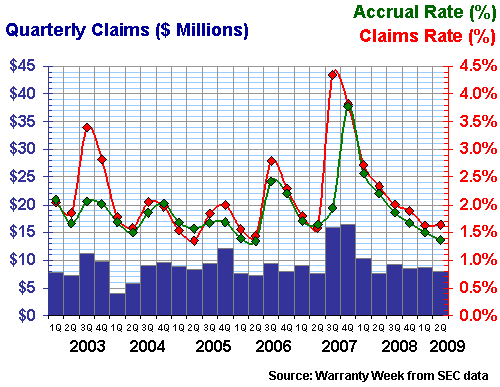 Finally, as an update to our June 25 newsletter, we wanted to revisit BorgWarner. In the first quarter of 2009, this powertrain component manufacturer saw claims soar and accruals fall close to zero. In the second quarter, claims remained high but accruals returned to a more normal level.
Figure 8
BorgWarner Inc.
Warranty Claims & Accrual Rates, 2003-2009
(as a percentage of product sales)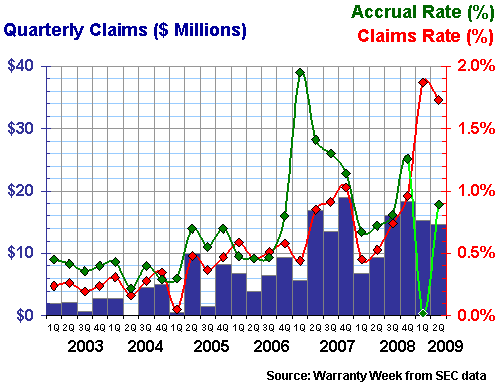 We had to brighten the color of the line connecting this year's data points to make it more visible. But still, it's hard to estimate by eye how low accruals went. Normally, BorgWarner accrues $8 to $15 million per quarter, in order to pay a comparable amount of claims. In the first half of last year, for instance, it accrued $22 million and paid $16 million. But then in the first quarter of this year, it accrued only $200,000 even though it paid $15.3 million in claims. Therefore, the claims rate rose to 1.9% while the accrual rate fell to 0.02%.
In the second quarter, claims dropped to $14.7 million while the accrual rate returned to a more normal 0.9%. Warranty reserves, which had dipped to $64 million (from $82 million at the end of 2008), also began to climb back upwards, to $68 million. So whatever it was (and the company still has not announced anything) it seems to be over. And that's the value of these pictures: they can't tell you exactly what happened, but they sure do pinpoint when it happened. And we don't need a press release to tell us something happened.