June 11, 2015
Materials Handling Equipment Warranty Report:
Though it's difficult to figure out who's in and who's out of this industry, there's no doubt that they're reducing their warranty expense rates to the lowest percentage of sales revenue seen since at least 2003.
While the precise definition of the term materials handling equipment is a bit nebulous, the amount of warranty claims these systems generate is known for certain.
When trying to count up the amount of warranty expense, however, the first and most important challenge is to define the boundaries of the materials handling equipment industry. Obviously, we're going to count only the U.S.-based companies, because the number of non-U.S. manufacturers that report their warranty expenses is very small. But what, exactly is and isn't a materials handling company?
First of all, there's a lot of overlap with mining equipment, with agricultural equipment, with food processing equipment, and with construction equipment. And thanks to airline baggage handling systems, there's even some overlap with the aviation industry.
The industry clearly includes forklifts and cranes, as well as a great number of other types of vocational and commercial vehicles that are used to move and store materials. It also includes all sorts of conveyor belts, racking, shelving, silos, and storage systems. And it includes all the systems and equipment used to load metals, coal, sand, gravel, wood and bulk food onto ships and rail cars.
Inaugural Membership Roster
So for this first-time analysis of the warranty expenses of the materials handling industry, we're going to be as inclusive as possible. Of course we're going to count on our list all the companies that everyone would understand to be materials handling companies, including Flowserve Corp.; Hyster-Yale Materials Handling Inc.; Ingersoll-Rand plc; Textron Inc.; and Xylem Inc.
But in an effort to catch all the corners of the materials handling industry, we're also going to count 31 mining equipment companies, including Joy Global Inc.; Colfax Corp.; and Cameron International Corp. We're going to count 15 farm equipment companies, including Deere & Co.; Lindsay Corp.; and Key Technology Inc.
We're going to count eight food processing companies, including John Bean Technologies Corp. and Standex International Corp. We're going to count 23 construction equipment companies, including Caterpillar Inc.; Terex Corp.; and Manitowoc Co. Inc. And we're going to count four aerospace companies, including United Technologies Corp. (for Otis Elevator Co.); and FMC Technologies Inc.
That gives us a total of 71 U.S.-based materials handling equipment companies reporting their warranty expenses in their financial statements during the period from 2003 to 2014. The problem is -- and we've faced this in other industries as well -- some of these companies generate so much warranty spending that their experiences skew the overall averages of whichever industry they're a part of.
This week, the "problems" are Caterpillar and John Deere, which are the kings of construction equipment and agricultural equipment, respectively. We want to include them, because they're also squarely in the business of material handling. But we don't want to fully integrate them, because together they would account for 50% to 60% of the entire industry's warranty expenses.
So what we've done in the charts below is to list them together and separately, so the reader can look at the materials handling industry either with or without them. Reader opinions on how we should tackle this problem in future newsletters are definitely encouraged, because when we do this again for the second time next year we want it to serve its purpose better.
Warranty Claims Totals
In Figure 1, we've totaled up the warranty claims payments for the 71 companies, which finally broke through its 2008 peak to reach $3.14 billion in claims paid during 2014. Claims were up by $230 million from 2013 levels, though Cat and Deere accounted for more than 8/10ths of that increase.
Figure 1
Worldwide Warranty Claims of
U.S.-based Materials Handling Equipment Makers
(claims paid in US$ millions, 2003-2014)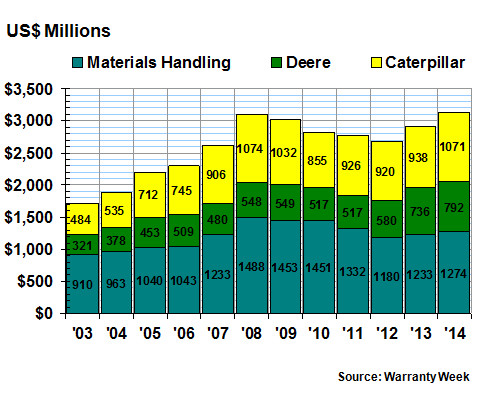 Still, the other 69 materials handling companies besides Cat and Deere saw a $41 million increase in claims payments last year. And that total was also above 2012's total. But it was still significantly below the 2008 peak, as well as each of the years from 2009 to 2011.
Relatively speaking, the compressor and pump manufacturer Colfax Corp. saw the biggest jump in claims, paying out $27.4 million in 2014, up from $21.1 million in 2013. Meanwhile, the oil and gas company Cameron International saw one of the biggest drops, but that was because it forgot to include its fourth quarter warranty expenses in its 2014 annual report. Good thing the SEC is asleep at the switch!
Other big gains in claims payments were seen at United Technologies, Hyster-Yale, Astec Industries, and Textron. Other big declines were seen at Joy Global, Lindsay Corp., and Xylem (an ITT spin-off).
Warranty Accrual Totals
With warranty accruals, the decision to set Caterpillar and Deere off on their own looks even more important. Total industry accruals were up by $309 million in 2014, but $302 of that increase can be traced just to Caterpillar. The remaining $7 million was accounted for by the cancelling out of Deere (-$24 million) by the other material handling companies (+31 million).
Figure 2
Worldwide Warranty Accruals of
U.S.-based Materials Handling Equipment Makers
(accruals made in US$ millions, 2003-2014)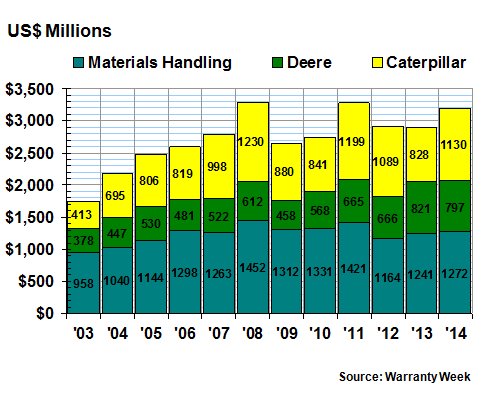 There were, however, a lot of big changes in accruals by some of the largest companies. Topping the list of companies cutting their accruals by large margins were Flowserve; Joy Global; John Bean Technologies; Xylem; and Terex. Companies increasing their accruals by relatively large amounts included Textron; FMC Technologies; and Hyster-Yale.
We're not going to bog down the text with dollar amounts or percentages, because the source data is readily available in each company's annual reports. However, we note that companies cutting their accruals by large margins are in a sense forecasting better product reliability and lower repair costs. Those that increase their accruals by large amounts are signaling that they see darker days ahead.
Including Cat and Deere, the materials handling companies set aside $3.2 billion in accruals in 2014, which was their third-largest total since 2003. However, not including Cat and Deere, last year's $1.272 billion total was only the sixth-largest out of the last 12 years.
In other words, the big changes have been at Cat and Deere. But keep in mind that there's a difference between being the biggest in dollar terms, and seeing the biggest change in relative terms from one year to the next. For instance, Deere's $24 million drop in accruals is large in dollar terms, but it's relatively small as a percentage of the company's total. Xylem's $7 million drop in accruals is smaller in dollar terms, but it was a much larger proportion of the company's total.
Speaking of proportional changes, besides Caterpillar, Hyster-Yale was the only materials handling company to make it onto the top 10 accrual increase list included in the March 12 newsletter (Figure 4).
Warranty Reserve Balances
However, five other companies did make it onto the top 10 reserve fund balance changes. Textron and FMC Technologies made it for their increases, and Flowserve, Joy Global, and Terex made it for their decreases.
Ironically, as can be seen in Figure 3, the overall reserve fund balances have been relatively stable, despite so many industry members seeing relatively big changes (or perhaps because of them: the big increases and decreases cancel each other out).
Overall reserves for all 71 companies rose by $88 million, from $4.98 billion in 2013 to $5.07 billion in 2014. That followed a $21 million increase from 2012 to 2013. So the industry-wide balances haven't changed by all that much lately.
Figure 3
Worldwide Warranty Reserves of
U.S.-based Materials Handling Equipment Makers
(reserves held in US$ millions, 2003-2014)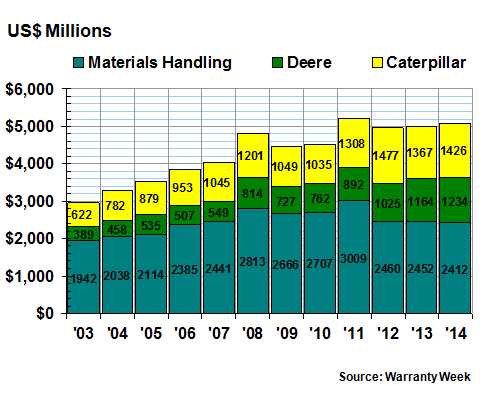 Deere and Cat let their reserves grow by large dollar amounts, but as a percentage of the total neither was all that large. In contrast, each of these six companies: Joy Global; Astec Industries; Terex; Flowserve; Colfax; and Xylem; cut their warranty reserve balances by 10% or more from 2013 to 2014. And Hyster-Yale; Textron; and FMC Technologies each raised their reserves by 10% or more.
However, the warranty reserve balance is not as good a forward-looking indicator as accruals, in the sense that it rises and falls for a variety of reasons, some of them as mundane as a delayed reimbursement, a recent acquisition, or a big dispute over a claim payment being resolved. Also, the timing is somewhat suspect, in that the highest balance was seen at the end of 2011, with 2008 coming in fifth. In other words, the reserve balance isn't following the same trend as claims or accruals.
The "R" Word: Recession
We've avoided making any mention of the recession until now because it didn't really affect the warranty expense totals of the materials handling industry as severely as it did other industries. However, it did severely impact some of its members, such as Textron because of its financing arm, and Caterpillar because of its exposure to construction activity (or the lack thereof).
When sales rise or fall, warranty accruals are increased or cut in proportion. However, claims have a mind of their own, with customers actually increasing their activity during downturns precisely because they want to save every penny they can on self-paid repairs and they want to keep their more heavily used existing equipment in better shape.
In Figure 4, we're showing the claims and accrual rates for Caterpillar over the past 12 years. We can't explain the spike in accruals at the end of 2009, but the big bump in claims that year was definitely caused by the recession. Perhaps the finance people were playing catch-up with their end-of-year accruals? Either way, the long-term average is close to two percent of product sales, though the expense rates were a bit below that mark from 2011 to 2013.
Figure 4
Caterpillar Inc.
Average Warranty Claims & Accrual Rates
(as a % of sales revenue, 2003-2014)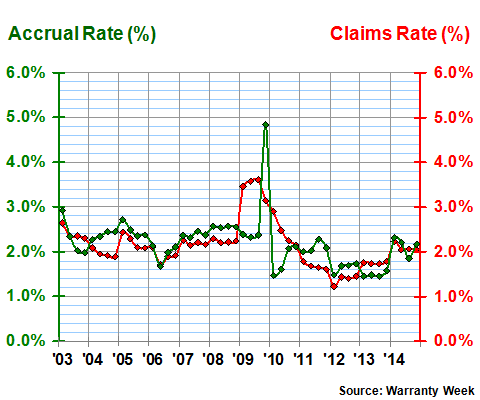 We're setting Cat and Deere off on their own because their warranty expenses and sales totals are big enough to swing the overall averages their way if we simply took an average for all 71 materials handling companies. Also, because Deere is heavily dominated by its agricultural equipment business (and within it, of course, the food materials handling aspect of the business), its warranty expenses and sales are very seasonal.
What looks like a series of earthquakes and aftershocks in Figure 5 is simply the fact that farmers tend to buy their new equipment early in the year and fix it late in the year. And they use it heavily in between, during the growing season, creating the need for repairs and warranty work. Long-term, the company's average warranty expense rate is close to 2.3% of product revenue. But you'd never believe that after looking at this seismograph.
Figure 5
Deere & Co.
Average Warranty Claims & Accrual Rates
(as a % of sales revenue, 2003-2014)
And then there are the other 69 companies on our list of materials handling equipment manufacturers . As can be seen in Figure 6, they also saw a recessionary bump in claims during 2009. But their warranty expense rates have fallen ever since, dropping well under one percent in 2012, and staying there in 2013 and 2014. This is a clear sign of the level of success they've had in their efforts to reduce their warranty costs.
Figure 6
All Other Materials Handling Equipment Makers
Average Warranty Claims & Accrual Rates
(as a % of sales revenue, 2003-2014)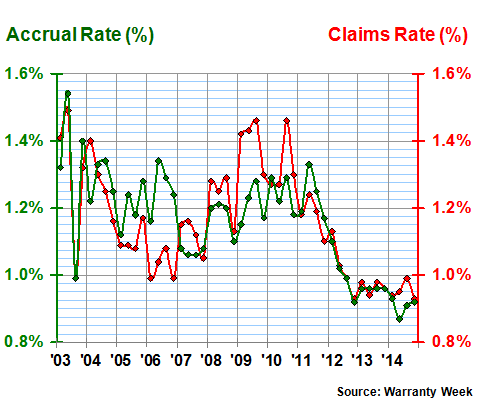 In relative terms, the biggest claims rate reduction of all was seen at Xylem, which dropped from 1.0% at the end of 2013 to 0.8% at the end of 2014. That's a little ahead of a 1/10th drop in claims rate at Ingersoll-Rand. But on the accrual rate side, Xylem's decline from 0.9% to 0.7% came in third, in relative terms, behind John Bean (from 1.4% to 1.0%) and Flowserve (from 0.7% to 0.5%). But again, none of these expense rate reductions were large enough to make it onto a top 10 list like the ones in the March 12 newsletter.
In terms of expense rate increases, Astec saw a big jump in its claims rate, from 1.1% to 1.6%. Relatively smaller increases were seen at Snap-on Inc.; Colfax; United Technologies; Hyster-Yale; and Joy Global.
On the accrual rate side, Astec kept its accrual rate level at 0.3%, suggesting the claims rate rise was nothing to worry about. But there were big accrual rate increases at Snap-on and Hyster-Yale.
Further down the list, among the smaller materials handling companies, big increases in accrual rates were seen at Geospace Technologies Corp.; Energy Recovery Inc.; Tesco Corp. (the oil drilling equipment company, not the British supermarket chain); Standex International Corp.; and ION Geophysical Corp. We don't know if they're an early warning of something important or nothing to worry about, but we thought we'd mention them all the same.