July 1, 2021
Worldwide Jet Engine Warranty Report:
Though some of the biggest manufacturers in the industry are also in many other lines of business, the warranty expense rates of the "pure play" jet engine makers remain close to industry averages. And while COVID grounded many commercial airliners, it didn't decimate the jet engine industry as badly as one might have guessed.
While in last week's newsletter we found out how hard-hit the sale of business jets and commercial jetliners were during the global pandemic, this week we find out to exactly nobody's surprise that the sale of jet engines was hurt as badly.
Boeing's civilian aircraft revenue was down 50% last year and Airbus fell 34%. So it's no shock to discover that three of the "pure play" jet engine manufacturers saw sales declines of 21% to 32%. What's more surprising is to find out their warranty claims didn't fall as fast as sales, or in at least one case, actually rose.
One would expect that in an industry whose customer count fell by 95% at its lowest point in mid-April 2020, the pain would be more evenly distributed. One would expect that planes that spent more time on the ground sitting idle than they did flying nearly empty in the air wouldn't need as much warranty work as they did during normal times. But one would be wrong.
Jet Engine Market Structure
The list of the world's top jet engine manufacturers includes Rolls Royce Holdings plc; GE Aviation, a subsidiary of General Electric Co.; Pratt & Whitney, a subsidiary of Raytheon Technologies Corp. (formerly known as United Technologies Corp.); Safran Aircraft Engines, a division of the Paris-based Safran S.A.; Honeywell Aerospace, a division of Honeywell International Inc.; the Munich-based MTU Aero Engines AG; and privately-held Williams International from Pontiac, Michigan.
There are also several joint ventures amongst and between some of the top industry players. The Engine Alliance is a joint venture between GE Aviation and Pratt & Whitney. CFM International is a joint venture between GE Aviation and Safran Aircraft Engines. Safran also has a joint venture with Boeing Co. to produce auxiliary power units for aircraft.
PowerJet is a joint venture between Safran and UEC-Saturn. International Aero Engines AG, also known as IAE, is a joint venture of Pratt & Whitney, MTU Aero Engines, and Japanese Aero Engine Corp. Rolls Royce and Avio S.p.A. are former IAE shareholders. And Avio in turn was formerly part of Fiat S.p.A. However, those two along with MTU and ITP Aero, a Spanish subsidiary of Rolls-Royce, are also partners in a military aerospace engine consortium called EuroJet Turbo GmbH.
There are several other turbofan manufacturers descended from the Soviet era. And there are also a couple of new manufacturers emerging in China as well. However, there is no publicly available warranty expense data for any of these companies. And their export sales are minimal. Imagine the reaction to a pilot's announcement, "Today we'll be flying at 35,000 feet on a pair of engines made by the Russian government."
A pie chart of jet engine sales for each of these manufacturers and joint ventures would be most helpful. However, it would not aid much in our warranty expense reporting, because none of these diversified manufacturers segment their claims and accruals by product line. Instead, they publish just one set of numbers for all their activities worldwide.
Inevitably, that means we are including warranty expenses for much more than just jet engines when we look at the reports of GE, Raytheon, and Honeywell in particular. However, without getting into conjecture about the rate at which warranty expenses arise in their aviation product lines as opposed to automotive, healthcare, or building trades, we are stuck using the numbers we are given.
Warranty Claims Worldwide
Let's begin with a look at the claims payments reported by the top six jet engine manufacturers over the past five years. Reported claims fell by 7% in 2020 to $1.74 billion, after falling a much steeper -21% in 2018-19. Much of that drop, however, can be traced back to GE's spin-off of Baker Hughes and Raytheon's spin-off of Carrier and Otis Elevator. Because of these spin-offs, their product revenue totals dropped off -43% and -27%, respectively, from 2018 to 2019.
Raytheon saw a big jump in its 2018 claims total, but that metric dropped by a third in 2019 and fell a further -12% last year to $292 million. GE, however, saw its claims costs rise from $715 million in 2019 to $913 million in 2020 -- a steep 28% increase.
Figure 1
Top Jet Engine Makers Worldwide
Claims Paid per Year
(in US$ dollars, 2016-2020)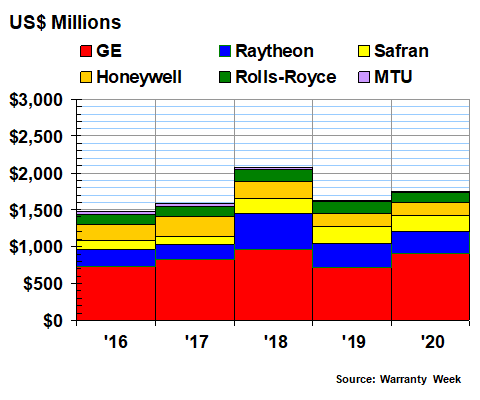 Claims were down for all the others last year. Starting with the least severe drops, Safran's claims costs fell -3.5% to $219 million; Honeywell's claims fell -4.4% to $172 million; Rolls-Royce's claims fell -15% to $134 million; and MTU's claims fell -32% to $12.6 million. But those declines were not enough to offset GE's rise, so total claims payments rose from $1.63 billion to $1.74 billion.
We should note that each year's claims, accruals, and reserve figures are first converted from euro or pounds sterling into dollars before the annual changes are calculated, so these percentages will also reflect changes in the euro-dollar and pound-dollar exchange rates, in addition to changes in the base amounts.
The biggest difference between claims and accruals is how they behave during an industry downturn. Claims are paid for warranty work on already operating units, so that is a backwards-looking indicator that depends on the size and shape of the installed base. As bad as the downturn was in civil aviation during 2020, it had just a very small effect on the size of the installed base. As far as the shape it was in, many jets were parked and idle, so there was much less wear and tear on their engines.
The thing is, we don't know which of GE's product lines generated the sharp rise in claims last year, and GE doesn't say so in its annual report. We know it wasn't GE Appliances, which was sold off to a Chinese company in mid-2016. And we know it wasn't Baker Hughes, which was divested in 2019. And while we know the pandemic hit GE Capital Aviation Services hard, we also that operation is a leasing service, not a manufacturing operation.
The wind turbine business isn't big enough, and the electrical power equipment business has an overcapacity problem. And so, by a process of elimination, we think the likely culprit is GE Healthcare. And indeed, GE provides a confirmation of sorts in its annual report: "Our healthcare segment experienced increased demand for certain types of products and services, including ventilators, monitoring solutions, x-ray, anesthesia and point-of-care ultrasound product lines, partially offset by decreased demand in other parts of the business as patients have postponed certain procedures and hospitals have deferred spending." Chances are that heavy usage also drove more warranty claims in that segment.
Warranty Accruals Worldwide
The thing about warranty accruals is it's always a forward-looking metric that is closely tied to product sales. When sales rise, accruals rise proportionally, unless there has been some change in reliability or the cost or frequency of repairs. As can be seen in Figure 2, accruals plunged in 2020, thanks primarily to a big decline for Safran. But GE was once again up for the year.
Figure 2
Top Jet Engine Makers Worldwide
Accruals Made per Year
(in US$ dollars, 2016-2020)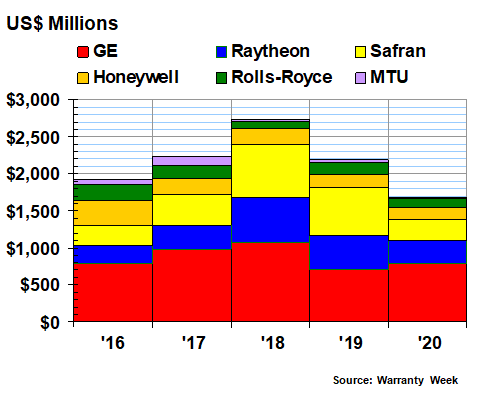 It would be easy to once again blame GE Healthcare, but that excuse doesn't hold up when you delve into the numbers. That segment's revenue was actually down 10% to $18 billion. And while that wasn't as bad as the -33% plunge in GE Aviation revenue last year, it doesn't explain GE's +11% rise in accruals to $788 million. If sales fell, accruals should have followed, unless there was a change in reliability or the cost or frequency of repairs. So this supports the heavy usage theory.
At Raytheon, product revenue was up 31% yet warranty accruals were down 30%. That makes no sense. For the others, the accrual numbers did move in the general direction of sales, however. Honeywell saw a 10% drop in sales and a 5% drop in accruals. Safran saw a 32% drop in sales and a 57% drop in accruals. Rolls-Royce saw a 21% drop in sales and a 26% drop in accruals. And MTU reported a 30% drop in sales and a 49% drop in accruals.
Warranty Expense Rates
The industry total ended up at $1.68 billion in warranty accruals last year, down a steep 23% from $2.19 billion in 2019. As a percentage of product revenue, accruals fell from 1.5% in 2019 to 1.3% in 2020, which was almost as steep as the dollar totals. The reason for the mismatch is Raytheon's big jump in product revenue, which we think was almost completely on the military side. Commercial aerospace sales actually fell from $33.2 billion in 2019 to $22.1 billion in 2020. And since military sales don't have warranties in the traditional sense, this may give us a false reading of expense rates.
In Figure 3, we're relying on each company's reported totals for claims paid, accruals made, and products sold to calculate a claims rate (claims as a percentage of sales) and an accrual rate (accruals as a percentage of sales). In 2020, the industry's claims rate rose to 1.31% while its average accrual rate fell to 1.27%, so the lines crossed.
Figure 3
Top Jet Engine Makers Worldwide
Average Claims & Accrual Rates
(as a % of product sales, 2016-2020)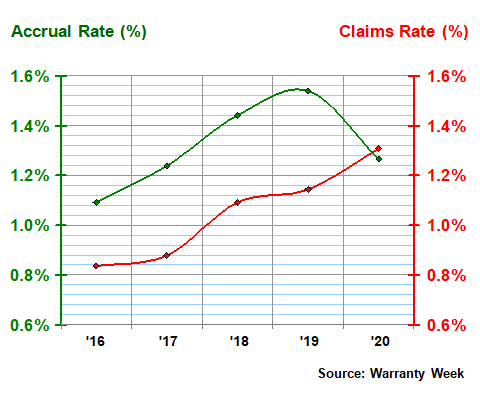 Strangely, the escalation of GE's claims and accrual rates due to the inclusion of healthcare and other product lines, and the undercount of Raytheon's claims and accrual rates due to the inclusion of military product sales, seem to counteract each other. GE's claims and accrual rates read 2.4% and 2.1%, respectively, at the end of 2020, and that's clearly much higher than the industry average for jet engines. Raytheon's 2020 readings are 0.7% and 0.7%, respectively, and those are clearly too low. Honeywell, another diversified company, reported equally low readings of 0.7% and 0.7% in 2020.
However, Safran, which is more of a pure play in aviation, reported claims and accrual rates of 1.2% and 1.5% -- just under and just over the industry averages. Rolls-Royce, which despite its name is not a car company (that luxury nameplate is now owned by BMW), is almost a pure play in jet engines, and its warranty expense rates were 1.8% and 1.6% in 2020. MTU was at 1.0% and 1.3%.
Safran had a bad year in 2018 and Rolls-Royce had a bad year in 2017. But in both 2019 and 2020, they along with MTU were relatively close to the industry-average claims and accrual rates. So perhaps their baselines are the ones we should pay more attention to in the future?
Warranty Reserves Worldwide
One big change from the jet engine warranty report we published last summer in the August 13 newsletter is the restatement of Raytheon's 2019 warranty reserve total. At the time, it was only four months since United Technologies had merged with Raytheon and spun off Carrier and Otis, so we didn't yet know all the metrics of the separations.
Now we do, and so in Figure 4, Raytheon has the third-largest warranty reserve fund balance in both 2019 and 2020, of $1.03 and $1.06 billion, respectively. Safran is in second at $1.36 billion and $1.27 billion, respectively. And GE is in first, with $2.16 billion in its reserve at the end of 2019 and $2.05 billion in the fund at the end of 2020.
Figure 4
Top Jet Engine Makers Worldwide
Reserves Held per Year
(in US$ dollars, 2016-2020)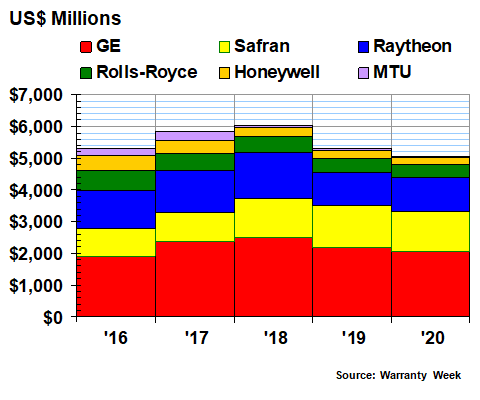 The total for the warranty reserves of these six companies is $5.30 billion in 2019 and $5.07 billion in 2020. Again, for Safran, Rolls-Royce, and MTU, we converted their euro and pounds into dollars to calculate this total, so it also reflects foreign exchange fluctuations from one year to the next.
But there seems to be a consensus on the vector of change. The industry's reserves fell -4.3% in 2020. Rolls-Royce's fell -4.6%, GE's fell -5.1%, and Safran's fell -6.7%. Raytheon was the only one to report an increase, and it was proportionally very small.
And again, we believe the much steeper drop-off in 2019 was due to the reorganizations at GE and Raytheon. For instance, we now know that Carrier and Otis took just over half a billion with them at the time of their spin-offs, while Baker Hughes reported reserves of $236 million in early 2019.
And so, while the GE, Raytheon and Honeywell numbers cover much more than jet engines, the industry averages seem to balance that out. Once again, last year claims were up 7.0% to $1.74 billion, accruals were down 23% to $1.69 billion, and reserves were down 4.3% to $5.07 billion. The industry average claims rate rose to 1.31% while the average accrual rate fell to 1.27%. And that reflected a 6.4% decline in product sales.
Summer Vacation
Next week, and in fact for the next few weeks, the newsletter will be on summer holidays. It's a tradition we began last year, after the pandemic finally let up in June and the lockdown rules were relaxed a bit in July. And that taught us the value of getting going while the going is good, and not waiting for the cold weather and the variants to bring back the bad old days in the fall. So happy Canada Day to our boiling-in-place neighbours to the north, happy Independence Day to all our American friends, and happy fourth, fifth, and the rest of the days of July to all our other readers. See you in August.