Dealerships Defend Their Reliance on 50/50 Warranties:
It's Done for Buyer Peace of Mind, to Control Costs, and to Share the Risk
Used vehicle dealers reached by Warranty Week said the problem with 50/50 warranties isn't as much with the warranties themselves as it is with dealer fraud. The cost of any repair job can be inflated -- even those where the customer is paying 100 percent of the cost. And it's no easier to double the repair bill when the customer is paying half than it is when the customer is paying for the whole thing.
Before a customer can be overcharged, he must first initial a written estimate that includes inflated numbers for parts and/or labor. If he feels he's being overcharged, he can take the car elsewhere for another estimate before any work is done. If the work has already been done, he can take the paperwork to somebody who can confirm there's been an overcharge by comparing the listed figures for parts and labor to the book rate.
"I thought you understood the estimate
didn't include parts and labor."
After a customer has been overcharged, he may never again buy a car at that dealership, even if he passes it every day for the rest of his life. Many of these small town dealerships are family businesses, with children taking over from their parents. Many of the customers also are into their second or third generations, and most are repeat buyers who expect to come back in a few years for their next purchase. In such a setting, a crooked dealer loses not just a customer, but also their extended family, friends, and neighbors.
Peace of Mind
If anything, these small town dealers see their issuance of 50/50 warranties as proof that they won't be needed. They can't or won't issue 100 percent warranties, primarily for cost reasons, but they won't sell their vehicles "as is," because it spooks the customers.
Weldon Sisson, owner of Century Auto Sales in Irving TX, said the basic 50/50 warranty he provides with each used car sold is more for peace of mind than anything. Before he sells a car, he inspects it so he knows if it will hold together for at least 30 days, or if the engine is likely to drop out onto the pavement halfway down the next block. The promise of a 50/50 split in labor costs is his assurance that he thinks this car will run for more than a month.
Century Auto Sales
"Actually, ours is 50 percent of labor and 100 percent of parts," he said. "In most cases, that avoids having to repair things that don't necessarily need to be repaired," he said, because the customer must pay for half the labor. Also, because his dealership doesn't have an in-house repair shop, it's more important for him to split the labor cost with the customer. "We can buy parts a lot cheaper than they can buy parts," he said. And he can be a better judge of the number billable hours involved with each job, checking them against the book rate.
"Nobody wants to buy something that's totally as-is. As a dealership, we pretty much have to stand behind what we sell," Sisson said. "We've been in business for 30 years here. My uncle was in the business for 50 years before that. Most of our buyers are repeat customers or referrals. That's because we take care of our cars before we sell them, and we don't usually have any warranty problems. But if something unexpected comes up, we try to help."
Share the Risk
Jeff Thurston Sr., president of Thurston's Marina in Weir's Beach NH, said he has sold motor boats and jet skis on the shores of Lake Winnipesaukee for 31 years. Most of the used models are sold with a 50/50 warranty.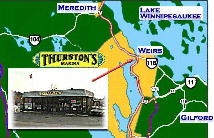 Thurston's also sells some boats on an "as is" basis, but usually those are boats the dealership is selling as a broker for the actual owner. He advises those owners to offer a warranty for the sake of the potential buyer's peace of mind, but some still don't.
Thurston also will remove the warranty option and make it an "as is" sale if the final negotiated price for one of his boats falls below a certain minimum level. But that's only done with the buyer's agreement to lose warranty protection in exchange for a very low purchase price, he added.
"If a fella chooses to negotiate a price that says: 'Look I'll take that responsibility. I don't care. I want the lowest possible price.' I can sell something to him "as is," but with the clear understanding that he is in fact bearing full responsibility for any surprises. People buy stuff all the time "as is," and I applaud their courage," Thurston said.
"If a business wants a long-term relationship with anybody they sell a product to, there's an inherent responsibility to make sure that the product is warranty-able," he said. "And that's an inference that I think we feel comfortable making when we offer a 50/50. It was not an "as is." There was no attempt to make the buyer beware. Period."
To him, the 50/50 warranty is an agreement to share the risk equally. "To try and make our buyers understand that we're not trying to stick 'em, we leave our wallet on the table, so to speak, for an agreed-upon period of time, to say if something does happen that we're both unaware of, we will certainly fix it and bear half the cost of replacing or repairing it," he said.
However, the buyer also has to leave their wallet on the table, so to speak. If they drive their boat recklessly out on the lake and it breaks, they're going to have to pay 50 percent of the repair cost. "Half of whatever happens involves his pocketbook as well. They're given some assurance that they're not getting stuck buying something used. By the same token, it puts them on notice that their appropriate behavior is required, or else they're going to hurt themselves too."
As far as inflated repair costs, that can happen anywhere, anytime. It doesn't happen only in 50/50 warranty cases. Any crooked repair shop can do it. But of course, he'd never do it. Besides his belief that honesty is the best policy, he also thinks it's too hard to hide.
"There's a clearly published price list. Our work order lists the part number and the cost of that part," Thurston said. That goes for out-of-warranty repairs as well. "Were it done six months after the warranty expired, he'd still expect me not to double the price. I think the concerns being voiced by consumer advocates have more to do with business practices that are fraudulent."
Volvo for Life
Sheri Edgecomb, general manager at Edgecomb's Imported Auto Sales and Service in Charlottesville VA, sells mostly Volvos to repeat customers who return every few years to trade in their utterly dependable autos. In this small town setting, she has to stand behind what she sells for more than 30 days. Volvo buyers expect reliability and safety from their autos and honesty from their dealers.
In fact, if a used Volvo breaks down in the first month of ownership, it might as well have happened in the middle of the street in front of the dealership. It's bad for business because it contradicts the reputation for high-mileage reliability that makes Volvos popular in the first place.
Furthermore, Edgecomb noted that if her dealership tried to falsely inflate the cost of repairs to turn a 50/50 warranty into more of a 70/30 or 80/20 split, her customers could instead hand her back the keys. Edgecomb's Imported Auto Sales features an unconditional 30-day money back guarantee, which allows the customer to return their lemon and receive all their money back (minus 20 cents for each mile driven).
"We are not like any other used car lot that you'll ever see," Edgecomb said. "We also offer a 30-day money-back guarantee, which was pretty much one of the first of its kind in the business when we did it 15 years ago. So our customers know that if we say it's a $50 repair, it's a $50 repair." These are her neighbors -- lifelong customers. And they're buying Volvos, not Yugos.
Volvo V70
Edgecomb's also sells used Toyota, Honda, Nissan, Volkswagen, and Mazda models. All cars, Volvo and non-Volvo, are sold with the 30-day money-back guarantee plus a 50/50 warranty good for the first 30 days or 1,000 miles. In addition, any 1993 or newer Volvo is sold with a one-year, 12,000-mile 50/50 drivetrain warranty. So in that first month, the buyer has numerous options -- all of them much better than "as is."
"We cover 50 percent of a whole lot more stuff than most other dealers cover 100 percent of," Edgecomb added. Many times, those 100 percent warranties cover just the drivetrain, she said. "Well, we sell Volvos. You don't have drivetrain problems with Volvos. It's extremely unlikely. So that kind of a warranty on a Volvo is relatively useless. What Volvos have that every other car has are little things that go wrong -- a window stops going up and down." She said that by agreeing to cover 50 percent of those kinds of repairs, Edgecomb's is providing something useful to the buyer.
Unscrupulous Competitors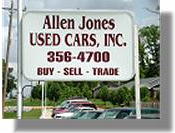 At Allen Jones Used Cars Inc. in Steens MS, the dealership's Web site claims that 50/50 warranties are bogus:
"Many of the vehicles Allen sells are still under factory warranty, but even if the factory warranty has expired on the car or truck you purchase, you won't be offered a bogus "50/50" warranty. Allen stands behind his previously-owned vehicles with a 30 day or 1000 mile warranty on every used car or truck sold."
Chris Jones, the dealership's co-owner and Webmaster, said he wrote that line on the home page because of all the unhappy customers he meets. "We've had a bunch of people here that bought cars in this area and the dealer tells them they have a 50/50 warranty, and they won't ever stand behind it," he said. "We do 30-day, 100 percent."
50/50 Is Better Than Nothing
At Jim's Imports in Wichita KS, the Webmaster makes the point that 50/50 is better than nothing:

"Every pre-owned vehicle we sell is backed by Jim's Import's own 50/50 warranty (unless sold as-is or offroad). If you buy from a private individual you will not get a warranty, and chances are if you called that individual back for help, all you are going to get in response is, 'Its your problem now. I've got your money. Don't bother me again.'"
See Also:
Dealers Defend Use of 50/50 Warranties: Controls Cost, Shares Risk, Peace of Mind