May 5, 2003
Fujitsu Delivers Mixed Message:
The company with the best plasma display panel warranties also has the most restrictive terms.
by Eric Arnum, Editor
Fujitsu Ltd. makes some of the best flat panel televisions in the business. Its researchers helped pioneer the plasma display panel industry, and its factories have been cranking out units for at least a decade. In the U.S., the company's subsidiary backs its plasma TVs with the best warranty in the business. But it won't honor the warranty on any units sold over the Internet.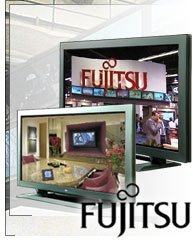 Some say Fujitsu instituted the Internet ban to keep dealer prices elevated, and indeed a survey of current 42-inch plasma display offerings on the market confirms that the average price of some Fujitsu models does hold up better than the competition. Others say the stated reason for the Internet ban -- to preserve a certain level of pre- and post-sale support -- is really just an admission that plasma units cannot be sold like the ordinary tube TVs that they replace.
No doubt, Fujitsu has some of the best plasma display panel technology on the market. One pair of 42-inch plasma displays launched earlier this year boasts 1024 x 1024 pixel resolution, a 1000-to-1 contrast ratio, and 1000 candelas per square meter in brightness. The P42HCA11WH is aimed at commercial and industrial applications while the P42HHA10WS is for the consumer market. List prices are $8,000 for both, while street prices found in a Warranty Week survey average $5,250 and $5,600, respectively.
Best Plasma Warranty
They certainly have the best warranty in the plasma display panel industry, covering the above listed models with a three-year warranty on parts and labor (one year on the actual display panel). Only Hitachi America Ltd. and Samsung Electronics America Inc. come close, with two-year warranties offered on select models.
42-inch Plasma Display Panels
Manufacturer's Warranty Terms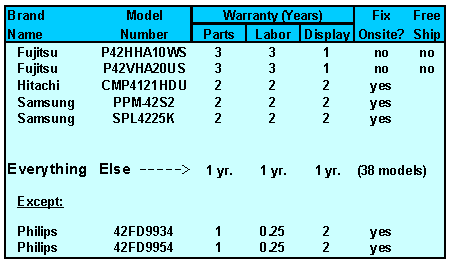 As the chart shows, only five plasma display models carry anything better than the benchmark one-year parts-and-labor warranty. Only two models carry anything less (Philips covers labor costs for just the first 90 days). Even Fujitsu and Hitachi offer only one-year warranties on their commercial units, reserving the better warranties for consumer units. However, Fujitsu PDP sales conducted over the Internet are essentially made "as is" with no manufacturer's warranty, because Fujitsu overtly disclaims it in those cases. No other plasma manufacturer does likewise, although several warn against purchases made from unauthorized dealers.
Extended Warranties Available
Even if a sale is made with no manufacturer's warranty, an extended warranty or extended service plan can protect the buyer quite adequately. In fact, if the "as is" discount is $500 or more over the "authorized" price, that savings could be used to finance a repair plan as good or better than most manufacturer's warranties. Most extended warranty plans seem to fall into a range of 5% to 13% of the purchase price.
Philips and Warrantech Corp. seem to dominate the market for plasma display extended warranties. Although Philips sells plasma displays under its own name, it also covers the brands of its competitors with service plans. For instance, a five-year Philips Priority Service Program for one Fujitsu unit was priced at $695 at one dealership.
Another dealer offers a three-year extended warranty on a Pioneer plasma unit for $499. A five-year extended warranty is priced at $799. Another retailer sells an extended warranty for the ViewSonic, priced at $640 for two years and $840 for three years from the date of purchase. The manufacturer's warranty, which these plans partially overlap, is for one year.
Those dealers that offer Warrantech RepairMaster service plans seem to be free to set their own prices. One dealer wanted $422 and $541 for two- and four-year RepairMaster plans, respectively. Another wanted $200 and $254 for the same plans. At AudioSound.com, the Warrantech extended warranty option for a $6,200 JVC plasma unit cost $600 for two years and $796 for four years.
Installation & Other Options
Plasma display panels are normally sold along with installation, configuration, and calibration services, but some bargain-hunters insist on setting them up themselves. If they do that, they might not hear an expert tell them not to freeze-frame images for long periods of time, lest they burn the images into the screen. And they might not hear how to properly clean their units, nor how important it is to protect them from electrical surges. Add to that the fact that some units are sold without built-in TV tuners, while others list items such as speakers and table stands as options, and you have an excellent chance of producing a do-it-yourself nightmare scenario: customers get less than they wanted, and what they do get they don't know how to operate.
Gary Fitzgerald, an installer with Plasma Professionals Inc. of Southampton NY, said there are more connections, more cables, and more settings to consider with plasma than with a traditional tube TV. "It's a lot more high-tech than a regular television," he said. Plus, there's an additional construction aspect that comes into play. First it's like hanging a heavy picture frame or a mirror, and then it's like hooking up a stereo or a new set of speakers. In addition, some people want all the wiring hidden.
Still, it's not rocket science. "Once you do one, they are all more or less the same," Fitzgerald said. "There are a couple of different variations, but they're all very similar." He gets the feeling that many consumers with a little experience in high-end home audio could easily install a plasma TV themselves, if they wanted to. But many prefer the convenience, and don't mind paying a few extra hundred dollars, to see that an item they just paid multiple thousands to purchase is installed professionally.
A Record of Firsts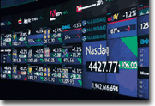 Fujitsu has been making plasma displays since 1993, following decades of research. The company introduced its first 42-inch plasma display in 1996, and its first high-definition display in 1999. Its PDP screens were the first to hang in the New York Stock Exchange and on the walls of the downtown Guggenheim Museum (but Hitachi PDPs hang on the walls of the NASDAQ MarketSite broadcast studio in Times Square).
Numerous awards have also come its way. The Society for Information Display honored FHP in 2001 with a special recognition award. In 2002, Fujitsu won an Emmy Award from the National Association of Television Arts and Sciences for its efforts and accomplishments in plasma display panel development.
Fujitsu began covering its larger plasma monitors with a three-year warranty in 2001. The first 42-inch model covered by a three-year warranty was the PDS-4242, which shipped in August 2001. Earlier this year, Fujitsu lengthened that list with the launch of the P42HHA10WS and the P42VHA20US, while trimming the warranties on the older models back to the industry-standard one-year term.
The reason we're concentrating on 42-inch models is to make price and feature comparisons that are meaningful in the U.S. market, where the warranties are offered. In the U.S., we found 22 manufacturers and 65 dealers offering 45 different models at that size -- more than any other screen size. Most of the PDPs are made in Japan, Taiwan, or South Korea, and are then imported into the U.S. Indeed, 42-inch models are considered too big for the domestic Japanese market, while in the U.S. the 32- and 37-inch screens are considered too small. Go figure. In all cases, however, the warranties for the models we discuss are offered by the U.S. subsidiaries.
Manufacturer's Warranty Library
Here are links to the plasma display panel warranties offered by ten of the 22 manufacturers surveyed. For easy comparison, we have mirrored each document in the Warranty Week library, in either an HTML or an Adobe PDF format. In the case of companies such as Toshiba and Philips, the warranty is included as the last few pages of a PDP owner's manual. We warn our readers that those documents are somewhat lengthy, and may take some time to download. Those who need an Adobe PDF document reader can get one by clicking here.
Plasma Warranty Library
Despite the Internet ban, we found 20 dealers advertising Fujitsu PDPs for sale online. What we found was a situation where the newer models were largely being kept off the Internet, while some older units continued to be sold. The Fujitsu PDS-4229, PDS-4233, PDS-4241 and PDS-4242 are older 42-inch models, introduced in 2001. They were supposed to have been replaced by four models introduced in January 2003. However, online dealers are still selling the older Fujitsu models, at surprisingly strong price levels -- most are still within 20% of the manufacturer's suggested retail price and two dealers are actually selling their remaining units above MSRP!
A handful of Panasonic dealers also priced some units above MSRP, and a few dealers of LG Electronics and Sony products also offered their units at list price. But of the 18 cases where the advertised price was at or above list, six involved a Fujitsu unit. Warranty Week found that $5,100 is now the typical 42-inch street price, and that the average street price typically represents a one-third discount off list.
Reasons for the Internet Sales Ban
Fujitsu General instituted the Internet sales ban in May 2002. According to a statement attributed to senior vice president Tedd Rozylowicz, "the purchase and sale of plasma products require an extensive amount of pre- and post-sale support -- support that cannot be adequately provided over the Internet. While there is an opportunity to sell much more product by authorizing Internet sales, we believe that by managing our distribution in this way the Fujitsu brand, our authorized dealers and the end-users will benefit."
The statement said the warranty is valid only if the plasma display monitor was purchased new from an authorized Fujitsu dealer and the original factory serial numbers of the monitor have not been removed, defaced or replaced in any way. Authorized dealers are not allowed to sell Fujitsu Plasmavision monitors on the Internet, through any on-line retailer, or similar e-tailing Web site. A spokesman for Fujitsu General declined to provide further comments on the Internet ban.
"That is totally false," countered Joe Miller, a salesman with Plasma House in Brooklyn NY. "We have installers nationwide. They're fully professional. They adjust it. They make sure everything works. We do home theater installations that cost hundreds of thousands of dollars. They can't say that we are unprofessional."
Plasma House sells a table-stand installation package for $346; a wall-mount install is $486; and a wall-mount with concealed wiring is $586. Miller said the Fujitsu plasma units are sold "as is" with no manufacturer's warranty, although a three-year Mack in-home service plan can be bought for $900 and a four-year Warrantech in-home service plan is available for $1,000.
In total, Plasma House sells 13 different Fujitsu plasma displays, including seven that are 42 inches in size. Six of those are from the older PDS series. The seventh is the new P42HHA10WS, a high-resolution top-of-the-line unit that Plasma House sells for $5,780 -- slightly more than other dealers, and significantly more than similar units sold under other brand names. Plasma House sells a comparable Philips unit for $1,300 less, and a comparable Hitachi unit sells for $1,700 less.
Miller said he thinks Fujitsu enforces the Internet sales ban so online companies like his can't undercut their storefront rivals. "They're hurting the consumer, because they're forcing them to pay more money," he said. "You walk into a mall and you're paying $15,000 for something that cost that person seven. Why should that person make $8,000 on you? Because Fujitsu lets them?"
Stanley Harrison, a sales representative with Tri-State Camera and Computer Inc., was more diplomatic in his criticism. "That's their opinion," he said. "Maybe it's not entirely accurate what they're claiming."
Harrison said Tri-State currently doesn't sell Fujitsu, though it might in the future. But he notes that no other plasma manufacturer has ever made a claim that online retailers cannot properly sell plasma displays.
"We're not the only online vendor," he said. "You're going to see lots of other online dealers selling plasma."
It's All About Prices
A New Jersey-based dealer who asked not to be identified said he thinks what Fujitsu is doing by excluding Internet-based sales is awfully close to price-fixing. "They're the best, and they want to control the price," he said.
"I'm not saying they're not entitled to set a certain minimum level for their products, because of all the research and work they put in," the dealer said. "But their attitude is very antediluvian towards the Internet. They don't want to move with the times." Instead, they want to scare customers, discredit the Internet as a sales channel, and force customers into the storefronts.
The New Jersey-based online dealer said he thinks manufacturers such as Fujitsu want to protect their authorized retailers and brick-and-mortar stores, so they can control prices. "This is how it's been for a very long time," he said. Then along come the Web-based retailers, "and all hell breaks loose." Suddenly people can compare prices at dozens of outlets without playing any salesman games. They don't care about support or service; all they want is the lowest price, no tax, and free shipping.
At the receiving end of those orders are companies that are accustomed to living with a $100 or less profit margin on a $5,000 item. They have no time to explain the subtle differences between units and options. They have no time -- period. All they want is to sell boxes. Indeed, one can only guess how many plasma display purchasers were disappointed and surprised to discover that their bargain-basement units didn't include a TV tuner or even a table stand. One dealer even made a joke out of the choices available for wall or desktop installation. The last option on the pull-down menu was "no thanks, I'll hold it between my hands."
To a large extent, however, the Internet ban seems to be working among storefront dealers who also maintain an Internet sales presence. For instance, Fujitsu General identifies Harvey Electronics Inc. as an authorized dealer of its PDP units. However, on Harvey's Web page advertising prices for nearly two dozen plasma displays, no Fujitsu models were listed.
Unfortunately, the Internet ban plays into the hands of companies such as Sharp Electronics Corp. and others, which reluctantly sells some plasma products but which prefers to sell units made with its own liquid crystal display and/or projection TV technology. They're not quite saying that plasma is inferior -- just that LCD is superior. And indeed, some of the manufacturer's warranties given on LCD, projection, and tube TVs are significantly better than one year.
Declining Tube TV Market
What's clear, however, is that the days of traditional tube TVs are drawing to a close. Hitachi said in its 2002 annual report that sales of plasma TVs were up, but that sales of traditional tube TVs were on a fast decline. Last year, Hitachi closed tube TV plants in the UK, Singapore, and China, part of a worldwide "strategic withdrawal" from the old cathode ray TV and PC monitor business.
Hitachi and Fujitsu are actually in a joint venture to manufacture the actual screens used in both of their respective PDP product lines. Fujitsu Hitachi Plasma Display Ltd., formed four years ago, supplies not only its two parent companies with plasma displays, but also sells the screens to OEM customers such as Philips, Sony, ViewSonic Corp., and others.
On April 25, Fujitsu Ltd. released its 2002 annual report, in which it said plasma sales became profitable last year, thanks to a fortunate mix of increased sales and decreased costs. Fujitsu said capital expenditures attributable to the PDP line of business decreased to 4.2 billion yen in fiscal 2002, from 25.1 billion yen in fiscal 2001. The company said it expects to make PDP-related capital expenditures of 11 billion yen in the current fiscal year.
Optimistic Sales Forecasts
Industry forecasts from the turn of the century predicted that by 2003 the market would be several million units in size. However, after the worldwide economic slowdown took hold, those estimates were revised downwards. According to market researchers at iSuppli/Stanford Resources Inc., PDP factory revenue soared 62% to US$2.2 billion in 2002 and unit shipments surged 143% to 807,096 PDP systems sold. In 2003, iSuppli expects the worldwide market to grow to $3 billion revenue and just over one million units sold. By 2007, they expect a market worth $11.2 billion, with 8 million units sold.
Fujitsu's Plasma Display Panel Technology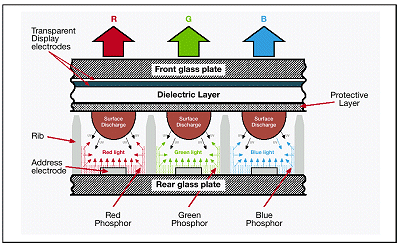 Fujitsu Hitachi Plasma Display Ltd., however, was geared up for a plasma boom years ago. Soon after the partners announced their joint venture, they unveiled plans to dramatically expand their PDP factory. Fujitsu Ltd. global public relations manager Robert Pomeroy said the factory is currently running at a rate of 30,000 units per month, but press reports from the 2000-2001 period suggest the companies once planned for double that rate of output.
Fujitsu's Quality Message
Pomeroy said although plasma display technology continues to become more complex, Fujitsu Hitachi Plasma's production technology has improved and matured at an even faster pace. "There's been a lot of investment in the business," he said. "But the market in many ways is still in its early stages. Industrial and commercial displays -- seeing them in airports, and things like that -- has been the larger part of the overall PDP market for a number of years. But with digital television coming along, and as prices come down, and as volumes increase, we're pretty confident now that the market is taking off."
He said the warranty terms are local decisions, left in the case of the U.S. market to Fujitsu General America Inc. to provide. However, he noted that there is no way the U.S. subsidiary could provide three-year warranties unless the factory back in Kyushu was turning out a quality product.
"I think we do have confidence in the product," Pomeroy said. "We've been at it a long time. We pioneered the business. Some of the key technologies, in terms of high definition, high contrast, high brightness, are proprietary technologies that Fujitsu developed. So from a technology standpoint, we're quite confident that we have a lead. And we've always placed a premium on quality."
What About Longevity?
Plasma displays, however, are for the most part a new technology, with unknown characteristics in terms of reliability and longevity. Like high-resolution computer monitors, they are somewhat susceptible to having persistent images "burned" into the screen, which suggests to us that some day an entrepreneur now riding the mobile phone ring tone wave will launch a plasma screen saver business. In addition, plasma TVs are more susceptible to extremes of altitude, temperature, and humidity. Plus, they not only consume more electricity than traditional tube TVs, but they also emit more heat.
The question, though, is how long will plasma displays last? Most manufacturers say they'll last at least 20,000 hours, although some say 30,000 or even 50,000 hours. Assuming that most consumers operate the displays for 4 to 6 hours per day, they should last for a good long time. At four hours per day, 20,000 hours is 13.7 years. At six hours per day, 20,000 hours is 9.1 years. Even if they were left on 24 hours a day, as many commercial and industrial units are, 20,000 hours is more than two years -- longer than all but Fujitsu's warranties.
Robert Wiley of PlasmaTVBuyingGuide.com makes a more optimistic estimate of a 12-to-17-year lifespan. However, he explains that rather than a complete breakdown, what's more likely for aged plasma displays is a slow decline, one pixel at a time. He wrote that although the manufacturers generally say the sets will last 20,000 to 30,000 hours, by 20,000 hours many are down to 68% of original brightness, as individual pixels continue to burn out. By 30,000 to 50,000 hours they might be down to only 50% of brightness. The problem is that very few units outside of the manufacturers' own testing laboratories have been in operation long enough to put these theories to the test.
Customer Confusion?
Nobody, however, suggests that plasma displays in and of themselves are unreliable or short-lived. The problems seem to be with the human operator. Many consumers don't know what they're buying beyond the cachet of having a flat panel TV on their wall. However, both manufacturers and dealers do a poor job of educating the consumer about their choices. Should they buy a unit with a built-in tuner, or should they buy a separate set-top box? Is their unit ready for high definition television? Or more basically, should they mount their screen on a wall, or prop it up on a floor/table/desk stand?
Manufacturers such as Hitachi sell their consumer units with both a built-in tuner and an included stand. Sony sells a model that includes a tuner but not a stand. Panasonic has a model that includes a stand but not a tuner. And Philips sells a unit that includes wall-mounting brackets but neither a stand nor a tuner. Imagine the shock and disappointment when a consumer accustomed to opening the box and plugging in a tube TV finds out they bought less than they needed. No wonder that Internet price was so low!
In general, Warranty Week finds that the importance of options such as a tuner, table stand, or wall mount are not explained well, if at all. Granted, there's no concealment of these facts, but after 50 years of living with tube TVs that stand themselves up and tune themselves in, consumers can be forgiven for not understanding what they're getting when they buy a plasma display panel. Those sold without tuners might cause customer dissatisfaction. In fact, a case might be made that they violate the implied warranty of fitness for a particular purpose, if one assumes a TV is usually capable of tuning in a channel. Then again, these are PDPs, not TVs.
Other Options Add Up Fast
Besides sales tax (which is supposed to figure into all consumer purchases but which frequently doesn't factor into interstate purchases), the other major variants are shipping and setup. Warranty Week found that shipping can cost the buyer anywhere from $100 to $250 per display. But it also can be free.
Setup services can be $150 for labor alone. If it's not included in the package, an "optional" desk or table stand can be priced at $300 to $400. A wall mount kit can cost $200 to $350, but those fees fee may or may not include labor. At BestBuyPlasma.com, an installation service performed by a third party called The Install Company is priced at $495 for flat panel TVs or satellite systems.
For plasma TVs, a two-man crew will come to the customer's home, install the wall brackets, mount the unit, and provide the customer with a 15-minute tutorial. Then they'll take the empty boxes with them when they leave. The same service for desk- or table-mounted plasma TVs is priced at $350.
Pac-200.com of Woodinville WA is one of the few Internet-based dealers daring to sell a new Fujitsu plasma display online. Its price for the Fujitsu P42VCA21UH is $3,877.50 -- approximately 22% below list price. However, the extras can easily add another $1,200 or more to the total price. Delivery is $40 to $80 (white glove). A table stand is $499. Wall mounts are $200 (flat) to $250 (tilt). Installation can run $300 (table stand), to $350 (wall mount), or even $500 (hidden wiring wall mount). And because there's no manufacturer's warranty, an extended warranty will cost either $600 (two-year) or $800 (four-year).
Who Pays for House Calls and Shipping?
If the plasma display does break down during the initial ownership period, warranties that offer free in-home repair calls are the best. At least 12 manufacturers offer at least some in-home or on-site repair services, which we've notated in the table below with a "yes" in the middle column. Lacking an on-site clause, the next best thing for a plasma warranty to contain is free shipping to and from the authorized service center. Plasma displays are by no means the heaviest appliances in the home, but with a typical weight of 65 to 80 lbs. per unit, round-trip freight charges can be significant.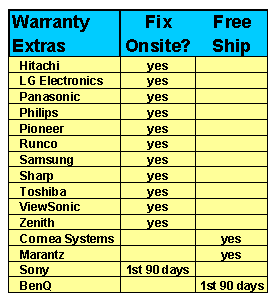 As the chart shows, in lieu of making house calls, three additional plasma display manufacturers explicitly state they will pay the freight charges to and from the service center. Undoubtedly there are others who also will pay for house calls or shipping, but without seeing a clear affirmative statement to that effect in their warranties, we assumed they did not.
Looking for Price Premiums
So the question remains: does Fujitsu General's no-Internet-sales policy result in higher prices? To attempt to answer that question, Warranty Week gathered pricing information for a list of 45 current plasma models, all 42 or 43 inches in size. As mentioned, we tracked 22 manufacturers and 65 dealers in total, resulting in hundreds of different model-price pairings.
The tentative answer that the data suggests is by no means conclusive. However, it does appear that Fujitsu General commands a price premium that it shares with only a few others, including Sony in the middle market and Runco International at the high end of the home theater market -- where money is no object. What's unclear is whether Fujitsu's higher average prices and lower average discounts from MSRP are caused by the Internet sales ban, or whether they're simply an effect of superior features and quality. Or perhaps dealers were charging more, and people were paying more, because of Fujitsu's longer warranty?
Lower Discounts, Higher Prices
At the medium-resolution level, for instance, Fujitsu's P42VHA20US was the clear winner among nine models featuring an 852x480-pixel screen. Pictured in the chart below as a red diamond, the unit carried the second-highest average price and boasted the least discount off MSRP. It also happens to be the only one with a three-year manufacturer's warranty.
42" Plasma Displays, 852 x 480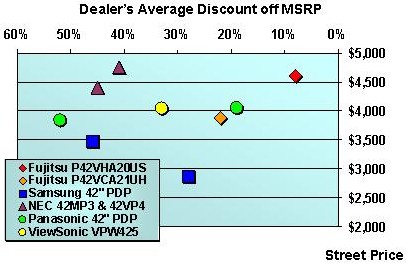 An NEC unit with slightly lower brightness and contrast ratings (and just a one-year warranty) nevertheless scored higher average dealer prices. However, the NEC unit, depicted as a dark triangle, was selling for more than 40% off its $8,000 list price, while the Fujitsu unit was only 8% below its $5,000 MSRP. Notably, the two Samsung units that compete in this class averaged significantly lower prices than the others, despite their two-year warranties. Also, the ViewSonic unit, which is actually made at the same factory as the Fujitsu models, carries a significantly lower average price. Therefore, it appears that at least in this grouping, something besides source, specs, or warranty terms is determining price.
High-Resolution Price Premiums
At 1024x1024 resolutions, which for now is at the high end of 42-inch plasma technology, there was no clear trend once the prices of seven different units were averaged. However, when we plotted the actual dealer prices (and not their average) for the seven models -- three Fujitsu, two Hitachi, and two Philips -- a clear trend came into focus.
42" Plasma Displays, 1024 x 1024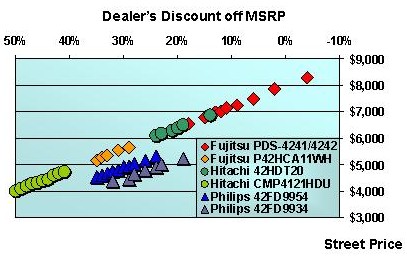 Again, the red and orange diamonds represent two different Fujitsu models. Ironically, however, the Fujitsu models depicted in the upper right corner -- those with the highest prices and the lowest discounts -- are the older model PDS-4241 and PDS-4242. The newer units, further down the chart, carry the same list price, superior specs, and longer warranties. Yet dealers sell the older units for more money.
All Made at One Factory
In addition, we note that all seven models on this chart are made by the same Fujitsu Hitachi Plasma Display factory in Kyushu, Japan. They're not identical, but they're all very close. In fact, the reason prices for five of the seven models seem to fall into a straight line is that all five carry an identical $7,999 MSRP. All things being equal, they should be selling at comparable discounts.
Fujitsu General declined to comment on these findings.
However, we note several trends suggested by this data. First, for some bizarre reason, the older Fujitsu units seem to command better prices than the new models. Second, those Fujitsu units sold online "as is" aren't clearly marked as such, although that fact will not matter until and unless a repair is required.
Third, even in cases where dealers violate Fujitsu's Internet sales ban, there doesn't seem to be an appreciable discount offered in lieu of the disclaimed manufacturer's warranty. If the cost of covering an "as is" unit with an extended warranty is $600, then the unit should sell for at least that much less than a brick-and-mortar dealer charges. Yet in the case of Fujitsu, no appreciable price difference was found between online and storefront dealers. Significant differences were found, however, in the price of different brands made in the same factory.
Missing the Warranty Message
Fourth, Fujitsu General has not done a good job delivering the message of long warranties to the marketplace, and they seem to have convinced nobody that the nature of the Internet itself cannot support plasma sales. They cannot have it both ways. They cannot on the one hand say these products are so reliable that they deserve longer warranties and on the other hand say they're so complex that they cannot be sold online.
The real problem is the box salesmen who emphasize telemarketing skills and e-commerce clicks at the expense of human support services that end up with dissatisfied customers. As one dealer noted, "the really cheap places don't care after they take your card." So why not qualify some online dealers using the same criteria applied to brick-and-mortar outlets? We sincerely doubt that all dealers are alike -- online or off.